Gainesville (Florida)
Gainesville
is in
North Central Florida
. It is home to the
University of Florida
, and
Santa Fe College
.
Get in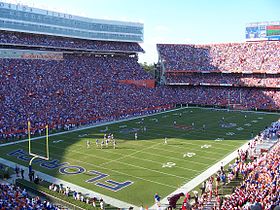 By car
Interstate 75 runs north and south to the west of Gainesville.
By plane
Major airports are in Jacksonville and Orlando.

phone: +1 352 373-0249

address: () 3880 NE 39th Ave

Flights from Atlanta, Miami, Tampa, Orlando, and Charlotte.
By bus
address: 101 NE 23rd Ave

Greyhound has regular service to Gainesville, running through Jacksonville, Ocala, and Tallahassee.

address: 700 SE 3rd St

Service from Atlanta, Orlando, Tallahassee, Mobile, and New Orleans.

RedCoachRedCoach offers a bus service from cities around Florida. The is located on Hull Road, across the street from the University of Florida's Southwest Recreation Center; the is at the UF Commuter Lot on Gale Lemerand Drive.
By train
AmtrakThe nearest Amtrak station is in Jacksonville, Florida. Both the Silver Star and Silver Meteor service Jacksonville from Miami and Boston. You'll need to transfer to an Thruway connecting bus to to go Gainesville. The bus stops at the Rosa Parks downtown transit station at 700 Southeast 3rd Street. The bus ride takes about one hour and 45 minutes
Get around
By bus
Bus service is provided on 35+ routes. Some bus lines provide service until 2:00AM on weeknights. Late night service, referred to as the Later Gator, is provided on some lines, Wednesday through Saturday from 8PM to 3:00AM.
Here's a breakdown on service levels:
Weekdays 6AM to 2AM (Most Serviced Lines), Service can run from every 8 minutes on most utilized lines to every 60 minutes on less utilized lines. Make sure to check individual schedules.
Saturdays: 7AM to 7PM on most lines. Service every 30 to 60 minutes. Special Late Night Bus service begins at 8PM and ends at 3AM. These buses run every 10 to 15 minutes.
Sundays: 9AM to 5PM, very limited service. Buses only run every 60 minutes.
During school breaks and the summer holiday, RTS service runs less frequently with most routes ending service by 11PM.
See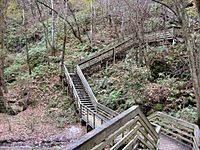 Devil's Millhopper Geological State Park

phone: +1 352-955-2008

address: 4732 Millhopper Road

W-Su 9AM-5PM. A bowl-shaped cavity 120 feet deep which contains a miniature rain forest. Visitors can enjoy picnicking and learn more about this sinkhole through interpretive displays. $4 per vehicle or $2 per pedestrian/bicyclist.

The FestOne of America's premier independent music festivals concentrating mainly on punk; hundreds of bands, over three days in eight or more venues. Unmissable.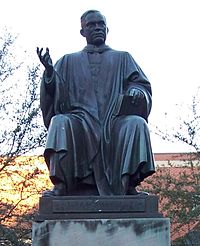 Ben Hill Griffin Stadium. University of Florida's stadium known as "The Swamp" seats over 90,000. It's one of the largest (and loudest) anywhere.
Stephen C. O'Connell Center. Florida's Stephen C. O'Connell Center has a reputation around the country – enthusiastic and friendly if you're a Gator...noisy, deafening and menacing if you're the opposition. Florida's student section, dubbed the "Rowdy Reptiles", has made the O'Connell Center one of the toughest places to play in the nation.

Curtis M. Phillips Center for the Performing Arts

phone: +1 352-392-1900

address: 315 Hull Rd

Harn Museum of ArtSW 34th Street and Hull Road.

Lake Alice on the UF campus. Lake Alice is a sanctuary for alligators and birds. At dusk, bats that roost in a nearby bathouse fly out to feed on the insect life that the lake nourishes. A trip out at dusk to watch the cloud of bats is a popular local pastime.
Florida Museum of Natural History

phone: +1 352-846-2000

address: SW 34th Street & Hull Road

Nice Butterfly Rainforest exhibit (extra charge). Permanent exhibits include the Butterfly Rainforest: Where Science Takes Flight!, Northwest Florida: Waterways & Wildlife, South Florida People & Environments, Florida Wildflower & Butterfly Garden, and the Fossil Plant Garden.
phone: +1 352-375-4477
phone: +1 352-372-4981
address: 4700 S.W. 58th Drive
phone: +1 352-378-2280

address: 513 E. University Avenue

Alachua County history. The complex contains a museum housed in the old American Legion Hall and Matheson House, the second oldest house in Gainesville.
The Santa Fe Community College Teaching Zoo. Tours by appointment.
Haile Village CenterAn award-winning planning and development community that is a throwback to the traditional style and beauty of a New England town. Restaurants, Shops, Events, Parks, and Trails. It's just a shopping plaza.
Do
Paynes Prairie Preserve State Park

phone: +1 352-466-3397

Florida´s first state preserve in 1971 and is now designated as a National Natural Landmark. Alligators, wild horses, bison and over 260 species of birds live in many diverse habitats here. Eight trails provide hiking, horseback riding, and bicycling opportunities. Ranger-led activities during weekends, November through April. Exhibits and an audio-visual program at the visitor center explain the area´s natural and cultural history. A 50-foot-high observation tower near the visitor center provides a panoramic view of the preserve.
Admission Fees - $4/vehicle (up to 8 passengers). Single Car Occupant - $3, Motorcycle Fee (one or two persons) - $3, Admission Fee $1 per person, Camping Fees - $15 per night, Picnic Pavilion - A 65 person picnic pavilion can be reserved for $30 plus tax, Group Camping - Camping fee is $4 for each person with a minimum fee of $20 per night, plus tax. Equestrian fee is $10 for both horse and rider.

Ginnie Springs Outdoors

address: 7300 NE Ginnie Springs Road, High Springs, FL 32643

Bring the family or a cooler of beer and friends and float down the natural spring-fed river. Amenities include beach volleyball courts, campsites, picnic tables, shower/bath facility, and dive excursions. Entry $12/person. Camping (including entry) $20/person.

address: 4601 NW County Rd. 318 Reddick, FL 32686

Watch live Jai-alai or play in the new poker room. Runs tournaments and sit'n'goes daily. 18+

address: 4732 Millhoppper Road Gainesville, Florida 32653

In the midst of north Florida's sandy terrain and pine forests, a bowl-shaped cavity 120 feet deep leads down to a miniature rain forest. Small streams trickle down the steep slopes of the limestone sinkhole, disappearing through crevices in the ground. Lush vegetation thrives in the shade of the walls even in dry summers. A significant geological formation, Devil's Millhopper is a National Natural Landmark that has been visited by the curious since the early 1880s. Researchers have learned a great deal about Florida's natural history by studying fossil shark teeth, marine shells and the fossilized remains of extinct land animals found in the sink. Visitors can enjoy picnicking and learn more about this sinkhole through interpretive displays.
Festivals
Micanopy Fall Harvest Festival

Festival of Trees at Gainesville Woman's Club

Old Time Christmas in Historic High Springs

Hoggetowne Medieval Faire

Dudley Farm Historic State Park Cane Grinding Day

Kanapaha Spring Garden Festival, Waldo Railroad Days

Marjorie Kinnan Rawlings Writers Workshop "Writing the Region"

Newberry Watermelon Festival

The Fest

Gainesville Improv Festival
Buy
University of Florida Bookstore: Florida Gator fan gear and books.

Eat
Dragonfly Sushi and Sake Company

address: 201 Southeast 2nd Avenue

A trendy downtown sushi bar, Dragonfly Sushi & Sake Company offers an innovative and gourmet selection of sushi, sashimi and Eurasian Fusion fare that's thought by locals and visitors alike to be some of the best in town, in an atmosphere that's hip and vibrant.

Ti Amo! Reasurant and Bar

phone: +1 352 378-6307

address: 12 SE Second Avenue

Great Food. Fantastic Wine. Classic Dining Space.

Leonardo's 706

address: 706 West University Avenue

Amelia's

address: 235 S. Main Street

Excellent Italian fare in a cozy restaurant located in the heart of downtown Gainesville.

Leonardo's Pizza by the Slice

address: 1245 W University Ave

Eclectic atmosphere and great pizza highlight this popular eatery near campus.

phone: +1 352 331-6400

address: 6944 NW 10TH PL

Open 7 days a week for lunch and dinner. A consistent recipient of the 'best Chinese restaurant in Gainesville' award, Mr. Han's serves up outstanding Peking, Szechuan and Hunan inspired dishes. There's a nightclub on the premises as well.

Liquid Ginger

address: 101 SE 2nd Place

Sun Center. Open every day for dinner, 6 days for lunch (closed Sa afternoon) M-F 11:30-2:30 M-Th 5PM-10PM, F-Sa 5PM-10:30PM, Su noon-10PM. A newer establishment in the downtown dining scene, Liquid Ginger offers an eclectic Asian fusion cuisine. It can get quite crowded on weekends, so a reservation is good to have.

Falafel King

address: 3252 SW 35th Blvd

If you're in the mood for falafel, gyro, baba ghanoush, tabouleh or some amazing hummus, this is the place to go. Located in Butler Plaza, this small restaurant gives you large amounts of delicious food for a really reasonable price.

Bento Cafe

phone: +1 352 377-8686 (Newberry), +1 352 224-5123 (Archer)

address: 3832 W Newberry Rd and 3841 SW Archer Rd

In the mood for sushi? Perhaps a bento box with some Asian fusion food? Or maybe just some boba tea or sake? Bento Cafe, with two locations in Gainesville, has a large variety of Asian foods and wonderful sushi! There's even a Gator Roll for those looking for the ultimate Gator experience in Gainesville!

phone: +1 352 377-9267

address: 1642 W University Av

Great college atmosphere for food and fun!

phone: +1 352 376-7020

address: 114 SW 34th St.

Given its central location, it is walking distance from the west end of UF campus. It has a wonderful family atmosphere, with genuinely nice staff. The food is delicious and one of the finest examples of Cuban cuisine. A second location is in Alachua, Florida.

phone: +1 352 374-2114

address: 1129 West University Ave

Kabab House serves meat (chicken, beef, & lamb) kababs cooked in the tandoor (clay oven). Offers wide variety of curries, rice and vegetables dishes. Serves halal meat.

address: 3550 Sw 34th St, Ste M, Gainesville, FL 32608

Great Indian restaurant with eclectic menu. Good atmosphere and helpful staff.

Miya Sushi

address: 3222 SW 35th Blvd

Korean joint with some Japanese dishes. Great sushi roll choices and Korean BBQ, tempura, and lunch/dinner boxes excellent. Try the dinner for two that comes with soup, salad, spring rolls, sushi and a beef dish for $28.

address: 401 NE 23rd Ave

Freshest breakfast all day, everyday. Some organic ingredients, vegetarian dishes. Friendly staff, and hip music. Must try.

phone: +1 352 727-4233

address: 214 S.E. 2nd Avenue

Serves frozen fruit popsicles. A large variety of unique flavors are offered, such as avocado coconut. The Hyppo is one of a chain of Hyppo establishments.

The Twisted Peacock

phone: +1 352 505-6827

address: 3610 SW 13th Street

Indian restaurant. Quality of food excellent, and spicy. Serves beer and wine and some mixed drinks.
Drink
There are bars all over Gainesville. It's traditionally known as a huge drinking town. UF president Bernie Machen has tried to wage a war against alcohol and binge drinking since he took over several years ago.
The town in general isn't quite as hip and wild as it once was. As admission standards at the university continue to rise, a different crowd has trickled in. But there's still plenty of diversity, and partying, in Gainesville.
The area referred to as mid-town, directly across the street from the school on University Ave., has some of the more traditional Gainesville bars. Grog House, Salty Dog, Balls, XS, and Gator City (formerly the Purple Porpoise in Gainesville's heyday) all share the same building. Almost any night of the week one can find great specials and large crowds. Near by is the restaurant/bar Swamp housed in a former professor's house. It is a can't miss both for the atmosphere and the decent food.
The downtown area is a combination of clubs and more laid back bars. Places like the Loosey's, Lillian's (a former music store) and Stubby's, a bar that features hundreds of imported beers, cater to an older crowd. Clubs such as :08 and Sky having dancing and music but are usually most crowded on "lady's night." Most recently Rockey's Dueling Piano Bar has opened and added to the city's diverse music scene.
Bars close at 2AM due to the "Rave Law", passed in the late 1990s when Gainesville became one of Florida's premier rave scenes. Last call can be as early as 1:30 AM. After the bars close roads can be dangerous due to drunk drivers.

Sleep
address: 4200 NW 97th Boulevard

address: 3440 Southwest 40th Blvd

Offers guests free breakfast, an exercise room and a pool.

address: 3700 SW 42nd Street

Located just minutes from University of Florida and only 4 miles from the Swamp, the hotel offers a pool, hot tub, free high speed Internet, and rooms are equipped with fridge and microwave.

address: 6901 Northwest 4th Boulevard

address: 4075 SW 33rd Street

address: 1250 W. University Ave

address: 7417 Newberry Road

address: 3905 Sw 43rd Street

address: 3333 SW 42nd St

Motel 6 Gainesville - Univ. of Florida

address: 4000 SW 40th Boulevard

address: 4001 SW 13th Street

Paramount Plaza Hotel and Suites

address: 2900 SW 13 Street

phone: +1 352 373-6760

address: 625 E University Ave

Sweetwater Branch Inn is a historic bed and breakfast and event venue in downtown Gainesville, Florida.

Hampton Inn: Gainesville

address: 4225 SW 40th Blvd

address: 3500 SW 42nd St

Offers an outdoor pool that is open year round and selected rooms offer microwave/microfridge units. All rooms offer T-Mobile high speed internet access (not included), "On Command Video" with a selection of free TV channels and pay-to-view as well as one well-behaved family pet.

Residence Inn Gainesville I-75

address: 3275 SW 40th Boulevard

All suites hotel located 3 miles from the University of Florida. Suites provide full kitchens with complimentary internet and flat screen TV. Hotel amenities include complimentary hot breakfast, complementary parking, pool, and fitness center.
Go next