Galaxidi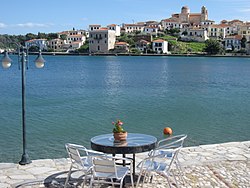 Galaxidi
is a small seaside town in
Sterea Hellada
. During the summer it is a popular sea resort for travellers that stop on the way between
Patras
and
Delphi
. The tourism industry combined with agriculture & fishing are the main source of income.
Understand
Galaxidi has a long history (as pretty much everything in the area) and was a mighty marine power in ancient times. The centre of the town is well maintained and the lush buildings are witness to the long gone wealth. Today tourism is the main source of income but it remained a calm atmosphere. Only in the fishing harbour tourists are the clear majority.

Get in
There are regular buses that travel on the Athens, Delphi, Patras route but due to the frequent strikes it is better to travel with a car.

Get around
Walking is the best option as streets are narrow

See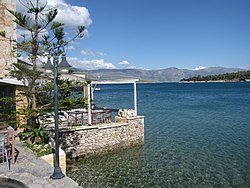 Drink
In the fishing harbour are restaurants by the dozens. The menus are similar but daily specials change as well as prices.

Sleep
phone: +30 6937 154567

address: Nik. Gourgouri 20, 33052 Galaxidi

Boutique hotel with about ten rooms. Calm courtyard and very good breakfast. Internet is included
Go next
Delphi is just ca. 30 mins by car. During the peak summer season lots of Delphi visitors stay at Galaxidi to escape the heat and get the sea breeze.