Galena (Illinois)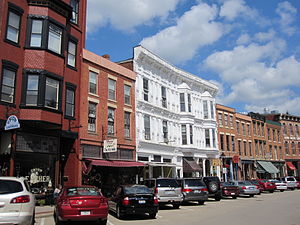 Galena
is a city in the
Illinois Driftless Area
16 miles east of
Dubuque
,
Iowa
and 163 miles west from
Chicago
. It is known as "The City that Time Forgot" for its rich 19th century heritage. Named after the local lead deposits, the city was founded in 1826 and was a major port on the Mississippi River. Its fortunes changed in the 20th century as demand for lead dropped, but in the 1980s, the city reinvented itself as a tourist destination. Today, 3,600 residents form a community that is rich in history, claiming the home of the 18th President of the United States, Ulysses S. Grant. More than a thousand buildings in Galena are listed in the National Register of Historic Places by the U. S. Department of the Interior. Many of the elegantly restored homes are now bed & breakfasts or open to the public for tours. Galena has become the third largest tourist attraction in Illinois next to Chicago and
Springfield
Understand
The name Galena comes from the word for lead sulfide, and indeed the very reason for the town's early growth was the abundant lead found in the area, mined since the times of the Native Americans. Galena grew to be the most important river port north of
St. Louis
(despite only being on a small tributary of the Mississippi) and in its heyday rivaled
Chicago
in size and importance. During the Age of Railroads, however, the town passed up a Chicago-Dubuque rail line in order to "keep the sanctity of the port", a decision that began Galena's decline. Floods and The Great Depression took their tolls as well, but soon enough people began to move back and restore the beautiful 19th century heritage. Now Galena has reinvented itself as a tourist destination, taking in its commercial and presidential history, beautiful setting among the hilly driftless region, and ample opportunity for outdoor recreation, becoming a popular weekend destination for Illinoisans, Iowans, and Wisconsinites.
Get in
By car
The vast majority of visitors to Galena arrive by car. Galena is intersected on the west end by
US-20
(between East Dubuque and Chicago), which runs concurrently with
IL-84
. IL-84 branches off north of Galena to become
WI-80
to
Platteville
. From Chicago, take
I-90
west to
Rockford
and follow US-20. From the south (such as Springfield or the
Quad Cities
), take IL-84 north along the Great River Road until it intersects US-20 north of Hanover. There is ample free parking throughout the city.
By plane
There are no major airports near Galena.
Dubuque Regional Airport
(
DBQ
) is a small airport 23 miles away in Iowa, serving American Airlines flights from O'Hare International Airport in Chicago and charter services. You will need to rent a car or take a taxi to reach Galena.
Despite the city's prominence as a northern Illinois tourist destination, there are no interurban bus or train services.

Get around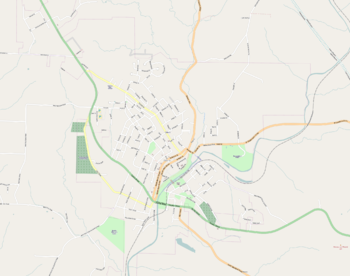 Galena is only two miles long, so the most convenient way to travel is to park and walk through town. However, there is a fairly steep bluff between Bench and Prospect streets, which may make northwest foot travel from downtown difficult. Most parking is free, although parking spaces in the downtown area (Bench, Main, and Commerce streets) fill up quickly. There is also a large pay lot on the south bank of the Galena river west of Grant Park. A few companies offer trolley services that stop at significant places in town, which can also be chartered.
phone: +1 815 777-1248

address: 314 S. Main Street

phone: +1 815 777-0820

address: 4349 Industrial Park Dr
See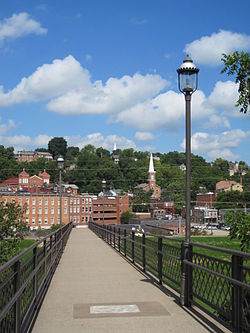 Main Street is a beautiful collection of colorful stone and brick buildings occupied by restaurants and mom and pop stores.
The Galena/Jo Daviess County Museum, on Bench Street, is housed in a 19th-century Italianate mansion and features plenty of Agricultural history, Old Galena trinkets, and Civil War memorabilia. The centerpiece is a huge painting by Thomas Nast entitled "Peace in the Union," upstairs.
Ulysses S. Grant's Home probably appears much like it did in the 1860s and 1870s, as much of the original furniture has been placed throughout the house. He only lived here for a short time, though; a year before the Civil War and a few years afterwards before he moved to the White House.
Grant Park is across the Galena River and has nice views of the town nestled into the hills. There's a gazebo, a statue of Grant, and some war trophies, including one of the first cannons to fire on Fort Sumter.
The Washburne House is an 1843 Greek Revival home open for tours. Learn about the U.S. Congressman who would become the friend and adviser to both Lincoln and Grant and later be appointed ambassador to France.
The Old Market House, just west of the river, was opened in 1846. It's had a colorful history, holding vendors stalls, jail cells, and city offices. Today it often features local history exhibits, including one about (who else) Grant.
Chicago Athenaeum Museum of Architecture and Design is located in an old brewery building. The museum exhibits include contemporary design, photography, sculpture, and other artwork such as weaving. The museum is headquartered in Chicago with a branch in Schaumburg.
Do
address: 8700 W. Chestnut Mountain Rd.

Skiing in winter is quite good for the region. Summer activities include an Alpine Slide, disc golf, mountain bike rentals, and Mississippi River cruises

StoneHouse Pottery & Gallery

phone: +1 815 777-0354

address: 414 Spring

Offers once-monthly "Glaze and Graze" deals, whereby participants can decorate their own three-piece dinnerware set and put it to use the next night at the Great Galena Cookery.
Galena Cellars, Winery, and Vineyard has two locations, a shop downtown and an actual vineyard 6 miles north of Galena. It's located in a beautiful setting and worth the short drive.
Linmar Gardens is a privately owned garden on a hill overlooking downtown. There's a waterfall, sunken garden, flagstone pathway, and sculptures.
Galena Artists Guild hosts events like gallery walks throughout the year. The gallery on US Hwy 20 showcases local talent.
The Galena Country Fair takes place in October every year, where more than 100 artists sell arts and crafts.
Shenandoah Riding Center east of town, in the midst of the rolling hills, offers guided trail rides on over 40 mi (64 km) through hills, woods, and along creeks. The one-hour rides are offered daily year-round.

address: Galena Territory

Hot air balloon race and festival in mid-June
Buy
The Atomic Toy Company specializes in nostalgia, with wooden and tin toys sharing space with knick-knacks and slightly more modern electronic gadgets.
Eat
The region boasts a selection of intimate bistros, world-class steak and chophouses, eclectic cafés and traditional diners as well as specialties including Chicago-style pizza, fresh seafood and authentic ethnic cuisine, from Mexican and Italian to Greek.
Little Tokyo

phone: +1 815 777-8883

address: 300 N. Main St.

Little Tokyo is a Japanese Sushi Restaurant noted for fresh fish and other fresh ingredients. It is on the north end of Galena's historic Main Street and a local favorite.

Great Galena Cookery

Fried Green Tomatos
Log Cabin
Market House Restaurant
Drink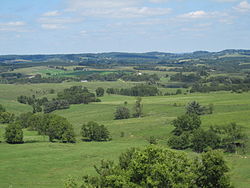 Stop in for a tasting and a tour at one of Jo Daviess County's award-winning wineries or stay a while with a bottle of your favorite and some cheese and crackers.
Sleep
Galena and Jo Daviess County's unprecedented variety of quality lodging choices offer all the modern amenities expected by today's traveler. Cozy, comfortable B&Bs; crisp, contemporary vacation rental homes; historic hotels, motels and nationally recognized resorts are all located in Illinois' northwest corner.
Bed and Breakfasts
Abe's Spring Street Guest House

phone: +1 815 777-0354

address: 414 Spring St

Also home of the StoneHouse Pottery & Gallery.

Cloran Mansion Bed and Breakfast

phone: +1 815 777-0583

address: 1237 Franklin St

Experience the luxury of fireplaces and whirlpools for two. Lounge in the soft robes provided while watching a complimentary video from our extensive collection. Enjoy all of the amenities including TV/VCR/DVD, CD stereo, private baths, mini fridge with complimentary beverages, candies, candle lights and more. DSL Wi-Fi available for guests.

address: 334 Spring St

Galena's only 19th-century restored inn 2½ blocks from downtown's restaurants, attractions and shops. 9 rooms including Annie Lloyd's Cottage - deluxe whirlpool fireplace suites.

Galena Log Cabin Getaway & Adventure Creek Alpaca Farm

phone: +1 815 777-4200

address: 9401 W Hart John Rd

See a working alpaca farm and stay in one of 12 authentic hand-made log cabins on 45 acres. Walk along Adventure Creek running through the middle of the property. Visit the largest wetlands in Jo Daviess County east of the Mississippi River. Hike along 2 mi (3 km) of trails. Keep your eyes open for the Hines Emerald Dragonfly. It's an endangered species that you might see here. And when the stars come out, view them without any light pollution. Children are welcome but no pets. Each cabin has room for 4 - a new queen bed downstairs and a new full bed upstairs on the loft. Enjoy a fireplace, satellite TV with 180 channels, CD/DVD player, 4 cu ft refrigerator, microwave, central air and furnace. Behind a closed door is a full bathroom with a Kohler double whirlpool with a skylight overhead so that you can enjoy the awesome night sky. 4 mi (6 km) south of Galena & 4 mi (6 km) north of Chestnut Mountain. Established in 1991.

address: 9001 Sand Hill Rd

The Goldmoor Inn and Aaron's Cottages and Cabins are high atop the bluffs overlooking the majestic Mississippi River. Grand deluxe cottages, elegant log cabins and deluxe suites provide guests with exceptional amenities.

The Steamboat House Bed and Breakfast

address: 605 S Prospect St

Historic 5-room Bed & Breakfast mansion in Galena, IL. Luxurious suites with private baths and fireplaces, billiards room and gardens. Breakfasts served in a formal dining room with antique crystal and sterling silver, complimentary evening wine hour, free Wi-Fi and private parking, seasonal specials and packages available.

Tierra Linda Bed and Breakfast

address: 826 S Rocky Hill Rd

Dog-friendly bed and breakfast on 11 acres 5 miles south of Galena. Renovated farm house with only two rooms, very peaceful and quiet. Private lake with sandy beach. Dogs can run free of leashes.

phone: +1 815 777-3454

address: 404 S. Main St

Listed on the National Register of Historic Places (circa 1850). 6 luxurious and spacious rooms.
Go next
Elizabeth is 20 min southeast on US-20, featuring a replica of a fort used to repel natives in the Black Hawk War
Scales Mound is 20 min northeast along the Old Stagecoach Trail. Ninety percent of the village is recognized as a historic district.