Galle
Galle
is in the
Southern Province
of
Sri Lanka
.
Understand
Get in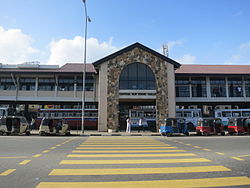 From
Colombo
you can take the
train
direction
Mirissa
or
bus
. Both travel right next to the beach coast and have beautiful views.
There are 2 options for bus transport between Colombo and the main bus station in Galle: private a/c minibus and luxury Southern Expressway bus.
Private a/c minibus.

Southern Expressway bus.
Trains travel several times every day and used to be crowded:
Galle Railway Station

address: Colombo Rd

Train timetable. From Colombo take beteween 1:30 min or 3:30 min depending of the train that you choose.
From Ella/Badulla:
There is one public bus in the morning from
Badulla
at 6:30 am and
Ella
around 7 am to Galle. From Badulla the ticket costs 346 LKR (as of May 2018).
Get around
Tuk Tuk
or
on foot
is your best bet if you are traveling in Galle or close by. The Old Town of Galle and its fortifications are within walking distance from the central bus station, so it's better to walk rather than to take a tuk-tuk.
The
bus
is an easy and cheap way to get to
Matara
,
Unawatuna
or
Hikkaduwa
from Galle.
Tourist Information Center

address: Colombo Rd
See
All Saint's Church

address: Church St, Fort

Anglican Churh

Kalutara templeis a place you must not miss

Seenigama templeAlways make a donation and say a prayer for good luck.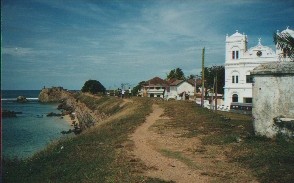 Fort's walls

address: Rampart Rd

A walk here at sunset is very pleasant if you don't mind being hassled to buy table cloths, fake antique 'Dutch' coins, or powdered milk.

Peace Pagodathe view from on a clear day is also quite lovely

Galle Port

address: Matara Rd

Meeran Masjid

address: Fort Galle, Rampart St

phone: +94 91 22 42261

address: Queens Street

is housed in the old Dutch East India Company VOC Warehouse in Galle Fort

Dutch Reformed church

address: Church Street

Look inside

address: Kaluwella, between Templers Rd and Prison Rd

Arabic College

address: New Lane 2

Found: 1892.

Historical Mansion Museum

address: 31-39, Layn Baan Streeet, Fort

Small Green Mosque
Do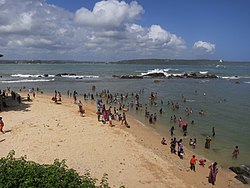 Walk around the ramparts of Galle Fort, wander the streets inside the fort shopping for gems and antiques
Visit one of the turtle hatcheries along the coast

Dharmapala Park

address: Colombo Road

Galle International Cricket Stadium

address: Colombo Road

Galle Library

address: Church St

Talpe Beach

address: 1042, Matara Rd, Thalpe

Beach club with great vibe and excellent drinks. Bring your towel and enjoy the day there.
If you're staying in the Fort get a bit of brisk exercise by walking around the ramparts first thing in the morning, as a lot of the locals do. (and take the advice above in the evenings.)
Events
An around the world
sailboat rally
(30 boats in 2007) stops in Galle. The rally sails west to the country of Djibouti on the African Continent. Generally, from January to March boats sail in the direction of the Suez Canal.
Buy
Banks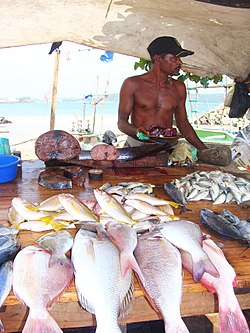 phone: +94 91 2 232223

address: 22 Church St, Matara

Other unit: Galle City Branch, No. 130, MAIN St., Tel:+94 91-2225786/ +94 91-2234469 /+94 91-2234446, Fax:+94 91-2234356, gallecity@combank.net, Open weekdays 9.00AM to 3.00PM , Weekend & holidays 9.00AM to 1.30PM

National Savings Bank

address: Colombo Rd
Markets
Fruit and Flower Market

address: Sea St

Fish Market

address: Fish Market St

Relatively new fish market opened in 2011, paid for by the UN and BASF. The old colonial style market built by the British in the 1890s was destroyed in the 2004 Indian Ocean tsunami. There were fourteen fish stalls, trading in the traditional style. The new facility is more hygienic than the majority of fish stalls on the beach. Prices are typically 10-40% higher than for the same fish direct from fishermen on the beach (for example, compared to the informal market located a 5-minute walk away to the northeast (along the water towards Unawatuna)).

Green Market

address: Market Cross Rd
Others
You will find the best tourist shopping inside the Fort. But you will need to go into town if you want fresh fruits and veggies or clothing
phone: +94 91-2234600

address: 42A.Hospital St, Fort

Established in 1983, this small family-run business deals in precious and semiprecious gems and hand made jewellery. Approved by the Sri Lanka Government.
There is a good "gift" shop on Pedlar Street called Shoba - it is opposite the Peddlar's Inn and stocks a large range of handmade goods which are direct from the craftsman/women who have made them. It is a good alternative to the large retail chain "Barefoot" which you will find is often over-crowded with tourists. The owner is very nice and will stop and chat to you about the very interesting history of Galle if you are willing to listen. Their website says that they offer traditional craft courses (Dec 2012).

Municipal Shopping

address: Main Street / Sea St
Eat
| name=Seafood Restraurant | alt= | url= | email= | address= | lat= | long= |thumbnail|Caption text]] |
| directions=Fish Market Street at the corner of Dickson Road | phone= | hours= | price= | content=Literally a hole in the wall located just behind the main Galle Fish Market.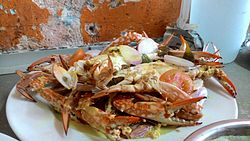 it's a tiny, one family-operation: father cooks, mother prepares plates and cleans. Only 5 plastic chairs and a small counter, not enough space to turn around. For adventurous travelers looking for a truly local restaurant outside the typical tourist restaurants or the made-only-for-foreigners "authentic cooking experiences", it's by far the best option for seafood in Galle. Buy your seafood fresh yourself, either at the market directly in front of this restaurant or at any other market. Bring your seafood to this restaurant around lunchtime, and the owner will cook it for you with spices and coconut curry. 1kg of crabs costs around LKR700 in the market, pay the restaurant 500 more, so for 1200 total (=USD $9, eur 7) you have a huge feast for 2 people: 1kg of freshly cooked crabs in coconut curry with unlimited rice, dahl (lentils) and vegetable curries. Nowhere in Galle or the surrounding beach towns offers such a good deal, neither in price or in taste. Tuna, prawns, squid... you choose whatever you want, you can get it fresh and cooked in delicious coconut curry.
}}
Anura's Restaurantserves a mixture of local foods, pizzas, sandwiches and other snacks.

Karunadasa Restaurant

address: 23 Light House St

Mama'sAuthentic Sri Lanken food. Mama and her daughter run two cooking classes daily (morning and noon) which includes sitting down to eat the food you learn to cook. It is often difficult to get a table at the roof top restaurant so we found it easier to book the afternoon cooking class which included dinner. The cooking class was a highlight of Galle.

SerindipityA good option for dessert. It is can be quite hard to get them to serve you food as they often close their kitchen for cooking classes during the day and also closes quite early at night (went at around 9PM and they refused service due to kitchen shut). Despite being refused twice, the food is some of the best we ate in Galle and I would return there for it again.

address: 92, Pedler Street

The milkshakes are a must for a hot day, and the sandwiches are pretty good, too! If staying for dinner be sure to finish it off with the home made chocolate brownies with ice cream.

Ice cream parlour signed by a large 'Dairy King' poster

address: Church street

The products are a mixture of home made and bought produce. The home made mango and the home made coconut is particularly good. The brownies are better at the "Fort Galle Hotel".

Lighthouse Hotel

address: See at 'Stay' chapter

For a treat, try the all-you-can eat buffet at this ultra posh palce for only about R1200/-. (You might not get any further than the hors d'oeuvres.)
Drink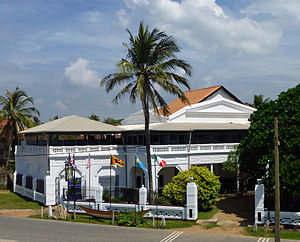 Rampart Hotel

address: Rampart St

does good local and "international" meals and serves alcoholic and non-alcoholic drinks. It is quite expensive by local standards though at about R1600/- (US$15) for a meal with a couple of drinks.

phone: +94 91 2226840

address: No. 10, Gamini Mawatha
Sleep
Galle has quite a few small boutique hotels, budget hotels and hostels and more seem to be cropping up after the tsunami. Within the Galle Fort there is
Amangalla
(within the renovated
Oriental Hotel
) and the
Galle Fort Hotel
. On the outskirts of Galle there is the
Sun House
.
On the road into Galle from Colombo there is the
Lighthouse Resort
designed by Bawa, famous architect.
Budget
phone: +94 91 4389566

address: 37 Rampart Street

The rooms have a shared balcony overlooking the ramparts at the southern end of Galle Fort with the Indian Ocean beyond, and it has a small roof garden. The rooms are clean, with air-con, and the owners are friendly and helpful. The breakfasts include lots of fresh fruit, bread, eggs and good rich tea.

Thenu Rest

phone: +94 91 224-6608, +94 77-3584156

address: 12 Hospital St
* This guest house has four well equipped clean rooms with traditional four poster double beds with hanging net curtains. Two of the rooms have air conditioning and the other two have fans. All rooms are well equipped with electric hot water showers. The main guest bedroom has a large balcony overlooking the main street and two of the other rooms have internal balconies overlooking the terrace. The guest house is located near the ramparts at the southern end of Galle Fort close to the Light House near the beach with the Indian Ocean beyond. The owners are very friendly and helpful. They also provide dinner and breakfast. The breakfasts are either continental or traditional Sri-Lankan and include lots of fresh fruit, bread, eggs and good rich tea and coffee.
Rosa Shashi Cabanas

phone: +94712506391

address: No. 517 Colombo Road, Dadalla, Gintota

Great little huts on the beach run by local family. 2 huts only. Third hut in build by the father as of May 2018. Using recycled material partly.
Mid-range
Fort Inn Guest House

phone: +94 91 2248094

address: 31 Pedlar St, fort

Four-room family-run guest house. Can provide breakfast, lunch and dinner by request. Free internet. Rooms have attached bathroom with hot shower, fan and two rooms with air conditioning. Roof top room with ocean view.

Khalid's guest house

phone: +94 77 317 7676

address: 102 Pedlar St, Fort Galle

Longest running family guest house in a historical Dutch fort. Good traditional meals, which are probably the best in Sri Lanka. All rooms with attached bath and hot water and some rooms with balcony sea view. Good value for money. NOTE: The establishment sets a night curfew to its guests and maintains a no pork and alcohol rule in its premise.

address: 76 Lleyn Baan st, Galle Fort
* They have only two en suite rooms, but the best roof terrace in the fort. Fresh breakfast from local food served by a willing local family, fluent English speaking ex tour guide Jerome runs his own business. Good value.
phone: +94 71 2582968

address: Barbaragoda Road, off Akuressa Road

Templeberg Villa is a Boutique Estate with 5 rooms, including a standalone 2 bedroom Family Bungalow. Built in the 1800s and in private ownership until 2012, the property has been refurbished and updated and turned into a guest house. Situated next to a Temple and on top of a hill, the house is situated on 5 acres of coconut plantation. Laidback luxury, Templeberg Villa B & B and guest house is the perfect spot to enjoy the birdlife in Sri Lanka from the sprawling terraced gardens. The villa's stone walls are over 200 years old and some of the area's finest masonary. Breakfast included in the rate, free wifi, laundry service and complete with private cook and 10 staff.One of the best villas for the price in the Galle area and an ideal holiday home in Galle that can be an all inclusive getaway.
Splurge
phone: +94 91 2267708

address: 719/1, Galle Rd, Devenigoda, Rathgama

Amangalla Hotel and Restaurant

phone: +94 91 2 233388

address: 10 Church St

5 star hotel housed in the former Dutch governor's residence

phone: +94 91 2277021

address: 340 Galle Rd, Hikkaduwa, 80240

Superior and deluxe rooms, all equipped with air-conditioning, plasma-screen TV and in-room safe. Facilities and services are swimming pool, garden and restaurant. Several key destinations can also be spotted near this boutique hotel.

The Jetwing Lighthouse Hotel

phone: +94 91 222 6568

address: No: 288, Galle Rd, Dadella

This sprawling manor, built in the 1800s by a prominent family in the Galle district was first occupied by a British Admiral and later by a High Court judge of the colonial era. Tamarind Hill was refurbished preserving the intricate details and style of a by-gone era - all the extensions and alterations to the property have been beautifully blended with the original main house, in keeping with the architecture and restoring it to its grand origins. Situated on a three acre hill with huge courtyards, sun-dappled verandahs and tropical gardens, Tamarind Hill has 10 rooms and two suites offering the ultimate in comfort, stylish design and modern amenities, juxtaposed with the charm of a bygone era.
Connect
Internet Cafe

address: Church St

Galle Main Post Office

phone: +94 91 2 223250

address: Main Street

phone: +94 91 2 222231

address: Wackwella Road

Services:Fault Reporting, New Connection, Prepaid Cards, Purchase CDMA, Bill Payment
Go next
Unawatuna 5 km to the southeast on Route A2. A beautiful beach - take a swim; enjoy the best eating places. Buses run every 10-15 minutes in both directions, cost 20 rupees, take 10-15 minutes. Can be very crowded and play loud music. Tuk-tuks ask for 400-500, can usually be bargained down to 250-300.
Matara, end of railway line from Colombo, approximately 50 km south following the coastline.
Hikkaduwa 20 km north following the coast
Madu River, 40 km north following the coast across the Balapitiya area, Take a boat tour. This extraordinary estuary with a cluster of 64 small islands scattered along its impressive breadth, most of which are covered with mangroves and uninhabited, and is also a haven for crocodiles.
Kanneliya Forest Reserve — (Galle district). The waterfall "Naranga Ella" is one of the highlights. There is a safe place for bathing in Nannikitha also close to the entry to the Forest Reserve. There is a nature trial to Kabbale Kanda Mountain.
Pinnawala Elephant Orphanage — is home to the biggest captive herd of elephants in the world. - Bathing times (1000hrs and 1400hrs) are a particular treat, as the elephants are led down to the nearby river.
Sinharaja Forest Reserve — (districts of Ratnapura, Matara and Galle) is one of the least disturbed and biologically unique lowland rainforest in Sri Lanka. A World Heritage Site since 1989.
Yala National Park — (141 km away) is open to the public, and is mostly made up of parkland and scrub jungle but also contains beaches, lagoons, freshwater lakes, rivers, enormous rocky outcrops and dense jungle.
Ratnapura — Udawalawe National Park near Ratnapura is an area just over 308 sqkm and consists of dry lowland forest, thorny scrub jungle and grassland; several areas of the park have been planted with teak. One of the main attractions of its is the majestic Udawalawa Reservoir. There are also several large herds of Asian elephants, and species of large animals such as deer, buffalo and more.