Gallup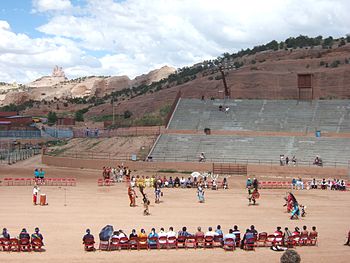 Gallup
is a town in the state of
New Mexico
in the
United States of America
. Located on I-40 and the former
Route 66
, Gallup is an important gateway to the
Navajo Nation
and other nearby attractions. Gallup itself is noted for its numerous trading posts and Indian-themed gift shops, as well as an abundance of natural scenery surrounding town.
Get in
Gallup is on Interstate 40, which at this point follows the route of historic Route 66. It is about two hours from Albuquerque. This stretch of road, however, is seemingly under nearly constant construction, and you may have some unexpected driving delays. Dust storms and wind-driven blizzards can also create delays, particularly between Gallup and Grants.
The nearest major airport is in Albuquerque.
Amtrak's Southwest Chief, the main Amtrak train line across the Southwest, has a station in Gallup. The westbound train arrives at 7:08PM and the eastbound train arrives at 8:51AM. This stop has no ticket office and no Quik-Trak ticket machine so tickets must be purchased at another station or on-line.
Get around
By bus
Gallup express
Phone number: +1 505-906-6006. Bus fare is $1. Buses run every hour between 6 AM and 6 PM. The main transfer stop for the buses is at East Aztec and South 2nd street, a few blocks southwest of the Amtrak Station. The most useful route is route 1. Route 1 runs between downtown to some hotels next to Rio West Mall.
See
phone: +1 505 722-3839

Is just outside town and features colorful scenery. Hiking and camping are possible, and there are several special events during the year, probably the best-known of which is the Gallup Intertribal Indian Ceremonial in early August. The Ceremonial is a major event with dancing, arts and crafts, Native American foods, etc.

Red Rock Museum

address: 300 W. Rt. 66

Affiliated with the park and has historical and cultural displays.
Do
Gallup Flea MarketIf you want to find great Native American art, jewelry, food and shop with the locals, check out the Gallup Flea Market every Saturday, rain or shine.
Buy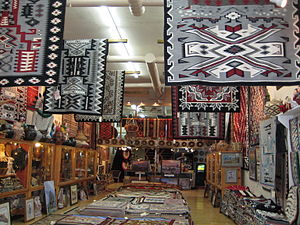 Gallup has a lot of jewelry stores and crafts stores.
Eat
Gallupian cuisine is a mix of traditional New Mexican food and Native American food. It is generally very spicy.
Earl's Restaurant

phone: +1 505 863-4201

address: 1400 E. Highway 66

A long-time local favorite serving a mixture of New Mexican and mainstream American food.

El Metate

address: 610 West Mesa Ave

Wow - little family owned, Mexican restaurant. Uber authentic.

Grandma'sOne block north of Hwy 40 on third street. Small place, very authentic. Very good red and green chile but go with the red. Averages around $9 a plate.

McDonald'sSeveral locations in town. Might seem odd to list, but if you have never been to New Mexico before stop at a McDonald's and ask for a green chile double cheeseburger. You may hate McD's but green chile on a hamburger is amazing. Only $1.39.
Drink
Sleep
Blue Spruce Lodge

phone: +1 505 863-5211

address: 1119 E. Highway 66

phone: +1 505-863-9311

address: 1000 E. Rt. 66

Self-proclaimed "Home of the movie stars", this kitschy hotel was built in 1937 for the brother of Hollywood director D.W. Griffith and was headquarters for a number of westerns filmed in the area in the 40s and 50s. Its current owners keep the hotel in vintage condition, and if the atmosphere is a little patchy in places, the prices are reasonable and the environment worth the trouble.

phone: +1 505-722-2600

address: 3270 Highway 66
Stay safe
While Gallup is a small city (pop 21000), there are severe problems with violent crime (nearly five times the national average), widespread alcoholism, poverty (severe among the native population, which represents 44% of the city, although mine closures have hurt the city as a whole) and homelessness. What little money is available goes all too often to feed the blight of numerous liquor stores, usurious payday loans and pawn shops which infest the main street. Expect to be harassed by aggressive panhandlers and intoxicated persons, especially at night.

Go next
Although Gallup is in a desert, there are high mountain peaks and pristine alpine forests within an hour's drive of town. Notables include Mount Taylor (11,301 feet) and the Zuni Mountains.
Navajo Nation occupies most of the space north and west of town to the state line, with various points of interest.
Chaco Culture National Historical Park and El Malpais National Monument are United States national parks and monuments within easy driving distance of Gallup, about an hour north and east, respectively. A tip: If you're going to Chaco, do not approach from the southwest (NM 371 to NM 9 directly to NM 57) unless you have 4-wheel drive; this road has several hairy spots, and you're a long way from help if you get stuck. Instead take 371 to 9 and around to the much more civilized approach from the east side. It's 20 miles longer, but much less likely to be impassable.