Galway
Galway
(
Irish
:
Gaillimh
), has a population of over 70,000 and is
Ireland
's fifth largest city and a major hub for visits to
West Ireland
. It has long been known as "The City of the Tribes" and this title could not be more appropriate these days, given the multicultural vibrancy of present-day Galway.
Understand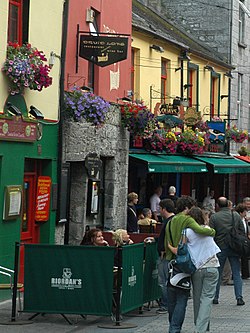 Galway will be a "
European Capital of Culture
" for 2020, an honour it shares with
Rijeka
.
City of the Tribes
Galway is an important tourist centre and a gateway to the scenic areas of the county. Beginning in the 15th century, Galway was ruled by the leading 14 merchant families, which were known as "tribes". The names of these mostly Anglo-Norman families were Athy, Blake, Bodkin, Browne, D'arcy, Deane, Font, ffrench, Joyce, Kirwan, Lynch, Martin, Morris, and Skerritt. Only two of the families were Celts.
The families built many castles throughout
County Galway
. Many streets and landmarks bear the names of these early "tribes".
Galway is a bustling town with fantastic nightlife. It's short on common tourist attractions such as museums, but the charming pedestrianised streets and numerous pubs and cafes are sure to keep you occupied.
Get in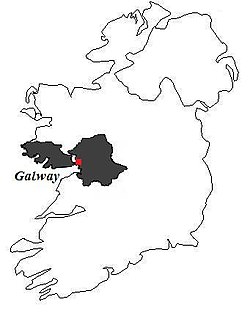 By bus or train
National bus and rail arrive at the same station, just east of Eyre Square on Station Road. CityLink and GoBus buses arrive and depart from the Galway Coach Station, which is 100 metres north of the CIE bus/rail terminus.
By plane
Shannon Airport
(
SNN
) is the largest airport serving the West of Ireland. It is served by an hourly bus to Galway, and car rentals are also available. It is about 1½ hours in the bus to Galway, but about an hour by car.

Others: many people going to Galway travel via Dublin, Cork or Ireland West (Knock) airports This page has detailed about public transport between Galway and all airports.
By car
From Dublin, there is a toll motorway all the way to Galway. Take the M4 west and then continue along the M6. Follow the M6/N6 for the rest of the trip. Travel time is around 2 hours depending on traffic.
As in most places in Ireland, parking is expensive. However there is long term parking next to the cathedral available for €5/day, and if you are leaving in the morning, many pay and display; lots of places offer cheap or free overnight parking (18:00-06:00).
Get around
Central Galway is easily accessible on foot, and Salthill (a popular tourist area) is a lovely 20-30 minute walk from the centre of town. The Promenade (Prom), stretching from The Claddagh to Blackrock is a very popular walk with locals and visitors.
Bus Éireann and CityDirect run local bus networks.
GalwayTransport.info
is a public-transport-information source for Galway City and surrounding areas. It has a summary map of city bus routes, a detailed map of each individual route, and links to timetable information. It also has maps of the taxi ranks in the city, industrial estates in the area, and detailed directions for reaching a number of popular places using public transport.
Taxis are convenient, although they can be a bit expensive. There are taxi ranks in Eyre Square and Bridge Street.
Avoid taking a car when going to or anywhere near the town centre as parking can be expensive, and the city can have very heavy traffic levels at times. A very popular car park close to the centre is that at the Dyke Road, just off the Headford Rd., which is a 5-minute walk to Eyre Sq.
See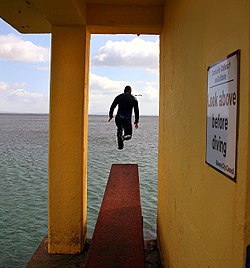 Galway is a perfect base for seeing
West Ireland
, but it is also worth a visit. Although it has only a few typical sightseeing spots what makes it a wonderful place to stay is the atmosphere, the culture, the people, and the events.
Lynch's CastleLynch's Castle on Shop Street is probably the finest mediaeval town house in Ireland. It is now a branch of Allied Irish Banks.

Cathedral Church of Saint Nicholas and Our Lady Assumed into HeavenThe church was consecrated in 1965 and is a large, imposing building constructed from limestone. It has an eclectic style, with renaissance dome, pillars and round arches, and a Romanesque portico that dominates the main façade – which is an unusual feature in modern Irish church building. It was suggested by a church in the city of Salamanca in Spain.

Saint Nicholas Collegiate Church

phone: +353 87 237 5789

address: Lombard Street

The Church of Ireland St. Nicholas' Collegiate Church is the largest medieval church still in everyday use in Ireland. It was founded in 1320 and enlarged in the following two centuries.

The Hall of the Red EarlThe Hall of the Red Earl can be viewed through a protective glass wall off Flood Street. It is the earliest medieval settlement fragment surviving within the walls of the city. It was built by the de Burgo family in the 13th century and was a key municipal building for the collection of taxes, dispensation of justice and hosting banquets. It was the medieval equivalent of tax office, court house and town hall.

The Eglinton CanalThe Eglinton Canal, named after a former Lord Lieutenant of Ireland, joins the River Corrib to the sea, and, flowing for just more than a kilometer, is a very pleasant walk from the University to the Claddagh.

Spanish ArchIn the southwest of the city at the south end of the pedestrian streets, is the Spanish Arch, one of the few remaining parts of the town's ancient defences. Walk through the arch and south west along the riverside and you will find a plaque commemorating Michael Walsh who was murdered by the Black and Tans in 1920. His dead body was dumped in the Corrib here. The park adjacent to the arch is a popular place to sit and relax, while watching the Corrib flow out into Galway Bay.

phone: +353 91 532460

address: Spanish Arch

This museum focuses primarily on the history and heritage of Galway City, but the displays and exhibits will appeal to anyone with a broad interest in Irish history and material culture.

National University of IrelandThe original Quadrangle building of National University of Ireland, Galway which was erected in 1849 during the Great Famine (An Gorta Mór) as one of the three colleges of the Queen's University of Ireland. The university holds the UNESCO archive of spoken material for the Celtic languages.

Eyre SquareThe pedestrian shopping area south of Eyre Square is a pleasant place to stroll around.

Seapoint PromenadeThe Promenade in Salthill is a fantastic place to people watch on rare warm, sunny days. People walk and roller blade along the prom and kids and adults alike jump off the concrete diving board into the frigid Atlantic Ocean.
Do
Enjoy walks along the banks of the River Corrib and the Eglington Canal.
Walk along the bay to the nearby resort of Salthill. Along the way you can, weather permitting, walk along the causeway to Mutton Island on which is a 19th century lighthouse. However access to the island requires prior arrangement. Nearby a stone commemorates the Great Famine. As you arrive in Salthill you may want to stop at a children's park named in memory of Celia Griffin who died in the Great Famine. The park is a memorial to those who died in that famine and those who left Ireland because of it.
Check local free paper the Galway Advertiser for up-to-date info on cultural events, concerts and plays, as well as the latest local news. Available on Thursdays it is usually snapped up quickly.

phone: +353 91 569777 (Box Office)

address: Courthouse Square

This theatre features plays and musical performances and is often used as a venue for Galway's major festivals. The theatre aims to regularly show the best of national and international talent to its audiences.

phone: +353 91 585100

address: Seapoint Promenade, Salthill

A must-see if you are interested in the sea and its inhabitants. It is not the usual tropical fish collection that you might find anywhere, but they have beautifully mirrored the life around the Irish coasts and show the animals and plants in a realistic environment, just as you might find them 50 m outside of the building in the real sea. Be sure to ask one of the staff about the 300 mm large but harmless giant crabs on the second floor, he might just pick one out of the basin and put it into your hands, an experience you´ll never forget! Or pet the flounders and rays in the "touch pool".

Galway ToursRun scheduled walking tours of Galway City.

phone: +353 91 59247

address: Woodquay Galway

90-min guided cruise of the River and Lough Corrib on a modern luxury river cruiser. Departs from Woodquay in the heart of Galway City dail from April - October.

Galway Arts Festival, July 11th- 24th

phone: +353 91 509700

Ireland's best-loved cultural event features music, theatre and exhibitions for two weeks in July.

phone: +353 877565578

Guided kayaking tours along the West Coast of Ireland. Many beautiful views can be had that way.

The Legend of the Claddagh Ring

phone: +353 91 123 456

address: 26 Shop Street

Delve into the history and lore of this iconic ring at the Legend of the Claddagh Ring museum and visitor centre, where you can learn where the ring first came from and what it has come to represent.
Watch Rugby Union ie 15-a-side. Connacht Rugby are one of the four Irish professional teams playing in Pro14, the top European (predominantly Celtic) tournament. Their home stadium is The Sportsground, capacity 8000, a mile northeast of the centre.
Learn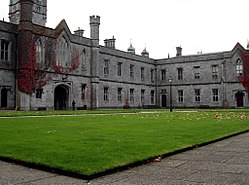 Buy
The main shopping area runs south from Eyre Square towards the Corrib. This pedestrian zone includes Williams St, Shop St, High St, Mainguard St and Quay St. Along it you can find all kinds of high street and artisan shops, pubs and restaurants. The historical buildings and busy atmosphere also make this area one of the attractions of Galway.
Middle Street, which runs parallel to Shop Street, is a particularly good street for finding a range of inspiring and creative local enterprises, including the Irish-speaking theatre "An Taibhdhearc," the Cocoon designer studio, Charlie Byrne's Bookshop, and Kenny's gallery among others.
address: Church Ln

This market features a small number of local artisans and their handmade crafts. There is a special Christmas edition of this market, which runs annually from mid-December to just before Christmas.

Eyre Square CentreA modern shopping centre almost entirely hidden behind a historical façade. Entrances can be found on the south side of Eyre Square and on Williams Street.
Eat
Galway is a very popular destination with tourists and the range of restaurants extends from traditional, to ethnic to the usual fast food outlets.
For those on a tight budget, check out the supermarket in Eyre Square Centre (closes at 17:00) or the Tesco on Headford Rd (open 24 hr). On Saturdays (08:00-18:00) and Sundays (14:00-18:00), you can head to the outdoor
Galway Market
in Church lane beside St. Nicholas Church where you can find locally-grown produce, cheese, bread and affordable prepared foods like curries and crepes.
phone: +353 91 561 114

address: Spanish Arch

Delicious food based on local sourcing. Wonderful atmosphere. If you're not looking to splurge at this restaurant, head to the cafe for the lunch specials which are more reasonably priced.

phone: +353 91 569404

Cross St. Offers superb food, attentive service, generous portions with a modern twist. Offers a value dining menu, two courses €22.50, three courses €24.95, both including a drink of your choice next door in Buskers.

Fat Freddy's Famous Pizziera & Bistro

phone: +353 91 567 279

address: The Halls, Quay St

One of Galway's longest established restaurants, synonymous with Quay Street in Galway City near the Spanish quarter. Known for the excellent atmosphere, service and, of course, food. Great for kids.

McCambridges

phone: +353 91 562259

address: 38-39 Shop St

This gourmet grocers has a deli counter for take away sandwiches which is quite good.

phone: +353 91 564829

address: Kirwans Lane

A great place to get wine, pates, bread, and cheese of course.

McDonagh's Seafood

phone: +353 91 565001

address: 22 Quay St

Famous for its fish and chips, and has very good prices on takeaway.

McSwiggans

phone: +353 91 568917

address: 3 Eyre St

Restaurant on the two floors above the bar. Open M-W until 22:30, Th-Su 23:00. The food is varied, includes curries, seafood and steaks.

phone: +353 91 582 180

address: Dominick Street Lower

Looks unassuming enough from the outside, but offers some of the best food in town. Their Seafood Platter has to be seen to be believed!

La SalsaDoes delicious and reasonably priced Mexican food.

Conlons Seafood Restaurant

phone: +353 91 562 268

address: Eglinton St

Established seafood house with Art Deco ambience, great service, good food and reasonable prices.

Costellos Kebab House

phone: +353 91 581 181

address: Dominick Street Upper

Does extremely cheap, greasy and tasty post-pub food. A substantial feed of Guinness is recommended before consumption of Kebab House fare in order to ensure full satisfaction.

phone: +353 91 522 696

address: 232 Upper Salthill Road

The menu is mainly traditional Irish dishes such as Guinness & Beef Stew, Bacon & Cabbage and hearty sausages & mashed potato. Other lighter seasonal dishes and seafood are also available.

phone: +353 91 513200

address: Sandy Road, Headford Point, Eircode: H91 ET6N
Drink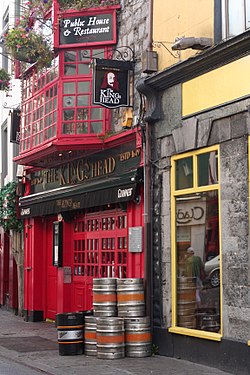 The
Galway City Pub Guide
is a good resource for checking out pubs and clubs in Galway. The guide includes reviews, photos and videos, as well as a list of the top ten pubs in Galway. You can add your comments about the pubs you visit. Drinking in public is not allowed in Galway but enforcement of this rule is not feasible during summer months and well behaved groups are usually left alone. Don't mingle too near to obviously drunk people though as the authorities will likely confiscate all visible alcohol.
phone: +353 91 376 561

address: 11 Forster St.

Busker Brownes and Kirbys Restaurant

phone: +353 91 563377

address: Cross St

4 bars, 1 venue and over 400 years of history. Live bands Sunday - Thursday & late night DJ at the weekends. Adjacent to Buskers is Kirby's Restaurant serving the best of modern food with a contemporary twist.

Cookes Thatch PubOne of only two remaining Thatch Pubs in Galway. Dating back to the 1600s, the trad music sessions on Wednesday and Sunday night are unmissable.

phone: +353 91 566 630

address: 15 High Street

Has decent prices and a nightly cover band. Popular with students and tourists alike, this place is always lively.

address: 19 High St

It is a fine "old man" establishment with some of the best Guinness in town. also popular with students who want to drink a few quiet ones.

Monroe's Tavern

phone: +353 91 583 397

address: Dominick Street Upper

For the more traditional minded. Has traditional music every night and set dancing on Tuesdays. Highly Recommended if you're in town on Tuesday night.

phone: +353 91 586 540

address: Lower Dominick Street

Perfect for those who like alternative and rock music, and on Wednesdays hosts a popular comedy night showcasing local and international acts.

phone: +353 91 568 347

address: 11 Quay Street

Warm and offers good live folk music and as well as cover bands.

phone: +353 91 587 419

address: 2 Sea Rd

You'll find live Irish music nightly at the Crane. Take your pick from the locals playing traditional music downstairs or the musicians playing various types of music upstairs.

address: 19 Shop St

Great authentic Irish experience. You can find traditional music there almost any night and there's a friendly, welcoming atmosphere.

phone: +353 91 568 820

address: 17 Cross St

A local favourite.
Sleep
Galway is a very popular destination with tourists. There is a large selection of accommodation, ranging from budget two-star to luxury five-star hotels.
phone: +353 91 523 411

address: Threadneedle Rd

Coolin House is a family-run bed and breakfast, just off Salthill's famous Promenade. Coolin House is close to several amenities, including Leisureland, Atlantaquaria and the bustling bars in Salthill. Private parking is available. Tea and coffee making facilities and television in all rooms.
Hostels
phone: +353 91 568 644

address: 10 Quay St

Barnacles is in the heart of the action in Galway on a pedestrianised street. It is on the same street as all the pubs & restaurants you came to Galway for. The perfect location and young staff who are full of helpful knowledge - it's a great place to start your Irish experience. Check out the other Barnacles hostel in Dublin.

phone: +353 91 566 959

address: Frenchville Lane, Eyre Square

Frenchville Lane, A really nice place, with competitive prices. Straight across the train station, next to Eyre Square. Great staff. Free tea and coffee all day. It doesn't have the best luggage storage facilities, and the place can feel a little cramped. But it is the best hostel to meet people and party at.

phone: +353 91 565244

address: Merchants Road, Eyre Square

Merchant's Road, on the south-east corner of Eyre Square is an affordable, clean and central hostel. Included with a bed is a breakfast of unlimited tea and toast.

phone: +353 91 566 999

Bothar Na mBan, is a large hostel (more than 200 beds) in central Galway, just off Eyre Square. It is quite new and has modern kitchen facilities, and a free internet cafe (and wireless, too). It's very clean, and well-run. Everyone from school groups to backpackers to families stay here. The staff are amazing and available at all hours if you need anything. Additionally, they provide a shuttle service to their affiliated hostel in Connemara, departing at 11:00 and 19:00 daily, for €5. (This shuttle only runs in the summer.) They also offer day-long bus tours of The Burren and Connemara. These tours are mostly for those in their 20s, but would be enjoyable for all ages.
Bed and breakfasts
Even by Irish standards, Galway has a ridiculous abundance of B&Bs. Two particular clusters can be found on
College Rd
, within easy walking distance of the centre and the train/bus stations, and in
Salthill
, where you'll probably want your own car.
Hotels
Stay safe
Galway is safe town by any standards. It's a small town compared to Dublin, and it luckily doesn't have to deal with most of the problems big cities have.
With that said, it is a party town and the weekends can get pretty crazy. Keep your wits about you, and stay in groups if you don't know the area. Despite Galway's reputation as a safe place, like everywhere Galway has a troublesome element.
Like most towns in Ireland, there are some run down areas. For its size, Galway does not have many but there are still some suburbs that are better avoided by anyone unfamiliar. These areas are all off the beaten track of the tourist areas.
The River Corrib runs through Galway. It is a very powerful river, especially after a few days of rain, and drowning deaths do occur. Use caution when walking on the river banks and walkways, especially after a night of drinking.
Nimmo's Hostel has had a reputation for being unsafe, but its door is locked, and can only be entered using a regularly updated code. Despite its former reputation, it is a safe, if 'colourful' place to stay.
Stay away from the public toilet areas in Eyre Square late at night, it attracts a lot of drunks.

Go next
Galway is the ideal base for trips throughout western Ireland. Hiring a car is a good way to see attractions in the surrounding area. Alternately, day tours of
The Burren
and the
Cliffs of Moher
, and of
Connemara
are available at the tourist office.
If you wish to hear
Irish
being spoken as a first language, visit towns like Carna, An Spidéal, Carraroe, Barna, all west of Galway City in the Connemara area. English is also spoken in these towns if you are not confident enough to speak Irish just yet, but as a visitor you can appreciate hearing the Irish language being spoken in one of the few areas where it is a thriving first spoken language and has priority over English
Several outlets around town and at the tourist office sell ferry tickets to the
Aran Islands
.
For hitch hikers hoping to see the rest of Connacht, the best place to catch rides is near the Galway Shopping Centre, north of the city centre. There are several roundabouts nearby, so it should be easy to pick the road heading in the same direction as you are.
Word of mouth may be useful for catching a lift to Dublin and other destinations. Ask around in your hotel or hostel.