Gandía
Gandia
(Spanish:
Gandía
) is a city in
Valencia Province
,
Spain
.
Understand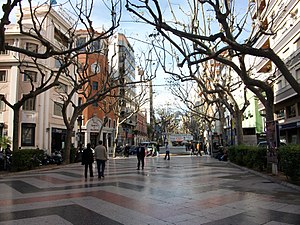 Gandia is the capital of the county of
La Safor
, between the mountains and the beaches of the Mediterranean. It is 65 km south of Valencia and 116 km north of
Alicante
and is one of the largest coastal towns and a rather well kept secret. Traditionally Gandia's tourism is Spanish based with a major part of it coming from
Madrid
. It seems though that the cat may be out of the bag with more and more foreign tourism coming to the area. With the foreign tourism, we have also seen a rise in the number of people coming to live. Gandia is a thriving centre of commerce, and as such does not rely solely on tourism. The beach and the town are actually some 4 km apart which succeeds in separating the summer tourism from day to day living. Imagine, in the middle of August being able to visit the bank in Gandia without fighting through hoards of people waving travellers checks and smelling of suntan lotion, to then be able to visit the beach and be right in the thick of it all. The same advantages also exist in the winter time. Unlike many coastal towns which become deserted as the colder months approach, Gandia stays populated and open.
Oranges are a considerable source of income, but also onions, tomatoes, peppers and many other natural crops in La Conca de la Safor, handled and packed in the many local stores, contribute to the obvious wealth of the area, together with the industries that make the most varied of goods, the shops that sell them and the tourism, which has an important hotel infrastructure distributed along the coastline.
All these products were exported, up until recently, via Gandia harbour, inaugurated in 1893 due to an English company that built the narrow-gauge railway from
Alcoi
to Gandia, where the company boats unloaded the coal that heated the factory boilers. The harbour was for many years the main point of export of Valencian oranges and, though it has not the traffic that it used to have in the sixties, Gandia harbour still has a fishing fleet of some importance, while land transport has replaced transportation by sea. This has generated the appearance of many transport companies owning long-distance truck fleets that travel the roads and motorways of Europe and carry the name of Gandia everywhere in the world where it deserves to be known.
phone: +34 962 877 788

address: Avda Marques de Campo, 16

phone: +34 962 842 407

address: Passeig Neptú
Get in
By plane
Two major airports are close enough: Valencia and Alicante, at a distance of 70 km (the former) and 110 km (the later).
By train
phone: +34 902 240 505 (reservations)

address: Parc de L´estacio, s/n

From Valencia, Renfe regional train line C1 departs every hour from Estació de València Nord; a one-way ticket costs €5.80 and the journey lasts about one hour.
By car
Major roads get you to the center of the city. The main
A7
motorway is directly adjacent to Gandía.
By bus
Estación de Autobuses de Gandía

phone: +34 962 871 064

address: Avda Marques de Campo, 12

A large bus terminal with direct links to Madrid and other major city in Europe. Within the region, Alsa operates a route connecting all major coastal settlements between Valencia and Alicante, including Cullera, Gandía, Oliva, Dénia, Calpe, Altea, Benidorm, and Villajoyosa.
By boat
The marina at Gandia has 120 moorings up to 30M. No visitor moorings are available (typical med marinas) but turn up or book and you should get in.
phone: +34 902 454 645

address: Moll dels Borja

Operates daily ferries to/from Ibiza (2½ hr, €70).
Get around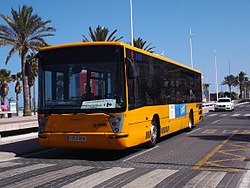 By bus
La Marina Gandiense
(tel. +34 962 871 806) operates seven bus routes within Gandía and connecting the city to the surrounding pueblos.
L2
and
L6
connect the train station directly to the city beaches. A single journey costs
€1.50-€1.80
, depending on the route, and is payable directly to the bus driver on entry.
By taxi
phone: +34 962 843 000

There is also a taxi stand in front of the train station.
See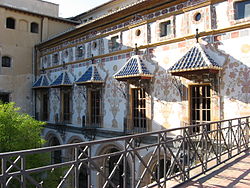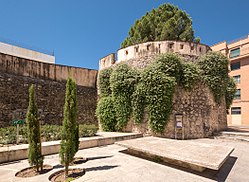 phone: +34 962 871 465

address: Carrer del Duc Alfons el Vell, 1

Built in the 14th century by the Borja family, the largely Gothic palace was renovated in the Renaissance and Baroque periods.

Museu Arqueologic De Gandía - MAGa

phone: +34 962 959 540

address: C/ de l'Hospital, 20

This museum is devoted to the history of the area, and displays items dating from the Paleolithic to the Iron Age.

Casa de Cultura Marqués de González de Quirós

phone: +34 962 959 535

address: Passeig de les Germanies, 13

The former 19th-century palace is now a venue for temporary art exhibits as well as concerts.

phone: +34 962 966 819

address: C/ Sant Martí de Porres, 29

This ethnographic museum is dedicated to illustrating and preserving traditions of the Fallas celebration.

Torreló del PiSo named from the pine tree that grows from the top, this is the only remaining and intact defensive tower from the city walls. It was built in the mid-15th century and restored in the 20th century. It is closed to the public but can be easily appreciated from the street.

Castell de BairénThis ruined hilltop fortress was probably originally established by the Romans; the current structure dates to the Moorish period. In 1097 it was the site of a battle between the Almoravids and El Cid, and in 1240 it came under Christian control. The castle can be accessed by an easy hike of just over 1km, and has great views of the sea and the surrounding countryside.
Further afield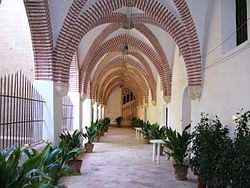 Reial Monestir de Sant Jeroni de Cotalba

phone: +34 619 524 093

address: Autovía Gandía-L'Ollería (CV-60), Exit 35

Established in the 14th century with expansions built in the 17th and 18th centuries, this significant monastery incorporates the styles of Valencian Gothic, Mudéjar, Renaissance, and Baroque. The monastery was dissolved in 1835 and has since been in private hands; it was opened to the public in 2005. Especially noteworthy are the Mudejár cloister, Nicolás Borrás' fresco of the Saint Supper, the 16th-century gold monstrance, and the 20th-century romantic gardens.
Do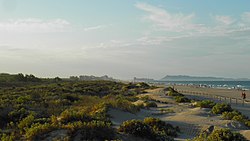 Beaches
Gandia has seven kilometres of beaches, which are known for their especially fine sand. The beach season runs from June until the end of September.
Platja del NordThe most developed beach, with lifeguard and first aid stations, showers, toilets. Sun loungers and umbrellas are available to rent, and there are a number of restaurants and snack bars immediately adjacent to the beach.

Platja de VenèciaA small urban beach by the Serpis River, with basic services.

Platja de L'AhuirA quieter beach in a more natural setting, with protective dunes and vegetation, and a nudist section.

Platja CanA dog-friendly beach located just south of Playa de L'Ahuir.

Platja de RafalcaïdGandia's most southerly, semi-urban beach has small dunes with vegetation, and is a good place for kitesurfing.
Festivals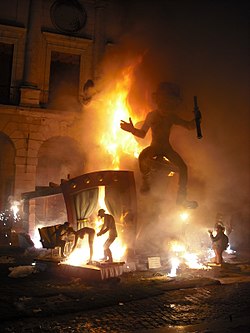 Like its much larger neighbour
Valencia
, Gandia greets the arrival of springtime with a spectacular pyrotechnic festival known as
Falles
. Various events and entertainments take place over the period of a few days, culminating in the Feast of Saint Joseph on 19 March. All the hard work put into the creation of giant figures of wood and paper go up in smoke in the great bonfires that take place in the evening as part of the Gandia Falles celebrations.
Buy
Mercadillo de la PlayaA weekly street market for local produce and other goods.

Mercadillo del Grau

address: Plaça Orient

Another street market.
Eat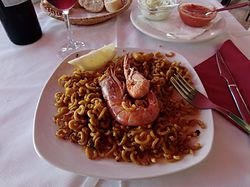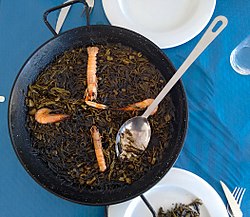 Fideuà
, a paella-like dish with thick, short noodles and seafood, is originally from Gandía. A variation of this is
fideuà negra
, prepared in the same manner but with the addition of squid ink.
phone: +34 962 84 2209

address: Plaza Mediterrània, 1

Located directly on the harbourfront, this is a favourite, informal place with locals specialising in fresh seafood. Reservations recommended.

phone: +34 962 818 568

address: Paseo Marítimo de Daimús, 5

Seafood and rice dishes, with excellent wine in a pleasant ambiance.

phone: +34 962 840 137

address: Carrer Asturies, 23

In addition to fish and seafood the restaurant serves traditional Valencian cuisine, including fideuà and rice dishes.
Sleep
Budget
Mid-range
Splurge
Camping