Gandhinagar
Gandhinagar
(
Gujarati
: ગાંધીનગર,
Hindi
: गांधीनगर) is the capital city of the
India
state of
Gujarat
and the twin city of
Ahmedabad
. Often hailed as the
greenest capital
in India, it is fast emerging as a desirable destination for real estate for the Gujaratis, with neighbouring Ahmedabad spilling over.
It is in a green farm belt, and houses major Gujarat Government organisations and administrative buildings, along with famous educational institutes like Pandit Deendayal Petroleum University (PDPU), Gujarat National Law University (GNLU), National Institute of Design, National Institute of Fashion Technology and the Dhirubhai Ambani Institute of Information and Communication Technology. Kalol is most populated tehsil (taluka) of Gandhinagar.
Understand
After being separated from Maharashtra, the state of Gujarat had its government offices in Ahmedabad temporarily. This town was created to set up the government offices through which the state can run. All the bureaucrats travelled by public transport from Ahmedabad to serve the government offices (or, Sachivalaya - Gandhinagar has Old Sachivalaya and New Sachivalaya). Some still do so. New Sachivalayar surrounds Vidhan Sabha or State Senate Building). From its start is a town of bureaucrats. It is now booming with tourism. It is one of the greenest cities in the world and has many high cader high schools and professional teaching institutes. New infrastructure projects by the Gujarat Government are attracting people from whole state and the country. The population is now getting diverse with a mix of professionals, government service personnel, college students. Non-Gujarati community from all over India is increasing like never before. Gandhinagar is becoming a symbol of cultural and economic hub of Gujarat with a lot of foreign investments and multinational companies and businesses.

Get in
As a twin city of Ahmedabad, most of the options will be via Ahmedabad as the services will be more frequent. Although Gandhinagar has its own railway station and GSRTC bus depot (Pathik Ashram).
By plane
Gandhinagar is served by the
Sardar Vallabhbhai Patel (SVP) International Airport
(
AMD
) which is in the area of Hansol, North Zone, Ahmedabad. The airport is expanding with permissions for many international air lines being given and development of new terminals.
There is an international direct flight to New York City/New Jersey (Newark) via Mumbai served by Air India. Non-stop connections are available for Muscat, Kuwait (Kuwait Airways), Dubai (Emirates), Doha Qatar (Qatar Airways), Sharjah (Air Arabia) and Singapore (Singapore Airlines).
Ahmedabad is well-connected domestically via daily flights from Mumbai, Delhi, Indore, Chennai, Bangalore, Goa, Kolkata, Jaipur, Pune, Coimbatore, Hyderabad and Nagpur with connections to several other Indian cities and towns. Flights to Kandla and Surat have also been launched. Most domestic airlines have a flight in and out of Ahmedabad.
The international terminal is not open 24 hours, and may not open until the late afternoon. Similarly, as at other Indian airports, you will likely be denied entry until approximately 3 hours before your scheduled flight even if the terminal is open. Therefore, connecting between a domestic and an international flight will often involve waiting outside the airport with the throngs of touts for several hours.
From airport to city:
By road: The Hansol area where the airport is lies near the river banks, between the areas of Shahibaug and Naroda that give access to Ahmedabad. For travelling to Gandhinagar, is accessible through the road from Airport Circle (in direction of Naroda from the airport): Take left from Airport Circle onto Indira Bridge and keep straight onto the inter - city highway, crossing roundabouts at Tapovan Circle and Koba Circle, ending at Indroda Circle (CH 0), the starting point of Gandhinagar (from South).
By auto rickshaw/taxi: An auto rickshaw or a taxi should cost roughly ₹200 and ₹300 respectively. Save yourself considerable hassle by using the prepaid booth, or, better yet, arrange a pickup through your hotel.
By train
Gandhinagar Capital Railway Station GNC


There are few trains regularly available to move in country. Jaipur-Bandra Garib Rath, Haridwar mail for Delhi and Haridwar and Shanti express for Indore. The Indian Railways transports are available for moving in Northern India & Eastern India From Kalol Railway Station of Ahmedabad.
For more frequent services, the best option is Ahmedabad Railway Station (ADI) in Kalupur (Ahmedabad), which is connected with Mumbai (500 km), Vadodara Jaipur, Jodhpur and Delhi with trains several times a day. Daily connections (or multiple weekly connections) are also available to several other major cities including Bikaner, Rajkot, Surat, Vadodara, Udaipur, Indore, Pune, Bhopal, Kolkata, Nagpur, Lucknow, Varanasi, Bhubaneswar, Puri, Chennai, Nagarcoil, Trivendram, Bangaluru, and Coimbatore. Direct trains are also available for Jammu, Patna, Darbhanga, Muzaffarpur, Kolhapur, Goa, Mangalore, Cochin, Trivandrum, Hyderabad and Bangalore.
Another railway station of Ahmedabad, Sabarmati Junction (SBI) in northern neighbourhood of Sabarmati, and is closer to Gandhinagar, but has fewer services than the main railway station of Kalupur (Ahmedabad).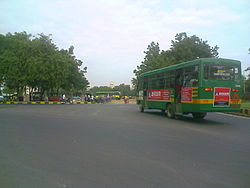 Get around

To move about locally in Sectors, travelling in CNG auto-rickshaws is the best option available.
Also VTCOS runs local city buses.

See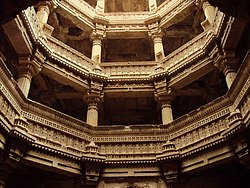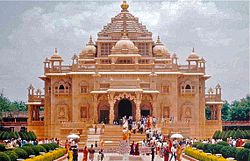 Here are the main places to visit in Gandhinagar.
Adalaj Stepwell15 km away from Gandhinagar in the National Highway. It is famous for its unique architecture.

phone: +91 79 23260001

address: 'Akshardham', Sector 20, 'J' Road, Gandhinagar - 382 020 Gujarat

One of the biggest religious attractions in Central Gujarat. The temple has pink stones with beautiful carvings. Surrounded by beautiful gardens and awesome fountains. A laser water show, the first of its kind in the world, is a must to see.

Capital Complex

address: Sector 10

A magnificent domed building.

Children's ParkAn attraction for children and holiday-makers of the Children's Park in Sector 28 has a mini train and a lake with boating facilities.

DeerParkNear Sarita Udyan, at Indroda village, nice place to visit for both children and adults.

Sarita UdyanIn sector 9 and along the river front is the lovely Sarita Udyan, an ideal spot for picnickers. The entire area is being developed to provide full recreational facilities.

Indroda Park

Mahatma MandirA museum dedicated Mahatma Gandhi
Do
Sanskriti Kunj
Vidhan Sabha
Eat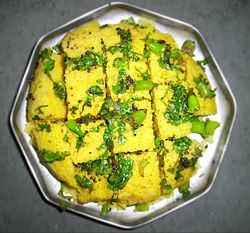 Drink
Alcohol is prohibited in Gujarat.

Sleep
Number of good hotels are present in Gandhinagar. With Ahmedabad International Airport at a drive of less than 20 minutes (that is less distance than for a local of majority of the neighbourhoods in Ahmedabad), it is not unusual for travellers to stay in the nearby airport hotels and visit Gandhinagar.
Budget
phone: +91 79 232 43161

address: GH Road, Sector 7b

Government-owned hotel.

phone: +91 79 232 883 00, +91 830 6007 001

address: Dev Complex, K-7 Circle, Sector-26
Mid-range
phone: +91 93747 41589

address: Plot No X 22, 23 & 24, Sector 25

phone: +91 79 3988 4422

address: Plot 235, Sector 11

4-star hotel

phone: +91 79 2321 3133, +91 982 580 1782

address: Indroda Circle, S.G. Highway
Splurge
Go next