Gangtok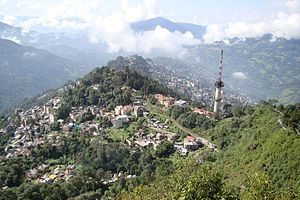 Gangtok
is a bustling, friendly hill station, and the capital of the Himalayan state of
Sikkim
. The name
Gangtok
is derived from the Tibetan word for 'hillside,' and the city has a population of around 100,000 (2012) being a mixture of indigenous Sikkimese and people of Nepalese and Tibetan ancestry.
Understand
Gangtok is popular place with tourists heading on treks, although the facilities do not reflect the number of international visitors. However, efforts are being made by the government to improve the conditions. Gangtok is one of the cleanest cities in India and is well organised and beautifully maintained.
Gangtok resembles the Bhutanese capital,
Thimphu
. Mostly devoid of large shops, this place is a nice break away from typical city lives. The city is a fascinating place to spend a few nights, the winding side alleys hide some unexpected gems, and the main street (MG Marg) is pedestrianized and a pleasant place to take a stroll.
The city sleeps by 21:00 mostly, except for a few pubs which are open till 23:00.
The best season to visit Gangtok is Jan-March.
Get in
By plane
Pakyong AirportWas opened 2018 and is the first airport in Sikkim.
Bagdogra Airport (
IXB
) is farther away, roughly 14 km from Siliguri and 120 km from Gangtok, but offers more flight connections. It is served by direct flights from Kolkata and New Delhi.
From the Bagdogra airport you have two options to reach Gangtok:

You can hire a taxi or cab to reach at Gangtok: a lovely highway passing through beautiful scenery, waterfall and mountains will take you there.

phone: +91 3592-203960

A helicopter flies once a day from Bagdogra to Gangtok, departing around 14:30 and taking 35 minutes. The return flight departs Gangtok at 11:00 in the morning. Pre-booking required, as it carries only 8 passengers.
By train

The nearest train station to Gangtok is New Jalpaiguri in Siliguri which has direct connections to New Delhi, Kolkata, and other major cities in India. It is a 10-12 hour journey from Kolkata.
Once you arrive in New Jalpaiguri, you can either hire a taxi from the station itself or take an auto-rickshaw to the Siliguri bus stand. From there, you have the option of travelling to Gangtok by state bus, roughly a 5-6 hour journey.

By road

The roads in the area are all winding mountain roads in poor condition. The average travel speed between Gangtok and other cities is around 30 km/h.
Shared jeeps connect Gangtok to Siliguri, Darjeeling, Kalimpong, and other mountain locales. Jeeps leave when full and are filled up by priority order so the price is generally fixed.
Jeeps to Namchi, a nearby tourist destination with many holy sites, costs around ₹110 and takes about 3 hours. Jeeps to Kalimpong cost ₹120 and are available from Deorali (or Mainline) Bus Stand, distance of around 80 km and time around 3.5 hours.
Fare of the shared taxis is generally fixed, around ₹155 to Gangtok from NJP station. Drivers might try to charge high so check for the fare with other taxis before taking one.

Get around
By taxi
Tourists are of paramount importance to the economy and so rules have been enacted to prevent them from being cheated. Taxi fares are mostly fixed.
Taxis are the dominant form of transportation due to Gangtok's hilly and steep roads. There are standard charges within the main areas: at least ₹100 for private service and ₹10-20 for shared. Taxis are available from designated taxi stands.

by jeep
may be available from the private taxi stand a few minutes downhill from MG Marg. However, most of these will be shared jeeps that are one-way so it would be prudent to inquire ahead of time.

See
Gangtok provides beautiful views of the surrounding valleys and hills. There are also several viewpoints near the city with views of
Kanchenjunga
ranges.
Lake Tsomgo, a popular and scenic lake around 40 km from Gangtok at an elevation of 3,780 m. make sure to see Hanuman Tok and Ganesh Tok along the way, monasteries with views of
Kanchenjunga.Enchey Monastery is a 200-year-old monastery in the Nyingma tradition of Tibetan Buddhism, located above Gangtok, just off the road to Lake Tsomgo.
Rumtek Monastery and Ranka Monastery. Rumtek Monastery, 15 km from Gangtok, is one of the most famous things to see near Gangtok. Ranka Monastery, 20 km from Gangtok, is newer and quieter but also very beautiful. Nearby Ranka Monastery is the Kanchenjunga Tourist Complex, a combination hotel and family amusement park.
Mahatma Gandhi Marg (MG Marg) is a pedestrian only avenue which forms the main shopping district. Near the main entrance of MG Marg is the tourist information office and a taxi stand, the final destination of many taxis from other parts of the city.
Do-drul Chorten, a Buddhist stupa complex constructed in 1945. (Deorali district at the bottom of Gangtok)
Dodrupchen Monastery is a monastery in the Nyingma tradition, famous for its large chorten. When in residence, Dodrupchen Rinpoche receives devotees to offer blessings from around 20:00 to 21:30.

Flower show

address: Ridge Park

Near the White-Hall, flower show is at its best during the flowering season which is mid March to end of May in spring and October to mid December in autumn. The annual Cymbidium Orchid Show is from mid March to mid April.

Namgyal Institute of Tibetology

address: Deorali

A museum and library dedicated to Tibetan culture, language and history. It was inaugurated by the 14th Dalai Lama in 1957.
Do
A few minutes walk down the hill from Do-Drul Chorten is the Namgyal Institute of Tibetology, a small but informative museum providing a general introduction of Tibetan Buddhism using authentic artifacts such as thankas and statues. Entrance fee is ₹10. About 5 minutes from the museum is the Gangtok Ropeway (or Damodar Ropeway), a cable car which connects Deorali to a hill above Gangtok. One way or round trip cost is ₹80, with a children's discount.
Banjhakri FallsThis waterfall has an entrance fee of ₹30 for two people and parking fee of ₹20. The site is developed with pathways and bridges around streams leading up the waterfall, decorated with sculptures. The waterfalls are accessible and soft enough to swim in. There is also a restaurant and gift shop.
Buy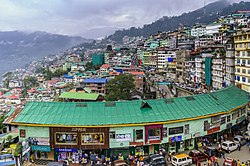 Aside from the local handicraft, Sikkim is famous for its fruit processing and tea. Passion fruit squash, alpine cheese, Temi Tea & Maha Gurudev Tea are some of the local products.
Curio Craft Gallery

phone: +91 3592 220-551, +91 99333 22333

address: Paljor Stadium Road

One of the better quality handicraft stores in town. Excellent selection of Buddhist artwork.

phone: +91 3592 204-336

address: Jeewan Theeng Marg

By far the best bookshop in the city. A wide selection of English-language books, about half of which set in or about the Himalayas or India, or by Indian authors. Knowledgable owner. Also organises events and exhibitions.

Souveneir

address: MG Marg

Good place to buy prayer wheels, flags and other handicraft. Little expensive.

The Wayside Gardens & Nurseries Pvt. Ltd.

address: Sixth Mile, Tadong

Well known House of exotic plants including Orchids. Azaleas and Cattleya hybrid orchids, besides range of Citrus, are their specialities. A must visit place for any plant lover. Visits by prior appointment. Conducted tour in the well spread out garden for groups conducted by travel agents and interactions about Himalayan flora with Sr. Pradhan, authority on Himalayan flora and environment, over cup of tea on payment of nominal fee, possible.
Eat
There are many great and cheap places to eat in Gangtok and there are quite a few places for vegetarians to eat since the city is mostly dominated by Buddhist culture.
Agarwal's

address: MG Marg

Serves south Indian and north Indian snacks and sweets. Good place to have breakfast. There are two outlets, one on MG Marg and other on the way near the taxi stand. Dosas are not so good.

House of Bamboo

address: MG Marg

Authentic Tibetan and Indo-Chinese fusion cuisine. The beef/pork chilli, the momos and the tea momos are recommended. The beef chilli is not so good.

Potala

address: 1st Floor, Sypraj Plaza, Opposite Denzong Cinema Hall, Lal Bazaar

This place has excellent Sikkimese and Tibetan food. You might find yourself to be the only tourist/ non-local at any time of the day. Good selection of thenthuk, thukpa, faley, momos, chowmein, meat dry fry, rice plates, etc offered with beef, pork or chicken. Vegetarians may have some difficulties. A big bottle of beer starts from ₹90.
Do definitely try their pork thenthuk and pork momos.
Parivar's, on MG Marg down a short flight of stairs, good food and is popular with locals.

Porky's

address: Deorali

Amazing sizzlers and momos.
Quick Bite, and numerous other sweet shops along MG Marg, serve up everything from samosas to momos.
The Roll House, tucked on the side of a stairway between MG Marg and the main market, serves up Veg Momos & hot chapatis (Roll)with various fillings (paneer, egg, veggies). This place is always packed with both tourists and locals.

phone: +913592-226618

address: Chumbi Residency, Tibet Rd

Stunning food, some unusual options and cheaper than it might be.
Thalung (Mahatma Gandhi Marg, about 3/4 of the walk away from the Tourist Information Center to the far end of the central pedestrian promenade, on the right side). A cultural relic not to be missed, this fast food outlet located in a wooden hut (perhaps the last traditional building surviving in the remodelled central area) serves a rigorous menu consisting of 2 items: beef momos (Tibetan dumplings) and beef noodle soup. The food is devoid of spices and salt. Chili paste, soy sauce and salt are provided as condiments. The building is somewhat skewed and may present safety hazards, but it appears to have survived generations of customers, and the upper floor offers an agreeable view. An antique portrait of Dalai Lama XIV is displayed at front counter. Visit this one before it has been replaced by another McDonald's.
Drink
Baker's Cafe

address: MG Marg

The only place in the city selling cappuccino and latte. Has a wide selection of Western-style pastries.

Cafe Culture

address: Ground Floor, Hotel Pandim, Secretariat Road

At the ridge which is an ideal location for walk and best view of the mountain, the cafe offers fresh Himalayan cuisine like phale (local bread), shiafale (local bread filled with meat and deep fried), momos and grilled sandwiches.

Cafe TibetOn the way up towards the Zero point, left side. Run by a Tibetan, serves very good coffee although the food is just decent.

Downtown Multi-cuisine Restaurant and Bar

address: MG Marg

They have a couple of guitars, a saxophone etc if you feel like playing. Don't be surprised if the whole pub starts singing along. The best time to go is Saturday or Sunday nights, when it is jam packed with both locals and visitors. Saturday night is Karaoke night with songs ranging from Bollywood classics, Napali and English rock, and modern Hindi tunes. The owner Dheeraj Gurung is an amazing host.

Pub 25

address: MG Road, Gangtok

An upscale pub in the heart of MG Road. Great drinks, tasty food (especially the Malai Tikka and sauteed mushrooms), and an amazing ambiance. The price is higher than other pubs on the street, but worth it.

Taste of tibet

address: MG Marg

Serves Tibetan food, thupkas, gyathuk and thentuk. Includes a bar.

Wa Chipa Organic Restaurant

address: 2nd Floor Star Hall

This place is a cheap local hangout. In addition to the popular Hit and Dansberg beers, are traditional Nepali and Sikkimese drinks such as Nigar, Raksi, Chhang, Tongba, and various fruit and flower wines/spirits. They may run out of food, but when available includes various meat sekwas (traditional barbeque), wachipa and momos.
Sleep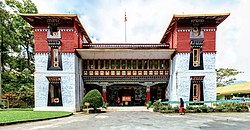 Budget
Modern Central Lodge

phone: +91-3592-231631

address: MG Marg

A decent place for budget travellers and a good base in the centre of town. Rooms are basic, with old furniture, but that is to be expected for the price. Do bring earplugs as the road-facing rooms are very noisy at night. The building is next to the busiest road in town, and windows cannot be fully closed.

Green Hotel

address: Mahatama Gandhi Road

Hotel Nirvana

phone: +91 63914473

address: Namang Road

Colour TV, carpeted rooms.
Hotel Palbheu (cell: +91 98323 48837), a nice place for budget tourists and just above the popular MG Marg. Fair rooms and nice good food. Wise to book in per person per day format inclusive of fooding & loadging. It also organizes tours throughout Sikkim.

phone: +91 3592 207540, +91 98320 80172 (Cell)

A family-run guest house with the best location, just above the Mall Road and below the Royal Palace offering the best mountain view. Also has a nice cafe called Cafe Culture offering fresh Himalayan cuisine.

phone: +91 33 2552 3432, +91 33 2584 0080, +91 98302 87429 (Cell)

address: Nh-31/a, "Baluwakhani"

A nice place for budget tourists and a good base to meet other travellers - ino the main town near the Tourist Information Centre. It also organizes tours throughout Sikkim.

Hotel Susantaawas

phone: +91 9051 115 228
Mid-range
address: Bamboo Grove, Kazi Road

A boutique 2-star hotel. Theme: Sikkimese design with modern amenities. Available: car parking, peaceful environment, Internet, mountain view from rooms, mountain biking, bar & restaurant.

address: Church Road

Warm, elegant decor and excellent service.
Hotel Golden nest & Hotel Hill View Near mall, ₹600-1500.
Hotel Rigwa International Libing Complex, M.G.Marg & Nam Nam Crossing, above Star Cinema Hall.
Hotel Tibet, Paljor Stadium Road. Clean and comfortable rooms with an excellent restaurant. ₹1500-2500.
Sonam Delek, Tibet Road. Good value. The standard room (₹1100) is spartan; the super-deluxe (₹2200) is well-furnished and has an excellent view of the hillside. All facilities are well maintained. The staff's knowledge of English is poor, but you can get by.
Splurge
Stay safe
Gangtok is generally safe. However, the standard rules of safety like being alert with strangers and not hanging out in deserted places are applicable to everyone.
If you are travelling alone then it is advisable to take a hotel in Gangtok itself and not in a remote area.
The roads in Gangtok are not intact, and sometimes the main highway remains closed due to frequent landslides.

Respect
No plastic bags can be sold or used in Gangtok.
Spitting, littering or smoking in public areas of Sikkim is a punishable offence and can incur a large fine. Streets in Sikkim have bins for garbage and spitting.

Connect
There are no internet cafes along the main thoroughfares. The infrastructure is weak, and the mantra of most internet cafes is 'server down.' Those needing internet access are advised to do so in Siliguri, where the server connection is much more reliable.
Softect Enterprises, tucked away just after the first pedestrian bridge up from the old taxi station, this internet cafe offers two rooms filled with computers with fast connections.
Go next