Garibaldi Provincial Park
Garibaldi Provincial Park
is a rugged wonderland set amid the Coast Mountains of
British Columbia
. Its landscape — shaped by volcanic action and carved by glaciers — is dotted with blue lakes and snow-capped mountains, providing some of the most stunning hiking and camping in the province. If you want to see some of British Columbia's scenery, it would be hard to go wrong to spend a day or more taking in all Garibaldi Park has to offer.
Understand
History
Mt. Garibaldi was designated as a provincial park in 1927.
Landscape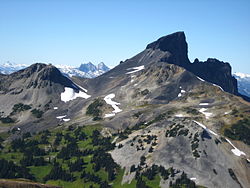 The landscape is mountainous, with many of the peaks (famous ones like Black Tusk, Mount Garibaldi and the Cinder Cone) in the park being shaped by volcanic forces. Lava flows created "The Barrier", a prominent ridge in the western part of the park that created a natural dam and holds Garibaldi Lake in.
Flora and fauna
The park consists of forests of Douglas fir, western red cedar and western hemlock, and alpine meadows. The meadows are filled with the blooms of wildflowers during July and August.
This park is home to mammalian species including black bear, mountain goat, deer, marmot, and pika. Bird species of golden eagle, bald eagle, and ptarmagin also inhabit the area.
Climate
Get in
The park has five access points off Hwy 99 (Diamond Head, Black Tusk/Garibaldi Laki, Cheakamus Lake, Singing Pass and Wedgemount Lake). These entrances lie north and east of
Squamish
. From
Vancouver
, it will be a one- or two-hour drive to reach the park, depending on which access point you go to.
Fees and permits
There are no fees for day use of the park. A fee is required to camp or stay in one of the huts overnight.

Get around
The primary means to get around the park is to hike. Bicycles are permitted in only a couple of areas. Motorized transport, other than on the park roads, is prohibited. In winter, snowshoeing or skiing are the primary means to get around the park.

See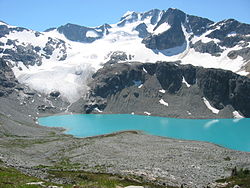 The park has some fantastic scenery:
Black Tusk

Cheakamus Lake

Elfin Lakes

Garibaldi Lake

Wedgemount Lake
Do
Over 90 km of hiking trails
Cross-country skiing/snowshoeing in winter
Canoe or kayak in Cheakamus Lake (boating is not allowed in any of the other lakes)
Climbing - there are several granite climbing locations
Biking is restricted to two areas: Diamond Head (as far as Elfin Lakes), Cheakamus Lake (as far as Singing Creek)
Swimming in the lakes (it's cold!) - except second Elfin Lake
Buy, eat, and drink
Sleep
The park offers a few walk-in campsites and simple backcountry huts. Usage is first-come, first-served, with no reservations allowed. All of these campsites require several hours of hiking to reach.
Backcountry reservations are done for Garibaldi Lake and Taylor Meadows campgrounds during peak season. Peak season is from June 29th – October 17th.

Lodging
There are backcountry huts at Elfin Lakes (11 double bunks, 11 single) $15/pp, Wedgemount Lake (6 people) and Russet Lake (6 people).

Camping
Backcountry
Walk-in campsites are $10/pp (adult) $5 (child) and are scattered around the park. Locations include: Garibaldi Lake (50 sites), Taylor Meadows (40 sites), Red Heather (winter only), Elfin Lakes (14 sites - year round), Helm Lake (9 sites), Cheakamus Lake (10 sites), Singing Creek (7 sites), Russet Lake (7 sites), Wedgemount Lake (20 sites - no winter services) and Mamquam Lake (3 sites).

Stay safe
Water from lakes and streams must be filtered, boiled or treated.