Garni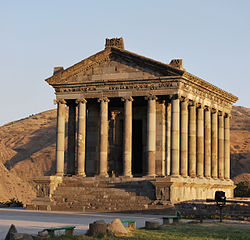 Garni
is a village in the Kotayk Province of
Central Armenia
. Most visitors come on day trips from Yerevan to see
Garni Temple
and
Geghard Monastery
, but the area deserves a longer stay.
Understand
Garni is rich in history. The area was fist occupied in the 3rd millennium BC along easily defensible terrain at one of the bends of the Azat River. In the 8th century BC the area was conquered by the Urartian King Argishti I. The fortification at Garni was erected probably sometime in the 3rd century BC as a summer residence for the Armenian Orontid and Artaxiad royal dynasties. Later around the 1st century BC the fortress of Garni became the last refuge of King Mithridates of Armenia, where he and his family were assassinated by his son-in-law and nephew Rhadamistus. The fortress was sacked in 1386 by Timur Lenk. In 1679 an earthquake devastated the area destroying the temple.
Much of the population today descends from people settled in the population exchange of 1829–1830, following the Treaty of Turkmenchay between Russia and Persia.

Get in
By marshrutka
Marshrutkas are the standard way to reach Garni, but they're not the fastest or the most comfortable option. They run from Yerevan's Gai Bus Station every 30 mins or so, cost 250 dram. (See
Yerevan#Get in
for directions to Gai Bus Station.) The route is east to Garni, where the is in town centre, and onward to Goght and Geghard Temple.
You can also go the whole way to
Goght
, which is also 250 dram. Another 250 and they will even bring you up to the Geghard monastery if there are other tourists on board and depending on your bargaining skills. Otherwise it is just 3-4 km each between Garni, Goght and Geghard, which you might just walk or hitch are ride.
Generally, you are better off, first going to Geghard, and from there working you way back to Garni and all its sights. A taxi from Goght to Geghard, and then to Garni should not be more that 2000-2500 including waiting at Geghard. It is just 15 km.
By taxi
Taxis are the quickest way to reach Garni, Goght or Geghard (+/-17 km). The one-way fare from Yerevan will be about 2,000-3,000 dram.
Get around
Unless you are in a hurry, walking is the best way to see Garni. If you need to know where to find something, almost any of the residents will be willing to point you in the right direction or even walk you there.

See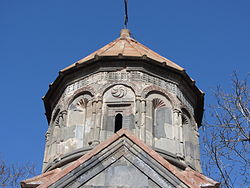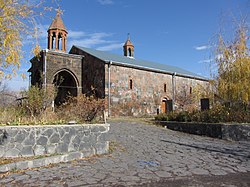 Garni Temple and FortressTemple complex perched above the canyon of the Azat river. Its centrepiece is the Hellenistic temple built in the 1st C BC - this was smashed by an earthquake in 1679 but reconstructed in the 1970s. Also here are the medieval main gate and fortifications, the circular foundations of a church built in 897 AD, walls of a two-storey royal summer palace built by the Urartians in the 8th C BC, a Roman-era bath house, and a cemetery. Guided tours are available but the place is self-explanatory.

Mashtots Hayrapet ChurchA hidden gem in Garni, a small basilica built in the 12th C in dark grey stone with red tufa decorations, intricately carved.

Surb Astvatsatsin Church17th-19th centuries.

Khumarzham Church4th-5th centuries church which now lay in ruins.

Garni GorgeThis portion of the Garni Gorge is typically referred to as the "Symphony of the Stones". All along the sides of the gorge are vertical cliff walls of well preserved basalt columns. It is well worth the walk
Out of the city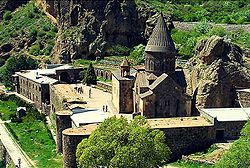 Geghard monasteryRevered 11th C monastery, much of it carved out of the solid stone of the mountainside, in dramatic canyon setting. Monastery and canyon are a UNESCO World Heritage site. The fortified compound encloses the main church, holy springs, an upper chamber with unparalleled acoustics and many intricate khachkars. The "Geghard" was supposedly the Roman spear that pierced Jesus' side; this relic was long housed here but is now in Echmiadzin.
Khosrov Reserve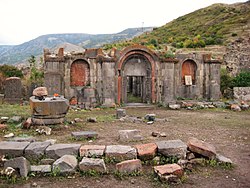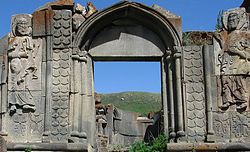 It's a national park located directly across from Garni. It is a noted area in the Caucasus region for unique European and Asian flora and fauna; and is located at an altitude of 1600-2300 m above sea level. To get there you may take a taxi or walk down the road that crosses the river and goes up the ridge across the gorge from Garni and Goght.
You must obtain permission to enter the reserve
, it can be acquired at the Garni's Information center or at the forest guards' kiosk located on the trail leading to Havuts Tar Monastery (after passing 11th-century footbridge). Some additional info about reserve can be found at
reserve's official web site
.
11th-century footbridgecrossing the Azat River. This is the starting point of the trail leading to Havuts Tar Monastery, which is about 5-6 km away from the bridge.

Havuts Tar Monastery11th to 13th century walled monastery.
Just before entering through the wall surrounding the Havuts Tar monastery, a trail leads to the right up a hill and through a slightly wooded area. At the end of this trail not too far away, are the ruins of a small chapel with two khachkars nearby to the left and one to the right.

Aghjots VankThe monastery of Aghjots Vank contains the church of S. Poghos Petros (S. Paul and Peter) of 1270, an adjoining gavit of the 13th c., the church of S. Stepanos, and numerous khachkars.

KakavaberdA medieval Armenian fortress with large sections of walls still intact, first mentioned in the 9th-10th centuries. Towers at the northeastern side are 8 to 10 meters tall. Within the fortress are the ruins of a church and other structures.
Do
Hiking – There exist extensive hiking opportunities around Garni with waterfalls, churches and spectecular mountains.
Horseback riding or camping at the Khosrov Reserve.
It's possible to do a simple 2-hour return hike from Garni temple. First, descend from the temple to the river, follow it for 2-3 km till the 11th-century footbridge, then start ascending to the Garni village. Passing through the village you'll be able to see Mashtots Hayrapet and Surb Astvatsatsin churches.
Buy
Because the economy of the village is based predominantly on tourism, many "tourist" stands may be seen near Garni Temple and the main roads. Some good foods may be bought from villagers trying to make a living.
Walnuts - The quality of walnuts vary from each part of Armenia. Garni has good tasting walnuts.
Garni Village Gata - Specific to certain towns or villages in each region, this sweetbread is especially delicious from here.

Grocery store

address: Marzpetuni st
Eat
TavernArmenian cuisine with excellent views over the gorge and Garni temple. Sometimes it gets very busy with the tourists.

Trout fish restaurantA fish farm that has adjacent restaurant. They prepare mainly grilled fish, some side vegetables can be served as well.
Sleep
Given the proximity of
Yerevan
, most of the visitors stay in the capital.
Hotel & Restaurant "Tonratun"

phone: +374 99 816008

address: 8 Marzpetunu st

Average rooms, even a bit rundown, But the views from the windows/balcony makes you forget about all disadvantages - it's simply stunning.

phone: +374 94 278076, +374 55 278076

address: 31 Avenue de Gueghard

It has eight rooms overlooking a garden, open air swimming pool, internet, car-park, restaurant (French and Armenian cuisine).

Hostel "GarniRestHost"

address: G.Marzpetuni str. 9

Simple hostel with smallish rooms, but the price is the lowest in the area.

phone: +374 93 679152

address: Bagramyan str. 50/1

Private villa for rent. You get entire two-floor house.
Geghadir village
phone: +374 98-333322

address: 3 house, 6 Str, Geghadir village

Upscale option. It has a bar and a restaurant with Armenian and Lebanese cuisines. Table tennis, massage, picnic zone, barbecue places.
Goght village
address: Goght village

It has restaurant, table tennis, billiard, open air swimming pool. Rooms are quite big and richly decorated. Overall, hotel seems to have a good price-quality ratio comparing to other options in the area. Although to get to nearest sights it will be necessary to get a car/taxi as there is not much to do in Goght village itself.

phone: +374 0 94496094

address: Geghard Highway 3 the impasse, house 4

B&B run by a Dutch couple, offering an outdoor pool, decent rooms with new furniture. Tents and campers are also welcomed.
Connect
All three mobile operators have a decent 3G coverage in the area.
However, there was no WiFi spotted in local restaurants (2015), although some hotels might have WiFi available.

Go next
Yerevan — Armenia's capital and the center of modern Armenian life