Garut
Garut
is a city and regency in the
Parahyangan
mountain region of
Western Java
, Indonesia.
Understand
In colonial times, Garut was known as 'the Switzerland of Java'. The city is surrounded by various mountains, including the
Mount Galunggung
volcano in the east,
Mount Guntur
volcano in the west, and
Mount Cikurai
volcano (over 2,800 metres high) in the south.
Garut is the capital of Garut regency, which stretches from near
Sumedang
in the north to the Indian Ocean coast in the south.
Get in
By car
Garut is about halfway between the cities of
Bandung
and
Tasikmalaya
. To get to Garut from Bandung, you will need to take the road over the
Nagreg
mountain pass. The journey takes about 2 hours if traffic conditions are good. However, serious traffic congestion is common on the mountain pass road.
By bus
On the northern side of the city, Garut's serves a wide range of local, regional, and intercity buses. There are frequent buses from several bus terminals in Jakarta. For example, there are
Primajasa
buses from Lebak Bulus terminal in
South Jakarta
from 5:00-21:00 every half hour (Rp52,000). The journey from Jakarta usually takes about 5 hours, but this heavily depends on traffic conditions.
Regular buses also depart from Cicaheum terminal in
East Bandung
. In addition, to travel from Bandung to Garut, you may opt to wait at the bus stop near the toll gate in Cileunyi (east of Bandung), because all buses from Jakarta and several other destinations pass here on the way to Garut.
By train
The railway and railway station of Garut are no longer operational. The nearest operational railway station is , about 20 km north of the city. Cibatu station serves a few economy class trains per day to the west (to
Bandung
) and a few to the east (to
Central
or
East Java
).
Get around

Most places in the city of Garut and surrounding areas can be reached by angkot (public minivan). Another option is a traditional andong (horse carriage). To get to more remote places, you will need to hire an ojek (motorcycle taxi).

See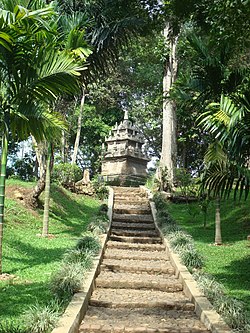 Most of the touristic attractions of Garut are not in the city, but in the surrounding area.
Candi Cangkuang

address: Leles

A small 8th-century Hindu temple. One of the few Hindu temples ever discovered in West Java.

Mount Papandayan

address: Cisurupan district

Active volcano that is a popular tourist destination. Tourists can walk across the crater and view bubbling mud pools, steam vents, and sulfur deposits. The bubbling yellow crater is a popular sight. The most recent eruption was in 2002, and more serious volcanic activity took place in 2011.

Mount Guntur

address: Tarogong Kaler

Active volcano with a height of 2,249 m, that is the source of the Cipanas hot springs. The volcano used to erupt very frequently, with 20 eruptions recorded in the first half of the 19th century, but recently there have been no eruptions. The volcano can be climbed from the side of Cipanas.
Buy
The most famous type of food from Garut is the
dodol
snack, a sticky sweet made of coconut milk, jaggery, and sticky rice flour. There are various types of
dodol Garut
, such as dodol with sesame seeds or nuts, or with fruit such as pineapple, jackfruit, or durian. Dodol is sold by street vendors throughout Garut (both the city and the wider regency).
phone: +62 262 232512

address: Jl. Pasundan No. 102

One of the most famous sellers of dodol Garut. You can buy many types of dodol. It is also possible to visit the factory, but then it is advisable to send an email beforehand.

Toko Fatima

address: Jl. Jend. A. Yani No.77

Dodol shop in the city centre.
Another thing that is quite famous from Garut is leather products. You can find shoes, jackets, wallets, etc. made of leather in several shops in Sukaregang street.
Sukaregang Leather Centre

phone: +62 812 2488 7002

address: Jl. Jend. A. Yani No. 302
Eat
Sundanese cuisine is ubiquitous, in restaurants and hotels, as well as in roadside stalls. Examples of popular roadside snacks include
nanas goreng
(fried pineapples), fried cassava, boiled salted peanuts,
bakwan sayur
(vegetable fritters), etc. Apart from that,
dodol Garut
(as mentioned above in the 'Buy' section) can be found in many places.
Rumah Makan Cibiuk

phone: +62 262 241 104

address: Jl. Cikuray No. 23

Traditional Sundanese restaurant.
Sleep
Budget
phone: +62 262 238 250

address: Jalan Raya Cipanas No. 57

phone: +62 896 7730 2543

address: Jl. Pataruman

phone: +62 262 544 777

address: Jl. Cimanuk No.338

Modern budget chain hotel.
Mid-range
phone: +62 262 540 054

address: Jl. Raya Cipanas No. 3, Tarogong Kale
Splurge
phone: +62 262 542 393

address: Jl. Raya Samarang Kamojang Km. 4, Ciparay

Romantic hill resort set by a lake; all travel within the resort is done by canoe!
Go next
Tasikmalaya — larger city to the east, with a wide range of restaurants.
Bandung — the provincial capital, and economic and cultural centre.