Gaspésie National Park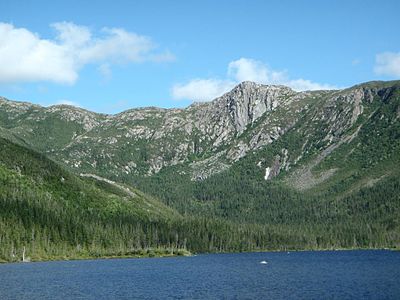 Gaspésie National Park
(
parc national de la Gaspésie
) is a
Quebec
provincial park located in the heart of the
Gaspé Peninsula
. The main attraction of the park is the Chic-Choc mountains, one of Quebec's highest mountain ranges, part of the
Appalachian Mountains
(
les Appalaches
).
Understand

Gaspé Peninsula is a sparsely populated region. Most settlements are on or near the coast, meaning that the interior of the peninsula is rather untouched. The park is one of the southernmost places in North America where caribou can be seen in their natural environment and the only place where caribou live in Quebec to the south of St. Lawrence river. The place is also full of moose.

Get in
By car
From
Montreal
, take Highway 20 and then Route 132 to the east. The trip takes approximately 8 hours. If you have the stamina and an early starting time, you can do the trip in a day. Otherwise, it is very pleasant to take two days and discover some of the towns along the way. Once you reach
Sainte-Anne-des-Monts
, the turn-off for the park is signposted with a small brown sign with its French name "Parc national de la Gaspésie" in white. Look for the Tim Horton's - it is on the same road that you need to drive down. Getting to the Gîte du Mont-Albert will take about half an hour's further driving. The times will vary to get to the different camping grounds. If you want more information before driving into the park, there is a tourist centre in
Sainte-Anne-des-Monts
but it is only open during summertime.
By bus
Orleans Express
stops at
Sainte-Anne-des-Monts
, the closest town to the park, located to the north. From the end of June to September, there is a shuttle between Sainte-Anne-des-Monts and the park once a day (approx. $7). There is no shuttle in winter.
Get around

A car is advisable.

See

The Chic-Chocs mountain range offers very scenic views, especially atop the mountains.

Do

Hike. Climbing mountains (there are many paths) or walking around the Mont Albert are popular activities (though the last one lasts about 6 hr).

Eat and drink
Budget
Visitor's Interpretation Centre Includes a shop with supplies for those camping and/or hiking, including camping packet foods, cooking fuel, other camping necessities and water.
Sainte-Anne-des-Monts -- Approximately half an hour from the park, this town has all the usual convenience stores, fast food eateries and local restaurants.
Mid-range
Gîte du Mont-Albert -- The dining facilities here are superb and the food is prepared by a chef using local produce and in many cases, it is organic. It is advisable to book, as it can get very busy here with guests already seeking tables as part of their package deals. This establishment also has a bar in the front entrance area that non-guests are welcome to use.
Splurge
Sleep
Budget
You can sleep at the park by camping. If you don't have camping equipment, you can rent a hut, but you should reserve early. Some camping equipment can also be rented.
Mid-range
Gîte du Mont-AlbertA 4-star mountain lodge resort run by the Quebec Parks Network (Sépaq). If you take a package deal, you will get luxurious accommodation plus breakfast and three-course dinners cooked by a chef, who is able to accommodate any dietary requests, even vegan. The Gîte rooms are spacious and all have magnificent views over Mont Albert. The package deal works out to be very reasonable. During winter, the lodge offers many skiing and snowshoeing trails, many of which commence from the site, meaning that you can leave your car and completely relax. In summer, these become hiking trails. Be warned, the rooms are without TV, to help you truly relax and enjoy the great outdoors surrounding you. There is also a pool during summer (completely snowed in during winter) and a sauna all year round. The front entrance area features many places to sit and while away the evenings with puzzles, games, reading, alcoholic and non-alcoholic beverages from the bar and delicious snacks.
Splurge
Connect
Gîte du Mont-Albert has Wi-Fi.

Stay safe

The usual precautions apply. Use snow tires during winter and drive carefully. You will probably see the snow piled into embankments on either side of the road due to diligent snow-plowing but take extra care when plowing has not taken place. During summer, be aware that there are black bear in this region. Moose during rutting season should be avoided and drive carefully when visibility is poor, or it is dark, to avoid a possible moose collision. The Park enforces strict rules on hiking near caribou territory for the protection of the caribou herd - ask at the Visitor Interpretation Centre for more information.