Gatineau
Gatineau
is a city in the
Outaouais
region of
Quebec
, across the Ottawa River from Canada's capital,
Ottawa
.
Understand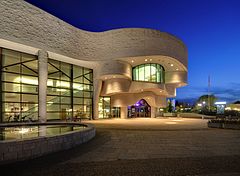 With more than 200,000 inhabitants, Gatineau (municipality) is a city resulting from the amalgamation of the older cities of Gatineau, Hull, Aylmer, Masson-Angers and Buckingham. (The old city names are still used as the sector names of the amalgamated Gatineau.) The majority of
hullois
and
gatinois
are francophones; most (but not all) are bilingual.
Hull (population 65000, postal codes J8X, J8Y, telephone +1 819-77...) is the original centre of the city, the most densely-populated (but not most populous) area in the Outaouais region and the closest to
Ottawa
. On the west bank of the Gatineau River and north of the Ottawa (Outaouais) River, Hull is directly opposite Parliament Hill, lowertown Ottawa and the Byward Market.
Hull was founded 1800 by Philemon Wright as a lumber camp on the Ottawa River and therefore predates
Ottawa
, although the town's former principal industry of manufacturing matchsticks led to a major fire; little or nothing from the 1800s remains in Hull today. The downtown waterfront was once heavily industrialized by Scott and Eddy, the two main paper makers, and the Ottawa river was used to generate hydroelectric power. The city's largest employer is the federal government with 20,000 civil servants working in Hull and thousands more who commute to
Ontario
daily.
Aylmer is a small-town suburb directly west of Hull. Gatineau (secteur), the bedroom community for which the amalgamated municipality was named, is to the east of the Gatineau River. Further downriver is Buckingham, a small rural village. Head further afield and one quickly finds open farmland and the occasional maple sugar shack, a seasonal tradition where trees are tapped and sap distilled to produce Québec's famous maple syrup.
Head north from Hull and one quickly arrives in
Gatineau Park
; the Camp Fortune and Edelweiss ski areas are also north of the city, near
Chelsea
and
Wakefield
respectively.
Get in
Gatineau is just across the river from
Ottawa
, which is on the
Trans-Canada Highway
and offers rail connections to
Toronto
-
Kingston
and
Montréal
. An autoroute connects Gatineau directly to Montréal (A-50).
By bus
;Access by city bus:
STOVarious local Outaouais buses stop at Parliament Hill and in Ottawa's Byward Market.

OC TranspoA handful of OC Transpo (Ottawa city bus) routes terminate at government buildings in Hull, most of which are rush hour only. These buses use OC Transpo fare media, including Presto, even when boarding in Gatineau. On weekdays (excluding holidays), OC Transpo bus 15 connects Lyon O-Train Station to Gatineau, Quebec terminating in front of the Canadian Museum of History (stop: Laurier / Élisabeth-Bruyère). OC Transpo bus 85 passes Pimisi O-Train Station and goes to Terrasses de la Chaudière in Gatineau, about 1¼ KM west of the Canadian Museum of History.
;Access by intercity bus:
phone: +1 819-771-2442

address: 238, boulevard Saint-Joseph J8Y 3X6

Limited service is provided from Hull to Montréal; additional intercity services (including hourly runs to Montréal) are available from Ottawa's station.
By plane
l'Aéroport Exécutif de Gatineau-Ottawa

phone: +1 819-663-0737

address: 1717, rue Arthur-Fecteau

Small airport with Canada Customs, CANPASS facilities, Hertz and Enterprise hire cars, restaurant, Vintage Wings of Canada historical aircraft museum. Limited scheduled Pascan service (daily to Quebec City), otherwise primarily serves general aviation.
Air connections are also available in Ottawa (YOW) locally and Montréal (200 km distant) (YUL

) with direct connections to intercity passenger rail at Montréal-Dorval airport.
Get around
Bike There is an extensive network of bike paths throughout the area as well as in the National parks. Enjoy the fresh air and natural beauty while exercising. Long time advocacy group Bike Ottawa (since 1984) maintains an extensive website with a set of interactive bicycle route maps that rate all bicycle routes through Gatineau and Ottawa on a 1-4 scale, with 1 being child-friendly and 4 being very stressful. They also make available information on infrastructure progress. Contact them also with questions about routes, concerns and popular destinations. Although it is a volunteer-run organisation, they are usually fairly fast in responding. #ottbike is the commonly used hashtag on social media.
See
phone: +1 819-776-7000

address: 100 Laurier Street, Hull

Formerly known as the Canadian Museum of Civilization, Gatineau's star attraction and Canada's most-visited museum deserves at least half a day of your time. This museum presents the story of Canada's population beginning with Aboriginal migration across the Bering Strait through European settlement by the Vikings around 1000 CE, and the British and French in the 1500s. The museum has items ranging from full-size Salish totem poles to the recreation of a small prairie town complete with a grain elevator. The museum also includes an exhibit on Canada Post and a separate museum for children.
Grand Hall, Level 1. The world's largest collection of totem poles, quite an amazing sight when all assembled together.
Canada Hall, Level 3. A very well done and surprisingly interesting presentation of Canadian history, with countless life-sized walk-through exhibits and recreations of villages, towns and cities at different stages.
address: rue Principale, Aylmer

Annual Christmas parade at the end of November.
phone: +1 819 595-5551

address: 670 boulevard Alexandre-Taché, Hull

A historic working farm with a bistro, in the Hull sector of Gatineau near the Ottawa River.
Library and Archives Canada - Gatineau Preservation Centre

phone: +1 613-996-5115

address: 625 boul. du Carrefour

The Gatineau Preservation Centre of Library and Archives Canada is a place you need to plan to visit: it's nowhere near downtown, the public can enter only in a guided tour, the tour needs to be booked in advance (you can book a tour at the link in this entry), and you need photo ID other than a health card to be admitted even if you have a reservation. But once you're in, you get to see many of Canada's treasures of original manuscripts and related memorabilia. No flash photography is permitted. No pens are permitted (pencils are allowed). The building itself is worth seeing; the Royal Architectural Institute of Canada included it in their 2000 list of the top 500 buildings built in Canada during the last millennium.
Do
Festivals
Gatineau shares several activities and festivals with the capital, Ottawa. These include the Ottawa Bluesfest and the Winterlude (Bal de Neige) winter festival. In 2001,
les jeux de la Francophonie
were hosted jointly by Ottawa and Hull.
address: 81 Jean-Proulx, Suite 200, Hull

Held annually in February. A two-day cross-country ski marathon from Gatineau to Lachute.

Fête nationale du QuébecQuebec's biggest party of the year starts June 23. Saint-Jean-Baptiste is Québec's patron saint, his feast day is June 24. Events held at various locations. Some events have been used as demonstrations to promote Quebec sovereignty, so be cautious about expressing an opinion on the matter.

Fête nationale du CanadaJuly 1, events held at various locations including Ottawa's Parliament Hill. Some events have been used as demonstrations to promote Canadian unity, so be cautious about expressing an opinion on the matter.

Festival d'Humour de GatineauAnnual comedy festival, early July. Events held at various locations.

address: Parc du Lac-Beauchamp

Early July. Sand-sculpting competition.

Festival Country du Grand Gatineau

address: 110 rue Georges

Annual country music festival held in the second week of August. Cost: $10 to $40.

Festival de montgolfières de Gatineau

phone: +1 819-243-2330

Annual hot air balloon festival held in the September long weekend. Cost: $15 to $53.

Rendez-vous des saveurs de l'Outaouais

address: 25 Laurier Street

Annual food festival held in September. Events include cooking classes and wine tasting.
Buy
phone: +1 819-775-3499

address: 173 Promenade du Portage, Hull

Artisan chocolatier, bold flavour combinations, chocolate workshops.

Papilles Gourmandes

phone: +1 819-595-2439

address: 256 boul St-Joseph, Hull

Regional Quebec products including pâtés and cheeses.

phone: +1 819-771-8933

address: 85 rue du Portage, Hull

Retailer for bicycles and cross-country skis.

La Trappe à Fromage de l'Outaouais (Gatineau)

phone: +1 819 243-6411

address: 200 rue Bellehumeur, Gatineau

Cheese and regional food products.
Eat
Mid-range
Le French Quarter

phone: +1 819 777-1125

address: 80 Promenade du Portage

phone: +1 819 771-0565

address: 36 rue Laval

Great pizzas here. Thin crust, personal size pizzas are served for about $12, there is no option for a larger pizza. Tropical pizza is good, if a bit spicy. If pizza is not your thing the salads are also great. There is lots of parking space in the area and a few pubs within the same block.

Le Troquet

phone: +1 819 776-9595

address: 41 rue Laval

Bistro
Splurge
Speciality and seasonal
The érablière, cabane à sucre or maple sugar shack is a seasonal tradition across a wide region extending from southeastern Ontario to Québec's Eastern Townships. With rare exception, these are found in the countryside near tiny rural villages. Local maple syrup is produced seasonally; the sap begins to flow early during the spring thaw and is collected for distillation. This places the start of the season at the mercy of the elements, although there is usually fresh syrup to be had in late March or early April - usually before the last of the snow is gone. Maple sugar shacks are typically large rural communal dining halls in which diners fill up on a dietician's nightmare of traditional high-calorie lumberjack food, cost starts around $20/person but varies as some venues offer entertainment, "tire sur neige" (maple toffee on snow) or sled rides. Once the season ends, many of these venues close or are used for other
agritourism
activity - an open field often becomes a summer campground.
Cabane à sucre Brazeau

phone: +1 819-427-5611

address: 316 Côte St-Charles, Papineauville

Sugar shack. Enjoy a traditional lumberjack meal in a communal setting. Educational programs available. Products sold on premises.

Cabane à sucre Chez Ti-Mousse

phone: +1 819-427-5413

address: 442 Côte St-Charles, Papineauville

Sugar shack. Sale of maple products, entertainment and carriage rides. Educational programs available.
Drink
Québec has traditionally had less restrictive liquor laws than nearby Ontario: minimum drinking age is 18, beer and wine are available in corner stores and the rules on opening hours for bars are less restrictive. The
Promenade du Portage
area in the Hull sector city centre is known to attract rowdy, drunken patrons from across the Ottawa River.
Sleep
Hotels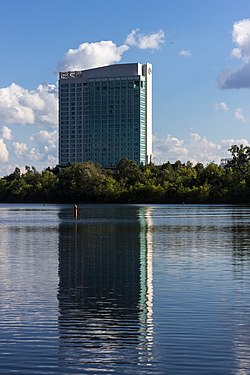 Bed and breakfast
phone: +1 819-772-1454

address: 55 Boul. Alexandre-Taché, Hull

La Belle Corbeille

phone: +1 819-777-4584

address: 23 boul Saint-Raymond, Hull

phone: +1 819-777-1960

address: 31 rue Lessard, Hull

phone: +1 819-776-0769

address: 47 Dumas, Hull

phone: +1 819-778-8024

address: 912 chemin d'Aylmer
Campgrounds
phone: +1 819-986-7947

address: 42 Ch. Neilon, L'Ange-Gardien
Nearby
Buckingham/L'Ange Gardien
phone: +1 819-281-9882

address: 562 ch. Doherty, L'Ange-Gardien

Maple sugar shack, seasonal.

phone: +1 819-281-0299

address: 1031, rue Pierre-Laporte L'Ange-Gardien

Campground and maple sugar shack, seasonal.
Go next
Gatineau Park is a 10-minute drive north from downtown Hull, near Chelsea.
Ottawa, Canada's Capital, is directly across the Ottawa River.
Wakefield is a small, picturesque, artist village about a 25-minute drive north on highway 5.