Gdańsk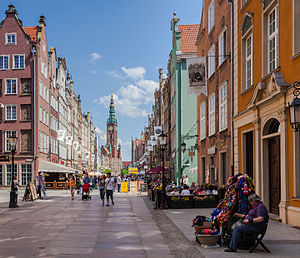 Gdańsk
(also known by its German name
Danzig
) is a city in
Poland
on the Baltic Sea. It is the capital of
Pomerania
.
Gdańsk with nearby
Sopot
and
Gdynia
are often referred as
Tricity
(pl:
Trójmiasto
). Gdańsk is considered one of the most beautiful cities on the Baltic Sea and has magnificent architecture.
Understand
Its position on the Baltic has made Gdańsk one of the most important port cities in Northern Europe, and the scene of a disturbing past. Gdańsk used to be the biggest and richest city in the Polish Kingdom. The first claim to fame for Danzig (as it was then known) was its membership in the
Hanseatic League
as an important Baltic port on the crossroads of North East and Central Europe.
World War II
was ignited by a dispute over the control of the city. By the end of the war the city lay almost completely in ruins. The German population was expelled and replaced by Poles as the city came under Polish rule and changed its name to Gdańsk. However, the impact of its former German ties are still evident. Although most of the old buildings were damaged or destroyed in World War II, they have been painstakingly restored or rebuilt.
In modern history, Gdańsk is known as the birthplace of
Solidarity
(pl:
Solidarność
), the labour and democracy movement that helped to bring down the Communist government in Poland, which marked the beginning of the end of the
Cold War
and subsequent collapse of communism in other European countries. The movement was led by the charismatic leader,
Lech Wałęsa
, who won the Nobel Peace Prize in 1983 and in 1990 became Poland's first post-Communist president.
Do not be fooled by the fact that Gdańsk is famous for its shipyards, as it is a beautiful city with a charm of its own.
Tourist information
Tourist Card
At every Tourist Information point you can buy the
Tourist Card
.
Within the "Gdańsk-Sopot-Gdynia-Plus" Tourist Card nearly 220 offers are available, including: accommodations, performances, concerts, exhibitions, souvenirs, books, amber jewellery purchase, dinners and other meals, water equipment hiring, car rental, paintball, Aquapark, visits in beauty salon, and entertainment.
Get in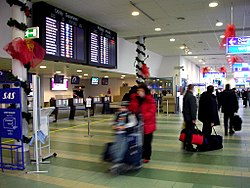 By plane
Gdańsk Lech Wałęsa AirportWest northwest of Gdańsk and not far from the city centre of the Tricity metropolitan area: Gdańsk , Sopot and Gdynia . The vast majority of flights to and from the airport are served by low-cost airlines Ryanair and WizzAir.
Transport from airport to city
Bus 210
— operates between the airport (bus stop: Port Lotniczy) and Gdańsk, and makes a stop at the train station, 35–50 minutes away. The fare is 3,20 zł if a ticket is bought from a news stand, ticket machine or
Bilety
shop, and 3.80 zł if the ticket is bought from the driver. Although the ticket has a picture of a tram on it, it is also valid for the bus. Make sure to get on in the right direction at the airport, because the bus goes into two directions from there. On the way to the airport, the bus picks up on the other side of the road, near the front of the Scandic hotel (look for the signs that have the 210 on them). From the tourist office in the tunnel, turn left, walk until you are outside and head right, go up the stairs, turn right, and the bus shelters will be in front of you.
N3
— night bus
Train
— There's a
train connection
to the city center roughly every 15 min during the day (Airport stop: Gdańsk Port Lotniczy). Less frequent services in the morning, evening and at night. The train station is accessible from the west end of Terminal T2 via a covered bridge. Ticket machines are on the platforms. There are a few direct connections to the main train station in Gdańsk. For other connections to the main train station you need to switch trains in Gdańsk Wrzeszcz. Single tickets to the main train station cost 3.50 zł.
Airportbus shuttle
— operates a transport service to Gdańsk centre for 9.90 zł (you can buy ticket directly in the bus). This is a direct line between airport and city's centre. Bus stop in Gdańsk is located in front of Mercure Hevelius hotel (it's 5 minutes walk from Main Railway Station). Journey depends on traffic and takes around 25–30 minutes.
Taxi
— Avoid the unofficial, rip-off
taxis
who will pounce on you as soon as you have cleared security, unless you know how to deal with them. A taxi from the airport to the city centre should cost around 50-60 zł however will cost more in the evenings or at weekends. "Neptun" is an officially recognized company. Taxi drivers will be waiting in the arrivals hall offering fixed price transfers, 60-70 zł is not unreasonable for an evening (after 22:00) transfer to the centre of Gdańsk.
Private transfers
—
MPA Poland
provides transport services around Tri-City and Pomerania region. An airport transfer from/to airport costs 100 zł up to 8 people.
By train
The main railway station,
Gdańsk Główny
, is a beautiful historic building, although a rather confusing experience to non-Polish tourists. Information in languages other than Polish is almost non-existent. Ticket sellers at the
Kasa
may be able to help you in English and German, and there is a tourist information office at the back of the PKP station. The station operates as 2 separate stations, one for the PKP trains (intercity and long-distance journeys) and another for the SKM commuter trains. Each station has separate ticket offices and platforms; the PKP station can be accessed from inside the station and the SKM station is found to the right of the main station (do not go into the PKP station).
Beware of pickpockets and people who may try to intimidate you for money around the railway station, especially late at night.
PKP
operates long-distance trains to other cities in
Poland
and
Europe
. Buy a ticket before you enter the train. It is advisable to write the name of your destination on a piece of paper and then show it to the ticket sales person, as other languages than Polish may not be spoken. Foreigners trying to pronounce the name of Polish destinations often cause confusion.
SKM
(Szybka Kolej Miejska) operates frequent service between Gdańsk and
Sopot
and
Gdynia
, 35 minutes away. These trains are on the right side when entering the station. Tickets may be bought from a vending machine at the platform or from a ticket office in the subway below (access from the street or from the SKM platforms). Never enter these trains without a valid ticket and remember to validate your ticket before getting on the train as ticket controls checking passengers tickets are frequent. As a rule, tickets are valid for travel by one specific type of train only. Don't try to travel on a student ticket unless you have an ISIC student card, even if they sell you the ticket. The ticket inspector also asks for your student card, and if you just have a normal student card, they will likely refuse you.
By car
The motorway connects Gdańsk with
Toruń
,
Łódź
, and
Katowice
to the south. The connects Gdańsk with
Warsaw
and
Kraków
.
By bus
The
Bus Station (Dworzec PKS)
is behind the main railway station. You can recognise it by the big letters 'Dworzec PKS' on top of the building. Buses can be used to travel to regional destinations that lack railway connections, such as the concentration camp in
Sztutowo
.
Polskibus
operates coach services from here, with direct connections going to
Poznań
,
Wrocław
and Warsaw.
By boat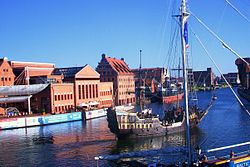 Polferries
operates ferry service between Gdańsk and Nynäshamn, just south of
Stockholm
,
Sweden
. The trip takes 18 hours and costs ~€70.
Stena Line
operates ferry service between
Gdynia
and
Karlskrona
,
Sweden
. The trip takes 12.5 hours and costs ~€50.
Get around
By tram and bus
Zarząd Transportu Miejskiego
, the City Transportation Office.
Trams and buses are cheap (3.80 zł/h) and frequent. Tickets can be bought from drivers, but it is easier to buy them from ticket machines (which are on most popular stops) and kiosks. The most popular website and mobile app for journey planning is jakdojade.pl. Google Maps has reliable public transport data, and is an excellent tool for planning your journeys.
Single journey tickets
are valid until leaving the bus or tram. They cost 3,20 zł on standard services and 4,20 zł on night, fast, and night connections (line numbers marked with
N
).
Time tickets
are based on travel time, so you must estimate the duration of the journey or have a few tickets extra to validate when your previous ticket expires. Time tickets are either valid for up to 60 min or up to 24 hr and allow any amount of journeys and changes within that time. The 60-min time ticket costs 3.80 zł on standard services and 4.80 zł on night, fast, and special services (line numbers marked with
A
or
N
). The 24-hr ticket costs 13 zł and is valid on all trams, buses during the day and on night buses.
All tickets need to be validated at the start of the journey.
By train
Use the commuter train (
SKM
) to quickly go to
Sopot
and
Gdynia
, ticket to Gdynia will cost 5 zł and Sopot will cost 3.40 zł.
By car
phone: +48 695-78-78-95

phone: +48 515 181161

Personalised private car hire with driver, or rental cars to self-drive.

phone: +48 790 017 270

address: Stężycka 107
See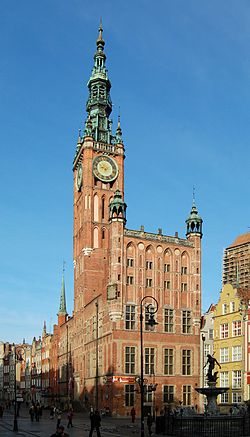 Main city
The main city (
Główne Miasto
) is the historic part of Gdańsk and contains most of the sights. The
Long Street
(
ulica Długa
) and
Long Market
(
Długi Targ
) are two of the most beautiful streets in the city. They are enclosed first by the Upland Gate, then by the Golden Gate to the west and the Green Gate to the east close to the riverside. This entire stretch is also referred to as the
Royal Way
. Along those two streets there are many interesting sights.
Religious buildings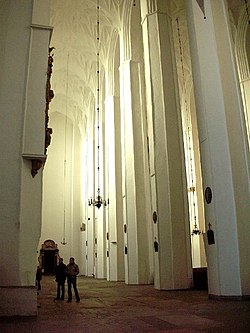 Other
Museums
Further afield
Do
Polish Baltic PhilharmonicMajor orchestra for symphonic concerts and chamber music.

address: ul. Wojciecha Bogusławskiego 1

Guided tours (in English and Polish) are available.

phone: +48 58 718 44 46

address: ul. Doki 1/145 B

Art Institute on the shipyard grounds. Exhibitions, concerts, performances. A bookshop, Zła Buka, has a selection of books on art and design.

Swim in the seaThe water is usually cold. Almost all of Gdańsk's coast consists of sandy beaches accessible for recreation. There are multiple areas with lifeguards, food stands and bars; the most popular ones are in Brzeźno and Jelitkowo. A less crowded one is in Stogi. The beach that's the furthest from the city center (and thus not well accessible using public transport) is on Sobieszewo Island.

address: ul. Żabi Kruk 15

phone: +48 509 70 75 72

address: Garncarska 18/20

Great laser tag arena with four levels and a labyrinth.

Walk the Mariacka street

address: Mariacka

Take an evening walk down one of the most picturesque Europe's streets.

St. Dominic's FairLarge fair held since 1260 during mid-July and mid-August every year.

Water tram rideZTM offers a seasonal water tram service: route F5 Żabi Kruk - Westerplatte and F6 Targ Rybny - National Sailing Centre. A single ticket costs 10 zł.

Watch football ie soccer at Lechia Gdańsk, who play in Ekstraklasa, the top tier of Polish football. Their home ground is Stadion Energa Gdańsk, capacity 43,000, three km north of town centre.
Events
"Cult" Film FestivalFestival of esteemed films tqking place in June. There are many indoor and outdoor movie shows and concerts. Until 2017 the festival was organised in Katowice.
Work
Buy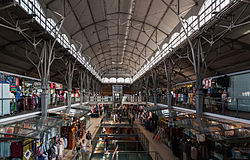 Gdańsk is sometimes called the
Amber Capital of the World
. The surrounding area is the richest known source of this semi-precious stone, and the product can be found in many of the city's shops. The ones with insects in are much more expensive.
phone: +48 503 0059783

address: ul. Św. Ducha 48

Hand-embroidered items in traditional and contemporary designs and colours including clothing, tablecloths, napkins, curtains, and other regional folk art souvenirs.

address: Plac Dominkański 1

Fresh produce in the basement level.
Eat
Budget
Bar NeptunA milk bar serving hearty Polish meals at affordable prices.

phone: +48 58 552 03 44, +48 698 46 88 33

address: ul. Opata Jacka Rybińskiego 17, Oliwa

A charming, cozy cafe serving delicious apple pie and coffee. Try also cheap and tasty bread toasts.

address: ul. Piwna 64/65, Main Town

A cozy, regional cafe bistro with a view of the most important monuments of Gdańsk - the Great Armory and St. Mary's Basilica. Located in an original tenement house with a typical Gdańsk dome, one of the few remaining after WWII. Local products, drinks and dishes in traditional or modernized versions. Taste the riches of Pomeranian and Kashubian cuisine: Kashubian coffee, traditional cakes and desserts, delicacies (classic Kashubian Sunday dish), fish soup, baked fish, vegetable pies, dumplings and seasonal menu. The owners prepare their own preserves: juices, silages, honey and Polish wines. You can try them in prepared dishes and desserts, you can also buy a take-out jar.
Mid-range
You can buy fish on one of bars on Motława River bank (25 zł/meal)
La Cantina

phone: +48 58 3016071

address: ul. Długa 37/39

Typical Polish restaurant. Try stuffed cabbage (19 zł) or the Polish sausage with sauerkraut (20 zł). They have heat lamps in the evening so you can sit comfortably outside.

GoldwasserHearty Polish fare. End the meal with a Goldwasser.

El Paso

phone: +48 58 5520641

address: Stary Rynek Oliwski 7

Mexican restaurant.

phone: +48 58 3052676

address: ul. Piwna 59/60

Apparently known as the best Pierogarnia (Polish dumplings) in Gdańsk. This place is a large restaurant with an outside seating on the street behind the main drag (ul. Długa). Dzik is Polish for boar and this place is done out with all sorts of boar skins and stuffed animals. Try the specialty Pierogarnia Dzika (Wild Boar and Game Dumplings) - 22 zł, other fillings also available. Beer 9 zł.

address: ul. Heweliusza 25/27

Good value, nice food, in a nicely decorated venue.
Splurge
Drink
Danziger
Goldwasser
, root and herbal liqueur which has been produced since 16th century is considered
the
city's drink (it is now made in Germany though). It's vodka-based, creamy and has small flakes of 22- or 23-karat gold in it. Cheaper alternatives include
Gdańska Złotówka
or
Złota Woda
.
"Gdańsk national drink"
before World War II was Stobbes
Machandel
juniper vodka. After the war it was rejected and slightly forgotten due to association with German soldiers occupying the city, but today is gaining popularity again. There is a special ritual to be followed while drinking a shot of Machandel with a dried plum for a snack.
Bars
address: Szafarnia 9

A mini brewery making their own really good beers in the basement of a hotel in restored 18 century granary. Food also served.

address: Doki 1

A club on the premises of the famous shipyard. The interesting interiors are reminiscent of communist times.

Bar Shpinx

address: Długi Targ

Another bar on the main street.

phone: +48 58 320 3784

address: ul. Św. Ducha 2

A crazy little Bohemian bar, open almost 24 hours a day, frequented by artists, actors, freaks, among others, gets very, very crowded and people dance on the tables or on the bar. One of the best bets for an off night too - if there are no people there, there are no people anywhere.

address: ul. Młyńska 15

Nice late bar/club, no entry charges, free food late on weekends, good music and good young crowd.
Sleep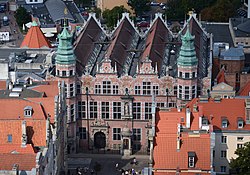 As the TriCity is in effect conjoined and there are good, fast transit links, you can just as well consider accommodation in
Gdynia
or
Sopot
.
Budget
Mid-range
phone: +48 58 3202553

address: ul. Spichrzowa 18

This small modern hotel is in the centre, just 150 m from the Długi Targ market. Comfortable, carefully arranged rooms with bathrooms have: TV, telephone, free wireless internet.

Hotel Parnas

phone: +48 58 3201275

address: ul. Spichrzowa 27

A quiet, small and elegant hotel located in the heart of the city. Rooms are spacious and tastefully decorated.

phone: +48 58 5543224

address: ul. Czyżewskiego 20

Hotel made from stones from all over the world with comfortable rooms and the bathrooms.
Splurge
phone: +48 58 7522100

address: ul. Chmielna 47/52

Opened in 2009 Qubus Hotel Gdańsk offers richly equipped rooms with a breakfast, free internet access and view of the Motława River and the Old Town.

phone: +48 58 3222442

address: Św. Ducha 2

Helpful staff and central location.
Connect
Internet
Gdańsk provides an extensive network of public, free of charge wi-fi hotspots in public places, such as bus stops, parks, etc. clearly marked with 'GD@NSKwifi" logo. The map with all the hotspots is available on
the project website
. Free wi-fi is also available on all three major train stations, and in the majority of restaurants and bars.
Stay safe

If you take the usual precautions against pickpockets, you will feel perfectly safe wandering around Gdańsk. Gdańsk seems very well organized from a tourist's point of view. There are frequent police patrols and visitors usually get the feeling of Gdańsk being a secure and tourist-friendly city. Despite it's industrial heritage, Gdansk is a really safe place, and violent acts are rather uncommon.
In an emergency, telephone "112". This number connects to Police, Ambulance and Fire/Rescue services. You will be asked which of these three services you require before being connected to the relevant operator.
On the whole, Gdańsk is a safe place to visit and explore. Normal precautions for the safe keeping of your personal possessions, as you would in any other city, are suggested.

Go next
Gdańsk Bay:
Many of the boats, to Sopot in particular, end up fully-booked and that you can't buy your ticket at the boat itself. This is a harsh lesson to learn when you have already waited in a huge queue. Tickets for the Sopot ferry must be purchased from an office directly across from the terminal. Also be aware that in Sopot you will need to buy an access ticket for the pier (around 5 zł, even if you already have a return ticket to Gdańsk) in order to board your boat back.
Vistula Bay:
Kashubia
Coast:
On the Vistula Peninsula:
On the Hel Peninsula:
Take the train to
Hel
. It's at the end of the peninsula opposite Gdańsk. SKM trains are the cheaper option. Train from Gdańsk Główny to Gdynia every 15 minutes and then SKM diesel to Hel. If you get the 09:45 from Gdańsk you have 7 minutes to change about 4 platforms across the underpass. The journey is wonderful - straight through pine forests and sometimes with the sea on either side. Single ticket costs 21.50 zł (get a 5.40 zł single from Gdańsk to Gdynia - and then the 16.10 zł single from Gdynia to Hel, just in case you miss the connection.) When you get to Hel have a walk into town - it's just a Polish beach resort full of holiday makers. You should have time for lunch and then get the hydrofoil from the end of the pier at 15:30. But make sure you buy the ticket from the office halfway down the pier or you could be walking back! The trip is 24 zł back to Gdańsk but it will be the best value trip you can get. It takes 1hr 50 min but the first hour is getting across to Gdańsk, then the next 50 minutes is navigating the canals back to the town centre. You could pay a tourist company for this trip - but the cost is in your ticket, you see Westphalia lighthouse where the first shots of World War II were fired, the huge ships and the massive remains of the former Lenin Shipyards.