Geiranger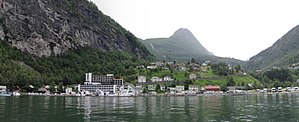 Geiranger
and
Hellesylt
are villages in
Møre og Romsdal
. The Geirangerfjord is one of the most beautiful mainland fjords and one of the most popular tourist destinations in Norway. In a rating of
UNESCO World Heritage Site
, Geirangerfjord (along with
Nærøyfjord
in
Sogn og Fjordane
) obtained top score in a survey conducted by prestigious National Geographic Magazine. A visit to Geiranger can be included in a trip along the Norwegian coast. The villages of Geiranger and Hellesylt sit at either end of the Geirangerfjord and Hellesylt is included in this article.
Understand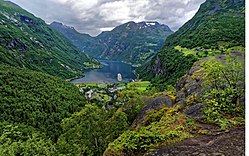 Geiranger is the tiny village and rural community at the eastern end of Geirangerfjord. Hellesylt village sits at the western end of Geirangerfjord, and from there the fjord does a sharp turn north with the name Sunnylvsfjord. The latter fjord is in turn connected to the main fjord, aptly named Storfjord (Large fjord), at small town Stranda. Strictly speaking Geirangerfjord is merely the last section of the larger Storfjord system. Storfjord is one of main fjord systems in Western Norway. While Geiranger and Hellesylt are small villages, Stranda is the municipal centre.
Several hundred cruise ships with some 300,000 passengers visit Geirangerfjord every summer, as cruise port only surpassed by Bergen. Many tourists arrive by charter bus. In addition there is a large number of independent travellers. Geiranger itself is a small village of 200 people, the influx of 5000 (or more) tourists daily makes Geiranger a relatively crowded place at day time.
The Geirangerfjord is one of Norway's oldest destinations for international tourism. Cruise ship tourism began in the late 19th century. Kaiser Wilhelm visited Geiranger every summer until the first war.
Road 63
between
Åndalsnes
and Geiranger via
Valldal
is one of Norway's 18 national tourist routes, these routes are the most scenic drives in Norway.
Get in
By plane
The distance from
Ålesund
airport is 124 km (77 mi), Ørsta/Volda airport is 65 km from Hellesylt.
By car
Road 63 from Eidsdal and Valldal to the north via Eagles Highway (mountain pass, 10 hairpin turns); from Otta, Stryn and Grotli to the South via Geirangervegen (mountain pass, 50 hairpin turns).
Road 60 from Stryn or Ålesund to Hellesylt, from Hellesylt car ferry further to Geiranger
By bus
By train
The closest railway stations:
Otta - station on Dovre line (Oslo-Trondheim), 160 km to Geiranger
Åndalsnes - terminal station for Rauma line, 90 km to Geiranger via Trollstigen
By boat or cruise ship
Car ferry from
Hellesylt
, on the famous Geirangerfjord. Eight daily departures 1 Jun - 2 Sep, four daily departures 1 May - 1 Jun, 3 Sep - 30 Sep (310 kr for a car and its driver). There is also twice daily ferries from Valldal (20 Jun - 20 Aug).
Hurtigruten
calls Geiranger on a summer service (15 Apr - 14 Sep). Embarking/disembarking by small boat.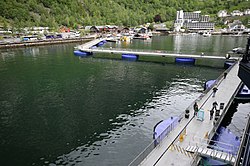 Cruise ships make semi-regular visits to Geiranger in the Summer months (May-Late August). Cunard Cruises, Queen Elizabeth and other lines visit the Geiranger Fjords every summer. The
Geiranger Port
has a cruise terminal, a Seawalk, and 3–4 anchor positions depending on the size of the ships. Opened in 2013, the Seawalk is a self-propelled three-segment articulated floating pier, 236 m-long by 4.5 m-wide steel platform on 10 pontoons, which moves out to the ship (like a floatable jetwalk) to accommodate 4,000 passengers per hour disembarking from a single ship. With Geiranger a busy cruise port, you may have to take a short tender when there's more than one ship in port. Hellesylt now offers a sizable pier for single ships, while local car ferries use a separate facility for both locations.
The sailing into the fjord is not to be missed as many cruisers wake up as early as 4am to witness the stunning beauty of this Norwegian fjord. Or enjoy the Geiranger sail away in the afternoon. Small towns and homes cling to the high cliffsides. Friendly Norwegians' can be seen doing their farmwork, milking cows, working in cliffside garden fields. Temperatures and weather can vary by the minute, it is best to wear warm clothing layers and bring your binoculars to see animals grazing on cliffsides, small Norwegian homes, and the beauty of this fjord. Check if your cruiseline visits the Geiranger Fjord, it is truly one of the best, most relaxing, awe-inspiring cruises that you will ever take.
Both towns are easily walkable and scenic, and each blessed is by a waterfall.
Get around
It's a lovely small Norwegian town that you must visit in the summer months. Plenty of photo opportunities in and around Geiranger.
On foot
Adventurers take to the hills of Geiranger via walking and sometimes even biking. Winter closes most of the roads in the Geiranger fjord, so its best to visit in the summer. Watch out for campers, trucks, and tour buses, especially when biking, walking or hiking. Hills are steep and for more fit adventurers.
By boat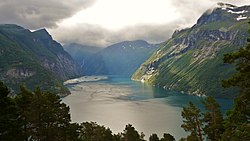 Cruising is one of the best ways to see the fjord. No need to use the tour boats. You can see just as much from the Hellesylt ferry with commentary in German and English as well as Norwegian - from a comfortable lounge with a good snackbar.
By bus
Public transportation is also
available
, including bus line 211 Geiranger-Dalsnibba-Geiranger. Other
bus tours
are also available.
See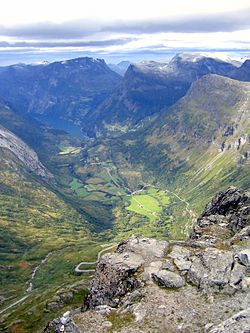 DalsnibbaDalsnibba is a 1500 m (4920 ft) mountain summit. Faboulus view over the fjord and the mountain behind. Detour from road 63 (Geiranger mountain pass) direction Skjåk and Stryn.

GeirangerfjordThe steep-sided fjord with its waterfalls, including the Bridal Veil and the Suitor. Geiranger-Hellesylt ferry, Hurtigruten (summer) and cruise ships travel the fjord.

phone: +47 70263810

Visitor centre for the UNESCO World Heritage Site. Topside terminus of Waterfall Walk in Geiranger (See Do below)

Ørnesvingen

address: Road 63

View of the fjord and the village from high point.

Ljøen panorama point

address: Road 60 (Hellesylt-Stranda road)

Panorama point towards Geirangerfjord and Sunnylvsfjord from high point near Ljøen hamlet, between tunnels.

FlydalsjuvetFlydalsjuvet offers an impressive and closer view than Dalsnibba of Geiranger and Geirangerfjord and the cruise ships. The viewpoint is divided into two areas, one upper and one lower plateau, with a gangway running in between, and the view is from the southeast, allowing for fine photography.
Do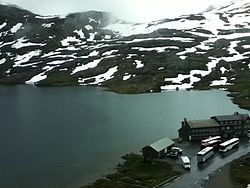 Walk around the lovely, hillside town. Main road wraps the coastline. Townsfolk are very friendly and engaging. Many different tour buses available in the summer, June-late August. Weather changes many times during the day: warm, windy, cool, freezing, and do not forget the sunscreen, especially when leaving Geiranger and visiting the Geiranger Valley and glaciers. You might need some bug spray for the mosquitoes and sunscreen is a must!
Sadly many Geiranger citizens talk about the glaciers retreating more and more each year.
Waterfall Walk in GeirangerThe well-maintained pathway includes metal stairs (327 non-slippery steps with railings) going up one side of the waterfall all the way up to the Norwegian Fjord Centre and Hotel Union, with viewpoints along the way. Powerful sounds and stunning viewsǃ Prepare to get wetǃ

The "Sky-to-Fjord" trip, run out of one of the small gift shops by the ferry dock (easily identifiable by its green roof), is a spectacular 17 km bike trip from the top of the mountain (high enough to still have snow in August!) back down to the gift shop. The trip includes van transportation to the top of the mountain and bike rental. You can go at your own pace as long as you return your bike to the gift shop by the end of the day. Take your time, as the spectacular views can make for worthy detours!

phone: +47 95118062

Kayaks for rent either by the hour or for a whole day. You can also take part in a guided tour. Kayaking down the fjord is a very enjoyable experience; it offers spectacular views of waterfalls, mountains, and even, occasionally, dolphins.
Eat
Naustkroa

phone: +47 70263230

Pizza.

phone: +47 70263230

address: Geiranger Sentrum

Weserås Restaurant

phone: +47 92899187

Traditional Norwegian food.
Drink
phone: +47 95246488

address: Geiranger Sentrum
Local beers
Grand, local favourite beer, delicious, light beer, enjoy it with a sandwich or fresh salmon. Available at most pubs and restaurants.
The Grans Brewery (Grans Bryggeri AS) is a brewery founded in 1899 in Sandefjord, Norway.
Sleep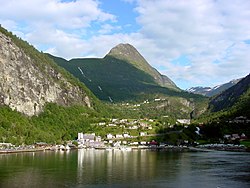 Connect
Geiranger Turistinformasjon

phone: +47 70263099

Internet.
Go next
Return to Ålesund: Visitors arriving by cruise ship usually return the same way along the fjord towards Ålesund.
By car or bus there are two directions along route 63:
The Geiranger-Hellesylt ferry allows travellers to bring cars to Hellesylt with connections by route 60 north to Ålesund or south to Stryn or Nordfjordeid. Bus connections at Hellesylt and Stryn towards Bergen.
Hjørundfjord - nearby and less crowded lovely fjord surrounded by sharp alpine summits