Gelderland
Gelderland
is one of the twelve provinces of the
Netherlands
, the largest province by area. It lies in the east of the country. It is sometimes called
Guelders
in English.
Regions
Cities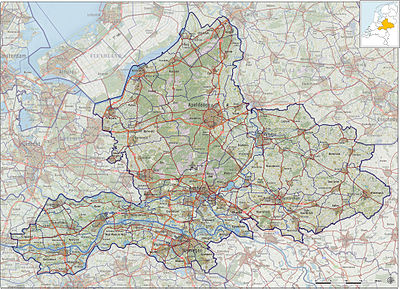 — a very green city with lots of monuments and parks, as well as the home to Het Loo Palace
— capital of Gelderland and the gateway to the Veluwe
— with a permanent exhibition on the Veluwe and a poultry museum
— a historic city founded in 1315
— capital of and gateway to the rural Achterhoek region.
— gateway for cycling tours through the Veluwe
— with a preserved rectangular street grid and fortifications
— known for its Dolfinarium, a dolphin theme park
— oldest city of the country, known for its marches, left-wing politics and large student population
— an old and historic town, and one of the largest fruit production centres of the country
— a major student city due to its agricultural university
— first town to get city rights in medieval times
Other destinations
— the country's largest national park with heathlands, sand dunes, and woodlands. Also Kröller-Müller Museum with the largest collection of Van Gogh's work, located in the middle of the Hoge Veluwe.
— the country's oldest national park with heathlands, woodlands, grazing wildlife, and mountainbike paths
— region in between the Veluwezoom and river IJssel, which is littered with historical estates and country retreats.
Understand
Gelderland started as the duchy of Guelders (Hertogdom Gelre), based in
Zutphen
but named after
Geldern
,
Germany
, which was contained within its borders. Zutphen County, Veluwe County and Nijmegen County, the parts of Guelders located in what nowadays is the Netherlands, made up the Guelders that signed the Union of
Utrecht
that declared the Dutch provinces independent of Spain in 1579, thus starting the Dutch Republic which would eventually become the Kingdom of the
Netherlands
.
Gelderland is now a popular destination for two reasons. One is the
Stadsregio
of
Arnhem
and
Nijmegen
, two of Netherland's oldest cities with ample heritage spanning centuries. The other is
Veluwe
, the sparsely-populated region best known for its "natural" qualities and a popular destination for Dutch tourists making day trips, featuring woodland, heathland, sand dunes, wildlife and two national parks. The highest point in Veluwe is about 110 m, a noteworthy elevation for such a flat country.
Gelderland is partially in the so-called Bible Belt of the Netherlands and may tend to be a bit more religious and conservative than the rest of the country. This applies mostly to the most west parts of the province. The general span can be seen on the
map of SGP (Religious party) voters in 2003
Talk
Dutch is the basic language. In the Achterhoek area, some people speak a local dialect (Achterhoeks), but even they generally speak regular Dutch. German is decently understood and English is spoken by most people.

Get in
From Amsterdam
To get to
Ede, Arnhem and Nijmegen
, take the Intercity train to Nijmegen which leaves from Amsterdam Central Station at :22 and --:52 minutes of every hour. Travelling time: 59 minutes to Ede (station Ede-Wageningen), 70 minuten to Arnhem (arrival at --:02 and --:32), 89 minutes to Nijmegen. Note that the train reverses direction in Arnhem; don't be surprised, it will turn south when it leaves the station of Arnhem again.
To get to
Apeldoorn
, take the Intercity train to Enschede which leaves every half hour at --:27 and --:57, and arrives in Apeldoorn 63 minutes later.
To get to
Zutphen
or
Winterswijk
, take the Intercity train to Apeldoorn and change in Apeldoorn to the small diesel train connection Zutphen and Apeldoorn in 20 minutes. It leaves from Apeldoorn at --:10 and --:40, a few minutes after the Intercity from Amsterdam arrived. It usually departs from the opposite side of the platform. Alternatively, you can reach Zutphen via Arnhem by changing there, but it will take about 10 to 15 minutes longer; it doesn't cost more (i.e., with a ticket to or from Zutphen you can choose between the Apeldoorn and Arnhem routes). See the article on
Zutphen
for more extensive information. For
Winterswijk
, trains leave at --:07 and --:37, and depending on the route taken (Amsterdam-Apeldoorn-Zutphen) or (Amsterdam-Arnhem-Zutphen) will take between 135 and 153 minutes.
To get to
Doetinchem
, take the Intercity to Nijmegen and change trains in Arnhem. The train to Doetinchem and Winterswijk leaves 2 minutes after the arrival of the Intercity from Amsterdam, at --:04 and --:34, usually from platform 9. These trains take 34 minutes to Doetinchem and 68 minutes to Winterswijk, during the morning and afternoon rush there are 2 more to Doetinchem, at --:15, and --:45. For Winterswijk it's better to travel through Zutphen instead of Arnhem when coming from Amsterdam. To Doetinchem this should take 102 minutes, but it's likely to take 30 minutes longer because there's only a 2 minute change in Arnhem, which one is likely to miss.
To get to
Culemborg
and
Tiel
, take the Intercity for Arnhem/Nijmegen at --:22 or --:52, and change in Utrecht for the commuter train to Tiel, which leaves at --:28 and --:58. Travel time is 51 minutes to Culemborg, and 73 minutes to Tiel.
To get from Amsterdam to
Harderwijk
, take the Intercity for Amersfoort (departure at --:27 and --:57) and change there for the train to Zwolle, departure at --:12 and --:42. Travel time is 72 minutes.
See
The Veluwe, the largest area of relatively unspoilt nature in the country.
The Kröller-Müller Museum, which has many paintings by Vincent van Gogh on display as well as some Mondrians.
Palace "Het Loo" near Apeldoorn, where William and Mary used to live.
Beautiful old castles near Vorden, Ruurlo and 's Heerenberg, Staverden, Vaassen.
Do
Drink
The beer brand "Grolsch" (English: from Grol) founded in
Groenlo
and based in Enschede in the Achterhoek supplies pilsner in the entire country. Trips to the brewery are interesting, but to drink their beer can be fun as well.
Go next
From Arnhem, the German city of
Cologne
can be reached by high speed train in about 90 minutes.