Genoa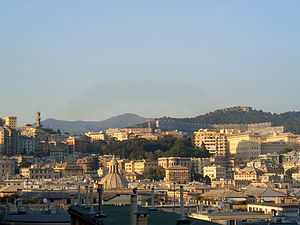 Genoa
(
Italian
:
Genova
, Ligurian:
Zena
) is a historic port city in northern
Italy
, the capital of the
Liguria
region. As a tourist attraction, is often overshadowed by cities such as
Rome
or
Venice
, even though it has a long history as a rich and powerful trade centre. However, with its multitude of hidden gems behind cozy alleyways, excellent cuisine (notably fish and seafood), renovated old port, beautiful sights (including one of Europe's biggest aquariums), and its position as the European Capital of Culture in 2004, the birthplace of explorer
Christopher Columbus
(
Cristoforo Colombo
) is an enticing place which is gradually becoming more included in the touristic market. With unusual typical slate-roofed houses, artistic churches, lovely seaside villas, and several luxurious boutiques, Genoa is a must-see if you want to experience the quintessential Italy.
Understand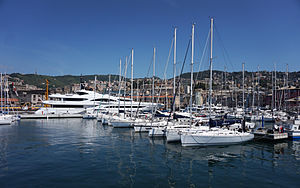 When visiting northwestern Italy (
Milan
,
Turin
) it is absolutely worth staying for a couple of days or a weekend in Genoa. The city is a good base to explore the Italian Riviera and world-famous places like
Portofino
and the
Cinque Terre
.
Paolo Coelho wrote: "Among the marvels of Italy, it will take some digging to find the beauties of Genova, but it is worth visiting it. I remember walking there with a friend, when she suddenly said: 'Let's stop for a bit. I can't stand this orange color!'"
Genoa is a place where you discover daily new surprises, even if you stay for years.
The city may be less known by major tourist operators, but its splendor is often hidden inside the narrow streets of the historical center, called "vicoli".
Genoa is a sort of decayed glorious port town, whose decay, however, is what makes it so interesting and pretty. The façades of grand palaces are hidden in scruffy, yet enticing alleyways, and there are really curious treats for anyone in virtually every alley. The city is your "typical" Italian one - quite sunny (during summer), with Mediterranean-looking houses topped by slate roofs, filled to the brim with outdoor cafes and bars, with lots of tiny and quirky alleyways, elegant designer shops, and restaurants. Today, also, the old port has been renovated, and has some funky avant-garde modern architecture, a delightful marina, and several seaside bars and shops.
Get in
By plane
By train
It is easy to travel to Genoa by train from
Milan
,
Turin
,
Rome
,
Tuscany
(
Pisa
,
Livorno
and
Florence
(changing train in Pisa or
Viareggio
)) and
France
(there is a direct train connecting with
Nice
).
There are two main train stations in Genoa. serves most local routes and provides access to many bus lines. serves local and long-distance trains, and many trains from
Milan
and beyond will only stop at this station.
By car
Coming from
Milan
you can reach Genoa via the A7-E62 (approx. 145 km). Mind though that the last part, from Serravalle to Genoa, is incredibly twisty, making you wonder if you're still on the highway or accidentally have taken a wrong turn into a motordrome. It's therefore advisable to take an alternative route, turning off the A7 at the deviation near Tortona and heading on the A26/A7, following Genova,
Ventimiglia
,
Savona
, Voltri; making it a longer (+20 km), but certainly safer and more comfortable trip, unless you want to spice up you journey and observe how (some) Italians drive. The same highway is less twisty northbound (leaving Genoa).
Coming from
Turin
, you can either take the A6/E717 to
Savona
(137 km) and then go to Genoa following the beautiful, but twisty A10 coast highway (another 45 km), or follow the Genova
Piacenza
indications you'll find on the ringroad heading south. This latter is the shorter alternative (170 km total), but offers fewer sightseeing opportunities.
Coming from the French Riviera, follow highway A10 and enjoy the sights (approx 160 km from the French border). If you're tempted to avoid the toll roads, be aware that it will take you at least three or four times as long, although you might get better views.
Coming from
Tuscany
, you can take the A12 from Rosignano to Genoa. From November 1 to March 31 you must have snow chains on board between the gates of Carrodano and
Sestri Levante
, even though snow is seldom a problem here.
By bus
Genoa can be reached via Eurolines coach from many European countries. Long distance buses also run from Nice.
By boat
Genoa is an important port, and has many ferry services from its . Direct ferry routes from Genoa include:
Barcelona
(Grandi Navi Veloci, daily, takes 18 hours),
Tangier
(Grandi Navi Veloci, weekly, takes 46 hours),
Valletta
(
Malta
),
Bastia
(
Corsica
),
Olbia
and
Porto Torres
(
Sardinia
),
Palermo
(
Sicily
), and
Tunis
(
Tunisia
).
Get around
By car
Locals will say driving around the city is somewhat faster than public transportation (traffic jams at rush hours notwithstanding), but once you have reached your destination you are faced with the nightmare and frustration of looking for a nonexistent parking spot. It is not just chance that most locals switched from cars to scooters - to the extent that even finding a spot for a scooter has become difficult too. All attractions within the center are in walking distance or well served by public transportation, therefore a car is of no use at all. If you still decide to drive into the city, don't bet on available street parking (there are street parking fees anyway) go directly to a parking garage and hope not all of them are full. If you think of driving to the beach on a sunny weekend day within Genoa or in another town along the coast, forget it. Finding a parking spot in walking distance to your beach is an once-in-a-lifetime event. Use public transit instead.
Public transportation
Public transportation will probably be your best bet within the city. The bus network is operated by
AMT
and services the whole city until 01:00. Be sure to check routes and timetables you need because the system can be somewhat confusing, e.g. some routes only travel at certain times and are replaced by other similar ones with different numbers at those times. There is also an underground line connecting the main square, piazza De Ferrari, with the northwestern neighborhood of Rivarolo, serving the historical center, the Porto Antico touristic area, the Stazione Principe main train station and the ferry terminal at Dinegro along the route. As is common in Italy, tickets are not sold on board (except at night or on Sundays, then at an increased price); you need to buy your ticket before boarding the bus at a newspaper kiosk or a tobacconist's or an underground station, and validate it at a punching machine once you have boarded the bus. Single tickets cost €1.60 and are valid for 100 minutes after validation for an unlimited number of travels in any direction. A daily pass costs €4.50, while a group daily pass valid for 4 persons costs €9.00. Those passes must be validated at the beginning of your first ride. If you have to catch a bus early in the morning or at late hours when the tobacconist shops are not open you should have a local cell phone.
Tickets via SMS You need to send a text message with "AMT" to 48 50 209 and you will be charged €1.50.
The response message is the ticket, which is valid for 110 minutes.
There are also a number of public elevators and cable railways connecting the center with the neighborhoods on the surrounding hills. The upper stations of the
Ascensore di Castelletto
elevator and of the
Funicolare del righi
railway offer an astonishing view of the city.
Trenitalia
suburban and regional trains travel in east-west direction along the coast connecting all the coastal neighborhoods/suburbs with the city center. This is the most convenient means of transportation if you plan to see some peripheral districts or towns along the coastline. AMT tickets and passes are valid on Trenitalia trains within the city limits (Voltri and Nervi); single tickets only allow one train ride, and you must validate them again at the yellow punching machines at the stations - check for the correct validating space with the name "Trenitalia" on the back side of the ticket.
If you are travelling outside the city limits to visit some outer towns, you will have to buy a ticket at a Trenitalia counter or machine. It is advisable to buy return tickets right away because there are usually no ticket counters at minor stations and chances are good that the ticket machines there won't work, turning buying a ticket (or discussing with the conductor on the return train) into a hassle.
The historic center of Genoa is serviced by bus only around some important squares and streets (Piazza Acquaverde for Stazione di Piazza Principe, Piazza della Nunziata, Largo Zecca, Piazza Corvetto, Piazza Caricamento). Its
caruggi
alleys are so narrow that no vehicular traffic is physically possible, and they have to be visited on foot - distances are definitely not huge anyway.
By boat
AMT also operates a public boat service called Navebus (see
timetable
) connecting the Porto Antico to Pegli. It is a great and cheap way to have a look at the city from the sea; once in Pegli, you can visit the Villa Pallavicini public park.
Private boat services start from the Porto Antico and travel along the coast to Camogli, San Fruttuoso, Portofino, Chiavari and the Cinqueterre.
See
Old City
Genoa has Europe's largest preserved historical centers, made up of an incredible number of tiny streets and alleys called
Caruggi
. Walking through it will plump you right back in ancient times when Genoa was the most important harbor of the Mediterranean sea. The city is generally safe, but caution is to be applied, especially at night time and in the more quiet zones toward Piazza Principe and the old harbor, due to presence of petty crime.
Cristoforo Colombo houseThe house where Columbus lived as a child.

The impressive fortification belt built on the hills surrounding the city, originating in the 16th Century.

Spianata CastellettoA nice belvedere where one can have a pleasant view of the city and of the seaport. It can be reached by public lift from Piazza della Nunziata or on foot from that very same square.

Via Garibaldialso known as Via Aurea and Strada Nuova, Golden Street and New Street has very impressive baroque buildings.

Some similar buildings are also found in Via Balbi.

The Old HarbourAn entertainment area with museums, cinemas, cafés and also a beautiful promenade along the sea.

phone: +39 349 2809485

address: Access through Lanterna pedestrian promenade (800m) starting near the ferry terminal in Via Milano

The prominent Genovese symbol since 1128: the second tallest traditional lighthouse in the world
A lot of beautiful churches, some of which date back to the Romanesque time (San Giovanni di Pre', San Donato, Santa Maria del Castello)

Palazzo DucaleWhere the Dukes of Genoa used to live.

Cathedral of San Lorenzo

Galeone NeptuneReplica of a 17th-century Spanish galleon.

Via BalbiAlso has some similar buildings.
Museums
Art museums
Museums in Nervi
The eastern suburb of Nervi hosts four small art museums around a pleasant park overlooking the Mediterranean Sea.
A combined ticket for three or four museums costs €10, two museums €8.
Trains leave from Genoa Piazza Principe station every 15-40 minutes, and take 40 minutes to make the trip (€1.30 one way, Nov 2019).
Other museums
Other sights
RighiA spectacular view of the city and the Mediterranean Sea. From here, one can have pleasant walks on the surrounding hills and to the fortifications.

Corso ItaliaGenoa's promenade.

BoccadasseA picturesque fishermen quarter.
Do
There are plenty of things to do in Genoa, although it is very advisable to visit in spring and summer. A lot of young kids spend their time playing with their friends in Parks found within certain antique Villas, some of them are also museums (i.e. Villa di Negro- oriental arts museum Edoardo Chiossone). Go for ice cream along the beaches and beach promenades. There are a lot of paintings in the town and on the brick floors which a lot of people admire. Fishing for catfish is also a hobby you might enjoy.

Via XX (venti) Settembre - Via San Vincenzo

Genoa's main street Via XX settembre, is filled with cafes and high street fashion shops. Start from Brignole station and head towards Piazza De Ferrari. Via San Vincenzo, another popular shopping destination, runs parallel to Via Venti (as the Genoese call it) from Brignole.

De Ferrari - San Lorenzo/Centro Storico

De Ferrari square lies in the heart of the city, surrounded by the Carlo Felice theatre, and Palazzo Ducale. Head towards Via San Lorenzo and get lost inside the Centro Storico. A bustling net of alley ways that gains its character from being close to the port and as such is a melting pot of cultures. You can breathe the Sea air and the port of a once strong maritime republic.
It is full of bars, shops, antique barbers (va canneto il lungo), butchers and restaurants. Get lost! (though you might want to take a map because you could get lost.)
On Friday and Saturday nights, these alleyways fill up with people, excellent for bar crawling and living the night. Find its many chupiterias, to get speciality shots or find smaller more rustic birrerias. Occasionally you can find live bands on the streets or in many of the bars, especially by Piazza delle Erbe and Piazza Luzzati.

Passeggiata Lungo mare Corso Italia - Boccadasse, santa chiara
Take a walk along Corso Italia on a sunny day, this promenade along the sea is a must for the outdoor season. Suited for runners, roller blades, it also has a skate park, Giardini Govi, along its way. Just head south from Brignole Bus Station, along Viale Bisagno Brigate and then turn left, there the promenade begins.
At the end of Corso Italia, there is a church and going down towards the sea you reach Bocadasse, a small beach surrounded by ice cream shops, little boutiques, and restaurants, with terraces over the sea. Adventure yourself along the "creuzäs", (small alley) ways to discover its villas and hidden coves.

Monte Righi - Castello Sperone

Genoa is surrounded by hills, which have fortresses built under Napoleonic rule, to defend the city. You can reach this summit of the hill Righi by taking the funicular at Largo Zecca. From then on you may walk along the woods and access a birds eye view of the city and its port. Its quite a walk, but well worth it.

Parco di Nervi

Nervi is the last neighborhood heading towards levante (east), get here quickly by taking bus number 15 or one of the frequent trains. Here lies an immense park that lies just above cliffs on the sea. It has a sea level promenade and another part of the park which extend towards the hills. There are a few small lakes hidden within the park.

Learn
Italian Language classes
Lingua Madre Cultural Association
.Lingua Madre offers a wide range of courses, in a friendly atmosphere, where you can quickly learn Italian and make new friends.
Italian language courses organised by
Scuola Tricolore
. Whether you are interested in group or individual courses, in the morning, afternoon or evening, Scuola Tricolore offers high quality tuition and for those interested accommodation and leisure activities. Courses available in the morning, afternoon and evening.
Italian Language School
A Door to Italy
- You can ask for private teachers and personalized lessons even outside of the school facilities.
Buy
Genoa is great for shopping. You have the designer boutiques, department stores, food shops, and antique dealers.
Downtown, for those who want luxury boutique browsing, you can find some world class fashion-related shopping along Via XX Settembre, starting from Piazza Ferrari.
There are a lot of small, picturesque and tourism-related shops in the centre. These are mainly in the central squares and the small alleways. You can find souvenir stalls, kiosks selling books and snacks, sailor-themed stalls, traditional flea markets, modern and antique furniture dealers, little bookstores and tiny art galleries.
There is a large shopping center called Fiumara located near Genova Sampierdarena train station. To reach Fiumara, take a local train to Genova Sampierdarena station and exit the station. Turn left and go under a bridge, near which there is a sign to the left for Fiumara. The shopping center is visible from the other side of the bridge and is about 10 minutes walk. The mall can also be reached by car or bus routes 1, 2, 4 and 22. The mall is open daily 09:00-21:00. Nearby there is a theater and activity center which includes a pool hall, bowling alley and restaurants.

Eat
The vast majority of places charges service for a fixed amount per person (called
coperto
), as is custom in Italy. A trattoria, cafe or bar will not charge this fee for lunch, and this is often a good place to get pasta or a sandwich in the afternoon. Restaurants are open from approximately 12:30 - 15:00 for lunch and 07:30 - 22:00 for dinner.
Budget
address: Piazza Ferretto 10 rosso

Great, fresh pasta on a budget - less than €5 for a pasta and drink. Try the regional 'trofie with pesto sauce'. No reservation.

Trattoria Da Maria

phone: +39 010 581080

address: Vico Testadoro 14

Traditional regional cuisine and a practical and crowded atmosphere. Possible opening for lunch only, no reservation.

Osteria La Lanterna

phone: +39 010 2461608

address: Via San Siro 12R

This restaurant offers mainly fish dishes.

Trattoria Sa Pesta

phone: +39 010 2468336

address: Via Giustiniani 16r

This restaurant offers traditional regional cuisine.
Mid-range
Ombre Rosse

phone: +39 010 2757608, +39 347 4280698

address: Vico Indoratori 20-22-24 r

Quality Genovese food, like pansotti, vegetable cakes, baccala, lepre, brasato.

La Berlocca

phone: +39 010 4075555

address: via ai Macelli di Soziglia 45r

Fish & meat of great quality. Excellent choice of wines.

Sä Pesta

address: via dei Giustiniani 16r

Only the best of Genoese food. This antique restaurant has been serving port workers, and nobility alike for the past couple of centuries. Great for torte and farinata.
Splurge
Ristorante ZeffirinoAllegedly one of Frank Sinatra's favourite restaurants (apparently he had them send him regular supplies of their pesto), Zeffirino is one of Genoa's gems. Hidden up a long flight of steps just off Via XX Settembre in the heart of Genoa, it can a little hard to find but well worth it. Stunning food, truly excellent service and a beautifully appointed dining room makes for a memorable lunch or dinner.
Specialities
Pesto sauce originates from the city of Genova. It is used in many dishes, including pastas and pizzas. You can always order from the huge variety of pastas and pizzas available here, but trying the one which is based on Pesto is a must to experience the traditional Genovese cuisine.
Another must try from the Genovese or Ligurian cuisine is the focaccia, which essentially is a flat oven-baked Italian bread, which may be topped with onions, herbs, or other foodstuffs. They are quite tasty and often cheaper than pizzas. There are many 'Focaccerias' scattered throughout Genova and its surroundings. These are basically take away places, and easy on the wallet, too. In many of the focaccerias, you will find improvised varieties of focaccias, but usually, the best tasting ones come with only tomatoes or onions and a bit of olive oil. The original "focaccia" is simply topped with olive oil, salt and a little bit of white wine
Don't miss to try the farinata, a thin crusty pie made with chick-peas flour, water, salt, and olive oil.
Drink
Piazza delle Erbe: small square in the old town, with nice bars (5 min. walking from Piazza De Ferrari and Palazzo Ducale) open until 01:00. On Fridays and Saturdays it is crowded of young people.

Riviera hotel Pl
Area of Porto Antico. Down of piazza Caricamento and close to the Bigo there is a float restaurant with the nose of it being a night bar, with sometimes offering live music. Wide wood chairs to relax and see the sea in summer.
Sleep
phone: +3934864636

address: Salita San Nicolosio

2 interesting apartments ideal to explore the historical center
Budget
Albergo Parigi, 72 Via di Pre. Cheap and basic and close to Genova P. Principe station. €40 per room.

phone: +39 010 2464470

address: Via Balbi 155

Completely renewed, in the front of the railways station Porta Principe, all the main attractions are within walking distance.

Youth Hostel

phone: +39 0102422457

address: Via Costanzi 120

(to reach from the center by bus no. 40)

Columbus Village Accommodations

phone: +39 010 8692029

address: Via XX Settembre 26/5 16121 Genova

An agency that rents local bed & breakfast accommodations in Genoa. They also rent accommodations in the surrounding area and short-let apartments.

phone: +39 010 3726164

address: Via Sarfatti, 8

phone: +39 010 2541677, +39 340 6107251

address: Piazza San Giorgio 32/12

In the city center of the old town.

phone: +39 339 5753845

address: Vico del Dragone 4/6

A B&B in Central Genoa.
Mid-range
address: P.zza Bandiera, 21 R

Situated in the historical center of the city and close to Porto Antico. Single room from €5, double room from €60.

phone: +39 0185 286073

address: Via Maragliano 34D, Santa Margherita Ligure

The Hotel Minerva is located in Santa Margherita Ligure in a quiet area a short walk from the beaches

phone: +39 010 83161

address: Via Martin Piaggio, 11. 16122 Genova.

This 4
* hotel is in the heart of the financial district and is just a short distance from many well-known tourist attractions.
Splurge
Locanda di Palazzo CicalaLocanda di Palazzo Cicala has all the magic of a "hotel de charme". It is in the very heart of the historic city centre, opposite S. Lorenzo Cathedral, just a short walk from the Old Harbour, the Cotone Congressi congress centre and the art exhibitions in Palazzo Ducale.

Hotel Bristol PalaceBuilt in 1905, the hotel has hosted many notable guests such as Emperor Hirohito of Japan

Hotel Romantik Pagoda.
AC Hotel Genova.
Stay safe
Crime
Streets in Genoa are usually quite safe, especially in the main tourist areas and residential areas. Downtown, Quarto dei Mille, Quinto del Mare and Nervi are all safe districts during the day as well as the evening.
However, some limited areas in the historical centre off the main alleys might be subject to petty crime or just be uncomfortable for the general tourist (e.g. prostitutes waiting for clients in the middle of the day in dark side alleys just a couple of blocks away from a touristic attraction). Especially north of Piazza Caricamento/via Banchi/via Luccoli, around the Via Pré and in the Stazione Principe area, it is advisable to exercise extra caution and follow your common sense, e.g. avoid walking into narrower, darker, deserted alleys off the main paths unless you know where you are going. Pay special attention to your surroundings, avoid displaying flashy items and do not carry large amounts of cash or valuables.
Muggings or violence towards tourists are practically unheard of, however deft pickpockets are not seldom. Be particularly careful in the via San Lorenzo/via San Bernardo/via San Donato area (which is a popular and very crowded nightlife zone for students and young people) and also on city buses.

Traffic
When walking, you should not expect motorists (especially scooters and bikers) to be particularly disciplined. At unsignalized crosswalks, you might need to insist on your right of way by just starting to cross the road (with caution!), as Italian pedestrians normally do, rather than waiting for motorists to stop. If a car, van or truck has stopped to let you cross, be very careful and always assume there might be a scooter passing that vehicle at high speed without seeing you.

Beaches
Virtually all beaches in Genoa and surroundings are made of cobbles, rocks and cliffs. The sea floor is normally very steep and you won't be able to touch the ground just some meters away from the shore, hence beware if your swimming skills are not good. When bathing, be extremely cautious as stones under water are mostly covered with vegetation and very slippery. Avoid bathing at all if the sea is not calm: waves that may seem innocent from the shore might be strong enough to turn getting out of the sea into a quite dangerous and scary undertaking, running the risk of being smashed into the shore or into a rock (that you perhaps don't see because it's under water). There is normally no lifeguard service on free public beaches.

Cope
It is not difficult to find someone who can help you with easy/touristic problems in English, Spanish or French, but the best is of course to speak a little bit of Italian.
Consulates
Azerbaijan

phone: +39 010 553 46 13

address: Viaxx Settembre str. 34, 161121 Genova
Go next