Genting Highlands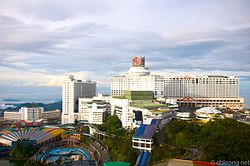 Genting Highlands
— pronounced
ghen
-ting with a hard "G" — is a resort in
Pahang
,
Malaysia
.
Understand
Officially known as
Resorts World Genting
and a self-proclaimed
City of Entertainment
, Genting is Malaysia's low-budget, family-friendly, sanitized attempt at
Las Vegas
. The primary draw is that Genting is the only place where you can
gamble
legally in Malaysia, but there's also a theme park to keep the kids amused. The resort offers six hotels with 10,000 rooms, over 50 fun rides, 170 dining and shopping outlets, shows, business convention facilities and entertainment options. As a plus, being located up in the highlands means it's cooler than the steamy lowlands. Genting attracted 19.2 million visitors in 2008.
But before you get too excited, tone down your expectations a bit. Genting is
cheap and tacky
, and not in a good way: nearly everything is
overpriced
and a bit
run-down
and since 2010 it is also facing competition from neighbouring
Singapore
's two new integrated resorts with casinos at Resort World Sentosa and Marina Bay Sands. Those of an environmentally conscious disposition may want to skip the Genting Highlands altogether, as the sight of vast concrete structures and day-glo coloured theme park rides set in the forested highlands could be positively traumatic.
Orientation
Orienting yourself in Genting is simultaneously easy and difficult. There are no "streets" of any kind; instead, all the gigantic buildings are connected with a vast warren of linkways, underground tunnels and escalators, all filled with enough signage to stop you from getting lost. Figuring out the
fastest
route from A to B is not always easy though, because the signage is designed to lead you into the hotels and their casinos!
Climate
Located at an altitude of 1,800 m (5,900 ft), temperatures in Genting are a good 5-10°C lower than in
Kuala Lumpur
, generally staying in the 15-25°C range, and rarely falling below 14°C. On a clear day, there are stunning views down into the valley — but when it's raining in Kuala Lumpur, Genting is swathed in rolling clouds and visibility drops to zero. Thanks to the walkway system, you almost never need to venture outside, but hotel rooms are unheated and can get chilly at night.
Get in
By plane
The nearest airport is in Subang,
Selangor
. Skybus used to run direct buses, but seems to have stopped; the fastest way is thus to KL Sentral by train (28 min) and then connecting to the bus from there. Alternatively, if you're feeling flush after hitting a jackpot in the casino, Sabah Air (tel. +60 3 62578604) will be happy to charter a helicopter for you (30 min).
By bus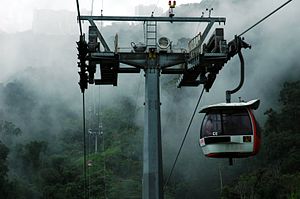 There are frequent buses operated by Go Genting Express Bus from various points in Kuala Lumpur (first bus at 8AM or 8:30AM), including the Puduraya bus terminal (every 30 min), KL Sentral train station (half-hourly and hourly), Hentian Pasarakyat (hourly) and Gombak (half-hourly and hourly). There are also less comfortable buses from Pekeliling Bus Station to Genting Highlands (every 20 to 30 mins, first bus at 7AM). Booking in advance is advisable as services can sell out, especially on weekends.
All buses take around one hour and cost around RM 5 one way, with most terminating at the bus terminal beside the Skyway cable car base station, from where it's an 11-minute ride up to the summit of Genting (RM 5 one-way; the top cable station is in the Highlands Hotel). You have to wait more than 45 min for the next cable car. It is slightly cheaper to buy a combined bus and cable car ticket, costing less than RM 10. Buses departing at 8PM and 9PM on Fri, Sat and Sun head directly to the First World Bus Terminal, making it unnecessary to take the cable car up. The buses that depart at 9PM, 10PM and 11PM on Fri, Sat and Sun for KL Sentral from Genting leave from the First World Bus Terminal, making it unnecessary to take the cable car down. A direct non stop bus departs from Genting to KLCC, the last bus departing at 8PM ( RM 35 one-way; travel time 2 hrs, reservation available at bus counter no:3 )
You may also consider buying the so-called Go Genting Golden Package (valid for one day only; RM 47, (RM 4 more on national public holidays) from the Genting ticket office on the second level of KL Sentral. This package includes the return bus journey (same day only) between KL (KL Sentral and three other points of departure) and Genting bus terminal, the return cable car ride (same day only) and buffet lunch at the Coffee Terrace or Outdoor Theme Park day pass. You have to decide on what time you want to return from Genting when you purchase the package.
Transtar operates one daily superluxury "Solitaire" bus direct from
Singapore
(S$87/77 one-way from/to Singapore). Other companies running direct buses include Five Star Tours, Grassland, Konsortium and Easibook.
By car and taxi
Genting can be reached by car from
Kuala Lumpur
in about 1 hr on the Karak Highway. An
executive taxi
from the centre of Kuala Lumpur to Genting costs RM150-RM200 whilst a regular
taxi
from the centre of KL to Genting costs around RM60-RM70.
Get around

All hotels in Genting (except Awana) are connected by sheltered walkways and escalators, so you never actually need to go outside. The entire complex is, theoretically, wheelchair accessible.

See and do
Casinos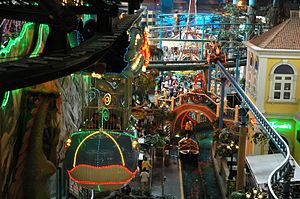 Let's face it: if you aren't into theme park rides, the only thing to do in Genting is
gamble
. All casinos are open 24 hrs, although you must be over 21 and, if Malaysian, not Muslim to enter. A notional but widely ignored dress code applies, prohibiting T-shirts, shorts and sandals, and while there are theoretical non-smoking zones here and there, all casinos are wreathed in dense smoke. One final difference to Vegas: not only are there no cocktail waitresses, but you can't even buy a drink inside.
Table games of choice are roulette, baccarat and Chinese games such as
tai sai
and
pai gow
, with poker barely registering. There are also countless slot machines, but they all
require
signing up with Genting's WorldCard system if you want to withdraw any winnings.
Monte Carlo Casino, Genting/Highlands Hotel. This is easily the largest of the casinos and you'll probably find your vice of choice in here somewhere — they even have a few video poker machines. Visitors with foreign passports are allowed to enter the "International Room" VIP zone if they agree to sign up to WorldCard.
Hollywood Casino, Genting/Highlands Hotel.
StarWorld Casino, First World Hotel.
No bags are allowed inside, but lockers are available (RM 3), as well as a manned deposit point for more valuable goods like laptops. Photography inside the casinos is strictly prohibited.
Entertainment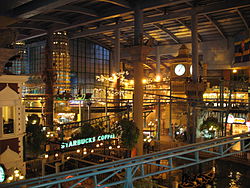 Arena of Stars, . Hosts concerts and shows most weekends, but most feature B-grade Chinese pop stars or Western artists well past their prime.
First World Plaza, Malaysia's self-proclaimed highest shopping mall, this is an ungainly mix of indoor theme park and low-rent shopping mall with replicas of random landmarks from around the world, all covered with a giant metal roof that makes the entire place seem dark and dingy.
First World Cineplex, Times Square, First World Plaza. Two small cinemas.
Genting International Convention Centre (GICC). Convention center with various halls capable of hosting events, concerts and performances for up to 2,000 people.
Theme parks
Genting Outdoor Theme Park, . Features numerous rides typical of an amusement park, mostly suitable for families. Daily Unlimited Ride Pass priced at RM50 for adults and RM35 for children below 12 years old, while the Express Lane Pass for each age range valued at RM86 and RM56, respectively. You may also use the Go Genting Golden Package (see above 'Get in by bus') to obtain a Day Pass. The Outdoor Theme Park Passes includes Flying Coaster.
35 years since the opening of the Genting Theme Park, the Genting Outdoor Theme Park is closed from 1st September 2013 for 3 years to make way for the world's first Twentieth Century Fox Theme Park.
Other rides and attractions located in First World Indoor Theme Park, SnowWorld, Sky Venture, Genting Bowl, Vision City and Fantasy World Video Games Park will remain opened as usual.
First World Indoor Theme Park, (located in the First World Plaza). Features numerous rides. The Day Pass for adults is RM30 and RM28 for children. This Day Pass includes entrance to Rainforest Splash Pool but do not cover Signature Attractions such as Ripley's Museum at RM30, Snow World at RM17 and Genting Sky Venture (simulated sky diving) at RM50. One should try the First World Indoor Theme Park Express Lane Pass valued at RM54 (adult) and RM50 (child).
All Park Daily Unlimited Pass for the combined Outdoor Theme Park and First World Indoor Theme Park costs RM66 for adult and RM45 for children. Express Lane Pass also available at RM114 and RM77, respectively.
Information on Express Lane
- The Express Pass entitles guests to utilize the express lane only once for each of the selected rides. Any subsequent ride(s) will be on the normal queue line. Express lane is available for the following
rides
and parks:
At the First World Indoor Theme Park:
4D Motion Master, Adult Bumper Car, Carousel, Euro Express, Junior Bumper Car, Mini Train, Monorail, Reindeer Cruiser, Ride De Paris, Rio Float and Flying Dragon.
At the Outdoor Theme Park:
Astro Fighter, Corkscrew, Double Deck Carousel, Flying Jumbo, Matahari, Mini Train, Monorail, Pirate Ship, Pirate Train, Spinner, Sungai Rejang Flume Ride, Tea Cup and Flying Coaster.
Nearby attractions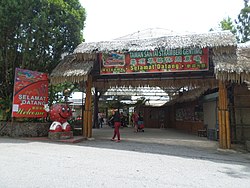 Chin Swee Caves Temple
Cradle Rock
Genting Sempah Welcome Arch
Genting Strawberry Farm
Kilometre 7 Nursery
Highlands Mushroom Farm
Highlands Vegetable Farm
Highlands Daylily Farm
The Visitors' Galleria
Genting Strawberry Leisure Farms (Mushroom Farm in the same location)
Buy
First World PlazaIn First World Hotel. The First World Plaza has got to be the coolest, if not the highest shopping destination in Malaysia. It carries over 90 labels with F&B outlets and attractions for all ages!
Eat
Food in Genting is generally overpriced and mediocre. Local, Western and fast food are available, but prices are often twice or more what the same meal would cost in Kuala Lumpur. Most restaurants are halal to cater for the large number of Muslim visitors.
Budget
There are a number of fast food chains like McDonald, Burger King, KFC, and Marrybrown. All these restaurants charge about 50% higher than what they charge elsewhere in Malaysia. Try Marybrown's Nasi Lemak meal as breakfast: one piece of chicken, a hot tea/coffee, and other Nasi Lemak condiments for RM ~10.
Penang Food Villagewould be unremarkable anywhere else in Malaysia, but in Genting it's a notch above the competition: prices are reasonable (most remain under RM10), there are no crowds or clouds of smoke, and the food is tasty. Try the lor mee (noodles in black gravy). The spicy prawn noodle soup and the Penang Fried Kway Teow are not to be missed.The prawn noodles are nice too.
Herbal soup near Genting Skyway- It's just a small shop selling herbal soup from RM8.80++. You can add rice for RM2++. Tasty soup and affordable price. One of the cheaper food options in Genting.
Mid-range
There are some decent Chinese restaurants like the Causeway Bay (FW Plaza Second floor) and Shanghai 10 (FW Plaza Main Atrium). They serve good food and a meal for 3 (1 main course, side dish and a drink per pax) should not cost you more than RM 60.
Coffee Terrace

address: Genting Hotel

Newly renovated restaurant with an international buffet in plush settings, with many chefs cooking on-the-spot upon your orders. It serves 6 different cuisines - Local, Nonya, Chinese, Japanese, Western and Indian. Recommendations include Penang Fried Kway Teow, Chicken Rice, Indian Naan, Japanese Sashimi (really fresh) and Medium-well beef steak. Breakfast (5:30AM-10:30AM) RM 35 nett, lunch (12noon-2:30PM) RM 55 nett, dinner (5PM-9:30PM) RM 65 nett. Children pay half price for all meals. The Go Genting Golden Package (see above, 'Get in by bus') may be used to cover the cost of a buffet lunch here.
Splurge
The OliveGenting's signature award-winning restaurant, located in the hotel lobby, attractively done in a very modern style. Very expensive, but if you're going to splurge, you might as well go whole hog and try the Wagyu steak, flown in directly from Japan.
Drink
Nightlife in Genting is
very
limited. There are four (4) bars of any description in the entire complex, three of them (Safari, Cloud 9, All Sports) in the lower level of the Genting Hotel and one (Patio) on the second floor of the First World Hotel.
Safari, Genting Hotel (lower level). Tropical jungle theme, spinning R&B.
Cloud 9, Genting Hotel (lower level). A more relaxing lounge.
All Sports Bar
Patio Bar & Lounge
There are several cafes around such as Starbucks Coffee and Coffee Beans & Tea Leaf available in the First World Hotel.
Sleep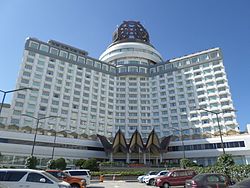 With 10,000 rooms to choose from, there are usually plenty of beds at Genting. On weekdays in the off-season, rooms can be very cheap indeed (under RM 20), but demand is highly seasonal and the hotels fill up fast in November and December. Note that all rooms are
unheated
and can thus get chilly at night!
All hotels are run by Genting and share the same reservations center, reachable
online
or by phone at +60 3 27181118.
Outside Genting
There is cheaper accommodation available a couple km down the slope from the cable car base station, such as Hotel Seri Malaysia.
Goh Tong Hall ResidenceBeside the Chin Swee Temple - 110 rooms, all rooms with attached shower; off-peak single/double RM 50, triple RM 70; peak single/double RM 110, triple RM 130.
Connect
Both Genting Hotel and First World Plaza have Internet cafes. There is also a post office on the lower level of Genting Hotel.

Go next