Geraldton
Geraldton
is a city on the Batavia coast of
Western Australia
. It's a busy port and the chief city of the
Mid-West
region of WA.
People have lived in this area for 40,000 years, those since the time of European contact being the Yamatji or Wajarri aboriginals. In 1848 lead ore was discovered here and the area began to be built up: metal ore mining along with livestock and fishing were and remain the major industries. Geraldton was transformed in the 1960s when the Brand Highway was tarmacked all the way from Perth, so that bumpy dusty 420 km (260 miles) became one day's easy drive. The city's main interest to travellers is therefore as an overnight stopover, but it has a range of tourist attractions in its own right, especially water sports.
Geraldton Visitor Centre
is in the Bill Sewell Complex, just north of the city centre on Chapman Road.
Get in
That tarmac highway spelt the end of passenger rail services to Geraldton, and of the coastal passenger steamers.
By plane
Geraldton airportVirgin Australia and QantasLink have daily flights to and from Perth. There's also private aviation facilities.
Car hire is available here if pre-booked. There's no public transport to downtown, reckon $30 for a taxi. Taxi transfers are also available to outlying towns such as Greenough and Dongara.
By car
Indian Ocean Drive/Highway 60 (423 km from Perth to Geraldton) was upgraded in 2010 and for light vehicles is the shorter, pleasanter route; but fill up on fuel as it can be hard to find along the way. Freeway 2 northbound from Perth leads straight into Highway 60, passing by Pinnacles (Nambung) National Park, Cervantes, Jurien Bay and Lesueur National Park, to join Brand Highway just south of Dongara.
Brand Highway 1 (440 km) is the fastest, most direct route. So it has filling stations and is the trucking route, and these huge Road Trains will require your full attention. Much of the highway is only one lane each way, so overtaking these juggernauts or being overtaken by them is hazardous, especially at night.
A historic route follows the former Midland Railway, travelling through the small towns of Moora, Three Springs and Watheroo.
Driving from the north west, follow the North West Highway; or from inland, approach via Mullewa.
By bus
TransWA
and Integrity Coaches operate daily coaches between Perth and Geraldton, taking about 6 hours. Some TransWA coaches continue to Kalbarri. For points further north such as Carnarvon, Port Hedland and Broome, you need the Integrity Coach, twice a week.
Get around
The main sights of Geraldton are fairly central, and easy to reach on foot, especially once the sea breeze gets up to offset the heat.
By bus
You're unlikely to need the bus unless you're trying to reach the outlying beach resorts. There are 3 local services, roughly hourly daytime:
Route 1 goes north through Beresford and Sunset Beach to Waggrakine.
Route 2 goes south through Karloo and Tarcoola Beach to Wandina.
Route 3 links the western suburb of Beachlands to downtown.
These buses don't reach nearby towns such as Greenough and Dongara, you'd need to take the once- or twice-a-day TransWA coach towards Perth.
By car
Consider hiring a car if you intend a lot of local travel, and you certainly need wheels to explore Kalbarri or get up to Shark Bay / Monkey Mia. Car rental firms including Avis and Hertz can be found in downtown Geraldton.
See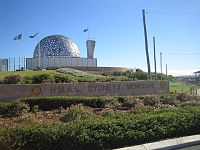 HMAS Sydney Memorial

address: Gummer Ave

HMAS Sydney was a light cruiser that served with distinction during World War II in the Mediterranean, before returning to duties around Australia. In Nov 1941 she was sunk with the loss of all 645 men after a battle with the German auxiliary cruiser Kormoran. Not until 2008 were the two wrecks located, some 100 km west of Dirk Hartog Island WA.

Museum of Geraldton

phone: +61 1300 134 081

address: 2 Museum Pl

Part of WAM, it chronicles the land-side and maritime history of the region, including video footage of the wreck of HMAS Sydney.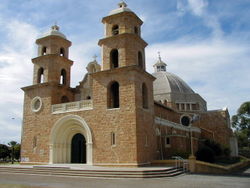 Cathedral of St Francis Xavier

address: 56 Cathedral Ave

Reopened after rebuilding in Nov 2017. Considered the finest work of the prolific architect Monsignor John Hawes, with twin towers and Romanesque interior that evoke Mexico and Cordoba. Plus adjacent museum about Hawes' life and work and battles with the bishop who wanted everything done in gloomy Gothic.
The scenic Geraldton Foreshore in town with safe swimming beaches for everyone, cafes and retail shops nearby.

Point Moore LighthouseBeach at Point Moore for surf; Page's beach just north for flat water

Back Beach, south of Point Moore for beginning surfers
Markets in town are Saturdays at Maitland Park, Sunday mornings at the Old Railway Station on Chapman Rd, and the first & last Sunday of the month on Marine Terrace.
Hutt River Principality is a wheat farm 100 km north of Geraldton that in 1970 declared its independence from Australia, and adopted - and maintains to this day - the styles and apparatus of a "microstate". So it makes for a quirky visit: you'll be shown around by the farmer's family - correction, by one of the princes; you'll see the chapel, the shrine, the "royal art collection" and so on. They'll peddle their "currency" and "postage stamps" as souvenirs; and they'll regale you with a fantastical account of the principality's legal victories in the courts, diplomatic recognition, tax-free status, etc., and Prince Leopold I's original contributions to mathematics and philosophy. It seems a shame to expose all these yarns to a reality check - collective mythology is central to every nation's identity - but for starters see Wikipedia articles for Hutt River Principality and for "micronations" in general. In June 2017 the courts issued a demand for over $2.7 million in unpaid tax, which could spell the end of the place.
The principality is open daily except Christmas, 9AM to 4PM. Entry is $4 and the place is cash-only. You can camp in the field or park your caravan/RV (no power hook-ups) if you want to stay over, but a couple of hours will be plenty for most visitors. To reach here from Geraldton, stay on Brand Highway 1 as far as Binnu, then follow Binnu Road West which is tarmacked. Zag right-left at the junction then look out for the dirt road leading left/north. Driving from the north, you'll come to the Binnu West turn-off a short way south of the Kalbarri turn-off. Kalbarri National Park starts just west of the principality.
Do
A surf trip with Surf2skoolSurf2skool (Midwest Surf School and Tours) offers surf lessons and camps throughout the year for surfers of all levels at Geraldton's best surf breaks.

Skate Parks located at Cape Burney, Maitland Park, Wonthella, Strathalbyn, Tarcoola Beach, Forrester and Drummond Cove.
Aquarena - including the water slide and BIFF
Surfing at Back Beach
Scuba Diving with Batavia Coast Dive Academy. Includes options for wreck diving.

Kitesurfing Lessons with Kite West

phone: +61 4 49 021 784

Kitesurfing, surfing or SUP lessons with Ben and Clem at KiteWest! KiteWest also do 4WD outback adventure tours.
Houtman Abrolhos Islands are an archipelago 70 km off the coast, with protected wildlife and flora. Snorkelling and diving trips by boat, plane or helicopter. You can land on some of the islands but can't stay overnight.
Buy

If you're heading north or inland, buy any supplies here. As the region's chief city, Gero has best choice and prices. Folk from as far away as Carnarvon, Exmouth and Meekatharra have to make occasional shopping expeditions here.
The art of the Yamaji people is in a distinctive pointillist style. Find their wares, amongst other outlets, at 205 Marine Terrace.

Eat
Lots of beachfront cafes. Good range of restaurants:
Indian Sunset Restaurant

address: 166 Chapman Rd Beresford

Lemon Grass Thai Restaurant

Provincials

address: 167 Marine Terrace

has wood fire pizza and other Australian dishes.
Freemasons, see "Drink" entry.
Drink
The Freemasons Hotel (corner of Marine Terr & Durlacher St) was voted best country pub in 2005. A great watering hole for after work and meals. Theme nights include Jukebox Saturday Night and Latin American Sundays occur sporadically throughout the year.
Liquid Mojo Juice

address: Centro Northgate shopping centre

Geraldtons favourite juice bar, serving up tasty and healthy smoothies and fresh juices, as well as award winning evia yoghurt, delicious wraps, spectacualr fruit salad as well as soups and hot drinks during winter!
Vibe is the only nightclub. $5 entry.
Sleep
From backpackers to 4-star is catered for in Geraldton.
phone: +61 8 9956 1300

address: 221 Foreshore Drive

Sitting atop the stunning Champion Bay Marina, Mantra Geraldton is within a short walk of downtown and the Museum. Comprising 24 spacious one, two, three bedroom room apartments, Mantra Geraldton provides comfortable and stylish accommodation which includes a fully-equipped kitchen, laundry and spacious lounge and dining areas. Internet access and ISD/STD direct dial phones are also available in-room along with a host of amenities to make your stay more comfortable.

Weelaway

phone: +61 8 9965 5232

address: 104 Gregory St

Charming atmospheric 19th-century house, a 10-min walk from Marine Terrace.

address: 107 Brand Highway, Geraldton

3½-star Geraldton hotel with 40 rooms, close to local attractions, short walk to beaches, on-site restaurant offering fresh local seafood.
Stay safe

Common sense will keep you out of trouble in Geraldton.

Go next
North along the NW Coastal Highway brings you to:
Kalbarri National Park, turn off at Northampton or Ajana. Hutt River Principality (see above) is nearby.
Shark Bay and Monkey Mia for water sports and dolphins
East on Highway 123 snakes inland through Mullewa and Mt Magnet into the vast interior of Australia. Take water, fuel, and sunblock.
South on Brand Highway 1 passes Greenough and
Dongara
, then you continue towards
Perth
by either the Brand or Coastal Highway.