Gero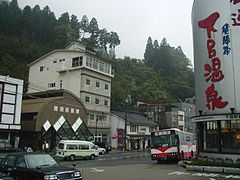 Gero
(下呂市
Gero-shi
), also known as
Gero Onsen
(下呂温泉), is a hot spring town in
Gifu Prefecture
,
Japan
.
Understand
One of Japan's
Three Famous Springs
(日本三名泉
Nihon Sanmeisen
) — not to be confused with Japan's Three Great Springs and several other competing variants — the town's hot springs made their first appearance in print in the Engi Era (901-923). The present incarnation is packed full of colossal concrete hotels and bars advertising nude shows, spanning both sides of the rocky Hida River. Nevertheless, the hot springs are held in high regard by Japanese, and the scenery in the valley is quite picturesque, particularly in autumn.
Gero's small
tourist office
, next to the station, can help you book if you arrive with no reservation.
Get in
By train
is on the
JR Takayama Line
, which has spectacular views of the valley and the Hida River below. The
Wide View Hida
(ワイドビューひだ) limited express from
Nagoya
takes about 1½ hours (¥4,620). If you're coming from the Sea of Japan side, from
Takayama
it takes 45 minutes (¥2,240), and from
Toyama
there are 4 daily runs taking 2½ hours (¥4,940); local trains from Toyama take 2½-3½ hours, with a transfer in Inotani, and another in Takayama if you want to take the faster
Wide View Express
for the last segment.
From
Tokyo
, take the Tokaido Shinkansen to Nagoya and then the
Wide View Hida
. On a
Nozomi
, this takes about 3½ hours and costs ¥13,880; by
Hikari
it takes 4 hours, but is free with the Japan Rail Pass.
From the
Kansai
region, Gero is around 2¼ hours from
Kyoto
(¥9,130) and around 2½ hours from
Osaka
(¥9,780), also using the
Nozomi
or
Hikari
and changing in Nagoya. There is also a daily round-trip of the
Wide View Hida
leaving Kansai in the morning (#25 at 07:58 from Osaka Station) and returning in the evening (#36 at 16:24 from Gero) using conventional lines. While it's slightly more convenient, this service is slower, taking 3 hours from Kyoto (¥6,570) and 3½ hours from Osaka (¥7,330), and there are no food and drink sales.
If you take local trains from Nagoya, the ride will take at least 2½ hours at a cost of ¥2,270, with several transfers required on the way. From Takayama, it's 65 minutes and costs ¥970, and from Toyama it's 3-4 hours (or more) and ¥2,590.
By bus
There are daily buses to Gero from Nagoya, Takayama, Toyama, and Osaka.
By car
Gero is accessible from national highways 41 and 257, about 2 hours' drive from Nagoya; take the Chuo Expressway E19 to Ena or Nakatsugawa, then 257, or take 41 the whole way.
Get around

Gero Onsen can be covered on foot, although if you have much luggage you'll want to get a taxi or arrange a pickup with your lodgings — the train station lies on the south side of the river, while most hotels are across the long bridge to the north.

See
There's only one noteworthy attraction in Gero:
phone: +81 576 25-2239

address: Mori 2369

A traditional-style village with thatched-roof gasshō-zukuri (shaped like hands in prayer) houses. At least one house is authentic, having been constructed in Shirakawa-go (also in Gifu, nationally famous for its gasshō-zukuri houses) in the mid-1800s, and later relocated here to escape being submerged behind a dam. You can paint pottery and make paper yourself, and they will mail your handiwork back to you for an additional fee. There are displays of traditional festivals, and a museum of guardian-dog statues (狛犬 koma-inu) used at shrines. Nourish your body with local specialties from the restaurant, your feet by soaking in the footbath, and your inner child by riding the roller slide.
The remaining sites include some distinctly ordinary temples, which are just an excuse to take in some beautiful mountain views:
Charlie Chaplin statueThe American silent film star visited Gifu Prefecture twice in the 1930s, where he saw cormorant fishing (鵜飼 ukai, quite literally using birds to catch fish), which he described as "Japan's highest art form". However, the statue's purpose is rather far removed from that: it's "to make a 'movie street' where tourists can walk around the hot springs while talking about movies"!

Gero Onsen MuseumSmall museum with hot spring paraphanalia dating back to the Edo period, samples of water from hot springs around Japan, and some simple experiments you can perform using Gero hot spring water.

Mori Hachiman Shrine

address: Mori 1321

address: Yunoshima 680

This temple is strongly connected to the town's history. In 1265, an earthquake destroyed the town and caused the hot springs to dry up. According to legend, a white heron led villagers to a new source of hot water. The villagers built the temple in thanks, and the heron can be seen on the town's manhole covers.

Zenshō-ji Temple

address: Hagiwara-chō, Chūro 1819
Do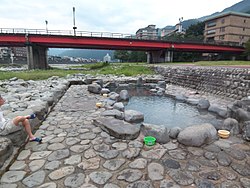 As you'd expect in a hot spring town, the major attraction in Gero is to soak in hot springs. An easy way to sample a number of them is to buy the
Yu-meguri Tegata
(湯めぐり手形, "onsen-touring pass"), a wooden amulet sold all over Gero. This will get you into 3 hot springs of your choice from a choice of about 30 for the flat price of ¥1,300, which can be used up at your own pace as you'll get a stamp each time you visit; you can keep the amulet as a souvenir, too.
Gero is also quite popular for sightseeing of seasonal cherry blossoms and fall leave colors due to its mountainous location.
Foot baths (足湯 ashiyu) are popular in Gero, as the waters are reputed to have curative properties. True to the name, you just take off your shoes and sit down with your feet in the water. A number of free foot baths can be found around town, including the decidedly tacky in front of the Shirasagi Hotel — no prizes for guessing what the statue in the middle is doing.

Fountain Pond outdoor bathThis open-air hot bath can be found to the west side of the bridge, with access via the south side. Note that there are no facilities to speak of and the bathing area is mixed and clearly visible to passersby on the bridge above, but admission is also free so you get what you pay for. Swimwear required for all users.

Yunomachi Ujo ParkMuch prettier than the so-called park surrounding the Hida River, this park has a lovely 500-meter walk along a tributary landscaped into a ladder waterfall, with sculptures and memorials.
Festivals
Tanokami or Hanagasa - February 14
Ryujin Fire Festival - August 1-3
Amateur kabuki performances in May and November
Fireworks in August and December
Buy
The most popular souvenir from Gero (and the Hida region in general) is a
sarubobo
(lit. "baby monkey"), a small faceless doll amulet.
Ideyu Morning Market

address: 2626 Mori

Small market where vendors peddle local produce (only Friday-Monday), food products, and souvenirs.
Eat
The tomato bowl is a known favorite in several eating establishments throughout the town.

Drink
There's a local beer, Gero Gensen Beer, and two sake breweries. Gero is also famous for tomato juice, which you drink after a bath to detox.

Sleep
Gero has a number of high-class inns where you can soak in luxury on a mountainside without ever trudging through town going from bath to bath.
Go next
Takayama, with its preserved Edo architecture is just a short ride away down the JR Takayama line.