Gettysburg
Gettysburg
, in
Adams County, Pennsylvania
, goes down in history as the battlefield in the Civil War where, despite terrible tragedy and loss of life, there was hope for the Union. In many ways, Gettysburg is where the North won the Civil War, and where Abraham Lincoln gave the Union hope that, somehow, something good was to come out of the lives lost in battle.
Understand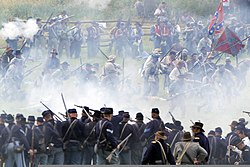 Gettysburg is a borough and the county seat of Adams County in the U.S. state of Pennsylvania. However, Gettysburg is famous for the Battle of Gettysburg that was fought July 1-3, 1863. The fighting started when Union and Confederate troops converged just north of the town of Gettysburg. Three bloody days of fighting ensued, with both sides suffering heavy casualties. The town is also the location where President Abraham Lincoln gave his Gettysburg Address. The town hosts visitors to the Gettysburg National Battlefield in the Gettysburg National Military Park. The Battle is remembered both for Pickett's Charge and the "high water mark of the Confederacy" (the northernmost point a major Confederate Army ever reached) as well as the turning point of the war that the failure of said charge and the overall offensive ultimately meant.
Terrain and climate
Flat meadows surrounded by rocky hills, with views of the Blue Ridge Mountains looming in the distance. In the countryside north of Gettysburg is the "Fruit Belt" of Pennsylvania with thousands of acres of apple and peach orchards and vineyards.
Gettysburg has a humid continental climate, with hot, humid summers and cold moist winters. Spring and Fall are mild and pleasant. Heavy winter storms occasionally strike the area, but these are fairly rare. Heaviest snowfall occurs during February and early March. Severe thunderstorms may occasionally hit the region, mostly in July and August.
Get in
By plane
By car
Gettysburg can be reached via US Rt 30 from
Philadelphia
, or via State Rt 97 from the
Baltimore
area. From the south, US 15 runs through the town for visitors arriving from the
Washington DC
region.
By train
Amtrak
operates service to
Harrisburg
and
Lancaster
. Taxi service and car rentals are available to Gettysburg from there.
By bus
Rabbit Express
runs buses to/from the Harrisburg Amtrak station and airport.
Get around
By car
By far the best way to see the park is with your own vehicle. Roads wind extensively throughout the battlefields, and include many places to pull off and allow visitors to walk around. Use caution when using these roads, as there may be many people walking or bicycling on these roads. The speed limit throughout the park is 15 MPH. When in your car, you may navigate by map or purchase a CD at several locations throughout Gettysburg that will orientate you to the battlefield.
By bus
Guided tours on buses
are available. There are several different types of bus tours: one is with licensed battlefield guides (Adults: $30; Children: $19) and one is with headphone narration (Adults: $26; Children: $15).
By bike
If you have the time and have an average level of fitness, bikes can be rented and can provide an enhanced experience in the park. Cycling the major sites of the July 1-3 campaign can be completed in one day and allow you to experience battle lines and topography in a much more realistic fashion than car or bus.
By horse or carriage
The battlefield features NPS horse trails where you can either bring your own horse or book a battlefield tour on horseback with
Confederate Trails of Gettysburg Guided Battlefield Horseback Tours https://confederatetrails.com
. 2 hour guided battlefield tours and town history tours by Horse-drawn carriage or on foot are also a must do when visiting Gettysburg; walking and carriage tours can be booked with 's
Victorian Carriage Company
Authorized by GNMP and use only Licensed Battlefield Guides.
By Segway
SegTours
rents Segways and offers guided tours.
By foot
One of the best ways to tour the battlefield is by foot — either running, walking or hiking. There are 26 miles of roadway and several hiking trails, both flat and rugged.
See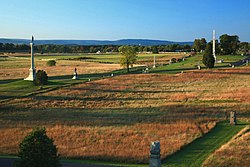 Gettysburg National Military Park

phone: +1 717 334-1124

address: 1195 Baltimore Pike

Gettysburg is the site of one of the most important battles of the American Civil War, and the largest land battle ever fought in North America. This National Park Service controls most of the area surrounding the small town and preserves the historic battle field. The museum and visitor center are run by the Gettysburg Foundation, a non-profit partner of the National Park Service at Gettysburg. The visitor center houses the museum collection as well as special exhibits from across the country and the fully restored Gettysburg Cyclorama, a must-see for any visit. You can also hire a very knowledgeable licensed battlefield guide here. You can also purchase tour tickets for the Eisenhower Farm. $12.50. The surrounding military park is free and open to the public.

phone: +1 717-334-4100

address: 548 Baltimore St

The only Gettysburg citizen killed during the Battle of Gettysburg was 20 year old Jennie Wade, fiancée of Corporal "Jack" Skelly. The old McClellan Home, now the Jennie Wade House and Museum, with but few minor changes and repairs, remains much as Jennie Wade must have known it more than 100 years ago. The walls of the old house, which lived through the Battle of Gettysburg and witnessed the tragic death of Jennie Wade, tell the story of the building and of those in it during the Great Battle.

The Gettysburg Heritage Center

phone: +1 717-334-6245

address: 297 Steinwehr Ave

Presents the entire story of the Civil War era and the Battle of Gettysburg with remarkable realism. Learn the causes, effects and significant personalities that shaped the Civil War and as a result, ultimately, American history. Throughout five hallways of scenes, the museum recreates history with life-sized dioramas of the Civil War. Visitors complete a self-guided museum tour that begins with the economical, social, and political causes of the war and ends with the untimely assassination of President Abraham Lincoln. Following the self-guided tour, visitors enter into the internationally acclaimed, digitally enhanced Battleroom Auditorium. Amidst the sounds of thunderous battle cries and bullets, visitors will witness a life-sized recreation of the Battle of Gettysburg. Discover how a small town in rural Pennsylvania became known for one of the bloodiest battles in American history. An animated Abraham Lincoln delivering the immortal Gettysburg Address follows the battle recreation.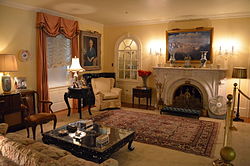 Do
phone: +1 717-318-1515

address: 76 Steinwher Ave

As seen on the Real World on MTV! Get a family photograph in period dress!

Confederate Trails of Gettysburg Guided Battlefield Horseback Tours

phone: +1 717 4767428

address: McMillan Woods Youth Campground

Ride the Battlefield with Confederate Trails and learn important details and insights into some of the soldiers' lives. Not just your average trail ride be ready to hear the history as you ride along the trail. Learn the intricacies of the greatest Civil War Battle as you ride across the field of history. See, feel and experience Gettysburg using an authentic Civil War mode of transportation - a horse!

Your appreciation of the terrain, and it's effects on the battle will never be the same after you have ridden over it while the historic details are revealed to you.

Key points about this tour:

2 hour horseback Tour through the Gettysburg battlefield

Ride the Battlefield with a LIVE Licensed Battlefield Guide. Headsets with single ear buds provided so you don't miss a word!

You will have an out-rider(s) with you at all times to ensure your safety

All participants must weigh 250 pounds or less and everyone must be age 8 and up

8 years and up

Land of Little Horses Farm Park

phone: +1 717 334-7259

address: 125 Glennwood Dr

Performing animal theme park.
Cinema and theatre
phone: +1 717-337-8200

address: 25 Carlisle St

For those who need a break from the Battlefield, there the Majestic, a theater in downtown Gettysburg renovated to its original 1925 Colonial Revival glory. There is a theater for live performances, as well as a cinema which plays the highest quality art films, including American independent films, foreign language films, documentaries, short subjects, and film festival prize winners.

phone: +1 717-334-5575

address: 20 Presidential Circle

The state-of-the-art Gateway Theaters is one of the most technologically advanced movie theaters in the region.
Winter Recreation
phone: +1 717 642-8282

address: 78 Country Club Trail, Fairfield

The best skiing in the area.
Buy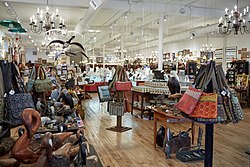 phone: +1 717-334-7950

address: 27 1/2 Chambersburg St

Established in 1990, the gallery specializes in wildlife, nostalgic, Eastern Frontier/American Indian and Colonial art, sculpture, fine handcrafts and related historical books.

phone: +1 717-334-7791

address: 307 York St

Sells excellent American Bikes (Specialized, Trek, ..) in all price ranges. You will get excellent advises, perfect service and good prices. The shop also lends Bikes for tours on the battle field and organizes a yearly Mountainbike race called "Maximus" in Michaux State Forest.

phone: +1 717-420-0103

address: 18 North Washington St

Seven artists and friends come together to exhibit an eclectic mix of artwork in a variety of mediums.

phone: +1 717-677-8412

address: 545 Carlisle Rd, Biglerville, PA 17307

Hollabaugh Brothers is a third generation, family farm with a retail farm market offering fresh fruits, vegetables, gifts, jarred goods, home-style baked goods, and fruit gift baskets. The Hollabaugh family also provides scheduled educational orchard tours. Hollabaugh Brothers is a 500 acre working, family farm. Buses welcome, adequate free parking.

The Outlet Shoppes at Gettysburg

phone: +1 717 337-9705

address: 1863 Gettysburg Village Dr

Gallery 30A fine art gallery.
Eat
Restaurants abound throughout the town, from nationally known chains, to local Mom & Pop diners.
phone: +1 717 334-1999

address: 2 Baltimore St

Blue Parrot Bistro

phone: +1 717 337-3739

address: 35 Chambersburg St

International food in a house from the 1850s.

phone: +1 717 334-1970

address: 58 Chambersburg St

Old-time lunch counter with a few booths. Famous for their "Texas wieners" and home made soup.

phone: +1 717 334-6080

address: 101 Chambersburg St

American food including sandwiches and pizza.

phone: +1 717 334-7580

address: 571 Steinwehr Ave

Buffet and salad bar.

phone: +1 717 334-1100

address: 217 Steinwehr Ave

American restaurant and sports bar dedicated to local baseball hall of fame member Eddie Plank. 7 televisions that show baseball games.

phone: +1 717 334-1978

address: 402 York St

Italian food with a good local beer list.

Lincoln Diner

phone: +1 717 334-3900

address: 32 Carlisle St

Classic diner.

address: 44 Steinwehr Ave

Casual American and Irish food downtown. Huge menu and good beer selection.

address: 89 Steinwehr Ave

Casual and fine dining. Due to its historic ambiance (Revolutionary War to Civil War) and reasonable prices, the Dobbin House is well worth visiting. For budget and casual dining with the same historical charm, there is the Springhouse Tavern room downstairs. During the battle of Gettysburg the tavern saw some action as a hospital, giving it historic significance.

phone: +1 717 334-4816

address: 90 Buford Ave

American food.

phone: +1 717 334-2200

address: 401 Buford Ave

Outstanding cheeseburgers and personal pizzas accentuate the wonderful selection of micro-brews.

phone: +1 717 338-9090

address: 523 Baltimore St

Regional chain. Italian ice and custard. Only open March to September.
Drink
Alcoholic beverages are not permitted in the park at any time.
Bars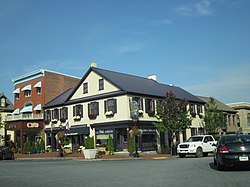 phone: +1 717 337-2719

address: 126 Chambersburg St

Good Irish pub with great music entertainment on special days like St. Patricks. It's traditional Irish menu is very tasty.

phone: +1 717-334-7100

address: 20-22 Lincoln Sq

Casual dining with an extensive menu. Plenty of vegetarian options.
Cafes
Sleep
Camping and backcountry
There are seven campgrounds in Gettysburg: Artillery Ridge Campground, Drummer Boy Campground, Gettysburg Campground, Gettysburg KOA, Round Top Campground, Granite Hill Campground, Gettysburg Battlefield Resort (Membership)
Hiking, camping, and grilling can be done at nearby Caledonia State Park, located approximately 25 miles west of Gettysburg on US Rt 30. Strawberry Hill Nature Preserve in nearby Fairfield, Pa., has more than 600 acres and miles of trails for hiking as well.
Hotels
Stay safe
Gettysburg is very safe. However, it can get very crowded during the summer, and especially on summer weekends. If large crowds are not pleasing to you, especially avoid the anniversary dates of July 1-3.

Go next