Gevgelija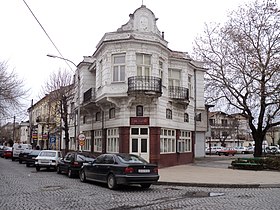 Gevgelija
is a city located in the very southern part of
Eastern North Macedonia
on the border with
Greece
. About 20,000 people live in the city.
Get in
There seem to be three daily trains from Skopje according to the
Macedonian railways website
(only gives good results in Macedonian, Skopje is СКОПЈЕ and Gevgelija is ГЕВГЕЛИЈА in Cyrillic).
The bus from Skopje to Thessaloniki also stops in Gevgelija. Departure from Skopje at 17:00 and from Thessaloniki at 08:30.
See
Vardarski RidThis archaeological site dates from Early Antiquity. It sits on two hills above the town and the Vardar River. The ruins today are primarily building foundations and short walls.
FreedomThis monument was built in 1969 to commemorate the liberators of Macedonia during World War II. Thus, it predates archaeological excavations of Vardarski Rid which has led to discussion on relocating the monument. Its appearance is perhaps best described as a steel flower.
Gevgelija HamamA survivor of Gevgelija's Ottoman era, this hamam (Turkish bath) was built in the 19th century. It features one large dome and a smaller one. The hamam fell into rough shape until a full renovation in 2013. It now houses a gallery.
Church of the Ascension of ChristBuilt in 1842, this is the oldest church in Gevgelija. The five-naved church sits in the southern end of the city, near the Suva River.
Church of Ss Cyril and MethodiusIn central Gevgelija is this 1896-built church. It is home to nine icons done by noted artist Dimitar Papradiški.
Further afield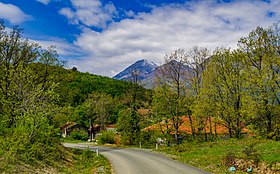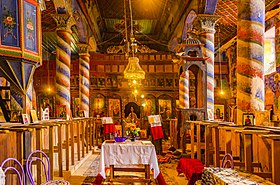 Outside the city limits of Gevgelija, but within Gevgelija Municipality are a few notable churches and some pleasant scenery.
Church of St DimitriThis church was built in 1858 and features some interesting exterior details.

Church of Sts Constantine and ElenaThis is the main church of Miravci, built in 1860. It has suffered fires twice in history and was subsequently renovated each time. The church is long, three-naved, and features a cupola.

Church of St PantaleonThe village of Uma is on the lower slopes of Mount Kožuf. This church is the main one of the Uma and it was built in the 19th century, mostly of stone. The interior of the church features colourful painting. It also has a free-standing belfry.

Church of St ElijahThis church sits within the Smrdliva Voda tourist attraction (listed below). It is situated on a hill in dense greenery.
Do
There are many recreational opportunities at Mount Kožuf including skiing.
Negorci BathsLocated in extremely pleasant surroundings just 2 kilometers outside of Gevgelija, amidst European ash woods, which form a natural park. At the foot of Mount Kožuf, it has the lowest elevation among natural baths in the country. Within the spa-resort there are two waters: "Vrela banja" (hot), and "Ladna banja" (cold), or so called "Sukripasina". The waters in the "Vrela banja" have a temperature of 40 °C, and in the "Ladna banja" 38 °C.

Smrdliva VodaAt an altitude of 712 meters, a tourist site was built 24 km from Gevgelija by mineral waters known for their properties to help aid stomach and kidney ailments. The name of the water "Smrdliva" means smelly as the water has an unpleasant rotten egg smell.
Events
SmokvijadaA festival held in Gevgelija since 2007 celebrating figs (smokvi). Gevgelija claims to have the largest production of sweet figs in the country. It is held near the city stadium. Other traditional foods are also celebrated as part of the festival.
Sleep
Hotel Apollonia +389-34-213222
Hotel Pisina (Flamingo) +389-34-215724 (42euros/2 persons )
Motel Vardar +389-34-213267