Giant's Causeway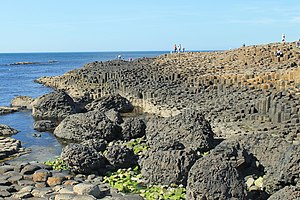 Giant's Causeway
(
Irish
:
Clochán an Aifir
) is a spectacular rock formation on the
Antrim coast
of
Northern Ireland
. The site consists of some 40,000 basalt columns rising out of the sea. The Giant's Causeway is
Northern Ireland
's only
UNESCO World Heritage Site
.
Understand
Myth
Popular mythology attributes the creation of the Causeway to an Irish giant named Fionn mac Cumhaill. To prove his superior strength and status, Fionn decided to fight against a rival Scottish giant named Benandonner. As there was no boat large enough to carry huge Finn across the sea to confront Bennandonner, he built his own pathway of stepping stones from Ireland to Scotland. He then was able to walk across the sea without getting his feet wet.
When he crossed the sea, however, he saw just how large Benandonner was. He ran back to Ireland before Bennandonner saw him, but the causeway was built and Bennandonner came to fight. Fionn crawled into a crib and when Bennandonner came to the door to fight him, his wife told him not to wake the baby. Seeing just how large Fionn's "baby" was, Bennandonner grew afraid and ran back to Scotland, tearing up the causeway as he went to prevent Fionn following him.
Scientific explanation
The true explanation while not as colorful as the myths of yore is still quite interesting. Scientists now agree that about 60 million years ago a volcano let basalt come to or close to the surface that slowly cooled forming the polygon-shapes as the hot material contracted due to cooling. The hexagonal shape is most common as it is the most "efficient" way to "pack" material (just as it is in a beehive). Later erosion formed the current structure, as the basaltic material forming the pillars is more resistant to erosion than other material. Similar structures (though in less impressive locations) can be found throughout the world.
==Get in==
By bus or train
There is bus service year round called the 402 causeway Rambler. It departs Coleraine Bus/Rail station. If travelling from Belfast, come off the train in Coleraine (1 hr 20 min travel time), go into the combined bus and train station, turn left off the platforms, walk past the coffee shop and check the TV monitors for the departure gate of the 402/172 (final destination Ballycastle via Portrush & Bushmills and Giants Causeway and timetable will be marked "Aird the nook Giants causeway"). All public transport info can be found at
this journey planner
.
By car
From Belfast, follow the signs for the "Giant's Causeway Coastal Route" for a beautiful scenic route to the Causeway. It takes a longer (around 2 hours depending on traffic) but it is worth it for the views.
There is also the more direct route along the A26 from Belfast or the A2/A37 from Derry/Londonderry if time is a factor.
By rail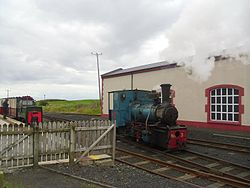 A small railway line the Giant's Causeway and Bushmills Railway from the village of
Bushmills
to the train station near the site of the Giant's Causeway. The railway used three trains, two of which are steam trains. The route goes though Bushfoot Strand down, Crossing Bushfoot Golf Course and
Portballintrae
. (http://www.freewebs.com/giantscausewayrailway/)
Prices:-
Adult Return £7.50
Adult Single £6.00
Child Return £5.50
Child Single £4.00
Concession Return (over 60s) £6.50
Concession Single £4.50
Family Return £25.50 (2 adults and up to 3 children).
Children under the age of 3 years are free.
Get around

Public transportation is available by taking the regular Ulsterbus 402A causeway coast rambler bus to and from Coleraine Train and Bus stations. Journeys to from Belfast are available by train from Coleraine with hourly departures to Belfast (and Derry-Londonderry) by train go to www.translink.co.uk and input "the aird the nook giants causeway". Select bus and train and input your destination. This will bring up bus and train times and the connection times, etc.
Hiring a car, or making an advance note of a minicab company's phone number is recommended step to take.
Be prepared to walk long distances if you miss the daily bus that runs once in each direction on Sundays along the coast (towards Ballintoy/Ballycastle, bus route 172). While it might be worth considering this walk as the scenery alongside the road is neat, it is somewhat dangerous as along the villages and farms, public lighting is non-existent and often dogs are on the loose that are not welcoming towards tourists.

See
The focal point of the area is, of course, the Giant's Causeway. There is no charge for visiting the causeway, although you will find that parking costs a little more than you would expect (circa £12.50, albeit this is a free car park with an obligatory payment to see the visitors museum). This is a free site, so a car with four people works out quite reasonable. Cheaper still, check out the near-by Causeway railway carpark (circa £8) or park on the verge of the main road (free!)
It is an interesting site to see but come prepared for a long and intense walk. Best to wear waterproof clothing and strong footwear. Giant's Causeway is split up into six sections; in walking order:
The Camel

The Granny

The Wishing Chair

The Chimney Tops

The Giant's Boot

The Organ
All six parts of the Giant's Causeway are different in shape and form and truly are a sight to be seen.
Do
Once parked up or off the bus at the visitors centre, you will find there is actually a further road that gets you down to the Causeway. There is a bus service (£1 each way for non National Trust members) runs constantly back and forth between the visitors centre and the rocks themselves, but walking there will only take around 20 minutes and will give you chance to take in some more of the coastal scenery.
Feel free to pose for photos on the rock columns, but be aware that waves will be splashing up onto the rocks, meaning that you can be soaked by the sudden swells and waves, or you can lose your footing on the slippery rocks.

Buy
The National Trust operate a gift shop within the new visitor centre, selling the usual tourist goods at inflated prices. Entry into the shop is charged at £8.50/adult or £4.25/child. The new visitor centre does however boast limited onsite parking, a cafe, toilets and a few minor exhibits to justify the charge. It also accepts credit/debit card, euro and US dollar currency (if paying by note, returning change in pounds sterling).
There is also a small privately owned gift shop located just to the side of the new visitor centre, easily missed, offering similar goods and refreshments at a much more reasonable price.
There is no ATM on-site. The nearest one is to be found in Bushmills.

Eat
The Nook

phone: +44 28 2073 2993

address: 48 Causeway Rd, Bushmills, BT57 8SU

Bar and restaurant.
Sleep
phone: +44 28 2073 1745

address: 157 Whitepark Road, Ballintoy, BT54 6NH

Excellent youth hostel in a great location next (and looking over) White Park Bay Beach.
Given Northern Ireland's relatively small size, you may feel that you want to stay nearer to or in a city such as
Belfast
or
Derry
/Londonderry and then drive to the causeway from there. This would give you a much wider choice of accommodation.
Go next