Gibraltar
Gibraltar
, colloquially known as
The Rock
or
Gib
, is an overseas territory of the
United Kingdom
at the entrance to the Mediterranean Sea. It is bordered by
Spain
to the north;
Morocco
is a short distance across the strait to the south. Gibraltar has a population of 32,000.
Understand
Gibraltar is a unique place for the curious traveller: a British community on the
Iberian Peninsula
, separated by a narrow gap of sea from
Africa
. The historic military legacy has created a veritable labyrinth inside "the Rock", with many secret internal roads and tunnels worth exploring. It is also worth climbing the Rock for its views and famous monkeys; the only extant population of wild non-human primates in Europe.
History
In Greek mythology Gibraltar was Calpe, one of the Pillars of Hercules, which marked the edge of the Mediterranean and the known world. In 711 Tariq ibn Ziyad, the Muslim governor of
Tangier
, landed at Gibraltar to launch the Islamic invasion of the
Iberian Peninsula
. The Rock took his name,
Jabal Tariq
(Mountain of Tariq), which eventually became
Gibraltar
.
Strategically important for international shipping, Gibraltar was ceded to
Great Britain
by Spain in the 1713 Treaty of Utrecht and was formally declared a British colony in 1830. Spain still claims sovereignty over this territory, although Gibraltarians consider themselves British with no apparent interest in rejoining Spain.
The topmost part of the Rock is still used as a British military installation, and is off-limits to the public.
Talk
Gibraltar's official language is
English
, although most local people also speak
Spanish
.
Most locals also converse in
Llanito
, which is essentially a mix of Andalusian Spanish and British English, a creole unique to Gibraltar. Many businesses such as cafes and restaurants employ monolingual Spanish workers from across the border. In restaurants, it may not be that different from dining in Spain, in terms of language.
Get in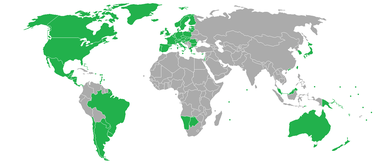 Entry requirements
Brexit
Gibraltar is the only British Overseas Territory that is part of the European Union. At the Brexit referendum, Gibraltar voted overwhelmingly to stay a part of the EU, but the vote for "leave" in the UK was large enough to edge out a victory for "leave", leading to the UK triggering Article 50 and asking to leave the EU. Given Gibraltar's wishes to both stay a part of the UK and a part of the EU, some special arrangements for Gibraltar may be part of the ultimate negotiations, but for the time being, Gibraltar will carry on normally subject to the exact details of the negotiations.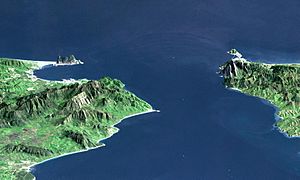 Gibraltar is not part of the Schengen Area or the European Customs Union. This means that there are immigration and customs controls when travelling between Spain and Gibraltar. There are also immigration controls for air travel from the UK or EU countries. Citizens of the European Union are required to have a national identity card or passport, while all others are required to have a passport to enter. The entry requirements for Gibraltar are not the same as the
United Kingdom
. Unless exempt from visa requirements, to enter Gibraltar you must have either a Gibraltar visa (to be applied for separately from a normal British visa at a British embassy/consulate), a UK Residence permit/visa valid for
at least one year
or more, a biometric Residence permit or a UK multi-entry visa valid for 6 months or more. Or you need a UK indefinite leave to remain permit holder and the ability to prove that you have not been absent from the UK for more than 2 years. If arriving by air, Gibraltar airport staff will refuse entry to anyone who does not comply with these requirements.
Although entry into Gibraltar from a Schengen country will technically invalidate a single-entry Schengen visa, in practice passports are visually checked but not stamped on entry by land, and those with single-entry visas usually get re-admitted to
Spain
without any problems. This arrangement does not apply to those entering or exiting by air, and you will need a multiple-entry Schengen visa should you decide to do so.
By plane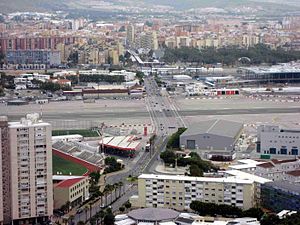 Gibraltar International AirportHas daily scheduled flights to and from London Heathrow and London Gatwick. There are also flights from Bristol, Manchester and Casablanca (via Tangier).
The most popular alternative airport for Gibraltar is
Málaga Airport
(
AGP
) in Spain, some 120 km to the east, which offers a wide range of destinations. Málaga can be reached by bus, but there are only a few services available per day and the trip is approximately 3 hours. (XRY) is normally the second choice, despite being closer to Gibraltar.

By car

Queues at the border may make it less time-consuming to park cars in the neighbouring Spanish town of La Línea de la Concepción and walk across. While there are charges for parking in La Línea immediately next to the border, there is free parking throughout town and next to the stadium if you are willing to walk an extra 1 km. Parking on the Spanish side of the border also has the advantage of avoiding Gibraltar's complex one way system with very narrow and badly signposted streets, and limited parking. The land border is open 24 hours a day, though expect delays when planes are landing - the only road into Gibraltar runs right across the airport runway!
Motorists, and on occasion pedestrians, crossing the border with Spain have been subjected to long delays and searches by the Spanish authorities. Spain has closed the border during disputes or incidents involving the Gibraltar authorities.
Despite being an overseas territory of the United Kingdom, traffic in Gibraltar is on the right side of the road, the same with the rest of continental Europe.

By bus

At La Línea, Spain across the border, there are regular buses to and from Seville, Malaga, Cádiz, Granada and hourly to Algeciras (the latter one direct or with stops on the way). The station in La Línea is a five-minute walk from the border with Gibraltar.
The bus station in Algeciras is opposite the railway station. To go to the bus station from the harbour, turn left, walk along the main street for about 100m and then turn right. Continue about 200 m along this street to the small building with railways. There is a small sign for the bus stop. This bus can get you to La Línea for €2.35 (January 2013), and it goes every 30 minutes during the day. Some buses run non-stop while others make intermediate calls. In La Línea you will arrive at the bus station about 500 m from the border with Gibraltar. In the summer it can take up to 2 hours to cross the border with a car.
Current info for Malaga bus station: Estación de Autobuses de Málaga
Tour buses and coaches can be available at all Andalucian major cities, holiday resorts and some mainland hotels.

By boat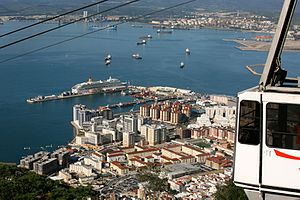 There is a passenger service for Moroccan workers in Gibraltar, although it only runs once per weekend.
Gibraltar receives a large number of visits from cruise ships, and the strait of Gibraltar is one of the busiest shipping lanes in the world. Over 200 cruise ships call each year on the Port of Gibraltar with a passenger total approaching 350,000. The cruise port is at the western end of Waterport Road, about 1.3 km from Casemates Square and Main St. A port call is one of the easiest ways to get in to visit Gibraltar, especially given the occasional delays at the land border crossing with Spain.

By train

There is no train station in Gibraltar. The nearest is in San Roque-La Línea, which is outside of La Línea proper and about 15 km from the Spain-Gibraltar border. Buses and taxis are available for the last leg from the train station to Gibraltar.

Get around
On foot
Gibraltar is less than 7 km² in size, so much of it can be seen on foot. Some of the roads (especially up to the Upper Rock) are very steep. Taxis will take the strain out of the climbs, and all the taxi drivers seem to know all the Barbary macaques by name. Buses can be a cheap option to expedite things.
By bus
Though Gibraltar's area is small, it is long and thin, so distances can be a bit further than expected. There are two bus companies: privately-owned Citibus which operates routes 5 and 10; and government-owned Gibraltar Bus Company which operates the rest.
Buses can be paid for in pounds or euros (pay cash onboard, Gibraltar Bus requires exact change, Citibus does not.). Bus fares are flat regardless of distance - the euro price is considerably more expensive than the prevailing exchange rate (Oct 2019). The day ticket on Citibus is valid with either bus company - but the day ticket for Gibraltar Bus is only valid with that company. The return ticket on Citibus is valid for 2 trips on the same day on that company's bus.
| | Gibraltar Bus Company | Citibus |
| --- | --- | --- |
| Single | Adult | £1.80 |
| Child | £1.50 | €2.00 |
| Senior | £1.00 | €1.30 |
| Return | Adult | - |
| Child | - | - |
| Senior | - | - |
| Day | Adult | £2.50 |
| Child | £1.50 | €2.00 |
| Senior | £1.50 | €2.00 |
Bus route 2 goes by the cable car station, and is the only bus that visits Europa Point - the southernmost point in Gibraltar, and the one with the view of Africa. Bus 5 and 10 goes to the airport and frontier.
Bus times are available online:
Gibraltar Bus Company
,
Citibus
.
See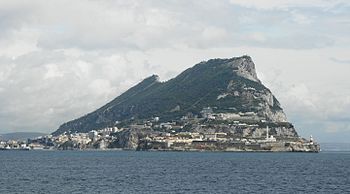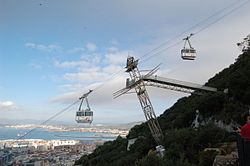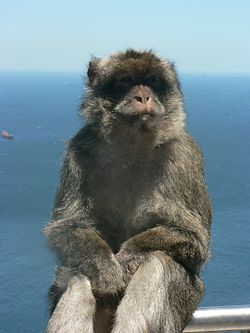 Stop by the tourist office in
Casemates Square
(if entering by land, this is immediately after passing through Landport tunnel). The tourist office will give you a map and recommend the following
basic itinerary
using the blue city buses (check fares). Take bus #2 from Market Place (around the corner of the tourist office) to
Europa Point
. Take pictures and enjoy Europa Point with the rest of the tourists. Then take the bus #2 back towards Market Place but get off at the cable cars. Ask the driver for help, but you will see the cable cars before the stop. Take the cable cars up to see the
Upper Rock
and
Nature Preserve
. Then take the cable car down and window shop Main Street back to Landport tunnel.
Cable cars run from 09:30 until 17:45 to the
Upper Rock
, but the last car up the hill might leave as early as 17:00. A "cable car and apes" ticket costs £8 return, while a ticket including entrance to St. Michael's Cave and the Siege Tunnels costs £16. Entrance to each sight costs £8 without this ticket. Alternatively, a 'Taxi-Tour' (typically for 8 people in an MPV) will cost £16 for a 1½-hr tour, and this includes the fees for entry to the Cave, tunnels and Upper Rock.
A very informative
Historic Walking Guide to Gibraltar
can be purchased online or in local book shops and provides an excellent companion for those wanting to enjoy Gibraltar's best sites on foot.
Europa PointThe southernmost point of Gibraltar, where the Atlantic meets the Mediterranean, and from which the coast of Africa can be seen.

Upper RockMilitary installation, and nature reserve where the famous monkeys live (Barbary Macaques).

Gorham's Cave complexA combination of four caves of such importance that they are combined into a UNESCO World Heritage Site. The caves are Gorham's Cave, Vanguard Cave, Hyaena Cave and Bennett's Cave.

St Michael's CaveAn impressive natural grotto used by the neolithic inhabitants of the Rock.

Siege TunnelsA system of tunnels dug during the Great Siege which acted as a defence system.

Dolphin WatchingShort trips in the bay (several times a day) - there are plenty of playful dolphins to see.

phone: +350-20074289

address: 18-20 Bomb House Ln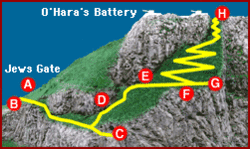 The Mediterranean StepsFor those not afraid of climbing up steps cut out of rock, and with a head for heights, this is a hefty hike that starts at Jew's Gate bird observatory on the south end of Gibraltar, Queen's Road near Engineer Road and winds its way up the east side cliff face of the Rock to the summit. The views are fantastic, and the path underwent renovation work in 2007, so it is less treacherous than in the past. If you don't fancy the uphill struggle, you can always get the cable car up and then come down this way, although if trying to reach the steps from the cable car there are no signs posted on how to reach them until one has found the beginning of the steps. Make your way to the ape den, continue walking, then take the left (uphill) turn toward the military O'Hare's battery. The steps begin and end here.
Do
phone: +350 200 71914

address: 6 The Square, Marina Bay

See the wild Common, Striped and Bottlenose dolphins of Gibraltar so close you could almost touch them. Sail in complete comfort, this boat has front-line cushioned seating and cushioned seating in the indoor observation lounge.
Buy
Money
The currency of Gibraltar is the
Gibraltar pound
(GIP) - equivalent in value to the British pound sterling. British pounds are accepted everywhere in Gibraltar, in addition to the local version.
Gibraltar pounds aren't accepted outside of Gibraltar - not even in Britain. If you are travelling to Britain you will be able to exchange them there at a bank for a service fee. If you are travelling elsewhere, then you may not be able to exchange them at all. Best to change any leftover Gibraltar pounds before leaving (free of charge to British pounds), and to ask shops to give your change in UK notes if you aren't going to spend them there.
With the exception of the £1 coin, Gibraltar
coins
are identical in denomination, colour and size to sterling coins, and tend to circulate in the UK without question.
Most shops in Gibraltar will also accept U.S. dollars and euros, with the risk of getting a poor rate of exchange. Government offices and post offices do
not
accept foreign currency.
Credit and debit cards are sometimes not accepted in some shops or, especially, restaurants.
Shopping
phone: +350-20041114
address: Westside Road, Europort
Large supermarket, selection seems to be the same as in the UK
Eat
If you like to sit outside and watch the world go by, go to
Casemates Square
where a number of pubs and restaurants serve fairly similar meals.
phone: +350 200 44449

address: Grand 3, Casemates Square

Good Italian.
Irish Town, the road which runs parallel to Main Street, has a number of pubs.
The Clipper

phone: +350 200 79791

address: 78 Irish Town

Good food, friendly staff, and satellite television. They serve a hearty English breakfast.

phone: +350 200 75566

address: 79 Irish Town

Serves substantial lunches.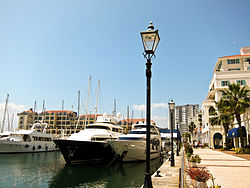 Queensway Quay
is home to
The Waterfront
, which serves a good quality, if somewhat eclectic menu which ranges from steak to high quality local fish and Indian food.
Casa Pepe's
, on the other side of the marina is worth a splurge.
If you fancy dining waterside the marinas are worth trying, and includes the most southerly pub in Europe. Good food, draught Bass and many others on tap. Happy hour daily at 18:00. Full Sunday lunch available.
Wembley BarIn the heart of the south district, it is the most southerly pub in Europe. Traditional english pub with views to Africa.
Marina Bay
is home to several restaurants.
Bianca's
and
Charlie's Tavern
at Marina Bay are worth a visit, the former being very well known for its busy ambience. Gibraltar's first Mexican restaurant has opened in Marina Bay.
Bianca's

Charlie's Steak House & Grill
Ocean Village
, Gibraltar's newest marina, is an extension to Marina Bay. It is home to several pubs and restaurants, including a Chinese, and an Indian.
O'Reilly'sOn Leisure Island, part of the Ocean Village marina complex, the traditional Victorian Irish bar has been designed and built by Ireland's leading design teams.

phone: +350 200 72133

address: 184 Main Street

Next to Stag Bros' and is open from 07:30 (09:30 on a Sunday) serving meals all day until late.

phone: +350 200 75924

address: 12 Parliament Ln

Holds itself out as Gibraltar's oldest bar. With a menu and drinks selection to appeal to most tastes the pub seeks to cater to a wide clientele.

phone: +350 200 50009

address: Casemates Square

The official home of the Gibraltar Rugby Club and Live Music Venue of the Year, top entertainment on stage every night. Offers free WiFi.

The Horseshoe

address: 193 Main St

Small pub with nice outdoor seating, decent prices, homemade pies on the menu, and offers the local beer Gibraltar IPA on tap. Free wifi, ask a staff member.

phone: +350 200 67898

address: 275 Main St

A nice little cafe located on main street. Good coffee, breakfasts, simple meals and takeaway sandwiches.
phone: +350-20061312
address: 6a Prince Edward Rd
Vegetarian take-away restaurant
Eating kosher
There are a number of kosher restaurants, bakeries and minimarkets in Gibraltar. It is not the only place you could stock up on kosher food when you're travelling in the Costa del Sol; there are many kosher shops and restaurants in Marbella, Torremolinos and Málaga.
Sleep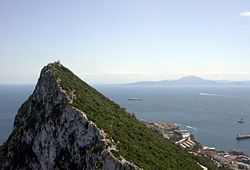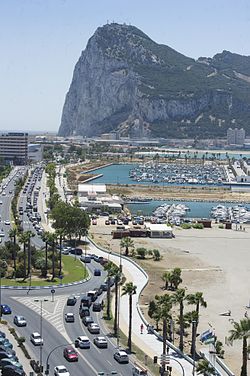 Presumably due to Gibraltar's very limited space - accommodation is
expensive
. Due to this, many opt for staying across the border in La Línea, Spain and walking across the border, although there are budget options:
Budget
phone: +350 51106, +350 57686000

address: Montagu Bastion, Line Wall Rd

A family-run hostel. Not the best, but closest thing to the border. They charge £5 for washing clothes and £5 for the wireless internet £5. You are not allowed to bring your own food into the hostel (probably because they have their own cafe). Although expensive, it's a quiet place near the border.

phone: +350 20051711

address: 9 Cannon Ln

Breakfast from 08:30 to 10:00.
Mid-range
phone: +350 20076800

address: 8-10 Cathedral Square
Splurge
phone: +350 20070500

address: 2 Governor's Parade

Good location and good quality.

phone: +350 20073000, +350 20073513

address: 3 Europa Rd

Not as central as some of the others mentioned here, but has great views of the bay. It's one of the more expensive hotels in Gibraltar and was where John Lennon and Yoko Ono got married. All rooms have a sea view.

phone: +350 20076501

address: Catalan Bay

On the opposite side of the rock from the town, about 2 miles (3.2 km) by road. The upside to the location is a quiet, relaxing atmosphere, one that you're unlikely to get in the Town Centre.
Work
Gibraltar has a favourable corporate tax regime, and many online gambling websites choose to make Gibraltar their base of operations and employ thousands of people in an ever-thriving jobs market.
phone: +350 216 44400

address: CTS Business Exchange, Ocean Village
Connect
Phone
Gibraltar's international telephone code is
+350
. All landline numbers in Gibraltar have been prefixed with
200
since 2008, making all numbers 8-digit long now. If you come across with a 5-digit number, just prefix it with 200 (and, of course, with the country code prior to that if you are calling from out of Gibraltar).
The prefix to dial prior to country code for international calls is
00
in Gibraltar.
Internet
Free wireless is available in the following places:
Fresh - a cafe/bar just down through the archway when leaving the main square towards the bus stops.
The Gibraltar Arms - about half way down the main street.
The Lord Nelson - just by the tunnel exiting the main square.
The Cannon Bar - behind the Catholic Cathedral.
The Clipper - on Irish Town near Tuckey's lane. Ask bartender for password.
Corks Wine Bar - on Irish Town near the Clipper. WEP key is written on a chalkboard above the bar.
The Horseshoe - on Main Street near the Gibraltar Museum & King Street. Ask bartender for password.
Stay safe

Gibraltar has a low crime rate and a large and efficient police force to ensure it stays that way.
There have been reports, however, of people being attacked on the Spanish side of the border while returning to Gibraltar on foot late at night. It might be smart to take a taxi home after dark if you have been drinking at the bars in Spain, especially if you are by yourself.

Stay healthy
Medical treatment
Gibraltar is part of the European Health Insurance Scheme and has a health service similar to the United Kingdom, with a modern hospital. If you are from a participating country, your EHIC card will entitle you to full free emergency medical treatment.

Barbary macaques
The Barbary macaques are wild animals and do bite. It is not advisable to feed the Barbary macaques, despite encouragement from irresponsible taxi drivers. In addition, there are kiosks irresponsibly selling 'monkey food', further encouraging this. It is illegal, can incur hefty fines and is bad for their health. Never try to pick up a baby Barbary macaque: its mother will not be happy and then neither will you. If you are bitten by a Barbary macaque, you will require hospital treatment. Whilst the Barbary macaques are rabies-free, they can infect you with hepatitis, and they are most aggressive on the top of the rock, as the most successful animals claim the uppermost reaches of the rock, with their less successful brethren being forced down the rock in their social pecking order.

Cope
Consulates
Belgium

phone: +350 2007 8352

address: 47 Irish Town, P.O. Box 185

Denmark

phone: +350 2001 2700

address: Cloister Building, Market Lane, P.O. Box 554

Finland

phone: +350 2007 5149

address: 20 Line Wall Road, P.O. Box 130

France

phone: +350 2007 8830

address: 209 Main Street

Greece

phone: +350 2007 3500

address: Suite 1C, Imossi House, 1/5 Irish Town, P.O. Box 167

Iceland

phone: +350 5434 2000

address: 316 Ocean Hights

Israel

phone: +350 2007 7735

address: Marina View, 39 Glacis Road, P.O. Box 238

Italy

phone: +350 2004 7096

address: 28 Irish Town

Malta

phone: +350 5733 9000

address: 20 Admirals Place, Naval Hospital Hill

Netherlands

phone: +34 633 893 332

address: Irish House, 92 Irish Town

Norway

phone: +350 2007 7242

address: Sandpits Vaults, Off Rosia Road, P.O. Box 133

Poland

phone: +350 2007 4593

address: 35 Governor's Parade

phone: +350 2007 9200

address: Cloister Building, Irish Town, P.O. Box 212

Switzerland

phone: +350 2005 1051

address: Suite 206, Neptune House, Marine Bay

Thailand

phone: +350 2007 7890

address: 120 Main Street

United Kingdom

phone: +350 200 51725

Consular assistance for British nationals is provided by HM Government of Gibraltar Civil Status and Registration Office.
Respect
People from Gibraltar refer to themselves as Gibraltarian or 'Llanito' pronounced Ya-ni-to. Even though the vast majority of Gibraltarians speak Spanish (with a local dialect), they are easily offended if referred to as Spanish because they regard themselves as Gibraltarians and are very proud of their identity. In fact, Gibraltarians have voted overwhelmingly to remain British in several referendums. Some Gibraltarians also feel sensitive to the erroneous use of the term 'colony' due to its connotations of being a deposited population or ruled by a foreign country and lacking in self-government, none of which apply to Gibraltar either now or historically. Additionally, the term 'colony' is legally incorrect; it is a 'British Overseas Territory'. The term 'colony' wasn't used in reference to Gibraltar until the 1830s, at which time there were other places that were colonies and Gibraltar was grouped with them under the term colonies, despite the circumstances being different.
Although the popular view is that the Spanish Government is the cause of many problems concerning Gibraltar, there is no animosity directed by Gibraltarians towards Spanish individuals in general; the thousands of Spanish tourists and workers experience no problems. Recent airport agreements have opened up the relationship Gibraltar has with Spain.

Go next