Gilgit-Baltistan
Gilgit-Baltistan
(Urdu : گلگت بلتستان) (formerly known as the
Northern Areas
) is the northernmost political entity under the administrative control of Pakistan. According to Pakistan's constitution, Gilgit-Baltistan is an autonomous region separate from Pakistan itself, and its inhabitants have never had any representation in Pakistan's parliament.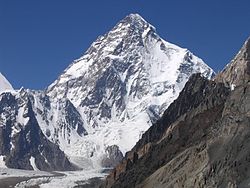 Three mountain ranges meet here — the
Karakoram
, the
Himalaya
, and the
Hindu Kush
— and the area is a "mountain paradise" for mountaineers, trekkers, and tourists. The region has some of the world's highest mountains, including five peaks over 8,000 meters, many over 7,000, and the largest glaciers outside the polar region. For comparison, neither Western Europe nor the
lower 48
US states have anything that reaches 5,000 m, nothing anywhere in Russia or North America is over 6250, and the highest peak of the
Andes
is just under 7000.
Gilgit-Baltistan is bestowed with some of the greatest bounties of Nature. Tourists from all over the world have a great attraction toward this region because of its beautiful valleys, plains, peaks and heritage sites. Location of some of the highest mountains on Earth including K2. Trekking to Concordia (the confluence of the Baltoro Glacier and the Godwin-Austen Glacier) and the great Baltoro Muztagh, a sub-range of the Karakoram.
Understand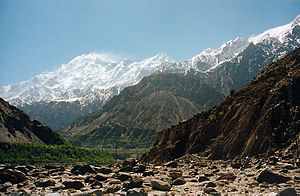 Gilgit
, now the administrative center of this region, was an important city on the
Silk Road
through which Buddhism was spread from India to the rest of Asia. A large number of Sanskrit Buddhist texts, including the long version of the Heart Sutra have been unearthed in Gilgit. The Dards and Cizinas also appear in many of the old Pauranic lists of peoples, with the former finding mention in Ptolemy's accounts of the region. Two famous travellers, Faxian and Hsuan Tsang, are known to have traversed Gilgit as per their accounts. The old Silk Road route through Gilgit is now the
Karakoram Highway
(KKH).
Gilgit was ruled for centuries by the local Trakane Dynasty, which came to an end in about 1810. The area descended into internecine turmoil before being occupied by the Sikhs in 1842. It was ceded to Jammu in 1846. Gilgit's inhabitants drove their new rulers out in an uprising in 1852. The Khushwakhte Dynasty of Yasin and Gulapure led the people of Gilgit to drive out the Dogra rulers. After Yasin was conquered by the Katur Dynasty of Chitral, the power of the Khushwakhte was crushed. The rule of Jammu was restored in 1860. Gilgit came under British rule in 1889, when it was unified with neighboring Hunza and Nagar in the Gilgit Agency. When British rule came to an end in 1947, the region was briefly handed back to the maharaja of Jammu and Kashmir. Subsequently, it came under Pakistani control. To this day, Gilgit-Baltistan remains part of the Kashmir dispute and
India
considers it a Pakistani-occupied part of the Indian state of Jammu and Kashmir.
Gilgit-Baltistan covers an area of 72,971 km² (28,174 mi²) and is extremely mountainous.
North Pakistan is a large, remote province, with 3 administrative divisions:
Baltistan Division
,
Brooshal Division
,
Dardistan Division
.
Talk
Urdu
is the national language of Pakistan spoken throughout Pakistan, including Gilgit-Baltistan, as the lingua franca. The local languages are Shina, Balti, Khowar, Wakhi and Burushaski. As elsewhere in Pakistan, English is fairly widely spoken among the educated classes and those involved in the tourist industry.
Cities
is a major town on the Karakoram Highway
- Home to some of the World's highest mountain peaks, glaciers, forts, museums and resorts
along the Karakoram Highway before entering China.
Other destinations
Fairy Meadows is a point where three famous mountain ranges meet - the Himalayas, the Karakorams and the Hindukush
is a park around the Khunjerab Pass where the Karakoram Highway crosses the Pakistan-China border
: Sher Qillah is the main village of the picturesque Punial valley. One of the biggest villages by area is Hatoon.
lake - offers an awe-inspiring view of the eastern side of Nanga Parbat, 8126 m high. For the adventure-loving tourist, hiker, angler, art-lover, mountaineer or polo enthusiast, there are few places in the world that could compare with Gilgit.
Rock carvings Dating back to 8th century AD, a huge Buddha figure surrounded by small Buddhisatvas is carved on a rock, three kilometres from Skardu across Sadpara Nullah on Skardu-Sadpara Road. Pre-historic men and animal figures are carved on rocks along Kachura Lake. Some rock carvings and a diagram of a monastery near Perkuta (Mehdi Abad) Nalah are also found.
Singal This spot in the Punial valley offers ideal trout fishing opportunities.
Get in
By plane
Arrive in
Islamabad
. Pakistan International Airlines offers daily flights between
Gilgit
and
Islamabad
. The flying time is approximately 50 minutes, and the flight is one of the most scenic flights in the world, as its route passes over Nanga Parbat, and the peak of the mountain is higher than the aircraft's cruising altitude.
PIA also offers regular flights on Boeing 737s between
Skardu
and
Islamabad
. All flights, however, are subject to weather clearance, and, in winters, flights are often delayed by several days. A flight delay generally means it'll fly out the next day - so it's often faster and more certain to travel by road.
By road
The
Karakoram Highway
, once a minor Silk Road route, connects
Islamabad
to
Gilgit
and
Skardu
, which are the two major hubs for mountaineering expeditions in the Northern Areas. The journey from Islamabad to Gilgit takes approximately 20-24 hours. Landslides on the Karakoram Highway are not uncommon, but bulldozers usually clear the road in a short time. The KKH connects Gilgit to Taxkorgan and
Kashgar
in Xinjiang, China, via Sust (the customs and health inspection post on the Pakistan side of the border) and the Khunjerab Pass, the highest paved international border crossing in the world at 4,693 m (15,397 feet).
If you are a group, you can book a van or a car from the Islamabad airport, or a rental car company from the central markets.
Get around
By bus

NATCO (Northern Areas Transport Corporation), Silk Route Transport Corporation and several other transport companies offer bus and jeep transport service to the two hubs and to several other popular destinations, lakes, and glaciers in the area.

See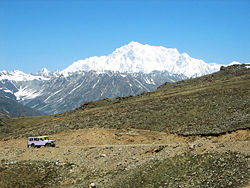 Mountain peaks and glaciers of Gilgit-Baltistan is home to some of the highest mountains in the world, including K2, Rakaposhi and Nanga Parbat, and offer incredible trekking opportunities. In an area of about 500 km in width and 350 km in depth, is found the most dense collection of some of the highest and precipitous peaks in the world, boasting more than 700 peaks above 6000 m, and more than 160 peaks above 7000 m.
Mountains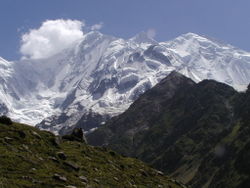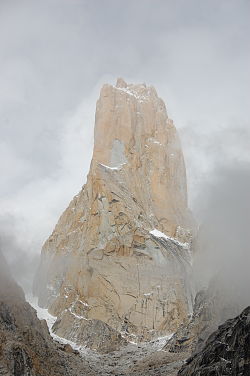 Eighteen of the fifty highest peaks in the world are located in Gilgit-Baltistan. With their rank, they are:
# (
Mount Godwin-Austen
), 2nd 8,611 m.
# , 9th, 8,125 m (28,250 feet)
# , 11th, at 8,080 m.
# , 12th, 8,047 m.
# , 13th, 8,035 m
# , 15th, 7,946 m.
# , 17th, 7,932 m.
# , 19th, 7,884 m.
# , 21st, 7823 m.
# , 22nd, 7,821 m.
# , 25th, 7,795 m.
# , 26th, 7,788 m.
# , 27th, 7,760 m.
# , 31st, 7,742 m.
# , 36th, 7,498 m.
# , 38th, 7,611 m.
# , 39th, 7,577 m.
# , 44th 7,545 m.
For comparison,
Mont Blanc
, the tallest mountain in Western Europe, is less than 5,000 m and
Mount Whitney
, the highest point in the 48
contiguous United States
, less than 4,500. This region has literally dozens of peaks higher than either of those.
Other mountains include e.g. the majestic .
Glaciers
Three of the world's seven longest glaciers outside the polar regions are also in Gilgit-Baltistan: the
Biafo Glacier
, the
Baltoro Glacier
, and the
Batura Glacier
.
The
Siachin Glacier
is 75 km.
The Hispar
(53 km) joins the
Biafo
at the
Hispar La
(5154.16 m (16,910 ft) to form an ice corridor 116.87 km (72 mi) long. The
Batura
, too, is 58 km in length. The most outstanding of these rivers of ice is the 62 km
Baltoro
. This large glacier, fed by some 30 tributaries, has a surface area of 1291.39 km².
Lakes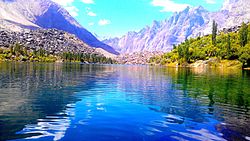 There are several high-altitude lakes in Gilgit-Baltistan.
in Deosai Plains
in Skardu
Katchura Lake in Skardu
in upper Hunza
in upper Hunza
near Astore
near Nagar
Kromber Lake in Kromber Pass
daholy lake in khaplu
ghenche lake in khaplu
rkhulong lake in khaplu
Forts
#
khaplu fort
#
shigar fort
#
Ondra fort
Do
Karakoram Air Safari is the most scenic air journey starting from Islamabad by Pakistan International Airlines.
Mountaineering, trekking and hiking. The area is ideal for these. Permission for mountaineering and trekking in the restricted zone is issued by the Ministry of Tourism, Government of Pakistan, Pakistan Sports Complex, Kashmir Highway, Aabpara, Islamabad (Telephone: 92-51-9203509). Fishing permits are issued by the Fisheries Department at Gilgit and Skardu.
Fishing: at Satpara Lake (8 km) and Kachura Lake 932 km) from Skardu abound in trout. Fishing permits are issued by the Fisheries Department.
Flora and fauna: Roses, lilies, pansies, willow, pine and fir trees are found in abundance. Apples, apricots, peaches, plums, mulberries, walnuts and grapes are available from June to October and almonds from October to March.
Wildlife: Baltistan boasts wildlife like markhors, ibexes, snow leopards and birds, namely chakors, partridges and ducks. Most of the animals and birds are protected but limited shooting is allowed. Hunting permits are issued by the local administration.
Biking
Eco tours at different National parks
Skiing
Polo Attend Shandur Polo festival
Eat
Most of the top end restaurants are located in Hotels.
Cafe De Hunza is a small but cosy cafe located in Karimabad town in the Hunza Valley. It offers a wide range of local foods, coffee and pancakes. The Cafe has its own small library filled with maps and travel related books and magazines.
Hunza Cuisine is located at Karimabad Zero Point in the Hunza Valley. The restaurant offers Hunza traditional foods.
Baltit Fort Cafe is a new addition to the Baltit Fort in the Hunza Valley. A number of local, Pakistani and continental foods are prepared upon order.
Pagoda Restaurant, offers a sumptuous Chinese cuisine. The Pagoda is on an island amidst the Honeymoon Lake linked to the Shangrila Resort by a short bridge.
The Lake View Restaurant gives a panoramic view of the Shangrila Resort and offers Pakistani and Continental cuisine.
Tandoori Village offers a taste of ancient old recipes, Chicken Tikka, Seekh Kababs, Mutton Tikkas, Grilled Fish with home made tandoori rooti. Enjoy the out door feast under the stars in a traditional atmosphere.
Cafe DC-3 This code name of original DC-3 Aircraft was Alph Alpha Foxtrot (AAF) . This unique cafe is one of its kind. Situated in an airplane, which crash landed on the riverbed and was brought to the present site in the 50s. It offers a variety of snacks and cabin crew hospitality.
Chalt Tourist Inn is located in Chalt Nagar. It offers a variety of snacks and cabin crew hospitality.
Haji Ramazan Hotel is located in Gilgit city where fresh Pakistani foods are prepared on order.
Drink

Bars are located in most of the top end hotels.
Avoid drinking tap water. Locals usually drink water from streams, but that can be unsafe for some people due to its minerals which may not suit you. So only drink bottled water, which is easily available all over.

Stay safe

Security-wise, Gilgit-Baltistan is considered to be one of the safest regions under Pakistani control, but some parts of it are off-limits to tourists, especially the buffer zone along the "Line of Control" that divides the Indian- and Pakistani-controlled parts of Kashmir. District headquarter hospitals are present in Gilgit, Skardu, Khaplu (Ghache District), Chilas (Diamer), Ghazin (Gahkuch).

Connect

Mobile services are available in the area.
Call 1122 in-case of any emergency.

Go next
By road
To China:
Thrice-weekly bus service was scheduled to begin crossing the border from Gilgit, to Kashgar, China, and road widening work was scheduled for 600 kilometres of the
Karakoram Highway
. There were also plans for one daily bus in each direction between Sust and Taxkorgan in the border areas of the two countries.
To Islamabad:
Via the
Karakoram Highway
, popularly known as the
Silk Road
.
To India:
The Srinagar-Muzaffarabad route and Wagah borders will allow you to visit India while the Kargil-Skardu road is closed.
By plane
Pakistan International Airlines offers daily flights between Gilgit Airport and Islamabad International Airport. The flying time is approximately 50 minutes, and the flight is one of the most scenic flights in the world, as its route passes over Nanga Parbat, with the peak of the mountain being higher than the aircraft's cruising altitude. PIA also offers regular flights on Boeing 737s between Skardu and Islamabad. All flights, however, are subject to weather clearance, and in winters, flights are often delayed by several days.