Girona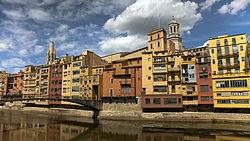 Girona
is an ancient town several thousand years old in
Catalonia
,
Spain
. The city has approximately 100,000 people and serves as the capital of the Girona Province in Catalonia which includes the counties (or
comarques
) of Alt Empordà, Baix Empordà, Garrotxa, Gironès, Pla de l'Estany and Ripollès.
Understand
Girona has an attractive Jewish quarter and is often overlooked by budget fliers arriving at Girona-"
Barcelona
" airport. Girona makes an excellent stop-off as part of a tour of
Catalonia
or escape from the noise and speed of
Barcelona
or as a long weekend getaway with one of those budget airlines.
The town is said to consistently win a country-wide poll of citizens on preferred city to live in. Geographically set at the confluence of the Ter, Onyar, Galligants and Güell rivers, it has been a focal point of this region in Catalonia since prior to being part of the
Roman Empire
.
The Old Town is on the east bank of the river, with pedestrianized narrow streets surrounded by the old city walls. The "Rambla", running parallel to the river, contains many street cafés and touristy restaurants. Tourist information is at the south end of the Rambla, beside the river.
The newer town center on the west bank has wider streets contains more shops and hotels, plus slightly cheaper restaurants.
Girona also has an ancient and proud
Jewish
heritage, although in part due to the anti-Jewish policies of both the Spanish Inquisition and secular authorities, few Jews actually live in Girona today.
In August, the city becomes very quiet on Saturday and Sunday, as most citizens escape to the sea.
Climate
Girona has a mild climate. In winter temperatures can drop to below −5 °C (23 °F). In summer temperatures often soar to 30–40 °C (86–104 °F). Rain is common in winter and spring and thunderstorms often occur.
If you want to see the near Costa Brava plan your trip for the months between May to October.
Get in
Girona is north of Barcelona and can be reached from there by bus, train, or car. There is an airport close to the town with a wide range of connections on Ryanair. It is also 98 km (61 miles) away from Barcelona.
By plane
phone: +34 972 473 681, +34972 186 675

Ryanair mentions "Barcelona" in their description of Girona airport to suggest it being closer to that city than it actually is. In reality the airport is a 1-hr bus ride from Barcelona center. There is also an hourly bus into Girona from the airport, which is a 25-minute ride and connects the airport with Girona's railway station. Buses leave at 30 minutes past the hour from the airport and on the hour from the bus terminal.

Bizarrely while the new standard gauge high speed railway line passes within less than a kilometer of the terminal, there is no stop serving the airport.
By bus
Girona is a local hub for bus travel. Since May 2017, buses stop in an underground facility connected to the train station instead of the - still extant - former above-ground facility. One of the bus companies is
Sagalés
.
By train
Girona train stationThere are commuter trains to Girona leaving from Barcelona every 30 minutes in peak hours, hourly otherwise. All trains start at Barcelona Sants station with other stops at Passeig de Gràcia and Clot Aragó. Trains run M-F 06:00-22:00, Sa 07:00-22:00, Su 08:00-22:00. The journey takes between 1 hr 20 min and 1 hr 35 min from Barcelona Sants and the ticket costs between €8.50 and €12: MD trains are faster, more comfortable but quite expensive; Regional trains (R) call at almost all stations and their seats are not designed for long trips but tickets are 30% cheaper. There are no round trip discounts but 10 trip travelcards are available, €60 for R trains only, €70 for R and MD trains, valid for 90 days after purchase and allowing multiple passengers on the same trip, so it's convenient for small groups from 4 people upwards or repeating trips. On weekdays there are also some direct trains from the Maresme coastal zone to Girona (Mataró, Arenys, Calella, Santa Susanna...), on weekends changing trains in Maçanet is required and due to poor schedule coordination you may find yourself waiting for 50 minutes in a station far away from everywhere. default Timetables (line R11 and RG1 from Barcelona, RG1 from Maresme region). As almost all trains continue to Figueres, there's also one train every 30 minutes during peak hours. From Portbou and the French border, however, trains run only once every two hours.
On the other hand, you can use high speed trains coming from either Madrid and Barcelona (AVE) or Paris, Perpignan and several other southern France cities (TGV). The schedule is quite irregular and changes frequently, check with Renfe and SNCF respectively. Both AVE and TGV trains have all compulsory reservation. AVE trains on Barcelona only stop at Sants station and take 38 minutes to reach Girona. Fares are €16 single. A round trip is only slightly more expensive on AVE than MD but the travel time is sharply shorter, however there are no convenient travelcards usable for small groups. From places farther than Barcelona and from France tickets are cheaper if bought well in advance. If boarding an AVE train in Spain you'll need to pass through a security scan and all luggage will be X-rayed: take this into account to get to the station with enough time.
Other than Madrid, Zaragoza, Lleida and Tarragona, there are no direct trains from other Spanish cities.
Get around
On foot
Both the Old Town and the New Town across the river are highly pedestrianized.
Most of the streets in the Old Town have large cobblestones and steep stairs going up the hill upon which Girona is built. Walking in high heels or with rolling luggage is quite difficult at some points, so plan accordingly.

By bus
There are local buses, but their routes can be quite confusing for non-locals. Furthermore, all touristic areas are near one from another. Single ticket is €1.30.

By car
A car is not only unnecessary in Girona, but also quite cumbersome. Rentals are available for those wishing to make day trips to the outlying villages and castles in the area.
Girona have the same problems that plague other major European cities, but in a minor scale; traffic jams and narrow streets in some areas, coupled with a very complicated road system.
Having a driving map is essential as few bridges over the river makes it difficult to get from one riverside to the other.
Navigating with an average tourist map is frequently misleading: many streets are one-way; left turns are more rare than rights (and are unpredictable).

See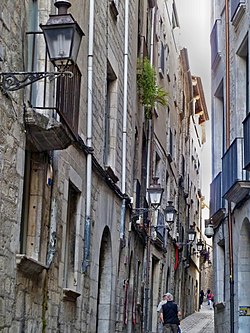 The town's architecture is varied and atmospheric resulting from the myriad of occupations and invasions with many narrow streets, a castle, and an impressive walled section.
Banys Arabs

address: c/de Ferran Catolic

A museum, not an actual bath.

address: Plaça de la Catedral

Begun in the 11th century in the Romanesque architectural style; continued in the 13th century in the Gothic style. Includes the widest Gothic nave in the world.

Església de Sant FeliuSecond church in the city. Closed for renovation as of Sept 2007.

El riu OnyarAlthough it dries up in the summer (and gets a bit stinky!), the houses along it are very pretty. The bridge is by Gustave Eiffel.
Do
Walk along the ancient walls (yes, you can get on there) for excellent views of the city.
Enjoy the numerous cafes which are especially atmospheric at night.
The ancient narrow streets of the old Jewish section.
Check out Girona's lively "discoteca" club scene.
Play Golf on all the fantastic courses in the surroundings
Watch football ie soccer. Girona FC were relegated in 2019 so they now play in Segunda División, the second tier of Spanish football. Their Montilivi stadium, capacity 13,500, is 2 km south of city centre.

Semana SantaVisit Girona when many celebrations take place in the city and Christians march through the streets in the evening with replicas of Jesus on their shoulders and play music. Make sure to book ahead since accommodations fill up quickly during that time and often nothing is left shortly before the celebrations.
Buy
The old town contains mostly touristy shops.
There is also a good selection of modern shops selling the latest clothes.
Market on Saturday. Cheap goods market along river bank in the park north-west of town centre. Craft stalls in the old town.

Eat
In the old town, many touristy cafes offer
menu del dia
for €10-13, even on Sun. Areas with dense coverage of faceless touristy cafes are: Plaça Independencia; Rambla de la Lliberitat (near cathedrals). However, try to avoid the restaurants at and near Rambla de la Llibertat, they are very touristy, waiters do not speak English and even if you do find menus in English they are usually poorly translated and the dish you get can vary substantially from its description in the menu. Especially avoid tapas at these restaurants, aside that it is not an authentic Catalan dish, you will get just a poorly styled mish-mash at one small plate.
Like any other Catalan city, cafes are closed from 16:00 until dinner time (about 20:00-20:30). Exceptions are only touristy cafes at Rambla de la Lliberitat.
Budget
Gran Muralla, Francesc Eiximenis. The best selection of Japanese and Chinese food, featuring sushi, Beijing duck, thai salad.

El Pou del Call

phone: +34 972 22 37 74

address: C/ Força, 14

Excellent and good value local Catalonian dishes.

KönigSandwiches and hamburgers
Frankfurter König Girona Nord

phone: +34 972 297 504

Cheap food such us pizzas, steak, french fries; and also a place to have a drink.

Frankfurter König 2

phone: +34 972 202 099

address: Pl. Independència, 2

König Sandwiches

phone: +34 972 225 782

address: c/Calderers 16

Modern minimalistic design interior; two floors; well-airconditioned; some WiFi coverage for outdoor tables.

König Bar-Restaurant, C.C. Espai Gironès

phone: +34 972 439 123

address: Salt
La Dolce Vitta, Plaça Independencia. Italian food for everyone at reasonable prices.
1900

address: C/ Obra, 2

Coffees, teas, and hot chocolates. Simple selection of pastries and waffle. Reasonably priced and delicious with the bonus of free Wi-Fi. Beautiful place with gorgeous, clean bathrooms.
DO taverna catalana

phone: +34 972 222 740

address: Plaça Independencia, 16

Toasts and "tapas", salads and cold cuts
Basque restaurants:
Txalaka

address: Carrer Bonastruc de Porta 4

Very good Basque restaurant serving pintxos (similar to tapas). Can be crowded with locals in the evening after 22:00 (which is a good sign for a restaurant!)

Zanpanzar

phone: +34 972 21 28 43

address: Carrer Cort-Reial, 10, 17004

Fantastic atmosphere, good for a quick tapa and beer.

address: Plaça de la Independència, 14, 17001

One of the 200 Lizarran restaurants in 8 countries.
Sweet:
address: Carrer Santa Clara, 50, 17001

Ice cream parlor by one of the brothers of "El Celler de Can Roca" (3 Michelin stars).

address: Carrer Argenteria, 3

Wide variety of artisan and organic yogurts.

Xocolateria l'Antiga

address: Placa del vi 8

Charming and classical place in the old town where you can enjoy a typical cup of "xocolata calenta" (hot chocolate).

Crepdequè

address: C/Ballesteries 49 Girona

Grab a crêpe in this tiny and classic place of Girona.
Mid-range
phone: +34 872 080 218

address: C/Albereda, 7

Great wine and cheese tasting, tapas, sometimes live Jazz music. Reasonable price. It's a small place, so you might need to book.

address: Carrer Cort-reial, 2, 17004

Good dishes. Most of them are made to share in 2 people, so the prices have to be divided in 2.

phone: +34 972 21 29 09

address: Carrer Cort-Reial, 16, 17004

Cosy and modern place with exquisite dishes and a wide and varied wine list.

phone: +34972 21-8803

address: Pujada de Sant Domenec, 4

Outdoor tables on arguably most spectacular staircase in the town. Alternatively, consider indoor seats near backyard windows. Frequented by students of the local university.

Vintages

phone: +34 972 206 326

address: Carrer Cort-Reial, 15, 17004

Seasonal products and dishes. Wide wine list.

address: Carrer Cort-Reial, 17, 17004

Small and friendly place with excellent and tasty food.

address: Carrer del Teatre, 3, 17004

Great food and atmosphere, with a particular decoration, in a pretty little street in the old town.

Els Jardins de la MercèPeaceful and charming place with a fantastic garden in which to eat and drink. Excellent food and staff.

phone: +34 972 202 124

address: Carrer Pou Rodó, 12, 17004

Amazing food with a delicious set menu and wines.

phone: +34 972099112

address: Plaça de l'Oli, 1, 17004

Creative, fresh and seasonal products, along with wines from Empordà.

address: Passeig Sant Joan Bosco, 59-61, 17007

Wide range of wines and pretty good food. A bit far from the center.

phone: +34 972 220 211

address: Carrer de Sacsimort, 5

Traditional and simple cuisine with an extremely accurate selection of the products.

phone: +34 972 22 18 82

address: Ginesta núm. 8. 17001

Traditional Valencian food, with an extensive range of rice dishes.

phone: +34 972 426 300

address: C/ Ciutadans 20

Fish and seafood: Pick out your fresh fish and have it cooked while you enjoy a glass of cava

phone: +34 972487898

address: C/Lluís Batlle i Prat, 4

Decorated with old irons as wall lights, ironing boards and sewing patterns. "El Didal" means "The Thimble".

phone: +34 972 219 176

With more than a century of history, this restaurant serves traditional Catalan food but with twists to a new modern and creative cuisine.

phone: +34 972 299 309

address: C/ del Carme 75

Informal, fresh and dynamic cuisine with Catalan roots that blends flavours from around the world
Splurge
phone: +34 972 222 157

address: Can Sunyer, 48 17007

3 Michelin stars. Considered nowadays "the best restaurant in the world". It won the 1st position in "The World's 50 Best Restaurants 2013". Reservation required

phone: +34 942 212820

address: Carrer Bonastruc de Porta, 10, 17001

1 Michelin star

phone: +34 972 22 52 30

address: Carrer d'Abeuradors, 4, 17004

Excellent and creative menu. The owner also owns La Massana.
Drink
address: Passeig Canalejas

Very good atmosphere. Next to the river, Plaza Independencia and the car park area, Gayfriendly bar and good ambient.

address: Carrer Bonaventura Carreras i Peralta, 2

Very good atmosphere. Small winery in the heart of the Old Town, where people stand outside drinking wine or beer. Each cup costs around 2€, with some snacks included.

The River Cafè

address: Carrer de les Ballesteries, 23, 17004

Live music, drinks and food. Open all day.

address: Carrer Pou Rodó, 21

Cafe and book shop: Drinks, good food, books, live music and many other activities.

Mckiernan's

address: Rambla de la Llibertat, 32, 17004

An Irish pub, crowded on weekends. Suitable place to have a drink. English friendly.

address: Carrer de Jaume Pons Martí, 12, 17004

Live music shows, some of the top musicians of the national and international scenes, in addition to the great live jazz shows. Wide selection of the international classics and self created cocktails. Very cosy place.

Siddharta

address: Pedret, 116, 17007

A suitable place to try herbal teas.

address: Plaça independència, 10, 17001

Nice place for the first drinks, and maybe the last too.

address: Carrer Bonaventura Carreras Peralta, 7

Spanish rumba pub, every day there is a guest rumba band playing live. The maids are the nicest neighborhood.
Sleep
Budget
phone: +34 972 426 480

address: Santa Clara, 9

phone: +34 972 21 80 03

address: Carrer Dels Ciutadans, 9, 17004
Mid-range
phone: +34 972 228 170

address: Germans Busquets, 2, 2d floor

Small bed and breakfast

Borràs Guesthouse

phone: +34 972 22 40 08

address: Travesía Auriga, 6, principal-2ª

address: C/ Francesc Ferrer 16-18

Viladomat Guesthouse

address: Ciutadans, 5
Splurge
Hotel Bellavista

address: Pujada Polvorins, 1

The only 5-star hotel in Girona.

address: Plaça Miquel Santaló

Hotel Ciutat de Girona

phone: +34 972 48 30 38

address: Carrer Nord, 2

Near downtown.

phone: +034 972 203 850

address: Gran Via de Jaume I, 22

A modern hotel.
Stay safe
As is typical with these region of Catalonia, it can get quite hot in the summer. Take care and drink plenty of water throughout the day. There are a number of public water fountains which anyone can make use of and they are clearly marked on the city maps you get from the tourists office.
As for crime, Girona is generally a very safe town with a vigilant local population. It experiences crime that is typical of any city its size, but visitors have little to worry about from the town itself beyond possibly pickpocketing in large crowds. However, it is not uncommon to see local drunks and other vagabonds at the entrances to the footbridges across the Onyar River, especially on the Old Town side. While they generally keep to themselves, they will often beg for change.
While not the destination that Barcelona is for "stag" parties from Northern Europe, Girona does see its fair share of them, given that many of them fly in to the Girona Airport on their way to Barcelona.
It should go without saying, as it would seem obvious, but don't attempt to jump in to the Onyar River from any of the bridges across it. In addition to being difficult to get back out of, the water simply isn't deep enough for the height, and you will sustain any number of grievous injuries upon landing.

Go next
Barcelona – An hour to the south by train and the capital of Catalonia with an endless list of things to see and do.
Costa Brava – Rocky cliffs and a mix of pebble beaches and sandy beaches at Blanes, Cadaqués, Tossa de Mar ...
Girona Pyrenees – Monumental mountain towns, skying resorts and la Garrotxa volcanoes.