Gjilani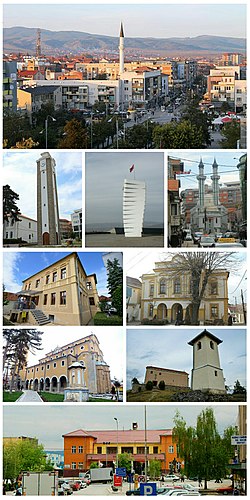 Gjilan
is a town in
Kosovo
, in the southeast linked with the highway of
Pristina
, Serbian Border and North Macedonian Border.
Understand
In the Ottoman Defter of 1455, it is said that this settlement had 41 houses, and according to the cadastral de fi cation of 1566-1974, there were 38 houses and 12 single. This place of residence is later mentioned in written documents and in different descriptive directions.
Another opinion says that an Ottoman officer who stayed in this settlement was from an Gjejlan, somewhere in
Syria
or elsewhere in the
Middle East
and has baptized with that name, while the most realistic opinion lies in the fact that in Gjilan, around the year 1750 the (Gjinolli Family) was established, which came from Novoberdo, belonging to the Gjinaj tribe, so also this family (Bahti Beg Gjinolli) got its name. It is said that the first settlement of Gjilan was the most northwest in today's Dardania I neighborhood, but since 1830 it included a fire and burned completely. The Gjinolli family then moved the city to the east, in the midst of today's commodity and market house, a neighborhood that also called Begler's Corner.
The icons of the city are:
Idriz Seferi who died in war for the freedom in 927.
Agim Ramadani who died in the last war against Serbian occupation in 1999.
Rexhep Mala who diedprotecting himself in a fight with the Serbian Police in 1984.
Nuhi Berisha who also died in the same night with his friend Rexhep Mala in 1984.
Get in
By bus
From Bujanoc to Prishtina stop at the bus station here. There are also dedicated buses from Pristina bus station (60 minutes) cost 2€.
From Ferizaj stops at the bus station (30 min) cost 1.5€.
From Prizren stops here (120 min) costing 5€.
Get around
By foot
The mosque & the church (roughly 500 meters from the bus station) can be accessed from Ibrahim Rugova st. through forward to the Mosque Xhamia e Madhe and left at Nena Tereze st. to the Orthodox church. The museum is near of post and telecom of the city.
By taxi
address: Nato 99

address: Haki Myderizi
See
Atik Mosque

address: Zija Shemsiu

City Museum

address: Adem Jashari

City Square

address: Ibrahim Rugova

address: Ibrahim Rugova

Dardania I and II

address: Muharrem Ibrahimi

Orthodox Church

address: Nena Tereze

Hill of Martyrs

address: Lot Vaku

Livoqi Lake

address: Fehmi Agani

Mirusha River
Eat
Drink
address: Zija Shemsiu

phone: +38349777345

address: Adem Jashari

address: Abdullah Tahiri
Sleep
address: Ibrahim Rugova

phone: +38344888838

address: Skenderbeu

phone: +38344134073

address: Egnatia
Go next