Glen Canyon National Recreation Area
Glen Canyon
is a vast
United States National Recreation Area
in
Utah
's
Canyon Country
.
Understand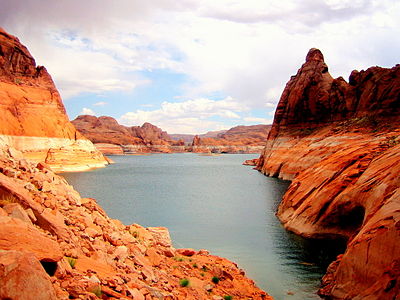 Glen Canyon is an mind-bogglingly vast canyon in deep red rock country, which has been filled with
North America
's largest man made lake, Lake Powell. Surrounded by nothing but red slick rock, the crystal blue lake is strikingly out of place and looks like it belongs on Mars. Lake Powell would be totally deserted were it not for its popularity with house-boat owners, who sail around this dead and beautiful expanse. The desert surrounding the lake is mostly uninhabited except for grazing long horn steer, jackrabbits, and lizards.
History
Landscape
Flora and fauna
Climate
Get in

Getting into Lake Powell pretty much requires a boat launched from a local marina, as the lake is surrounded by steep sandstone cliffs—that is, unless you are very ambitious.

Fees and permits

Entrance fees for a private vehicle are $15, while individuals (on foot, on bike, or on motorcycle) must pay a $7 entrance fees. All entrance fees are good for seven consecutive days. The Glen Canyon NRA Annual Pass is $30 and provides entrance for one year.

Get around
By guided tour or boat rental
A number of companies provide guided tours of Glen Canyon National Recreation Area and Lake Powell that include transportation from the surrounding areas. Some companies will provide bus travel from nearby towns while others begin in the Glen Canyon/Lake Powell Area. Some will provide just a brief tour with small stops, while others may take you on a hike, and arrange all your meals. Another option includes renting boats or houseboats at or near the lake and charting your own excursion. Because many companies provide rentals you can find a variety of boats and price levels.
Invert Sports, +1-888-205-7119. Luxury vacation rentals and guided watercraft tours including; boats, jet skis, waverunners, houseboats, stand up paddle boards, wakeboards, water skis, water trampolines, other water toys, water sport lessons, and private tours. Servicing all marinas at Lake Powell: Wahweap marina, Antelope Point Marina, Bullfrog Marina, and Halls Crossing Marina.
Hydros Adventures Tours, +1 928 310-8141. Offers one day and overnight hiking, rafting, backpacking, and adventure tours to Lake Powell/Glen Canyon National Recreation Area, the Grand Canyon, Northern Arizona, and Southern Utah. Pickups in Phoenix, Las Vegas, and the Grand Canyon area.
Offshore Marina, +1 435 788-2142, provides rental powerboats and waverunners in the Lake Powell Bullfrog and Halls Crossing Marina area, while Aramark Corporation provides houseboat rentals at both Bullfrog Marina and Wahweap Marina.
See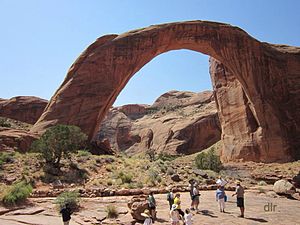 Rainbow Bridge National Monument

phone: +1 928 608-6200

A small monument located about 50 miles uplake (about a two hour boat ride) from the Glen Canyon Dam, set around the world's largest known natural bridge. The monument can be accessed from a wharf on the lake, followed by a short walk up the canyon.
Eat
Rainbow Room, Lake Powell Resort, 100 Lakeshore Drive, Page. With a stunning 180 degree view of Wahweap Bay, this fine dining establishment is open March 15 - October 31 for breakfast, lunch and dinner.
phone: +1 435 788-2142

address: Mile Marker 30, Highway 276

The Grill at Offshore Marina offers fresh food off the grill, deli sandwiches and salad bar. It's located within the Chevron at Offshore Marina.
Drink

Glen Canyon is definitely BYOB territory and you had better bring gallons of water for your trip.

Sleep
Lodging
Most all lodgings on or near Glen Canyon are located in
Page
, which is two miles away from the lake on top of the butte.
Defiance House Lodge

phone: +1 435 684-3000

50 rooms, Anasazi Restaurant and Lounge. Family Units, small boat rentals.
Camping
Lake Powell is abundant with camping opportunities, whether you seek developed campsites with RV pads, putting a tent up on a secluded beach or anchoring your boat for the night in a quiet cove. Beach camping is the most common form of camping at Lake Powell and only requires you pay the entrance fee to the Park. Each marina operated by Aramark - the park's concessionaire, has a developed campground that can be used for a nightly fee. The National Park Service also manages a few primitive campgrounds on Lake Powell that have a small fee per car entering the campground.
Bullfrog Marina CampgroundNear Bullfrog Marina

Lone Rock Beach Campground4 miles from Wahweap Marina

Stanton Creek CampgroundAdjacent to Bullfrog Marina.

Wahweap Campground and RV Park

address: Lakeshore Drive, Page

Located in Glen Canyon National Recreation Area, this is one of the nicest campgrounds in the National Park System. With a stunning view of Wahweap Bay, there is an eco-friendly campground store, coin operated showers and laundry room. All camp sites have charcoal grills and picnic tables. Only a short distance to boat launch ramps, swim beaches, boat tours and small boat rentals.
Backcountry
The Park Service requires that you register before camping in the backcountry, mostly just so that they know who is where when in case of an emergency. But while it is in your best interest to do so, registering is pretty much optional as the area is
very
lightly patrolled and pretty much anywhere is a campsite.
Stay safe
Glen Canyon National Recreation Area has a severe desert climate and it is very dangerous to head out into this wild expanse without proper preparations and
gallons
of water. If you are the least bit unsure as to what constitutes "proper preparations," visit a National Park Service visitor center before heading into the backcountry.
If driving in the area, carry extra gas and plan your route to take into account the very long distances between gas stations. If driving on dirt roads, be aware of your limits (and your car's), and prepare for the possibility that either the road could wash out in the case of a storm, or that your car could break down dozens of miles from civilization, with no cell phone service, in the unforgiving desert climate.
As with most of
Canyon Country
, flash floods are a sporadic, but ever-present danger. Be sure to avoid parking in a wash and never head into a canyon before checking the current weather report—far-off rainstorms will flood canyons even if they are miles away from the downpour.
Go next