Glen Ellen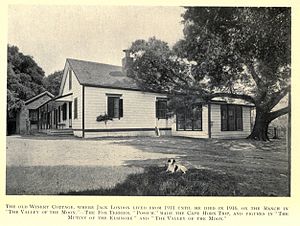 Glen Ellen
is in
Sonoma County
in the Sonoma Valley wine region and was once the home to the writer Jack London. Glen Ellen is home to the state park that bears Jack London's name as well as world class restaurants and wineries. Glen Ellen is a romantic, sleepy little town that is a great place to get way from the hustle and bustle of city life.
Get in
Glen Ellen is 60 miles north of San Francisco and is relatively near to the
San Francisco International Airport
(
SFO
), Oakland Airport, and Sacramento Airport. There is also an airport in nearby Santa Rosa:

Get around
Glen Ellen is a very small town with only one stop light. Walking is a fantastic was to see the "downtown", but to get to the wineries (see below), driving is necessary.
Please do not drink and drive.
It only takes a few wine tastings to be over the legal limit. Be safe and have a designated driver. Or hire a limo for the day:
Classic Limousines +1 707 938-3879
Wine Country Limousines +1 707 313-5513
See
phone: +1 707 938-4554

This amazing 500 acre preserve was donated by David Bouverie in 1979 and is home to 130 species of birds and 350 species of flowing plants. In order to maintain the pristine environment visitation is highly regulated. Public tours are offered one or two Saturdays a month and are well worth calling in advanced to be a part of. Wear hiking books and explore the natural beauty including breath taking waterfalls and vistas.

Dunbar Elementary 5th Grade Melodrama

address: Dunbar Elementary School 11700 Dunbar Rd

One weekend a year, in late May, the whole town - and quite a few visitors - show up to Dunbar Elementary School to watch and participate in the 5th Grade Melodrama. Held on the outdoor "Haver Stage" with grass and blanket seating, this play is always a hoot. Boo and Hiss at the villain, Sign for the heroin and Cheer the hero through their adventures. Bring a pick-nick and a bottle of wine and enjoy the fun and local culture.
phone: +1 707-938-5216

address: 2400 London Ranch Rd

The estate of the famous writer Jack London who wrote Call of the Wild. This park has many day hikes and horseback riding trails and is home to the Jack London Wolf House.This park is the historic home of American author, Jack London, and his wife Charmian. They lived here for the last years of both of their lives. London built his dream home, Beauty Ranch, and before it was finished it burned tragically, destroyed the property. He died soon thereafter, and Chariman lived there until her own death. They are buried on the property. The park has amazing hiking, wildlife, birding and in the summer time, live music events.
Horseback riding in Jack London State Park

phone: +1 707 887-8700

The guided tour rides, conducted by the Triple Creek Horse Outfit, meander past acres of vineyards, through open oak woodlands, and beneath shady groves of tall redwoods. Longer rides may include lunch.
phone: +1 (707) 996-3166

address: 12841 Sonoma Hwy

One of the largest collections of scientifically- documented, wild-sourced Asian plants in the western world. Docent-lead tours are available if scheduled at least two weeks in advance.

phone: +1 707-539-8092

address: 13630 Sonoma Hwy (Hwy 12)

162 acres of hiking, biking, and horseback riding trails. Once a part of the Eldridge Develop-Mental Center, it is now a fantastic place to take the family on a sunny afternoon. Enjoy pick-nick tables and the dog park. A dog park is also on site. Wildflowers are beautiful in the spring.
Do
Elizabeth Anne Perrone Dog Park

address: 13630 Sonoma Highway

Perfect for traveling dog lovers. Elizabeth's Dog Park is a fantastic one acre fenced in play-ground for our furry four-legged friends. There are picnic benches and a gazebo for sitting and avoiding the sun while you watch groups of dogs play together.

Glen Ellen Village Fair

address: Arnold Dr

The Glen Ellen Village Fair happens once a year, the second Sunday in October, and is well worth wandering through. The majority of Arnold Drive is closed down through town and the street is lined with booths of local good and hand crafts. It opens at 10AM. A parade begins at noon featuring the volunteer fire department, The Sonoma Valley High School marching band and lots of other local groups. Make sure to buy a ticket for the quilt raffle, the quilt is made by 10 local women and is donated every year to raise money for the community.

address: Jack London State Park

The best of Broadway performs at this unique variety series every summer at Jack London State Park. The performances take place in the historic ruins and local wines are served as the sunsets in the Valley of the Moon and Broadway classics are performed by insanely talented performers. An award winning series, it's a great escape for Broadway lovers, but a total cheese fest for those of you who aren't.
Wine Tasting
address: 1883 London Ranch Rd

This truly family winery, located on the hill above Glen Ellen, has endeared itself to the local community and tourist alike through generous giving to Dunbar Elementary School and amazing wines. This is one of the few wineries that has fun activities for kids too. The "Biodynamic Vineyard Tram Tours" take all visitors on a tractor driven tram through the winery. $15 for 21+ (includes wine tasting) $5 for under 21. If you want to taste the most amazing wines take the time to do the Reserve Room tasting $15 for 5 reserve/biodynamic wine tastings. 20% of Benziger's wines are organic.

address: 15000 Sonoma Highway (Hwy 12)

Great Wine! Great Parties! BR Cohn Winery is much more than just a vineyard and a winery, it is a event destination. Check their website for charity concerts, harvest dances and other events. In addition to fun events (buy tickets in advance) BR Cohn offers wine tasting and olive oil & vinegar tasting in their beautiful farm house.

phone: +1 707 935-4515

address: 14335 Sonoma Highway (Hwy 12)

phone: +1 707 996-2750

address: 15188 Sonoma Hwy (Hwy 12)

Little Vineyards was founded in 1996 by Joan and Rich Little, and it is, just as it's name suggests, little. 25 acres total and only 17 acres of vineyards, Little Vineyards makes amazing wines in small batches. Their wine tasting is the best value in Sonoma County, only $5 for a 5 wine flight. If you want to emerge yourself in the wine country, consider staying at their "Cottage" in the vineyard. (For Reservations call +1 707 477-6298)

phone: +1 707 938-9401

address: 13101 Arnold Dr

A great place to end your wine tasting tour. Mayo is open much later than most tasting rooms and is nearly walking distance to many Glen Ellen restaurants. They focus on single-vineyard small batch wines and offer tasting rooms in Sonoma and Kenwood in addition to Glen Ellen.

Valley of the Moon Winery

phone: +1 707 939-4510 (Tasting Room)

address: 777 Madrone Rd

phone: +1 707 939-0708

address: 11600 Dunbar Rd

Sip wine while enjoying the view over Wellington's Old vine vineyard planted in 1924. Call in advanced for tours of the winery.
Buy
Finding Shones'
If you ask any local where do buy a good sandwich or bottle of wine they will most likely tell you "Shones'" But you could walk all day and never find Shones'. Why? Because it moved across the street and changed its name to The Glen Ellen Village Market 15+ years ago and no one has bothered to learn its new name. So there you go!
phone: +1 707 996-1010

address: 14301 Arnold Dr

Wine + Chocolate = Heavenly. Enjoy the flavors of Sonoma County in the sweet body of one of their chocolates. Take the kids - or the young at heart- to their Chocolate Tasting room and indulge yourself.

phone: +1 707 996-6728

address: 13751 Arnold Dr

The Glen Ellen Village Market, commonly called Shones, is the best place to buy anything necessary for a fun pick-nick or a romantic night in. Their staff is very knowlage able about their wine selection and produce, and their sandwiches are the perfect food to grab before going wine tasting.
Eat
In downtown Glen Ellen:
In Jack London Village (14301 Arnold Dr.)
Aventine Glen EllenItalian eatery with an onsite microbrewery and excellent rustic Italian food.

phone: +1 707 996-9152

phone: +1 707 996-9930

Fantastic Indian food. The first "ethnic" food to be offered in Glen Ellen, and well worth the wait. Although prices are par with the nicer French and Californian restaurants in Sonoma County, the food is expertly prepared and a welcome alternative to standard wine country dishes.
Drink
phone: +1 707 996-1300

address: 13740 Arnold Dr

The only bar in Glen Ellen. Built in 1905, it is covered in Jack London memorabilia. The patronage is a bazaar mixture of tourist and local lushes. Good burgers and patio seating if the parlor style saloon is not fitting your mood. TV's and pool.
Sleep
Connect
US Post Office 13720 Arnold Rd. +1 707 996-9233
Go next
Tired of wine, fine food and natural beauty? Head towards San Francisco for wine, fine food and architectural beauty take Arnold Drive to HWY 37 to HWY 101 South. Drive over the beautiful and historic Golden Gate Bridge. Or enjoy outdoor sports in Tahoe, tack HWY 12 to I80, stop at Donner Peak and remember the hardship that pioneers endured to come to California.