Glencoe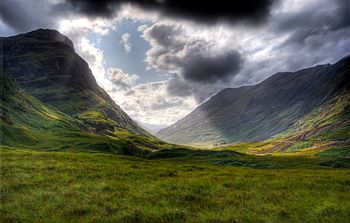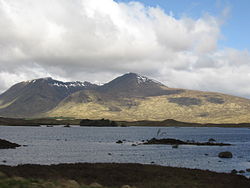 Glencoe
(
Scottish Gaelic:
) is a hauntingly scenic valley in the western
Scottish Highlands
, and also the name of the village at its foot, where the glen meets Loch Leven. This page also includes facilities along that sea loch, which stretches nine miles from Kinlochleven at its head to the east, to Ballachulish where it joins Loch Linnhe to the west. The
TIC
is along the main road by Loch Leven (open daily 09:00-17:00). The term "Glencoe" also applies some miles east beyond the valley of the River Coe, over the watershed into the upper valleys of the Coupall and Etive - the A82 follows this route.
Glencoe, much of it owned or managed by
the National Trust for Scotland
, is a U-shaped valley carved out by glaciers. It's ten miles long, less than half a mile wide, but with flanks rising sharply to 3000 feet. If you want to ignore central authority then this looks like a good place to be, and the "Hidden Valley" - a wonderful example of a glacial "hanging valley" - is ideal for concealing stolen cattle. But if suddenly one bleak morning the glen is full of furious, death-dealing soldiers, then it's a difficult place to escape from.
Understand
At 5 am on 13 Feb 1692 the troops were mustered and given their orders. They had been peacefully billeted for the last two weeks among the Macdonalds in Glencoe, receiving food and accommodation for no payment, but in lieu of tax. Their hosts were puzzled at the early stir – was the company marching away? The local chief MacIain was still struggling into his clothes, calling for breakfast to be brought for his guests, when he was shot. All along the valley shrieks and shots and sword blows were ringing out, and flames rose from the cottages.
Some 38 people were killed that morning, and it's claimed a similar number later died of exposure, fleeing into the wintry mountains. But as the killing squad swept the glen from south to north, the troops who were supposed to cordon each end were hours late getting into position. So probably many escaped. In 2018 an archaeology project began in the glen which may turn up new forensic evidence.
The conflict had begun in 1688, and even today it still affects Northern Ireland. King James II of England / VII of Scotland was ousted, and replaced by his daughter Mary and her husband William of Orange, both protestants. In 1689 a "Jacobite" counter-coup was launched in Ireland and Scotland but was defeated. Further attempts were likely, and King William's government were determined to prevent any support from the Scots. They especially wanted to crush the Lochaber Macdonalds, those traitors, cattle-thieves, and worst of all catholics. Lord Stair the Secretary of State for Scotland openly called for their extermination; any pretext would do.
On 26 Aug 1691 it was proclaimed that all the Jacobite Highland chiefs would be pardoned if they swore an oath of allegiance to King William, by the end of the year – or else! The chiefs prevaricated that since they too valued loyalty to the king, they must first be released by James from their oaths to him. This was a dangerous game to play, as what they obviously meant was: if James intends to try again, we're with him; if not, we make our peace with William.
In October the chiefs formally made their request to James exiled near Paris, who shilly-shallied before granting their release on 12 Dec. This arrived back in the Lochaber region on 23 Dec but wasn't made known until 28 Dec. Not until 30 Dec did MacIain set off to Fort William to swear his oath. The commander there wasn't authorised to conduct this, but sent him to the magistrate at Inveraray. Finally MacIain took the oath on 6 Jan and returned home, believing he was in the clear.
Meanwhile a large government force had assembled. The intention was to rid the earth of all three branches of the Lochaber Macdonalds. Lord Stair made no secret of his frustration that two chiefs had taken the oath in time and were pardoned, or of his delight that the third, MacIain, had been late. The entire force would be hurled against this small tribe: a sledgehammer to crack a nut. That crack still echoes down an empty glen.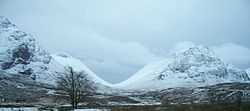 Get in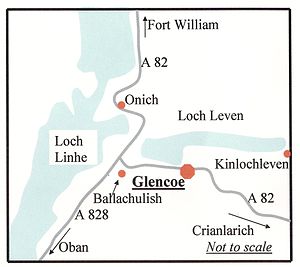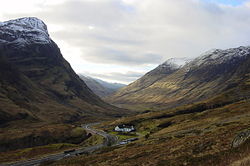 The A82 from Glasgow runs along Loch Lomond to Crianlarich, Tyndrum and Bridge of Orchy then over bleak moors to come down Glencoe. In the lower glen below Loch Achtriochtan the road has been re-aligned, so the modern main road sweeps down the west flank, while the old road goes down the east. Glencoe village is at the foot of the glen where it reaches the sea at Loch Leven. The main road continues west along the loch's south bank to Ballachulish and Fort William, while B863 winds east to the head of the loch at Kinlochleven then back along the north bank to Ballachulish - this was the main road until the bridge opened in 1975. And that's it, those are the only through roads in this wild country.
Citylink buses 914 / 915 / 916 run four times daily from
Glasgow
Buchanan Street along A82 via Glencoe village and Ballachulish to Fort William, taking just under 3 hours. Two of them continue to Portree on
Skye
.
Shiel Bus N44 runs six times a day (M-F) from Fort William to Corran ferry pier (for Ardnamurchan), Ballachulish, Glencoe village and Kinlochleven. It doesn't go up the glen, eg to the ski resort, or along the north bank of the loch. Oban is only 30 miles away but there's no direct public transport. You'd have to change around Ballachulish bridge, and wait for ages in the drizzle.
Just about every coach tour of the Highlands comes this way, before continuing to Loch Ness and Skye. The gift shops rub their hands in anticipation, and tell the bagpiper out by the car park to get blowing.
The railway doesn't help here. It runs north from Glasgow Queen Street to Crianlarich, Tyndrum and Bridge of Orchy (30 miles from Glencoe village), before swerving away east via Rannoch Moor and the Spean valley to come into Fort William.
Get around

You need a car. The villages are small, and you can just about do the south bank by bus. But the main attractions of Glencoe are several miles up the glen with only an occasional bus from Glasgow, impractical for mountain hikes or skiing.

See
OS Landranger Map 41 covers this area.
address: Main Street PH49 4HS

Miscellaneous objects from Glencoe and North Lorn, including the story of the Glencoe Massacre in 1692 and the Ballachulish Slate Quarry.

National Trust Visitor CentreClosed for rebuilding, though the toilets and car park remain open. It's intended to mount an explanation of the geology and history of Glencoe, and organise various activities in the glen.

Kinlochleven is the small village at the head of Loch Leven. From 1905 to 1996 there was an aluminium smelter here, with a hydroelectric dam and power station. (This supplies the National Grid now the smelter has closed.) It's the last stop on the West Highland Way, with the route following the old military road from Glencoe to the south and continuing north over the Mamores to descend into Glen Nevis and Fort William.
Ballachulish originally meant the little village on the north bank of the loch, where a ferry crossed the narrows. (The tide through the narrows can rip along at 7 knots, water-users beware.) Slate quarries were worked from the end of the 17th C on the south bank; buildings sprang up and this area became the core of Ballachulish. The quarries closed in 1955: the track of the quarry branch railway is now a cycle route. There's a golf course and a Segway centre in the park near the bridge. The bridge opened in 1975, uniting the fragmented village.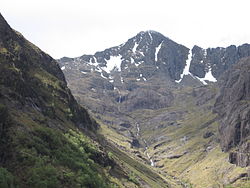 Do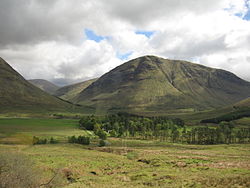 The Lost Valley (Coire Gabhail) is a "hanging valley" created by glaciation. From below it looks like a narrow wooded ravine, nothing up there but rocks. Scramble up and it opens into a meadow where livestock might be kept hidden from potential raiders, or the livestock stolen from the next valley but one, or fugitive Highlanders. Use north of the river on A82 (free, no amenities), descend to the path leading to the bridge over the river then the trail is obvious. Reckon one hour / two miles each way. The peaks on the left are the "Three Sisters" themselves.
(meaning The Great Herdsman of Etive) is the big mountain seen at the head of Glen Etive, just before the road descends into Glencoe. From there it looks like a pyramid, it's actually a ridge five miles long with four peaks: Stob Dearg (1022 m), Stob na Doire (1011 m), Stob Coire Altruim (941 m) and Stob na Bròige (956 m). It's possible to walk up (without climbing gear or skills) by the path from Coire na Tulaich; there's also a choice of more demanding routes. In Jan 2009 an avalanche killed three climbers and seriously injured another.
is regarded as the hairiest scramble in mainland Britain. It's a ten-mile long ridge, with a central two mile scramble which once you're on, you've no escape, either side is a cliff. Your group should be roped together for safety here.
On the other side of the Glen are the Three Sisters and above them Stob Coire am Lochan and Bideann nam Bean. There are numerous walks on this side, follow one from a guide book and don't try to make up your own, there are too many opportunities for a fatal fall.
Glencoe is also an excellent rock climbing area, but you need to know what you're doing.
Skiing and snowboarding at

address: PH49 4HZ

At the base there's a cafe and bar open daily 09:00-20:30. From here the access chairlift goes up to the ski area at 650 m. There are beginners' slopes just above here, a sledging area and the Plateau Cafe. Further up are intermediate slopes and a couple of blacks, down from Meall a' Bhuiridh at 1108 m. The chairlift runs in summer for mountain biking. Always check the resort website for the weather outlook, which includes a webcam.
If skiing is unavailable at Glencoe, try going to Nevis Range 30 miles further up the A82, on Aonach Mor near Fort William.
Ice Factor is an indoor climbing centre for rock- and ice-climbing and abseiling. It's by the river bridge in Kinlochleven, open daily 09:00-18:00, Tu & Th to 22:00.
Fast boat trips by bouncy, splashy RIB - but it will whisk you away out to skerries and offshore wildlife while a conventional boat would barely have puttered out of harbour. Open April-Oct, trips one hour £29, two hours £42, based in Ballachulish village.

phone: +44 1855 811350

address: Carnoch House, Glencoe Village PH49 4HS

Outdoor activity centre. Activities (depending on the season) include skiing, hill walking, climbing & abseiling, archery, orienteering, sailing, windsurfing, kayaking, canoeing and team-building exercises. Most visitors are school parties and similar groups, who check into the dorm for several days. Other visitors would have to work around those.
Eat
Laroch restaurant and bar is off A82 midway between Glencoe village and the bridge. Open Tu-Su 12:00-15:00 and 18:00-21:00.
Lochleven Seafood Cafe is midway along the near-deserted north bank of the loch, on B863. It's more an upmarket restaurant than a cafe: lobsters venture in here at their peril. Open mid-March-Oct daily 10:00-21:00.
See also "Sleep" listings for Clachaig Inn.
Drink
Boots Bar in the Clachaig Inn: Live music, real ales and extensive whisky collection.
River Leven Ales is a microbrewery in the village of Kinlochleven. Try their products, but the brewery itself can't be visited.
Pixel Spirits is a gin micro-distillery in North Ballachulish, just beneath the bridge. They don't offer tours but organise "gin school" for groups of up to eight to learn how to concoct their own batch.
Sleep
Lots of small B&Bs and self-catering cottages in the south bank villages of Kinlochleven, Glencoe and Ballachulish, then more just west of the bridge. Very little along the north bank of the loch.
phone: +44 1855 811219

address: Glencoe PA39 4HX

Open all year.
Glencoe Independent Hostel next door has a bunkhouse (from £17 ppn) plus static caravans. They also organise guided mountaineering.

Blackwater Hostel and Campsite

phone: +44 1855 831253

address: Lab Road, Kinlochleven PH50 4SG

Open all year, with 39 dorm beds plus 32 in the "Lodge", glamping pods and campsite.

address: PH49 4LA

Hotel with 23 rooms all en suite. Mixture of traditional, modern and motel-style rooms (dogs only in latter), plus self-catering. Drying room, packed lunches, Wifi but it's very scratchy. Three bars: Boots, Snug and Bidean, open daily 11:00-23:00. Restaurant open daily 12:00-21:00.

phone: +44 1855 811354

address: Glencoe PH49 4HT

Clean comfy B&B in woodlands near lochan just north of Glencoe Village. Their booking site implies they are closed.

phone: +44 1855 811392

address: Ballachulish PH49 4JP

Small B&B open all year. Book by phone or email.

phone: +44 1855 811261

address: Park Rd, Ballachulish PH49 4JB

Friendly comfy B&B open March-Oct.

phone: +44 1855 811393

address: Ballachulish PH49 4JE

Open all year. Beautiful Victorian Villa with five rooms en suite.

Kingshouse HotelClosed for rebuilding, due to re-open in Feb 2019.
Go next