Glenorchy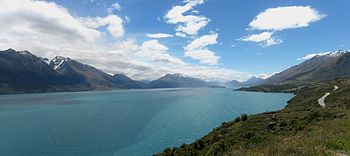 Glenorchy
is a little town in at the northern end of Lake Wakatipu, near
Queenstown
in
New Zealand
.
Understand
Glenorchy Information Centre & Store, Mull St (at Glenorchy Hotel), +64 3 409-2049, info@glenorchyinfocentre.co.nz. Track, weather and activity information and maps. Track transport bookings. Mountain bike and fishing rod hire, fishing supplies, groceries.
Get in
Regular shuttle service from the Info Centre in Queenstown is available.
Get around
There is no public transport, however the town can easily be traversed by foot. The locals are friendly enough to hitch a ride with as well.
See
The sun rise over the lake and mountains.
Do
phone: +64 3 442-4900

2 hour guided trips around the head of the lake. Summer months only.
Tandem skydive with Skydive Paradise, 12,000ft or 15,000ft, photos & videos available.
Horse Riding. Dart Stables and High Country Horses offer guided tours along the Rees and Dart rivers.

Dart River Jet SafarisVarious combinations of trips including jetboating on the Dart River and guided walks.

Ski. Head out to the privately owned Invincible Snowfields via helicopter and enjoy the small groups as you stay in an alpine hut. +64 03 442 9933.

phone: +64 3 442-2207

Fly from Glenorchy to Milford Sound and the glaciers.
Tramping
Glenorchy is the jumping off point for a number of tracks. Purchase hut tickets from the Department of Conservation (DOC) office in town. On the Great Walks prices range from $10-45, and the other tracks' huts range from $5-35. Camping is only allowed in designated areas and often campers are
not
permitted to use the hut facilities.
Be sure to register with the DOC before leaving on any tramp as this will be your best method of someone noticing that you haven't returned and starting a search.
phone: +64 3 409-2049

Contact Glenorchynz Info Centre to arrange for transport to any of the below tracks from either Queenstown or Glenorchy.
Routeburn Track. One of the DOC's Great Walks. 32 km through Mount Aspiring and Fiordland National Parks. Not a circuit track, so take this into consideration. However hiking from the Glenorchy end of the track you could link it with the Caples or Greenstone tracks to keep a base out of Glenorchy. The Routeburn takes an average of 3 days, 2 nights to complete. Peak season is late October to late April and bookings are required. During peak season the huts are supplied with gas cookers, cold running water and some heating. During the off peak season, especially during winter, the track may be impassable.
Greenstone-Caples Track. A DOC Major Track. Actually two separate tracks, but often taken together as a circuit. As a circuit the track is a moderate four to five day hike. Either of these tracks could be linked with the Routeburn as well or simply walked in one direction.
Rees-Dart Track. A DOC Major Track. A moderately demanding circuit track taking four to five days of six to eight hours of walking. The fifth day is added if an extra day trip to the Dart Glacier is taken. Mt Earnslaw (Pikirakatahi) and Slip Stream (Te Koroka) are Töpuni (sacred) sites of the Ngāi Tāhu Maori tribe. This track can also be linked to the Cascade Saddle track, but is suggested only for very experienced trampers.
Eat
Glenorchy Hotel. Fully licensed restaurant with a stone fireplace and terrace deck. New Zealand cuisine and NZ wines, takeaway menu. Open for breakfast, lunch and dinner. Groups welcome. Sky TV and News channels.
Kinloch Lodge. Overlooking Lake Wakatipu, Kinloch lodge has a cosy Heritage restaurant and deck ideal for a meal during the day, or as a special treat in the evening. Specialty local foods, platters, hearty specials and an unbeaten ambiance.
Drink
Glenorchy Hotel. Enjoy a beer and a game of pool with the locals. Happy Hour. wireless Internet, Bottle Shop, free car parking. info@glenorchynz.com
Kinloch Lodge. Excellent New Zealand wine list. Enjoy this overlooking Lake Wakatipu watching the changing colours of the mountains as the sun sets.
Sleep
phone: +64 3 442-9902

address: Mull St

Backpackers from $25 (sleeping bag required); shared facility rooms from $90; ensuite rooms from $120. Bar, café and restaurant; also the Info centre & store. Track transport departs from hotel.
Blanket Bay, +64 3 442-0115. An alpine mountain lodge with world class features.
Breitenbergers Guest House, +64 3 441-2126, +64 27 650 3322, +64 21 142 122. Five km north of Glenorchy.

phone: +64 3 442-9968

En suite rooms and easy activity bookings.

phone: +64 3 442-4900

Five min from Glenorchy by boat or 26 km drive. Accommodation ranges from home-stay bed and breakfast to backpackers lodging. Offers BBH discount.
Little Paradise Lodge, +64 3 442-6196.
Mount Earnslaw Motel, +64 3 442-6993. Seven studio units with full kitchens.