Glenties
Glenties
is a very small town in
County Donegal
. Glenties is renowned as Ireland's tidiest town, winning the coveted title for the 5th time in 1995. It consists of one main street only.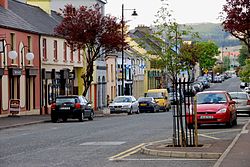 Get in
The R250 road from Letterkenny takes 45 minutes by car and passes through a scenic area that includes
Meenaroy
mountain and
Fintown Lake
.
The R252 from Ballybofey takes 40 minutes, a nice detour from which is the R253, which winds along the edge of the
Bluestack mountains
before dropping down in the
Glen of Glenties
.
The N56 route from Donegal Town / Killybegs comes over the hills at
Aighe
, with nice views of the sea before going through
Ardara
and turning East towards Glenties. It takes 50 minutes from Donegal Town via Killybegs and Ardara, or 30 minutes via the R262 road via Frosses.
By bus
McGeehan Coaches
, in conjunction with
Bus Éireann
have a twice daily service between
Letterkenny
and
Glencolumbkille
, which stops in Glenties.
Another service travels between
Dungloe
and
Donegal Town
, stopping at Glenties also.
Feda O'Donnell
also has a weekly service between
Annagry
and
Galway
, passing through Glenties.
By plane
The most enjoyable option in getting to Glenties is by flying into
Donegal International Airport
and hiring a car there. The journey to Glenties is scenic (about 50k), passing through
the Rosses
region.
Get around
Glenties is isolated and the surrounding area is rugged, wild and beautiful, best explored by car or, for the fitter visitor, by bicycle. Bicycle hire is available in nearby Ardara.
Hillwalking
The
GAP Trail
follows the route of a former bogcutter's railway, 2 km outside Glenties, and is a nice short excursion.
The
Bluestack Way
is a more challenging route, coming over the
Bluestack Mountains
from
Donegal Town
and
Lough Eske
before coming through Glenties and following the
River Owenea
to
Ardara
.
Slí na Finne
is a nearby loop route around
Fintown Lake
and
Ballinamore
, passing into the
Bluestack Mountains
and
The Croaghs
.
Another local scenic route is a walk by backroads from
Doochary
, on the
Gweebarra Estuary
to
Fintown
.
The
Ardara Walking Festival
takes place in March every year in nearby
Ardara
.
Information, advice and maps for all walks mentioned above and others can be obtained from
Donegal Tourist Information
See
St. Connell's Museum & Heritage Centre
houses a large collection of artifacts and memorabilia. Next door is the Courthouse, built in 1843 which is still in use, below which can be seen old cell bars.
There are two churches in the town, The local Church of Ireland (Church Rd.), dates from 1825. The Roman Catholic Church is a modern building dedicated to St. Connell (the patron saint of the parish) in 1974. It has a moat at the front and its setting among the trees and shrubs enhances its long sloping roof which imitates the nearby mountains. The designer; Liam McCormack won a European Award for its architecture in 1974.
The best way to see Glenties is by short walks around the area. These include circular walks around
Mullantiboyle and Tullyard
,
The Rock
and
Meenahalla
. These routes go by back roads and follow the local rivers, the
Owenea
and
Stranaglough
.
Do
Narin/Portnoo beach is about 15km from Glenties. Beside the beach is
Portnoo Golf Course
.
River fishing is also possible on the Owenea River that passes through the town. Daily licenses can be purchased in designated shops in Glenties.. Sea angling is also available.
The local canoe club is
Gweebarra Canoe Club
, which meets year round on the Gweebarra Estuary, 9km away.
The nearest surfing beach is
Dooey Beach
, a quiet break with quite consistent surf.
The local walking club, The Bluestack Ramblers , often organise walks in the area which are open to tourists.
Local GAA (Gaelic Football) club
Naomh Conaill
often play matches in Glenties. The club is situated 800m down the Church Rd.
Sheskinamore Nature Reserve
is a scenic wildlife sanctuary 20 km away, on the Rosbeg Peninsula. It borders two beaches, and offers stunning views of Donegal Bay.
Buy
Donegal tweeds and hand-knitted sweaters can be purchased in the craftshops in the town.
Local paintings and handcrafts can be purchased in the Craft Shop on the main street. Locally made jewellery can be found at Hannagh McGuinness Jewellery.
Local organic food can be bought in The Good Earth, a health food shop selling local produce. Local meat can be bought at Kee's Butchers.
There is a Post Office and ATM machine in the town also, as well as a Bank of Ireland bank.

Eat
The only hotel in the town, The Highlands Hotel, has a midday menu for lunch and a good mid-priced restaurant (€20-30 for main courses) for evening meals.
The Good Earth serve healthy lunches Monday - Saturday.
Fast food options include Nighthawks, McGuinness' Café and K2 Spices.

Drink
There are up to fourteen pubs in the town, many which do not open until the evening time. Prices for Guinness and lager are about €3.70 to €4.00, in line with other towns in Donegal.
Bars worth a visit include Paddy's, Keeney's and Leo McLoone's, all family run establishments with friendly service.

Sleep
There is only one hotel in the town, , but there are numerous guest houses and Bed and Breakfast places to stay.
The Highlands Hotel

Campbell's Holiday Hostela family-run hostel

The Station House

phone: +353 74 9551302

address: Station Road

B&B. Day trips to Bluestack Mountains, Narin Golf Course, Gweebarra canoeing, Dooey Surf School.