Gloucester (England)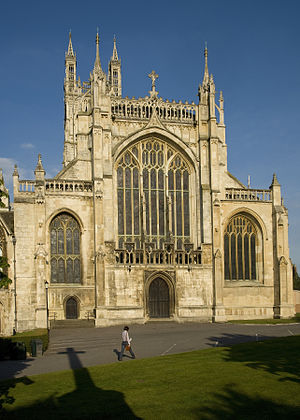 Gloucester
is the county town of
Gloucestershire
in
England's
West Country
.
Understand
The City of Gloucester is the furthest inland port in the UK, situated beside the River Severn. It inspired the old English nursery rhyme:
"Dr Foster went to Gloucester in a shower of rain.
He stepped in a puddle,
Right up to his middle,
And never went back again."
'Dick Whittington', born around 1350, a well-known character through the pantomime story, has connections with Gloucester. The story is based on the real-life Richard Whittington, who, unlike his pantomime character, was not poor, being the third son of Sir William Whittington of Gloucester. The traditional tale has a 'poor' Dick going to London to seek his fortune, but he eventually becomes Lord Mayor of London.
A traditional rhyme is associated with this episode, as follows:
"Turn again, Whittington,
Once Mayor of London,
Turn again, Whittington,
Twice Mayor of London,
Turn again, Whittington,
Thrice Mayor of London!"
The city is also known for 'The Tailor of Gloucester', a children's novel by Beatrix Potter that was first published in 1903. It is traditionally read to children on Christmas Eve, just before bedtime.
It was a main
Roman
city,
Glevum
—Roman tunnels and fortifications exist underneath the city centre and can be visited through the museum.
Language
As a provincial British town, you will almost certainly need to be able to speak English to get around in Gloucester. There is a sizable immigrant population in Gloucester from Pakistan, Bangladesh, Poland and the Czech Republic and so you may have more luck with these people should you speak one of their languages. Gloucester also has a large (for the region) black (mainly of Caribbean origin) community.
The Tourist Information Office has literature in most major languages, including Japanese.
Generally, the Gloucester accent is clear to understand and isn't peppered with dialect terms. However, understandably for the area, there is a West Country 'burr'and tourists whose experience of English accents is limited to either Cockney or Queen's English may notice this. The 'burr' becomes more pronounced more westerly, in nearby Forest of Dean,
Get in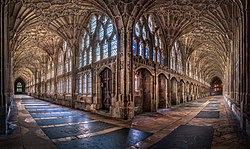 By car
Gloucester is well served by the motorway system and can easily be accessed by junctions 11, 11a and 12 on the M5. It also lies on the A38 and is easily accessible from
Wales
(Gloucester is the most southerly point on the River Severn with a bridge—apart from the motorway Severn Bridges near
Bristol
and
Newport
). Because Gloucester was a major Roman city, it has very good A road connections throughout Gloucestershire and the Cotswolds.
By train
Gloucester station
has good railway connections (Platform 1/3 at Gloucester is Europe's longest) and has daily direct connections to
London
,
Cardiff
,
Bristol
and
Birmingham
. Nearby
Cheltenham
has more stopping trains, so it may be necessary to get a train to Cheltenham and change trains for Gloucester. Trains between Cheltenham and Gloucester operate every half hour and take around 10 minutes.
By bus
Gloucester is a large hub for buses and coaches. The has many regular coaches (mainly operated by National Express) to all major airports and cities (there are several coaches to and from London daily) in the UK. A Megabus service to and from London also operates from outside the bus station.
Gloucester was built up around the River Severn. It has a sailing heritage. It is possible to visit Gloucester via river or the Gloucester Sharpness Canal via boat.
A park and ride service is available see,
National Park and Ride Directory
.
By plane
Nearby Staverton hosts
Gloucestershire Airport
(
GLO
), which has regular flights to Jersey. There are also many private aircraft there, which can be chartered.
Birmingham Airport (BHX) and Bristol Airport (BRS) are each only a couple of hours' drive (north and south respectively) and offer a wide range of destinations, both inside and outside of Europe.
It can take several hours to drive to the London airports (Heathrow (LHR), Gatwick (LGW), Luton (LTN) and Stansted (STN)).

Get around
By bus
Stagecoach operates most of the local bus services and between Gloucester and Cheltenham. There are many bus services to the Forest of Dean, South Wales, Gloucestershire, the South West and the Midlands.

By bicycle
There are several cycle routes around Gloucester and it is possible to have a fairly stress-free cycle ride around the city and its suburbs. There are also cycle routes to Cheltenham and to Bristol.

By foot
The centre of Gloucester is quite compact and flat so you can easily walk around it.

By car
The best way to get to the countryside around Gloucester is by car.

See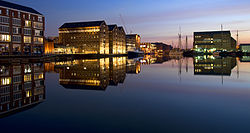 phone: +44 1452 528095

address: 12 College Green, GL1 2LX

The city's cathedral and an important landmark. Completed in 1499, this Gothic building has a beautiful design and heritage. In popular culture, the cathedral is well-known for being used for filming in several of the Harry Potter movies.

Gloucester Docks18th century, a popular tourist attraction, with numerous museums and shops/pubs.

phone: +44 1452 522926

address: 5 Southgate St, GL1 1TG

One of the most unusual 'action' time clocks you are likely to see in a city centre. It dates back to Edwardian times and has five figures which represent England, Scotland, Wales, Ireland and Olde Father Time.

address: Cranham, GL4 8EX

With its monastery, bird park and Roman Mosaic. This latter is a full-size copy of the original mosaic on the floor of a Roman villa at nearby Woodchester, now in a churchyard. The original is thought to have been created in c.325 AD. It has been unearthed periodically several times, but the last time it was on view to the public, in 1973, it produced so much interest and traffic congestion in the town that it was decided never to unearth it again. Devastated by the possibility that no-one else would see it ever again, two local builders spent ten years working on the reconstruction.

Eastgate Viewing ChamberThe Eastgate Viewing Chamber is the remains of the Roman settlement. While it can be viewed at street level from outside of Boots, there are also tours from Museum of Gloucester that can be booked.

The Severn BoreProbably one of the most famous tidal bores. It is of particular interest to surfers.

College Court
Museums & galleries
Do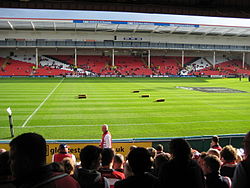 Take a look around the absolutely stunning cathedral. Various parts of the cathedral were used as Hogwarts Castle in the Harry Potter films.
The docks is also worth a look; boat journeys down the Gloucester and Sharpness Canal are available every other hour in summer time
phone: +44 1452 872269

address: Kingsholm Stadium, GL1 3AX

A must for sports fans visiting the city is a trip to Kingsholm (sometimes referred to as Castle Grim) to watch the local rugby club. For the real matchday experience have a couple of pints on the Kingsholm Road before taking your position amongst the locals in The Shed.

phone: +44 1452 396666

address: Bruton Way, GL1 1DT

phone: +44 1452 503050

address: 23 Eastgate St, GL1 1NS

Cooper's Hill Cheese-Rolling and WakeA world-famous annual event, where a circular cheese is rolled down a hill - chased by numerous people. Obviously, you may gain some injuries while taking part of the chase.

The beautiful countryside — get out walking!
Learn
phone: +44 345 155 2020

address: Llanthony Rd, GL2 5JQ

Gloucester's campus is larger and perhaps more organised than Cheltenham's (though with plenty of narrow corridors) and are plenty of courses that can be taken. The other campus is in Coleford (the Forest of Dean).
Buy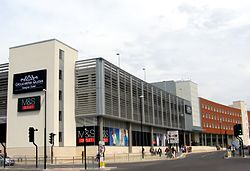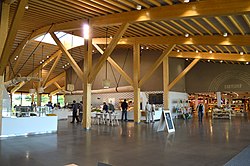 Shopping is easy in this compact centre, with four streets, named below, radiating from the focal point The Cross, with its adjacent church tower.
Gloucester has a variety of generic high-street chain stores, and more bespoke or individual retail locations. Eastgate Street is the primary shopping area, with most of the banks, the Kings Walk Shopping Arcade and the Eastgate Shopping Centre.
phone: +44 1452 304953

address: 43 Clarence St, GL1 1EA

More of an indoor shopping promenade than a shopping centre, has a few chain shops.

phone: +44 1452 520023

address: 22 Eastgate St, GL1 1PA

Main shopping centre in city centre, providing many large chain stores such as H&M, Burger King and Poundland, and access to the large Marks & Spencer supermarket. The shopping centre also has a small indoor market area towards the back, which sells various goods for considerably cheaper than the main stores.
Westgate Street is more 'bohemian' and has many sole traders and cafes. If you're looking for something a little more unique, the Westgate area is your best bet, especially in the small streets leading away to the Cathedral.
Northgate is the 'budget' end of town—if you're looking for groceries, then the Sainsbury's and Wilkinsons stores are good options.
On Fridays, Northgate Street and Southgate Street play host to the
local farmers' market
.
Outside of the city centre is the Gloucester Docks, which is home to the Gloucester Quays Designer Outlet shopping centre.
phone: +44 1452 338933

address: St Ann Way, GL1 5SH

Outlet shopping centre home to big designer brands such as Calvin Klein, Bench and Levi's trying to offload last year's fashion trends at less inflated prices. There are also Cadbury's and Lindt chocolate stores, selling all kinds of treats all year round.
If you are travelling on the M5, the nearby
Gloucester Services Southbound
is rather unusual, built into a hill with grass on the top and sells locally-sourced homemade food comparable to the
Ludlow
Food Centre.
Gloucester Services Northbound

address: M5, Brookthorpe, GL4 0DN

Gloucester Services Southbound

address: M5, Brookthorpe, GL4 0DN
Eat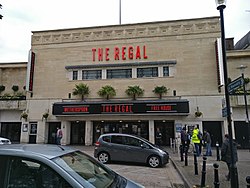 address: Sandhurst Lane, GL2 9NG

If you're looking for something more filling there is a Chinese restaurant by the river just a mile or so outside Gloucester.

Yummy YummyChinese takeaway.

phone: +44 1452 332344

address: 33 St Aldate St, Kings Square, GL1 1RP

Former cinema and picture palace that ceased operations in 1988, famous for hosting the only live performance in Gloucester for The Beatles' 1963 tour. Now a Wetherspoon's pub with food and drink.
If you want a quick snack there is a gorgeous sandwich place which makes sandwiches to order opposite the church on Northgate Street, opposite Number 45 hairdressers and J Sainsburys.
There is also a usual range of fast-food outlets throughout the city centre, including McDonald's, KFC and Subway. However, Gloucester has a great range of restaurants in the city centre and on the outskirts. A complete dining out guide is available from the Tourist Information Centre on Southgate Street.
Drink
There are several brilliant pubs worth a visit in the town centre, most notably of which the
phone: +44 1452 309340

address: Greyfriars, 31 Southgate St, GL1 1TP

It is apparently haunted by monks who once had a monastery on the site. To make it even better, it has a well and fountain in the middle of the main bar area, and the food is gorgeous too.
The following city centre pubs have been awarded places in the
Good Beer Guide
by Camra.
Robert Raike's House

phone: +44 1452 526 685

address: 36-38 Southgate St, GL1 2DR

The 16th century timber-framed house of the Raike family. Robert Raike helped popularise the Sunday school concept, starting with the Mary DeCrypt church opposite. The pub is owned by and serves Samuel Smith's beer.

The Lower George Inn

address: Westgate St, GL1 2JX

The Linden Tree

phone: +44 1452 527869

address: 73-75 Bristol Rd, GL1 5SN
For a more conventional modern British night out,
Lower Eastgate Street
is home to the majority of the bars and clubs within the city. These vary in quality of both facilities and clientele—use your own discretion in deciding where you want to drink. The far end of Eastgate Street is home to the two biggest clubs in Gloucester—
Liquid/Diva
and
The Registry
. 'Liquid' is typically the biggest, and can have large queues for entry, but it is also the largest club and has a range of special nights.
The Registry
offers free entry, and occasional live events. Other options include,
The Regal
and
Butlers
as bars with music and late-licences.
Sleep
There are several hotels in Gloucester. Many of the pubs offer B&B. There are a few campsites dotted around, and, in the countryside, there are many, many good hotels and pubs, some of which are luxury ones.
phone: +44 871 984 6427

address: Gloucester Quays, St Ann Way

phone: +44 871 942 9034

address: Crest Way, Barnwood
There are also Premier Inns around the suburbs.
phone: +44 871 527 8456

address: Centre Seven, Barnwood, GL4 3HR

phone: +44 871 527 8460

address: Tewkesbury Road, Longford, GL2 9BE
Go next
Map of places with Wikivoyage articles nearby
The Cotswolds – a range of rolling hills which are to the east of Gloucester
The Malvern Hills rise in the north
The Forest of Dean – the "Queen of forests"—one of England's few remaining ancient forests—lies to the west
Cheltenham is nearby and worth a visit
Swindon – The heart of the Great Western Railway, only half an hour on the train (or an hour by car on the A417/A419 dual carriageway)
Just south of Gloucester lies Painswick, the "Queen of the Cotswolds", a superb example of a Gloucestershire village, which has a number of fine houses and a church which reflect the prosperous era when it was the centre of the thriving wool trade.