Goiânia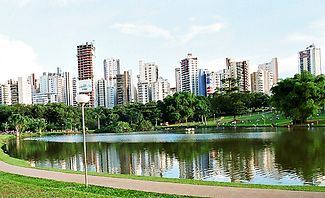 Goiânia
, the capital of
Goiás
, is a mid-sized city in central
Brazil
.
Understand
One of several major planned cities, Goiânia was founded in 1933. The city plan is generally radial, with Avenida Goiás running north-south and intersecting Avenida Anhanguera at the center. It was planned for about 50,000 inhabitants, but as of 2016, it has over 1½ million in the city and 2½ million in the metropolitan area. The architectural plan was designed by Atílio Correia Lima, who took the art-deco style to the first buildings of the city. It was founded by Pedro Ludovico Teixeira because the old capital, City of Goiás, did not meet the administrative needs of the state capital.

Get in
By plane
Good air service. Non-Stop flights from São Paulo - 1 hour 20 minutes flight time. From Goiânia, there are numerous flights per day to other cities in Brazil, either through São Paulo or Brasilia. At the airport of Goiânia you can do business and exchange offers many rental vehicles and taxi points.
By bus
Goiânia has a very good bus station at
Praça do Trabalhador
,
(worker's square)
, which connects it to any other place in Brazil. So, taking a bus to or from Goiânia will not be a big problem. If you visit
Brasilia
, which is 3 hours away by bus (R$35 - conventional bus), it's even easier to visit. The bus station is on the northern side, about 1 km from the central district. The bus terminal shares its location with Araguaia Shopping.
Get around
By taxi
For international visitors, taxis are you best option. Fares run around R$20 or less for most rides within the central area of the city

By e-hailing

Goiania is covered by some e-hailing services including Uber.

See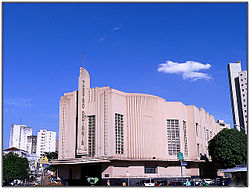 During the day, there really much to be seen in Goiânia... but it's most like the urban center of a young region. There are a couple of parks you can visit, shoppings and commercial streets. At the night scenery, you'll find many bars, pubs and night clubs filled with young people. Each of these is attended by very well defined social classes.
Praça Cívica

address: city center

An enormous roundabout at the very center of Goiânia, here sit the Governor's palace, the State Legislature Hall and a monument to the Goiano pioneers.
Praça Universitária (Universities' Square) - This square is a veritable outdoor museum. Many sculptures can be seen throughout the square.
Centro Cultural Oscar Niemeyer - This center, built by architect Oscar Niemeyer (Niemeyer designed the country's capital, Brasilia), with a theater and a museum dedicated to the culture of the city of Goiania. It is a major cultural centers of the world. Located on Highway GO-020.

phone: +55 62 3209-6010

address: Av. Universitária nº 1166 - Setor Universitário

Inaugurated in 1970, has about 4000 pieces of prehistoric and indigenous origin.

phone: +55 62 3223-1763

address: Praça Cívica, 13 - Centro

Inaugurated in 1946, huge collection of documents and historical papers about Goiás and Brazil, some signed by Dom Pedro I and Marechal Deodoro da Fonseca.

phone: +55 62 3233-5773

address: Av. Pará, 395 - Setor Campinas

Associated with Pontifícia Universidade Católica de Goiás (PUC-GO), big exposition about Brazilian Indians, their lifestyle, history, legends and culture.

phone: +55 62 824-1919

address: Av. Pará, 395 - Setor Campinas

Fossil birds, stuffed birds, a taxidermy lab, and meeting hall.
Museu Arte Contemporânea - Rua 4, nº 515, Edifício Parthenon Center, Centro. Modern art, works by several artists from all over the world.
Museu de Arte de Goiânia - Rua 1, nº 605, Setor Oeste. Founded in 1969, was the first public art museum in the Central West region. Inside Bosque dos Buritis.
Memorial do Cerrado - Avenida Bela Vista, km 2, Jardim Olímpico. Belongs to Pontifícia Universidade Católica de Goiás (PUC GO). This Memorial is a natural history scientific complex, and houses some of the oldest fossil artifacts found inside South America.
Instituto Histórico e Geográfico de Goiás - IHGG - Rua 82, nº 455, Setor Sul. In the very city center, facing Praça Cívica, houses a collection of historical documents, some from Portuguese colonization times. A highlight is the collection of original letters written by Princess Isabel to his father, Dom Pedro II. Tel: (62) 3224-4622.
Museu Goiano Zoroastro Artiaga (Zoroastro Artiaga's Museum) - The museum guard important works of art of the state of Goiás. Belongs to collection of the architectural center of Goiânia. Located on the north side of Praça Cívica.
Museu Pedro Ludovico Teixeira (Pedro Ludovico's Museum) - This museum, which was the former home to Pedro Ludovico (founder of Goiânia) resident, keeps a collection of objects and furniture of the former governor, even his truck (Chevy 53).
Estádio Serra Dourada (Serra Dourada Stadium) - It is the stage of Brazilian football matches. Considered the best lawn in Brazil. Every Wednesday and Sunday there are games in this stadium.
Teatro Goiânia (Goiânia Theater) - Located in Araguaia Avenue, happen occasionally concerts and theater shows.
Teatro Rio Vermelho (Rio Vermelho Theater) - Located in the Convention Center of Goiânia, concerts and lectures frequently occur in their auditoriums.
Centro de Convenções (Convention Center of Goiânia) - in Paranaíba Avenue, occur frequently fairs and cultural conventions.
Do
Parks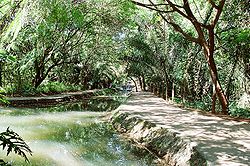 Bosque dos Buritis, west of the city center. The city's main public park, with a small art museum on the grounds.
Parque Flamboyant Near Flamboyant Shopping Center in the area of Jardim Goiás. Opened in 2007, this is now one of the most visited city parks.
Parque Mutirama, northeast from the center at the end of Avenida Araguaia. Larger than Buritis, with walking trails and hilly terrain.
Parque Vaca Brava, at the rich region of Setor Bueno, this park is in front of Goiânia Shopping and offers a jogging track around a small lake. From 17:00 to 20:00 it's quite full of people doing daily exercises.
Parque Areião
Horto-Florestal de Goiânia (Jardim Zoológico - Zoo)
Buy
Feira Hippie (Hippie Fair) (open-air market) Sundays at Trabalhador's Square, on Central Sector.
Feira da Lua (Moon's Fair) Saturday at the Tamandaré Square, on Oeste Sector. This fair you can buy clothes and to delight with the food stand along the square.
Feira do Sol (Sun's Fair) Sundays at Sol Square, on Oeste Sector. You can buy clothes and pictures by popular artists.
Shopping centers
Shopping streets
Rua 3 and Rua 4 (3 Street and 4 Street) You can find lots of used books, CDs or LPs stores (called Sebos). It's not as big as the São Paulo's sebos, but usually, it's possible to find quite rare peaces at a very good price.
Avenida 85 (85 Avenue) You can find numerous clothing stores and car dealerships.
Avenida Jamel Cecílio (Jamel Cecílio Avenue) You can find many hotels, supermarkets and shopping malls
Eat and drink
Bars and restaurants
Caribé - Dom Emanuel Gomes Avenue, nº 355, Marista. In the Caribé you can enjoy regional delicacies and cold beer.
Montana Grill Churascaria - 85 Avenue, nº 2330, Marista. In Montana you can find Brazilian barbecue.
Cateretê Restaurante & Bar - T-2 Avenue, nº 318, Bueno. Typical food of the state of Goiás
Piquiras - 146 Avenue, nº464, Marista / Traditional Bar and Restaurant
Sr. Crepe - 146 Avenue, nº410, Marista. Excellent crepes
Casa São Paulo - Dom Emanuel Gomes Avenue, nº 335, Marista. Brazilian pizza
Pizza Hut Brasil - Sun Square, Oeste Sector.
Outback Steakhouse - Flamboyant Shopping Mall, Jardim Goiás
Chão Nativo - T-11 Avenue, nº 299, Bueno. Try the rice and chicken with pequi.
Contemporane - T-12 Avenue, nº 31, Bueno. International food.
Night clubs
Sedna, Av. 136, near Rua 90. Cover charge: R$40 for men, R$25 for women. You can easily get a courtesy so you can consume the amount you paid for entering. This is a nice club, with expensive beer, pop electronic music. There are some nights with open bar, so you better check out all the week line-up and choose the best day.
Café Cancun - Buena Vista Shopping, Bueno Sector. Very different rhythms, beer about R$3. It's hard to get in after 00:00 because it usually gets very crowded.
Pubs
Bolshoi - T-2 Avenue, in front of Cateretê, Bueno. Nice atmosphere, good pop music or at least good shows playing on the big screen.
Café Blend - 18 Street, Marfim Mall, in front of Externato São José College, Oeste Sector. Pleasant environment, air, good food. All that the sound of classical music.
Sleep
Full range of options - from Backpacker to Business Executive.
Hotel Principe

phone: +55 62 3224-0085

address: Av. Anhangura 2936

Hotel Paissandu - Goiás Avenue, nº 1290, Center Sector (3 stars)
Castro's Park Hotel - República do Líbano Avenue, Oeste Sector. The best hotel in the city, 5 stars rated. If you aren't a budget traveller, you'll enjoy a lot this hotel.

Hotel Rio Vermelho

phone: +55 62 3227-2500

4 Street, nº 26, Center Sector. Simple, clean and central in the city downtown. Good prices with parking, wireless internet and a simple breakfast included. - www.hotelriovermelho.com.br - reservas@hotelriovermelho.com.br.

Ibis Accor Hotels

phone: +55 62 2765-6050

21 Street, nº 154, Oeste Sector. 4 stars rated.

Papillon Hotel

phone: +55 62 3608-1500

República do Líbano Avenue, nº 1824, Oeste Sector. 5 stars rated, very comfortable.

Crystal Plaza Hotel

phone: +55 62 3267-4500

85 Street, nº 30, Sul Sector (next the Cívica Square) 4 stars rated. Good care.

Comfort Suítes

phone: +55 62 3574-9000

Jamel Cecílio Avenue, nº 3549, Jardim Goiás. 4 stars rated, high style.

Hotel Terra Cedro

phone: +55 62 3229-3322

Contorno Avenue, nº 1808, Norte Ferroviário Sector. 2 stars rated.