Gokarna
Gokarna
is a small pilgrimage town on the coast in the
Karnataka
state of
India
.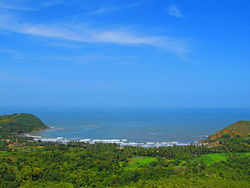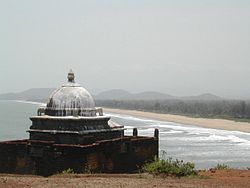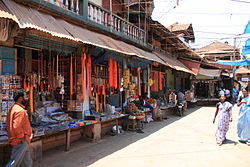 Understand
Gokarna means cow's ear in Sanskrit. One of the Hindu epics states that "aatmalimga" of the God Shiva is in the shape of a cow's ear in the Mahabaleshwar temple and the town gains its name as Gokarna. It's a conservative Hindu pilgrimage town, home to several temples and festivals. The town itself is full of locals and pilgrims, and doesn't have much in the way of facilities for tourists, other than a handful of guesthouses and local restaurants.
The town is mostly centred around the KSRTC bus stand. About a kilometre from the bus-stand, the Gokarna beach starts, forming the coast of the town. As you trudge along the narrow lanes of the town towards the beach (the lane is named 'Samudra Marg'), you will come across houses of priests where some religious talk will be going on or people invoking the Holy Lord with chants.
Most foreign tourists come to stay on one of the 4 beaches just south of town. Kudlee Beach is the first, about a 20-minute walk, followed by Om Beach, Half Moon Beach and the secluded Paradise Beach - the beaches get more remote and less populated as you head south.
The most popular time to visit Gokarna is during the 4-day Shiva Ratri festival, when 2 giant chariots are pulled down the main street and up to 20,000 pilgrims descend on the town.

Get in
By train
Gokarna is connected by rail from
Karwar
,
Ankola
,
Hubli
,
Mangalore
,
Kumta
and
Margao
. The
Konkan Railway
passes through Gokarna - Kumta (35 km) and Ankola (20 km) are the nearest major railway stations.
Gokarna Road (GOK) is the nearest station, on the Konkan Railway.Train No. 16513/14 Bangalore City- Karwar Express (4 days a week) & 16523/24 Bangalore City- Karwar (Triweekly) Express have at halt at Gokarna Road, along with Mathsyagandha Express (Daily) (Mangalore Central to Mumbai Lokamanya Tilak Terminus) , Marusagar Express (Weekly) (Ernakulam Junction to Ajmer ) & Poorna Express (Weekly) (Pune to Ernakulam) Connections to Gokarna town (8 km away) are available by
Taxi (Rs 250)
Rickshaw (Rs 120-200, unless it's nighttime during the monsoon)
Bus (Rs 10). To go to the bus stop, turn right as you leave the station, follow Railway Station Road for 900m until you reach the main road called Gokarna Road.
From Gokarna bus stand, the bus stop to get off is Madangeri junction.
By bus
From Bangalore, depending on the day of travel, there are anywhere from 1-4 buses operated by KSRTC. It is a 12-hour overnight journey from Bangalore to Gokarna. The experience taking the overnight sleeper was described as "being driven in a bouncy castle driven by the wicked witch of the west" - beware. . Private buses also operate to/from Hampi/Hospet. You can book online tickets to Gokarna from any one of the operators' websites. National highway 17 is about 9 km from the town. The Bangalore - Goa highway passes through Ankola which is 20 km from the town. Coming down to Kumta is good option because one can easily catch buses to different places (especially Mangalore) as it is well connected.
If arriving from Goa, you can take a local bus from Madgaon or
Canacona
to
Karwar
, then catch another bus to Gokarna. There is a regular (every 30 minutes or so) NWKRTC bus service between Gokarna and Ankola.
From Mumbai, there are bus services of NWKRTC to Karwar. There is also a private bus service of Canara Pinto which drops off at Gokarna on its way to Mangalore. But the drop will be at Madangeri junction adjacent to a Petrol Pump and from here it is 12 Km to Gokarna Mahableshwar temple.
There are buses from Bellekan village to Gokarna.
From Gokarna you can get a ticket at the numerous travel agencies in town, and the bus will depart from Cheack (SIC) Post, five minutes walk from the bus stand, on the wider part of Gokarna Road.
By plane
The nearest airport is in
Goa
at Dabolim (
GOI
). (Rail link via Margao)

Get around

Walking is the most common way to get around, as the town is small and compact. Getting to the beaches is best on foot, although there are some rickshaw and boat services described below.

See
The Maha Ganapati Temple is meters away from the Shiva Temple and made in honour of Lord Ganesha having played a hand in taking the Atma Linga from Ravana. It is common protocol to first visit the Ganapati Temple & then move to the Shiva Temple.
The Mahabaleshvara Temple is one of the largest in town, at the western end towards the beach.
Do
Yoga
Daily drop-in classes and affordable, donation-based teacher trainings at Om Beach at Shanti Yoga School.
Festivals
Visit during Shiva Ratri (Feb-Mar) festival. The celebrations are a tremendous sight to watch as thousands of pilgrims descend on the town.
Beaches
Visit one of the four beautiful beaches to the south. The beaches are pretty clean, but ask locally about swimming, as the currents can be very strong.
Kudle (pronounced Kudlee) is the first that you come to, about a 20-minute walk. It
Om (the most famous of the beaches) is another 20-minute walk.
Half-moon Beach is 20 minutes further on foot.
Paradise Beach is 20 minutes beyond Half-moon Beach.
Don't fall for the dolphin sight-seeing gimmick from the speed boat vendor. All you get is a 10-min ride and a distant glimpse of something in the water that might be a dolphin.
Kudle Beach is popular with those that are staying in town but want to spend the day at the beach. At the left end of the Gokarna beach, a narrow path goes up a hill, where you cross a (Rama) temple en route. This temple also has a natural water spring which according to the locals never stops running. The water is quite drinkable. After climbing up some stairs, you will find flat ground and some breath-taking views of Gokarna beach as you turn-around to see the distance you covered. As you move along, about 10 minutes walk from this place, the flat ground leads to a narrow lane, which goes down to Kudle beach, the second of Gokarna's beaches. This beach looks very unkempt, desolate and dirty in off-seasons. You will hardly find a soul here then. But come season time between November - February, this beach will be dotted with hippies. Very few Indians are sighted on this beach, and mostly day trippers. Sunset-Cafe, on Kudle beach, is heaven if you are lazy and like to dig yourself into a rice pudding (and dozing off in between).

Om Beach is popular with those wanting to stay a few days or weeks and stare at the sea or do yoga. Om beach is so named, because the shape is like that of the Hindu religious symbol "Om". Om beach is about a kilometre from the main Gokarna town and fully approachable by road, unlike Kudle. In fact out of the 5 beaches, only Gokarna and Om beach are approachable by road. This usually means there are more Indian folks on the beach. For the other 3 beaches including Kudle, hiking or taking a boat ride are the two ways. At the extreme end of the Kudle beach, a small meandering path leads up the hill and you come onto a well-laid pitched road. For the non-adventurous folks, a walk down this road will lead to the main road, which is about 500 m from Om beach. For the more adventurous, instead of taking the pitched road, you can go straight and walk across the small trees for around 15 minutes and directly get down at the starting point of the Om beach. simply follow the white arrows outlined on the rocks, or look for the well used rocks. For avid trekkers, take a route which goes in the opposite direction of the pitched road, make your way through the thorny bushes and go down onto the rocks on the shore. This is the rocky part of the Om beach. From here, it takes around 10 minutes, crossing the rocks and landing up directly on the Om beach. It is possible to get to Om beach by taxi or rickshaw (₹100-150, even 200s after a bit of bargaining - and the price is not unreasonable, the road winds around the hills and is much longer than coastal walking trail, This is also a nice 2-3 km walk). There is a branch of the same road, that ends on a hill between Om and Kudle, but from there you still have to walk 7-8 minutes down to the Kudle beach. So this option is worth checking only if you have a lot of heavy bags, or share rickshaw with someone who goes roughly in the same direction (say, to the Om beach). Otherwise, it will take about the same time (and will save you some money) just to walk from the town to Kudle. Rickshaw drivers parked near Om beach often can offer transportation to Kudle (quoting that it is far away) - but this is a scam, he'll just take you to the parking area above Kudle mentioned above, and you can easily walk there in 10 minutes across the hill (just look for the white arrows on the stones showing the right way). These drivers also tend to quote higher prices to go to town - bargain, and if this does not work - walk along the road, you'll certainly encounter some rickshaw who'll be happy to get you to town for the proper fare.
To get to the beaches beyond Om (
Half moon
and
Paradise
) generally you have to walk from Om. This is not advisable during the monsoon as the walk is quite treacherous. In high season, however, during daytime there are boats cruising between the beaches and picking up the passengers. Usual price for a "shared" boat ride is ₹100 (₹150 for a more remote ride, say from Kudle to Paradise), but you have to wait until there will be several people going roughly in the same direction. You can also "charter" boat (this can cost you say ₹400 for a return trip to Paradise beach with one-hour stop there), or can be asked if you want to pay more (₹200 or ₹250) if there are not enough passengers but you do not want to wait.
Half-moon Beach: At the end of the Om beach, there is a path going up the hill. Here one has to get around a hillock(about 20-minutes walk) to reach Half-Moon beach. take this trail, and when you reach a fork in the trail, take a right for the coast route, and left for the forest route. They will both take you to the same place. Half-moon beach is so named because the shape resembles that of a half-moon. During season, the path is pretty well laid out. But at start of season, look out for thorns in the bushes. They hurt!!! In between one can take a diversion and take some rest below a palm tree on the edge of a cliff, from where one can try to catch a glimpse of the horizon. There will be many zig-zags, but make sure that one gets around the hill rather than unnecessarily climb up the hill. Once one gets down to Half-moon beach, he or she can see the pure beauty of this beach. During season, a couple of shacks operate on this beach. This is no electric power on this beach. Hence its totally cut off from civilization. But during off-season, you might be the sole inhabitant of this beach without any shacks operational. The rooms on this beach are pretty basic. They set you back by around ₹250 per night in peak season time.
Paradise Beach: At the end of the Half-moon Beach, a small trail leads to Paradise beach, also known as Full-moon Beach. Its around 20 minutes walk from Half-moon Beach. The thing to remember here is after crossing the first set of rocks, one should not try to climb the hill. Rather try getting around the hill. Its a much easier climb. The steep climb up the hill will take you to the next village, Bellekan. This is the last of the Gokarna beaches. Pretty much isolated from the crowd, Paradise, the name suits this beach well. Its an absolute paradise! Its a very rocky beach, with sand in between. Waves are very strong, and it is quite dangerous to go out very far into the sea. Evergreen cafe is the first shack on this beach, It has a few basic huts. Rooms on this beach are basically huts on the hillock. Cafe Paradise has fantastic food as well. Boat fee from Om beach to Paradise is around ₹100 and from Gokarna Beach to Paradise beach is around ₹150-175.
Accommodation
in huts or shacks and food are available always on all the beaches from ₹100 (basic bamboo hut on Kudle beach with mosquito net and electricity, outside shower and toilet) to ₹600 (small cottage-type house with all necessary amenities) per night in the peak season. Om beach, due to its popularity, tends to be a bit more expensive. Also there are several restaurant-type
cafés
on this beach. Enjoy the sea, sunlight, beer by sitting in any of the cafés near the beach. Since it is not possible to go to Kudle beach when it is dark without a torch light (the way to the beach winds around a hillock) it is better to stay in the town for the night and trek to the beach the next morning.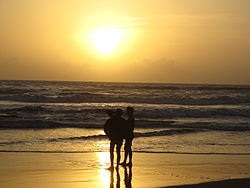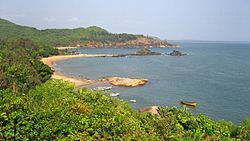 Buy
The small shops in the town sell religious items, psychedelic T-shirts and clothes for cheap. Trance music CDs and if you spin fire, (cotton) pois are available as well.
Malas (prayer beads), incense, cheap jewellery and religious paraphernalia are sold in dozens of stalls along the main road and gathered around temple entrances.

Eat
There are a handful of local restaurants and dhabas in the town proper (including a couple of good options at the end of the main road where it hits Gokarna Beach).
Excellent local restaurants on the right just before the arch that leads into the main street. Incredibly cheap all-you-can-eat thalis, just don't drink the regular water though; buy yourself some bottled water. Street food is good, particularly the little fried pies and bhel puri. Fish (pomfret, kingfish, seer being the popular ones) is served fried, roasted or curried; as you like it.
All the beaches have basic accommodation and beach shacks (in season) serving food and drink.
In Namaste cafe at Om beach you can get Mexican, Israeli, Indian food, and delicious sea food like Prawn Masala and King Fish Sizzler. Some Nepali people also run a really good restaurant from a straw and bamboo hut on Kudlee beach.

Shree Shakti Cold Drinks and Restaurant

phone: +91 8386 257836

address: Car Street Main Road.

An old restaurant running for thirty years. Famous for Indian dishes and ice cream, fruit juice, and lassies. Fresh and tasty.

Pai hotelGreat Leaf Idli. Excellent Upma. A decent thaali for dinner. Do not confuse the hotel with Pai Restaurant.

Pritish Love Cafe
Drink
Fresh coconuts are widely available as are delicious lassis.
You may be able to find beer (a ₹30 bottle will cost you around ₹60) at any of the guesthouse restaurants on Om Beach. most have harder liqueur that you would have to ask for, since it's not legal for the restaurants to sell harder alcohol.
There is a wine shop selling all sort of liquor right outside the bus stand in the main town.
Green Bar and Restaurant, next to the bus stand, has a wine shop on the ground floor and an eating & drinking area on the first floor balcony. There's no barman to mix drinks for you. When order your poison, the waiter will simply get the bottle for you and then it's up to you how you fix your drinks. The restaurant is run by couple of very enthusiastic boys from Nepal.
Sleep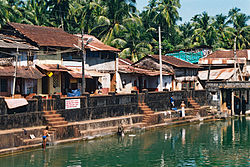 It is next to impossible to find some accommodation during the peak season. So, book in advance. (This might be outdated, since there are many guesthouses in Kudle Beach these days.)
In town
Gokarna International

phone: +91 8386 256622

₹1500 for a double bed room with attached bath and air-conditioner.

Hotel Om

address: Next to KSRTC bus stand

Simple rooms with bare essentials - bed, bathroom and plug points to charge your phone or tablet.

Hotel Ram

address: Next to KSRTC bus stand

Hotel Shivaprasad

phone: +91-8386-257032

The hotel is very clean with friendly staff and caring management.

Seabird ResortNice place to stay

Shastri Guest House

phone: +91 8105233027

address: Bhavikodla

A homestay styled in the local coastal architecture, close to the beach, in the midst of a 1.25 acre casuarina grove.
At the beaches
Cafe Paradise

phone: +91 994 505 9205

address: Right at Half Moon beach, Contact Person - Sahil

Open only Nov-Mar.

Gokarna International Beach Resort

phone: +91 8386 257843

address: Kudle Beach

Kudle Palace Resort

phone: +91 8386 257843

address: Kudle beach

phone: +91 83862 56059,+91 83862 56056

address: 365 Kudle beach

phone: +91 994 505 9205

address: Kudle Beach

Open Oct-Apr.

Namaste cafe

phone: +91 8386 257141

address: OM Beach

Remains open all year.

Offshore Cafe

phone: +91 9964412173

address: Near Temple Beach

This is a cafe run by a Himachal guy Mr. Singh and a local guy Guru. Both are very good guys and very respectful. The cafe offers a very nice view of the beach. Food is Very tasty and you can find huts/rooms with attached bath and common bath very close to beach.

phone: +91 80 25597021

address: Om Beach

Run by Jungle Lodges and Resorts, offers one bedroom villa packages for B & B ₹2,100, or all meals ₹4000 per couple.

Om Shakti Cafe

address: Right at Paradise beach

Open only from November through March.

Sunset Cafe

phone: +91 944 852 6270, +91 934 107 9315

There are common bathrooms about a minute's walk away.

Swa SwaraAn upmarket retreat with 24 villas, with a focus on yoga, meditation, art and clean, healthy food, having direct access to Om beach. No single night stays available. The resort provides a 5 night Yoga & meditation package for two people sharing for around €1500 + taxes which is inclusive of F & B. Ayurveda is available at extra cost.
Respect
Gokarna is a pilgrimage town first and foremost, so it's best to keep this in mind - remain quiet and respectful of local traditions, ask permission (and remove your footwear) before entering any of the temples, and if you must consume alcohol here, do it on the premises of your guesthouse (if you're staying at one of the beaches), not in town.
Anyone carrying Cannabis should be particularly careful. It is common to see Sadhus sitting in a haze of ganja smoke, but don't assume that it's OK for you to do it too. Locals will report you to the police if they see you doing it or smell it about you and the police will treat you politely but firmly and won't accept baksheesh particularly during Shiva Ratri. Expect a term in jail with absolutely no sympathy from your consular officials. Having said that, there seems to be an "agreement" with the police and the restaurants not to hassle the locals. Use caution at all times, of course.

Go next
There are several other temples near Gokarna.
Murudeshwara Temple
, dedicated to Lord Shiva, is a 45-min to 1-hour drive from Gokarna.