Golden (British Columbia)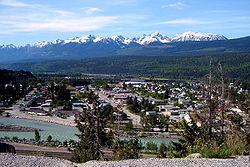 Golden
is a small town in the
Columbia-Rockies
portion of the
Kootenays
in
British Columbia
.
Understand
The town was established in 1883 as a railway base camp named Cache. The name was later changed in an effort to compete with the nearby camp of Silver City. Since 2000, and the development of Kicking Horse Mountain Resort, Golden has become increasingly tourist-oriented.
Golden has a population of 5000, but a drawing area of approximately 15 000. The face of the town is changing with the development at the ski resort, drawing a multitude of transient visitors and wealthy Albertans purchasing second homes.
There are two visitor information centres in Golden.
Tourism Golden - Visitor Information Services Amenity Hub (VISAH)

phone: +1 250-439-7290

address: 1000 Trans Canada Highway

Information specific to the Golden area. Will answer phone enquiries. Facilities at the VISAH include Wi-Fi, digital kiosks, picnic tables and a dog run.

Kicking Horse Country Chamber of Commerce

address: 500 10th Ave N

Carries only local information.
Get in
By car
Golden is at the junction of Trans Canada Highways 1 and 95. It's 4 hours north of the US border on Highway 95. The nearest major airports are
Calgary
, 3 hours east on Hwy 1;
Edmonton
, 8 hours northeast via Hwy 93 and Highway 16; and
Vancouver
, 8 hours west on Hwy 1.
By bus
Kicking Horse YYC Express ShuttleDuring the ski season (December - March) a bus runs from the Calgary international airport to Kicking Horse Mountain Resort (with a transfer in Lake Louise) on Wednesdays & Saturdays. You can get dropped off / picked up in town if you ask. Bookings must be made by phone 72 hours in advance.

phone: +1-833-583-3636

Bus service along the Trans-Canada Highway from Calgary to Vancouver with stops in Golden. Check their website for current schedules and prices as they change frequently.
By rail
No passenger trains stop in Golden.
By plane
Golden has a small airport that private aircraft can fly into. It is operated by the
Town of Golden
.
Get around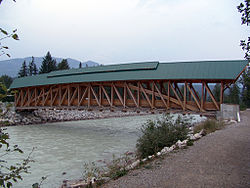 Golden is so small that you don't need a car (especially if you are staying in the proximity of the centre). The town is divided by a river and each side has a supermarket (IGA on the north, Overwaitea on the south) which makes it easy to get the necessities by foot.
Mount 7 Taxi
(+1 250-344-5237) is open 24 hours - a trip across town will probably cost you $10-15, up to Kicking Horse is likely $30-40.
During the winter months, Kicking Horse Resort runs a
Snow Shuttle
($6/trip as of Feb 2007 - daily, weekly, monthly passes are available) which runs every 2 hours or so. The Snow Shuttle does a route going around town, up along the strip on the highway (Trans-Canada 1) and up to the mountain.
Of course, the easiest thing is to have a car, especially if you want to explore. There is a
National Car & Truck Rental
, 915 11th Ave S, +1 250-344-9899, in town, however, their fleet is very limited. There may also be some in nearby towns (Kamloops, Revelstoke, Canmore, Invermere). Otherwise Calgary would be a good bet.
See
Kicking Horse Pedestrian BridgeThe longest covered, free-span timber-frame pedestrian bridge in Canada, over the Kicking Horse River. Built by volunteers from around the world, it won the Communities in Bloom, Most Innovative Project for 2001. It intersects with a walking trail that circles the town, and is great for photos.

Northern Lights Wildlife Wolf Centre

phone: +1 250-344-6798

address: 1745 Short Rd

Promotes wolf conversation. The centre houses wolves, and presents an interpretive talk about their behaviour and the work to help protect them.

phone: +1 250-344-5169

address: 1302 11th Ave S

Primarily houses displays on local history: exhibits on the railway, Swiss mountaineering guides, and the background and life of the early settlers. It is home to a display on David Thompson, in honour of the bicentennial of his passage through the Golden area.
Do
Golden's main appeal for the tourist is its wide array of adventure sports. In the winter, visitors should head for the Kicking Horse Mountain Resort, ideal for the experienced skier or snowboarder. In the summer, activities to consider include whitewater rafting, hiking, mountain biking, and hang-gliding.
Recreation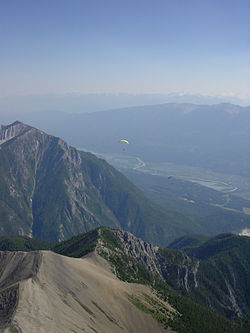 Hiking
Golden's location makes it a good starting point for many hikes in the area. A comprehensive listing can be found through
Golden Hikes
. Most hikes are at high elevations, and will definitely be under snow until mid June and quite possibly until late July, depending on the year's snowfall. There is also a 7-km walking path, the Rotary Trail, which circles the town. The section along the river is particularly nice. Start at the Pedestrian Bridge.
Horseback riding
Horseback riding, in the area surrounding Golden, is also popular among tourists.
Mountain biking
In addition to KHMR, the
Golden Cycle Club
maintains downhill and cross country trails including the Mount 7, Mountain Shadow, Moonraker and CBT networks.
Para-gliding
Mount 7 is a world-renowned heli/para-gliding site, home to several past world records. Tandem paragliding is a great option for amateurs.
Water sports
There are lakes in the area which might appeal to fishermen or canoeists. However, there is no place that rents canoes in Golden, so must bring their own equipment.
You can go swimming in a local lake or in the outdoor swimming pool.
Whitewater rafting
Three whitewater rafting companies operate from Golden. All raft the Kicking Horse River, which is known for having one of the longest stretches of class four rapids in the world. There is no appreciable difference between the companies.
Entertainment
Buy
The majority of Golden's stores are downtown on 9th St N, with a few being based on the other side of the river on 10th St S. Anyone interested in shopping can probably browse through the entire town in about three hours.
For souvenirs check out the:
Moon River Gift Gallery

phone: +1 250-344-5313

A selection of local art and knick knacks.
For those in town to participate in any sort of adventure recreation, there are a variety of sporting good stores in town that rent equipment.
Canyon Creek Outfitters

Selkirk Sports

phone: +1 250-344-2966

address: 504 9th St N

Summit Cycle

phone: +1 250-344-6600

address: 1007 11th Ave S

Golden Farmer's MarketLots of local products ranging from honey to pottery.
Eat
For such a small town Golden has a remarkable number and variety of places to eat, ranging from numerous fast-food places up on the highway strip, to pub-grub, to lower and high-end restaurants.
Budget
phone: +1 250-344-5600

address: 409 9th Ave N

New and used bookstore is on the ground floor, cafe is above. Serves bagels, soup, sandwiches, salad.

Canadian 2-for-1 Pizza

phone: +1 250-344-7241

address: 519 9th Ave N

Fast-food places off Highway 1 include McDonald's, Subway, Dairy Queen, Tim Hortons and A&W.
Mid-range
phone: +1 250 344-6201

address: 1587 Cache Close

Casual, yet unparalleled mountain dining experience that is inspired by locally sourced food and wines from British Columbia. Rocky Mountain Cuisine such as Elk, Bison, Beef, and Salmon.

phone: +1 250-344-2443

address: 1122 10th Ave S

Open for dinner. Excellent fusion cuisine. Reservations recommended.

Golden Grizzly Cookhouse

phone: +1 250-439-1833

address: 1002 Trans Canada Hwy

Decor features photographs of many locals, providing a homey touch. Food is fairly basic steak & pizza.

phone: +1 250-344-4679

address: 735 Hefti Rd

Organic food, fine dining, scenic mountain atmosphere. Definitely make a reservation, especially during peak season.

phone: +1 250-439-5425

Accessible only by gondola at above sea level. Go on a clear day to make the most of the views. The prices are much more reasonable for lunch.

phone: +1 250-344-5222

address: 1105 Highway 1 Frontage Rd

Southern-style BBQ breakfast, all food is made and smoked in house. A lounge with some big screens local draft. Two patios (front and back).
Drink
Many cafes in Golden are licensed, but these are the best if you're looking for a pub.
phone: +1 250-344-7155

address: 505 9th Ave N

Great food, drinks and a nice cozy atmosphere. Taps is pretty small so it fills up quickly, but the servers are friendly. Great food; lots to choose from. They have events a couple of nights a week - Wednesdays there are snowboard movies and giveaways all night, Thursdays is open mic night.

phone: +1 250-344-7220

address: 1593 Cache Close

A Scottish mountain pub specializing in single malt Highland whisky and Scottish meals. Friendly relaxed atmosphere with low-beamed ceilings, wood-burning fireplaces and many nooks and crannies from Scotland. There is even an outside fireplace incorporated into the stone exterior of the pub, with plenty of outdoor seating on large decking area. Kids welcome.

phone: +1 250-344-4950

address: 1549 Kicking Horse Trail

Post-skiing homemade meals. Served with ice-cold beer on the patio or inside the lounge.

Rock Water

phone: +1 250-344-5951

address: 429 9th Ave N

Used to be called Packers. Rock Water is the place to go for bands, DJs, and big nights out. It is pretty dingy during the day. They do offer accommodation, it often closes earlier than the other bars, but if it's busy, will keep going all night long. It has a few pool tables etc for entertainment. Now home of the "fresh beat" Mondays.

phone: +1 250-344-2838

address: 623 8th Ave North

A local brewery with a tasting room. In the summer there is outdoor seating and usually a food truck.
Sleep
Budget
Hostels
Camping
Mid-range
Bed and Breakfast
Cabins and lodges

All of these have a central lodge and cabins for rent. Accommodation in the lodge will include breakfast.


Motels and hotels
On Mountain - Kicking Horse Mountain Resort
Go next