Gorakhpur
Gorakhpur
(Hindi: गोरखपुर, Urdu: گۋڙکھ پور) is a city of 675,000 people in
Uttar Pradesh
,
India
. It is a way station on a popular overland route from India to
Nepal
. It is the city of great shaayar ("फिराक गोरखपुरी").
Gorakhpur is a city in the eastern part of the state of Uttar Pradesh in India, near the border with Nepal. It is the administrative headquarters of Gorakhpur District and Gorakhpur Division.
Gorakhpur is famous as a religious centre: the city was home to Buddhist, Hindu, Jain and Sikh saints and is named after the medieval saint Gorakshanath. Gorakhnath Temple is still the seat of the Nath sect. The city is also home to many historic Buddhist sites and the Gita Press, a publisher of Hindu religious texts.
In the 20th century, Gorakhpur was a focal point in the Indian independence movement. Today, the city is also a business centre, hosting the headquarters of the North Eastern Railways and an industrial area, GIDA Gorakhpur Development Authority, 15km from the old town.
Understand
Climate
It experiences a pleasant environment throughout the year. In summer the average temperature can go as high as 40 'C and in during the winters the average temperature can go as low as 4 'C. The best time to visit Gorakhpur is during the months of October to March.

Get in
By plane
Gorakhpur AirportAlliance Air from Delhi; SpiceJet from Bangalore, Delhi, Mumbai; IndiGo from Bangalore, Delhi, Kolkata, Hyderabad
By train
Gorakhpur railway station connects to all major cities of India. It is the headquarters of North Eastern Railway. Direct trains connect it to Mumbai, Delhi, Kolkata, Lucknow, Kanpur, Varanasi and other cities. They claim it's the longest train platform in the world, and it might just be true.
Gorakhpur Junction railway stationWith a platform long, this station has one of the longest platforms in the world.

Gorakhpur Cantonment railway station
By car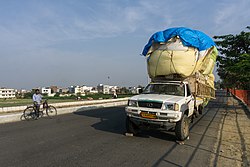 Gorakhpur falls on NH 28 and 29. The roadways network connects Gorakhpur to the cities of Uttar Pradesh and to other cities of India. Some important distances are: Lucknow 276 km, Varanasi 231 km, Allahabad 339 km, Agra 624 km, Delhi 783 km and Mumbai 1690 km.
On the basin of rivers Rapti and Rohini, Gorakhpur City has the geographical shape of a bowl. The west of the city is guarded by cool Rapti river, while the east is associated with Sal Forest. The south has greenish Ramgarh Tal, and north is the plinth of city's advancement.
Gorakhpur city has a university, a medical college, six engineering colleges, two pharmacy collages, two Management collages, one Dental collage and many post graduate and degree colleges. It is also the headquarters of North Eastern Railways. You can travel to any corner of India from here. It also has an airport for domestic travel and connects with every major city in India. The city boasts of an army cantonment and an air base. All this gives a cosmopolitan touch to the city. The world-famous publication house of Gita Press gives an intellectual and religious touch to the city.
When visiting Gorakhpur, you can use some of these car rental services in Gorakhpur: -
Get around

Cycle Rickshaw, a three wheeled human powered cycle, is the major mode of transport in the city. The charges are nominal and can be bargained. Usually a ride of 1-2 km would cost around ₹15. City bus are available for some important routes of city.
Auto Rickshaws are easily available for traveling to some parts in the city.
Taxicabs can also be hired for a fixed time duration as desired by the user.

See
Aroyga Mandir

Chauri Chaura Shaheed Smarak

Ram Garh Tal

Vishnu Mandir
Temples
Gita Vatika

address: Gita Vatika

Beautiful temple of Lord Krishna and Radha

Gorakhnath TempleA temple named after Yogi Gorakhnath

Budiya Mai Temple
Museums
Lord Buddha MuseumNice and quiet place to visit.

Railway MuseumRail museum is also a very good picnic place.
Do
See all the Hindi movies in the town, best theaters are Raj, Jubilee, Vijay Picture Palace, here air conditioning is good.
Hire a cycle-rickshaw and travel around slow all around the town. In some places it is better to travel on foot.

TaramandalYou can go Taramandal for boating

Ambedkar Park
Buy
Item selection here is similar to that of other large Indian cities.
Terracota itemsTerracotta trinkets (decorative things made of muddy soil) are made here.

Sabhi Rahe SaathThis mall has a movie theater with 3 screens.

Baldev PlazaThe oldest shopping mall in town. It has several shops, especially for jewelry and gifts.

GolgharSells personal items

Gita PressThe world's largest publisher of Hindu religious texts is based in Gorakhpur.
Eat
Gorakhpur has a fairly good restaurants and eating joints. Apart from the star category hotels there are many restaurants in the city
Bobi's Restaurant

address: Golghar

Serves from continental to Chinese to Mughal to Indian to what-not. In house bakery serving delicacies, cakes and pastries. Party halls and an ice cream parlour . Affordable.

10 Park Street, Cafe & Kitchen

phone: +91 551-2200037, +91 8355010101, +91 8874778999

serving Indian, Oriental and Continental cuisines.

Choudhry HotelGood and clean Indian food. Agreeable service with reasonable rates. Can get everything from typical Punjabi dishes to South Indian with variety of sweets.

Hotel Ganesh

address: Park Road near Golghar

Good and Clean Indian food. South Indian dishes like Dosa, Masal Dosa, Idly Sambar etc. are available here at reasonable rate.

Tandoor Food - Take away

address: Cinem Road near Golghar

Most famous food joint in the city specializing in Mughlai non-vegetarian foods like authentic biryani, kababs, tandoori chicken. The prices are reasonable and the quality is great. Open for dinner only. A busy place.
Drink
Bar facilities available in some of hotels.
Hotel Ganges

Mahraja restaurant

address: Nakhas Chowk, Gorakhpur

good non veg food in city, delicious taste of lucknowi food

Mughal Bar
Sleep
There are a number of local hotels near the train station, and you can use the "retiring rooms" of the station itself if you have a valid ticket, but be aware that because this is a very busy station rooms may not be available.
Hotel Awadhin centre of the city ,a true home away from home

Hotel Bobina

address: Tarang Crossing

Oldest hotel of town, also has a swimming pool. Personal best.

Hotel Kabeer

phone: +91 9415080610

Modest place to sleep and food quality is good. Chinese restaurant of the hotel has been closed down recently

phone: +91 551 220 5015

address: 6 Park Rd

Upscale hotel.

Hotel Park Regency

address: Park Road

Medium

Hotel President

address: Gol Ghar
Go next
Sonauli — the busiest border town to go to Nepal (Bhairhawa is the small Nepali town) Very frequent buses will need 3 hours to link Gorakhpur with Sonauli. The UP Government buses will charge you 112INR. The trip from the border to Gorakhpur can be as cheap as 100INR by using private buses. Taxis (and shared ones too) should be available.
Kapilvastu — Capital of Lord Buddha
Kushinagar — This is the place where Lord Buddha died.
Lumbini (Nepal) — Birth place of Lord Buddha. Go by Sonauli route.
Maghar — This is the place where Saint Kabir died.