Gorkhi-Terelj National Park
Gorkhi-Terelj National Park (Горхи-Тэрэлж)
is in
Tuv
of
Mongolia
, 55 km outside of
Ulaanbaatar
.
Understand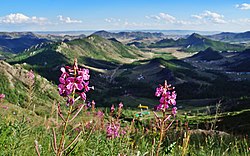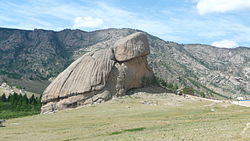 Terelj is considered one of the most scenic areas in all of Mongolia and is a short drive outside of the capital. It's a rather mountainous area with a beautiful river, forests and some interestingly shaped rocks. The beautiful, mostly unspoiled natural area is a popular place to go for a picnic or spend the weekend for Ulaanbaatar's residents. Due to its popularity, there are many tourist camps and activities inside the park.
History
Landscape
Flora and fauna
Climate
Get in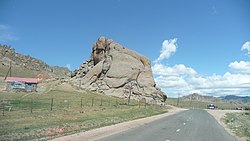 By Bus
There are 2 buses per day from
Ulaanbaatar
(UB) to the park (July 2018).
Departing UB at 12:00 and 16:00, they are not conveniently timed for short visits to the park, but are the most inexpensive way of getting there.
The bus, Route XO4, has a sign for "тэрэлж" and leaves from a regular city bus stop on the south side of Peace Avenue, opposite and 150m east of the 'Narantuul Hotel' and about 300 meters to the east of the junction with Ondor Gegeen Zanabazaryn. The bus waits at the east end of the bus stop.
Buses take about 2 hours to the south end of the park, 2.5 hours to Turtle Rock and 3 hours to get to Terelj village, which is the final stop.
Coming back, they leave Terelj village at 08:00 and 16:00. The bus costs 2500 ₮ one way (all prices here June 2018).
Alternatively to get back, take the microbus from Terelj village to its last stop Nalaikh town (every two hours, 10:00, 12:00, 14:00, etc., 2000 ₮). There buses leave for UB every 10 minutes (900 ₮).
By car
The road is paved all the way, fine for cars. Lots of UB residents come for the weekend, so you can probably find a ride back to UB pretty easily. Offer to help pay for petrol.
Fees and permits

3000 ₮ payable at the national park gate, 6 km from the turnoff for the park road. Depending on your mode of transport and the time of day/year there may be no one to collect the fee and/or the bus may not stop at the gate.

Get around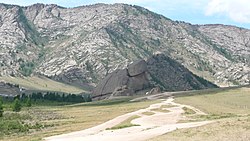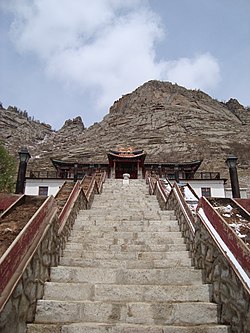 See
The Turtle RockIt is a giant rock that looks like a turtle.

Rock Formation

Dinosaurs
Do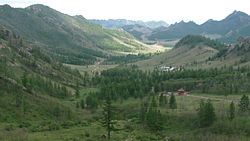 Trekking, horse riding, rafting, and golf during summer. Cross-country skiing during winter.
Buy

There are a couple of standard shops in Terelj village if you want to stock up on bottled water, biscuits, vodka, etc. Tourist camps sell stuff as well but will have less variety and higher prices.

Sleep
Ecotourism Ger Camp

phone: +976 99734710

The affable Bert and his family run a friendly ger camp away from the main tourist area. He can arrange horse riding further into the park, including Gunjiin Sum and there's good hiking in the area. The food's great (including homemade cheese).

Other Tourist Ger CampsThere are many tourist ger camps on the road as you approach Terelj village, some are closer to the road than others. Any of them can set you up with horse rental, otherwise you can just hike around the park.
Lodging
Chinggis Tourist CampTraditional tourist camp. Provides accommodation in the round felt traditional houses (authentic Mongolian gers) used by nomads, western-style amenities, including a sink, toilet, twin beds and electricity. Western-style showers, bathroom facilities, and restaurant facilities. There six gers with two beds, seven gers with three beds. The gers are decorated with traditional colorful patterns and furnished with soft and cozy beds. Each ger is furnished with beds, blankets, bedding sheets, pillows, small towels, bath towels, a table, stools, candles and matches, thermos, glasses, etc.

Authentic Mongolian Ger Heating. Heated by the wood stove placed in the center of it. The ger keepers start fire for you and can keep setting fire from time to time during colder nights.
Camping
Backcountry