Goroka
Goroka
is a city in the Eastern
Highlands
of
Papua New Guinea
(PNG). Famous for the yearly Goroka Show, it is also one of the closest major towns to Mt. Wilhelm, the highest summit in the country.
Understand

With around 25,000 people, Goroka is the capital of the Eastern Highlands province of PNG. It is above sea level and blessed with a very pleasant, spring-like climate all year round.
A university town and a base for several NGOs and institutes like the partially internationally funded Papua New Guinea Institute of Medical Research, Goroka is somewhat less off the beaten path than rural PNG in general. For tourists, the town is best known for the Goroka Show cultural event, which draws visitors from near and far every September, though it does have natural and cultural attractions that can be enjoyed around the year.

Get in
Goroka's is in the centre of town and you can check in and then walk back downtown for a drink while waiting for your plane. Car rental is available at the airport.
Air Niugini
and
Airlines PNG
both have twice daily flights from the nation's capital,
Port Moresby
. Port Moresby, in turn, has flights from Australia, East and Southeast Asia and a few other Oceanian countries.
By
road
, Goroka is on the "Highlands Highway", about west of
Lae
, west of Kainantu and some east of
Mount Hagen
. While this is the main road of the Highlands, frequent landslides, potholes and armed bandits make road travel a risky enterprise.
Get around
The centre of town near the airport, market, shops and Bird of Paradise Hotel is easy to walk around and fairly safe, although it can feel otherwise as it is crowded with people. There are some reliable taxi drivers around and the hotels and resorts will be able to provide drivers.



See
J.K. McCarthy Museum

address: Airport Road

Set up by and named after a long-time Australian patrol officer in PNG, the museum has seen better days but, nevertheless, is well worth a visit. There are several large rooms that include World War II relics and many traditional artifacts from PNG. The most interesting section is arguably the collection of photos taken in the 1930s by the first Australians to enter the Highlands.

Rugby League

address: football field opposite the market

League is PNG's national sport and most days there will be multiple games being played at the sports ground.

address: in the north of the town

Performances are irregular and possibly infrequent (you have to be lucky to catch one), though the building itself is an interesting landmark looking somewhat like a collection of traditional huts fused together to form one big building.
Do
Goroka Show

phone: +675 532-2644

This sing-sing (traditional tribal gathering) is the major cultural event of the PNG Highlands and takes place during a few days around 16 September when the country celebrates its independence. The show brings together people from over 100 tribes in traditional costumes who gather for music, dancing and displays of tribal rituals. Accommodation is at a premium and you may have to fly in or drive from nearby towns. Tour companies offer trip packages to Goroka during this time, though it is possible to get there independently and buy tickets for the performances a couple days before the event.
Other

Asaro villageAbout north-west from Goroka is the village of Asaro from where the well-known mudmen originate. The villagers are happy to deliver the "mudmen" performance, let you try on the masks, and answer any questions related to their culture. Arrange the trip through your hotel in Goroka.

WalksThere are a lot of potential walks in the hills around Goroka. Some areas, like the road to Mt Kiss, are considered no-go areas, but guides will be able to advise on safe routes. If you are staying at the Pacific Gardens, you can access Mt Kiss by going up to the houses at the southeast corner (no. 28-31) then going up some metal stairs to a steep slippery path that leads to a guardhouse on the fence. From there, a flatter path follows the inside of the fence halfway up the mountain and gives good views over the town and valley. It should be safe on the inside of the fence but the guards will be happy to escort you. There is one safe walk (2 hours return) that follows the road north-east past the Pacific Gardens Hotel towards a river, canal and weir. Stay on the main road except where there is a junction where the main road goes straight/left and another road goes to the right up a steep hill. At the top of this hill, you can cross over a small canal and walk a hundred metres back towards town along the canal to a good lookout, then turn back to the steep road and follow it on to the river.

Mt Gahavisuka Provincial ParkNature park filled with birds and animals, with a few walking tracks, including a 2-hour walk to the top of the mountain. May require a guide. There may also be a lodge in the park.

Daulo PassYou can drive (40 minutes) west along the Highlands Highway to Daulo Pass, a section of twisting roads with good views.
Buy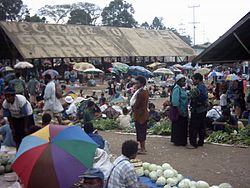 Main MarketUnlike many things in PNG, fresh fruit and vegetables can be bought fairly cheap and at good quality. The market has a big selection of seasonal produce, including a huge collection of leafy greens. Fixed prices are listed by each item (use coins or K2 notes as sellers have limited change) and you need to take your own bag. Clothes and household goods are also sold at the markets and there are a couple of small supermarkets next door.

Bilum Market

address: in front of the Provincial Headquarters, next to the Bird of Paradise Hotel

Hundreds of colourful bilums are hung from the fence of the Provincial Headquarters. Basic string bilums (good for the market) start at K30 while fancier handbag-style bilums start at K50. Haggling is not the norm but you may get discounts for multiple purchases or if they are desperate.
There are several
supermarkets
in town, including Bintangor opposite the Bird of Paradise (open every day to 18:30 except 18:00 on Sunday) and Papindo at the back of the same block. Brian Bell (closes 17:00 weekdays, 12:00 Saturday), on the west side of the airport, is best for homewares and there are many smaller Chinese-run stores with various goods.
Most large stores accept credit cards (but be aware of occasional fraud) and there are ATMs at the major banks, including Westpac and ANZ. There is an ATM inside the Bird of Paradise that does not charge fees, although it is intended for guests only.
Eat
Most restaurants are located in hotels.
phone: +675 731-1144

address: in the Bird of Paradise Hotel

Themed buffets that are reasonable, Enzo's Pizza and other east/west meals. Said to be the best restaurant in town but that's not saying much.

Mandarin

phone: +675 732-2999

address: Elizabeth St

Chinese restaurant. Has a takeaway booth for snacks.

phone: +675 532-3980

address: Airport Road, in Hotel Phoenix

Leathery steak and other dishes in a pleasant setting overlooking a pool (which can get noisy).

PapindoThis supermarket has a decent cafeteria-style restaurant inside with things like sandwiches, burgers and Filipino dishes.

address: Mokara Street North

The other big hotel has a restaurant situated next to a creek and forest. Food's probably a little worse than the Bird of Paradise though and the service is comical.
Drink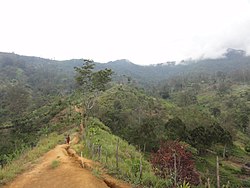 Deck Bistro and Birdys Bar

address: in the Bird of Paradise Hotel

Two bars within the hotel, one is the bistro on a deck overlooking trees and mountains and is good in late afternoon (also does good espresso) and the other is inside near the entrance and is more of a cocktail and sports bar. An easy place to meet expats and travelling PNG people. There is a third bar ("DJ Bar") with an entrance from the outside aimed at locals that might be unsafe without local friends.

Bottle ShopsThese are generally pretty bad in Goroka. The best wine and spirits place has shut down. There are reports of a place with a reasonable wine selection in the suburbs but you can still expect poorly-stored plonk at high prices. Bintangor and Papindo have alcohol counters (Papindo's is around the side) with very limited selections like a case of beer for K120 and up, a bottle of gin for K160, or bottles of wine.
Sleep
Connect
As of late 2017, both mobile phone operators
Bmobile
and
Digicel
report having coverage in and around Goroka, the latter 3G coverage. As a rule, hotels offer Internet access.
Go next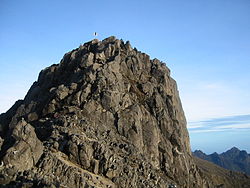 Mt Wilhelm — Goroka is a convenient starting point for an ascent of PNG's highest mountain, Mt Wilhelm. The base camp for the mountain is at Keglsugl. This is about five hours by road from Goroka and there is a guest house, Betty's Lodge, with 37 beds (, fax: ). For the affluent, charter flights to Keglsugl airstrip, at , may be possible. The mountain is at and the climb and descent involves an overnight stay on the mountain. You may be close to the Equator, but temperatures can drop way below freezing at the summit. Taking a local guide is essential. Organized treks are available, for example from this company.
Kainantu is on the "Highlands Highway" approximately by road from Goroka. It is home to the Eastern Highlands Cultural Centre and Museum and is well-known for its pottery. Kainantu is from the nearby missionary station of Ukarumpa. This houses the Summer Institute of Linguistics, which aims to translate the Bible into all of Papua New Guinea's numerous languages. Accommodation is available at the 22-room Kainantu Lodge (, fax: ).