Gostivar
Gostivar
(
Macedonian
: Гостивар) is a town in the
Western North Macedonia
.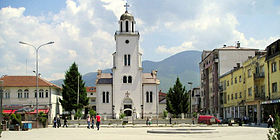 Understand
Situated in the
Polog
Valley in northwestern Macedonia, Gostivar is near
Mavrovo National Park
and the source of the Vardar River.
Gostivar is the seat of the fourth most populous municipality in Macedonia, with over 80,000 residents. The city itself has just over 35,000 residents, making it Polog's second-largest city after
Tetovo
. Gostivar is ethnically diverse with 47% of the population identifying as Albanian, one-third as Macedonian, 13% as Turkish, and the rest as Roma (Gypsy) or other.
Get in
Gostivar lies in the main road Skopje-Gostivar. This road is smooth and nice but you have to pay a toll to drive on it.

See
Church of St MaryThis church stands prominently on the central square of the city. It was built in 1923 and contains a prominent central tower.

Clock TowerGostivar's clock tower is one of its main symbols, found on both the city flag and coat of arms. It was built in 1729 by Ismail Aga; the date is inscribed in Ottoman Turkish on a stone atop the entrance. Located in central Gostivar, this clock tower is among the better preserved ones in Macedonia and still displays the correct time.

Bey's HouseAlso known as the Yellow House, this is the oldest existing building in Gostivar. It was built in the 18th or 19th century for a wealthy Turkish family, designed with oriental elements by Daut Boletini.
Further afield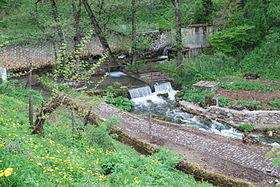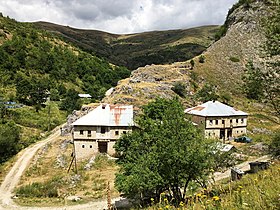 Vrutok
is a village in which the source of Macedonia's most important river is found. Located on the slopes of Mount Bistra, it is home to multiple fish restaurants at the source of the Vardar. The village, southwest of Gostivar city, is home to over 1,100 residents.
Brodec
is a mountain village in the west of Gostivar Municipality with the largest area of any village in Macedonia. While Brodec is nearly completely depopulated today, it has much traditional village architecture worth seeing, complemented by the mountainous scenery. It also features a monastery complex established in 2015 and a small waterfall.
Church of St NicholasThe main church of Brodec, St Nicholas was built in the 19th century. It has a single dome and features interior painting of the Mijak style.
Notable sites in other villages of the municipality include the below.
Church of Sts Peter and PaulThis 19th century church was built of stone. The main church of this village, it is also situated near medieval ruins of a necropolis.
Eat
Imerial Restaurant

phone: +389-361-762
Sleep
Imperial Motel

phone: +389-361-762
Go next