Gotsu
Gotsu
() is a city in
Shimane prefecture
.
Get in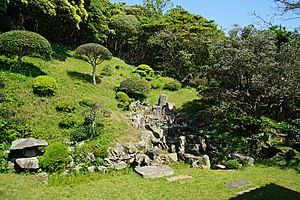 Gotsu an express stop along the Sanin Railway that runs up and down the coast of Shimane. You can catch a train from Matsue City (accessible by bus or train from Osaka and Tokyo), or Yamaguchi City along the bullet train line. From Yamaguchi you can switch train to the Super Express Yakumo.
Another option is to take the bus from Hiroshima Station or Osaka Station to Hamada City. From there, you can take the local train up to Gotsu (taking roughly 30 minutes).
Finally, you can drive along the Chugoku and Hamada Expresswaythe most direct route from Hiroshima City, taking roughly 2 hours.
Get around

Unless you rent a car in Hamada City or Hiroshima, the next best way to see Gotsu is to hire a taxi. Taxis are often lined up outside Gotsu Station. Inquire to the driver for their card, so that you may use their services again.
Sadly there are no bikes to hire, and so besides taxi--on foot is the only other option.

See
Mt. Hoshitaka - is a mountain close to Gotsu city. There is a giant star on top said to have been caused bya meteor. Its a good half day hike or a quick drive and the top is a great place for a picnic.
Eat
China - in Tsunozu town, has great dinner sets.
Go next