Goulburn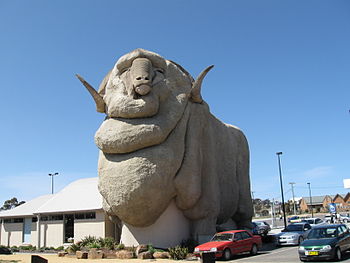 Goulburn
is a small regional city 200km (120 miles) south-west of
Sydney
,
Australia
. With a population of 24,000, Goulburn is one of the largest cities in the region and a rural hub for surrounding agriculture. Goulburn lays claim to be Australia's first inland city to be settled.
Understand
Situated at the confluence of the Wollondilly and Mulwaree Rivers, the fertile lands which surround the area of Goulburn were for centuries the home a number of the local Aboriginal populations. White settlers discovered the area in the late 1700s, and the first land grant was made in 1825. The city grew as a result of its location, being located on the road south from Sydney (now the Hume Highway) and in the 19th century it became the administrative centre for the "Argyle County" district. Goulburn gained a great deal of its prosperity during the Gold Rush (when many of its main buildings were constructed) and the coming of the Main South Railway Line between Sydney and
Melbourne
in 1869 (which is still in operation). In particular, the area became known for its merino wool which was sent from Goulburn around Australia and overseas. The city had the unique distinction of being granted city status twice - once in 1853 by Queen Victoria (which established the city as a "cathedral city" and allowed its cathedral, St Saviour's, to be constructed), then officially again in 1885.
In the twentieth century, the city's importance declined as a result of the growth of coastal cities in Australia, as well as Goulburn's proximity to the new national capital
Canberra
. These factors led to many government bodies and institutions that had established branches in Goulburn departing the city for Canberra or Sydney, and leaving Goulburn to rely on its wool trade and its place as a service centre on the highway. The city was finally bypassed by the Hume Highway in the 1990s and the wool trade has declined, but Goulburn is still considered the major "city" between Sydney and Canberra and visitors still take the turn off the highway to visit. Importantly, the city has retained its heritage and remains an important part of Australia's early history.
Though it might be considered quiet compared to the bustling Sydney two hours up the road, the Goulburn area still has a surprisingly large number of things to do and see, and it remains a good stop-off point in between Sydney, Canberra, the
Southern Highlands
and the
South Coast
.
Climate
Goulburn has a climate unlike most of its neighbouring towns due to its location at the bottom of a valley: summers tend to be relatively hot and dry and winters cold. The summer temperature range is 10-40°C (50-104°F) and winter's is -5-18°C (23-64°F). Be sure to bring layers in winter as it can get quite windy and very cold. Despite the varied temperature, Goulburn can be visited at any time of year as long as you bring the right clothing.
Get in
Goulburn's position as a service centre between two major cities gives a visitor plenty of options to choose from when visiting.
By car
Goulburn is located just off the
Hume Highway
, approximately 90km from
Canberra
and 195km from
Sydney
. From Canberra, take the Federal Highway (Northbourne Ave) and then the Hume Highway North. From Sydney, take the M5 Motorway and then the Hume Highway. There are two exits to Goulburn from the freeway.
An alternative, and more scenic route from Canberra is to take the Kings Highway east to Bungendore, then follow
Tarago and Braidwood Roads
north into the city. This route is slightly longer than the freeway and takes just under 2 hours.
If coming from the
Blue Mountains
,
Bathurst
or the
Central West
, a quicker way to get to Goulburn than to drive through Sydney is to drive to
Oberon
and take the
Taralga Road
which comes into Goulburn from the north.
By train
NSW Trainlink Regional runs 4-5 train services per day from Central Station in Sydney to Goulburn on the way to Melbourne and Canberra (from $28 one-way). A train from Sydney will take just over two and a half hours to reach Goulburn. Goulburn's historic railway station is in the centre of town on Sloane Street in the centre of town. NSW Trainlink Regional trains need to be booked in advance.
NSW Trainlink Intercity also run local trains integrated with the Sydney Trains network to and from Goulburn on the Southern Highlands Line. Services are geared more around getting travellers from Goulburn to and from Sydney, meaning that unless you plan on travelling when the commuters do, you will need to catch a bus and be prepared to spend up to 4.5 hours with two trains and a bus to get there (change at Campbelltown, for train to Moss Vale, Moss Vale for bus to Goulburn). The upside is that tickets are cheap ($8.20 adult/$4.20 child one way), accept Opal, and have the Opal caps and rewards.
By bus
phone: 1300 473 946 (local rate call)

include Goulburn as a request stop on its GF230 service between Sydney and Melbourne. The Sydney-Melbourne service leaves Sydney's Central Station at 9:00 and arrives Goulburn at 12:30PM, going on to Canberra (1:30PM) and arriving Melbourne at 11PM the same day. The reverse Melbourne-Sydney service leaves Melbourne's Southern Cross Station at 7:15AM, arrives Canberra 4:30PM, Goulburn 6:30PM and Sydney Central at 9:25PM. Fares from $32.40 from Sydney. Firefly also advertise this route but it is codeshared with Greyhound.

phone: +61132251

run a daily service between Canberra and Wollongong which stops at Goulburn (from $20.30). The Canberra-Wollongong service leaves Goulburn at 6PM and arrives 7:10PM each day. The reverse service leaves Goulburn at 12:30PM (2:30PM on Sundays), arriving Canberra at 1:40PM (3:40PM on Sundays). Note that the express Sydney-Canberra Murray's buses do not stop in Goulburn.
By plane
Goulburn Airport
is a general aviation airfield approximately 7km south of the city. It is a popular trip for light aircraft from Sydney.
Goulburn Airport
phone: +61403368933
address: Airport Rd
fuel and coffee available.
There is no public transport to the airport, and without a car you will need to get a taxi.
The nearest commercial airport with scheduled passenger services is Canberra Airport, approximately one hour away. However, if you're using public transport you'll probably find travelling via Sydney both quicker and easier.
Get around
By foot
The main street of Goulburn is short enough to be easily walkable and most of the older buildings and attractions are close to the centre of town.
By bus
PBC Goulburn
operate local bus services from the city centre to the surrounding suburbs, including as far north as Kenmore. Fares range from $2.10-$5.20 (children $1-$2.60) depending on distance travelled.
By car
If you are staying outside of the centre of the city or wish to see some of the other sights, the only practical method of transport is by car or taxi. Car hire is available from:
phone: +61 2 48215566

address: 19 Goldsmith St

phone: +61 2 48210288

address: 129 Lagoon St
See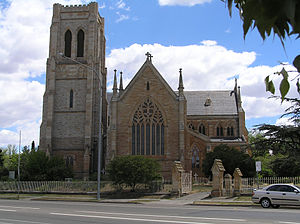 In town
phone: +61 2 4822 8013

address: Cnr Hume & Sowerby Streets

Possibly Goulburn's most well-known tourist attraction. Being a rural hub, the 15 m (49 ft) tall concrete Merino sheep symbolises the town's importance to the local farming industry. Stairs ascend inside the structure past mildly interesting displays on wool and merinos (Australia's most common sheep breed). Originally located in the centre of the town, when the freeway bypass meant that the merino lost visitors, in 2007 the owners put it on a truck and moved it 800m up the road. The lookout at the top of the stairs has now been renovated to allow visitors to see out the top again. The base of the concrete ovine houses a tourist gift shop.

address: Memorial Rd

The War Memorial Tower on Rocky Hill was built in 1924 in memory of the people who died during World War 1. While the tower has great views, even the lookout has an unparalleled view of the town, so it is worth visiting even when the museum is closed. The old caretaker's cottage contains a museum describing the city's involvement in the two world wars. You can walk up from Henry St, if you're keen.

phone: +61 2 4822 1210

address: 12 Braidwood Rd

A working roundhouse incorporating heritage rail locomotives (both steam and diesel) with displays on the history of the railway in Goulburn.

St Saviour's Cathedral

phone: +61 2 4821 2206

address: Bourke St

The Gothic-style cathedral of the Anglican Church Diocese of Goulburn & Canberra, designed by notable Australian architect Edmund Blacket. Construction commenced in 1874. The cathedral is one of Australia's most beautiful regional cathedrals and attracts many tourists every year.
Sculptures in honour of leading Australian blues musicians are located outside the information centre.

phone: +61 2 4823 4462

address: Marsden Weir

The Waterworks which became functional in 1886 was the first reticulated water supply for the booming city of Goulburn.
Australian Domestic Architecture is evident throughout the streets. Being the oldest inland city in NSW, the variety of housing styles is great. There are both good and bad examples of every era from the late 1880s onwards.

Belmore Parkin the centre of town on the main street (Auburn Street) is the scene of many community events, including a monthly fair.

Victoria Parkhas a beautiful rose garden in the centre of it with children's recreational play sets.

Goulburn Court HouseLocated across from Belmore Park.

Old Goulburn Brewery

address: 23 Bungonia Rd

It has been suggested that the buildings were designed by the famous colonial architect Francis Greenway as there are some stylistic similarities with his other work. There is an exhibition to support the assertion.
In the area
Morton National Park starts at Bungonia about 20km from the town. In its upper reaches the Park is dry, and carries the Shoalhaven river over the escarpment on its way to Nowra. Walking trails are available from Bungonia.

Wombeyan CavesCan be accessed in an hour through the nearby town of Taralga. A further 90 minutes from the caves is an extremely scenic but slow drive to Mittagong providing access to the Southern Highlands. This road is passable by 2 wheel drive but is of poor quality in the national park.
Do
The Public Swimming Pool is on the top side of Victoria Park

SkydivingSkydiving is available at the airport just out of town.

Wakefield Park Motor Racing Track

phone: +61 2 4822 2811

address: 4770 Braidwood Rd

Wakefield Park runs public 'No Speed Limit' days (check the website for details) in which the public is allowed to drive to their hearts content. Rides in V8 supercars are also available for race fans wanting a thrill ride.
Events
Australian Blues Music Festival

phone: +61 2 4823 4492

Generally around the 2nd weekend of February. See the website for yearly times.

Lilac FestivalAnnual festival in early October. Floral displays, markets, parades.
Buy
Goulburn has a wide main street, and there are still speciality shops and cafes along the street that you can walk and browse through. It hasn't yet been completely overrun by the large shopping malls yet.
Centro Goulburn

address: 217 Auburn St

This is a shopping mall right in the middle of town, with the usual Kmart and Coles retailers. Also a small foodcourt.
Eat
Goulburn has plenty of cheap and quick food open all hours in town and at the highway services. There are two exits from the freeway from at Goulburn, and the southernmost exit (the furthest from Sydney, and closed to Canberra) has highway service area by the Big Merino, with a bakery and choice of fast food chains. If you take a small diversion through Goulburn there are other fast food options, including another McDonalds.
Tamnak Thai

phone: +61 2 4821-3388

address: 380 Auburn Street

A Thai cafe and restaurant located at the northern end of the main road.

Our Place Bistro @ Tully Park Tavern

phone: +61 2 4822-1258

address: 33 Taralgo Rd

American Style barbecued ribs, steaks, seafood and pizza. Family owned and operated.

address: 174 Auburn St

A longstanding cafe restaurant that retains a '70s feel in its decor and layout. An extensive menu of hearty standards, usually with good service.

The Rose CafeSydney hipster cafe options meet country hospitality.
Drink
Essentially all the clubs and pubs in Goulburn are located around the central part of town up and down the main street and along perpendicular streets. All are within easy walking distance of each other.
Goulburn Club

phone: +61 2 4821 2043

Market St (located opposite Belmore Park on the top floor of the Goulburn Club building). Open Thur-Sat from 5PM onwards. Relaxed old English gentlemens club feel with sofas and chairs. Constantly changing art exhibits line the walls and live bands (generally jazz or blues) can be found irregularly.
Flamingos

Worker's Club

phone: +61 2 4821 3355

McKell Place

Soldier's Club

phone: +61 2 4821 3300

address: 15 Market St
Sleep
Coming off the freeway from Sydney, the road into Goulburn is lined with a range of convenient motels.
Goulburn Gateway Backpackers

phone: +61 2 4821 9811

Old Hume Highway & Common Street.

phone: +61 2 4821 5000

address: 126-128 Lagoon St

Goulburn, NSW 2580 Australia

Tattersalls Hotel

phone: +61 2 4821 3088

address: 76 Auburn St

This hotel is right in the middle of town on the main street, and if you are unlucky enough to be in town at the end of the week or a public holiday expect lots of noise all night long.

phone: +61 2 4821 0707

address: 160 Sloane St

phone: +61 2 4821 2930

address: 248 Sloane St

phone: +61 2 4821 4668

address: Braidwood Rd

There are farm tours complete with sheep shearing too.

The BakehouseNext to the highway services (2nd Goulburn exit) with free WiFi - this is the place to stay if you're just coming off the freeway and need a convenient place for the night.
Connect
All mobile networks have good coverage in Goulburn. The visitors centre offers free Internet.

Go next
Goulburn is approximately 50 minutes from
Bowral
,
Mittagong
, and the
Southern Highlands
.
Sydneysiders tend to think of Goulburn as being half way to
Canberra
from
Sydney
, but it is less than an hour to drive to Canberra from Goulburn, on fast, good quality roads.
Sydney
and
Wollongong
are both around 2 hours drive away; and day trips to Sydney are available by train from Goulburn as well.