Gower Peninsula
The beautiful
Gower Peninsula
(
Welsh
:
Penrhyn Gŵyr
) was the
United Kingdom's
first designated
Area of Outstanding Natural Beauty
. Located in
Swansea
, the peninsula is famous for its stunning coastal scenery, wide sandy beaches and medieval castles.
Understand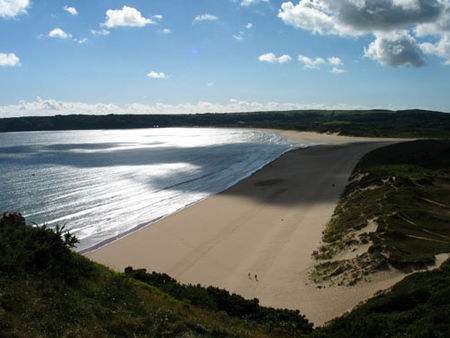 This article covers the rural areas of Swansea. It has been given the title 'Gower' as the
Gower Peninsula
constitutes the largest portion of Swansea's rural area and is the district of most interest to tourists. However, the article also includes the highland areas of Pontarddulais and Mawr. On the peninsula itself, the article covers all points west of Bishopston, Pwll Du Bay, Fairwood Common and Upper Killay. Detailed information of the urban area east of this line is documented in the
Swansea
article.
The Gower Peninsula is about 29 km long by 8 km wide and, in many ways, represents a microcosm of the very best of British countryside. There are wide sandy beaches, dramatic cliffs, historic woodlands, salt marshes and open moors, all of which are interspersed with picturesque villages, country inns, castles, ancient churches and neolithic burial chambers. It is a land immersed in the mists of Celtic legends and secrets of smugglers tales. The peninsula is also home to an abundance of wildlife, with perhaps the wild Gower ponies that roam the moors being the most famous and well-loved. For recreation, Oxwich is the most popular bay for swimming and boating, while Llangennith is a surfers paradise and attracts boarders from all over the UK. Rhossili is a dramatic bay, and the sunset over the headland is one of the most photographed evening scenes in Europe.
The districts of Mawr and Pontarddulais are sparsely populated areas of Swansea's hinterland and offer wonderful opportunities for hillside walking and river-side recreation activities.
History
Historically, Gower covered an area of land under the jurisdiction of the Lords of Gower. It extended as far east as the River Tawe, and so it included what is now Swansea City Centre. This area corresponds very closely to the modern boundaries of the City and County of Swansea. However, nowadays "Gower" would be mostly understood to referring to the peninsula only.
The Gower "Area of Outstanding Natural Beauty" (AONB) is an invention of post Second World War planning laws covering England and Wales, and represents a level of protection one step lower than offered by that of a "National Park".
Get in
The Gower Peninsula is located in South Wales (Map of Gower) a 10-minute drive from the city of Swansea.
Gower Explorer buses departing from Swansea's Quadrant Bus Station cover the entire peninsula. Traveline information.
Get around
By bus
Most of the villages and popular bays are connected by public transport. The Gower peninsula itself is served by the Gower Explorer branded bus services from the Quadrant Bus Station in Swansea city centre. The Lliw uplands to the north of the county of Swansea are served by Lliw Link branded bus services from the Quadrant Bus Station. (The Quadrant bus station is a good 10-15 minute walk from Swansea railway station, but there are frequent buses to the Quadrant Bus Station from the bus stop outside the railway station.)

On foot
There are some very well-established hiking routes on the Gower. The tourist office in Swansea city center offers good information.

See
Villages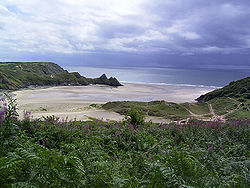 Due to strict zoning laws, the rural areas of Swansea have not succumbed to urban sprawl. However, there are a few traditional villages in the area:
Llangennith (Llangenydd) - a quintessential British coastal village with hens clucking around the village green, a stone church, a traditional pub and sheep strolling down the road towards a magnificent surfing beach; several B&Bs. Very popular with surfers in the summer, and has a large camping area for families and youngsters alike.
Llanmadoc and Cheriton - two adjoining villages on north Gower - some lovely stone houses, a few B&Bs and a pub.
Llanrhidian - a hill-side village running down to the marshes of the Loughor Estuary - some lovely stone houses and a pub.
Oxwich - nestled in the curve of Oxwich Bay and with its thatched rooved cottages and castle, Oxwich is perhaps the Gower's most picturesque village. The village has a wonderful Saxon church, a couple of shops and a hotel.
Port Eynon - a quaint village clustered around the sandy beach of Port Eynon Bay. There are a few shops and B&Bs, a pub and youth hostel.
Reynoldston - an inland village surrounded by wild moorland with a good pub and accommodation.
Rhossili - on a ridge offering spectacular views over Rhossili Bay and Worms Head - the village boasts a pub, cafe, shop and great National Trust gift shop.
Places of natural beauty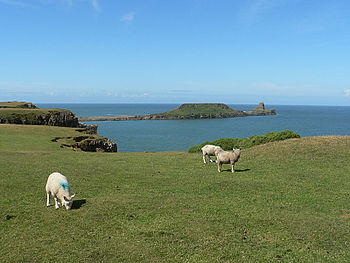 Rhossili Bay and Worm's Head. Famous for is breathtaking view at sunset, and the vista is widely considered to be one of Europe's most spectacular coastal scenes. An excellent National Trust gift shop marks the beginning of the cliff top path, while the picturesque village of Rhossili provides an ideal setting for enjoying cream teas in the summer or for relaxing and taking a contemplative stroll at any time of the year. In addition, the conditions at Rhossili are excellent for handgliding and surfing; historians may also be interested to note that there is evidence of a stone-age settlement here. Visitors may also note a distinct lack of trees. The last real tree was at Ash Tree Farm, though this disappeared sometime during the early 1970s. The fierce westerly gales and trees are not a good match. The nearest trees to Rhossili are Middleton, the village just prior to Rhossili.
Three Cliffs Bay. A great place to take a stroll through woods and watch the wild ponies galloping on the beach. The ruins of Pennard Castle guard the area from a hill to the left (when facing the sea). Note, however that the strong undercurrent at this bay make it unsuitable for swimming. The beach is entered from a path across from Shepard's village store and cafe.
Oxwich Bay. Overlooked by Penrice castle, the pristine waters of the bay are surrounded by extensive dunes and woodlands and protected by a small Saxon church on the headland. Oxwich was named the most beautiful beach in the UK and one of the most beautiful in the world by The Travel Magazine in 2007.
Caswell Bay. Sandy beach popular with families, holiday makers and surfers. Has Blue Flag status.
Langland Bay. A beach on the south Gower costed distinctive for the beach huts behind the sandy beach
Castles and other antiquities
Museums
phone: +44 1792 371206

address: Old Coastguard Cottage, Rhossili, Parkmill, SA3 2EH

A rural life museum based around a working water mill. The museum also boasts one of the world's smallest cinemas - La Charrette - a 23-seat former railway carriage. There is also a gift shop and cafe on site.
Do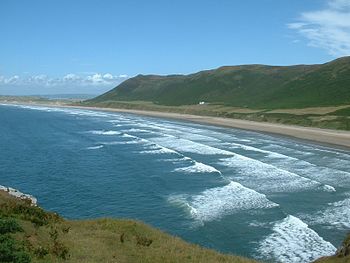 Golf
phone: +44 1792 872480

address: Cefn Goleu, Gowerton, Three Crosses, SA4 3HS

18-hole course set on rolling countryside.

phone: +44 1792 361721

address: Langland Bay Rd, The Mumbles, SA3 4QR

Mumbles. 18-hole links course set on moorland overlooking Caswell Bay and Langland Bay.
Surfing
Outdoor activities
Pony TrekkingAt Parc-le-Breos House, Penmaen.

Rhossili and Borfa Activity Centres

address: Middleton, Rhossili

Offers domitory accommodation in Port Eynon and training in the following activities: abseiling, caving, climbing, coasteering, cycling and mountain-biking, kayaking and trekking.

address: At brd Mountain Boarding Centre, Weobley Castle, Llanrhidian, Swansea, SA3 1HB

Offers lessons for beginners and improvers. Discounts available for group bookings. The boarding centre is open for prior bookings only.

phone: +44 7815 784122

Outdoor activities on the Gower Peninsula. Coasteering, rock climbing, gorge walking, surfing, team building, canyoning and abseiling. Activities for all groups and all ages.
Art
Events
Gower Folk FestivalLive performances and workshops at Weobley Castle. Camping facilities are available on site. Ticket sales are limited (350 – 400). Second weekend in June: 8-10 June 2018.

Gower FestivalClassical and folk music, recitals, dance and jazz performed at the historic churches that dot the peninsula. July 2-14, 2018

Swansea Bike RideWales's biggest bike ride organised by the British Heart Foundation. 12-mile, 28-mile or 46-mile routes through the Gower Peninsula to fight against heart disease. Mid-July.
Walks
Lliw Reservoirs, near the village of Felindre. These small reservoirs are surrounded by recreational footpaths.
Oxwich Bay, a picturesque four and a half hour walk as recommended in Times Walks
Driving
A less well-known destination in Swansea is the Lliw Uplands which contains some of the best mountain scenery in Wales:
City Centre - Llangyfelach - Felindre - Garnswllt - Ammanford
From the city centre, head towards the road junction at Dyfatty lights. Take the second left turning onto Llangyfelach road (B4489) which will take you to the M4 Motorway (Junction 46). Head straight across the roundabouts on Junction 46. This will take you into the rural area of the Lliw Uplands. From here, much of the road consists of a narrow country lane. Follow this lane though the village of Felindre then on over Mynydd-y-Bettws with stunning views of the Lliw Lalley. The road takes you past Penlle'r Castell - the highest point in Swansea. It then descends into the farming village of Garnswllt and continues to Ammanford.
Buy
Fruit and vegetables from the peninsula's arable farms.

address: Rhossili

has a good selection of handicrafts and gifts, many with local flavour.

Local ProduceGower Wildflower and Local Produce Centre, Blackhills Lane, Fairwood Common, opposite Swansea Airport. Sells an assortment of produce from local farms such as Gower wild flowers and Gower salt-marsh lamb.

PJ's Surf ShopSurfwear, boards and accessories to buy plus surf rental available. Located in the centre of Llangennith next to the church.

Mumbles Local Produce Market, Oystermouth Square, Mumbles, in the car park near the junction of Oystermouth Road and Newton Road. Held on the second Saturday of every month from 9am to 1pm.
Eat
Mid-range
phone: +44 1792 390775

address: Reynolston

Great lunches/dinners in a wonderful traditional country hotel.

The Gower Inn

address: Parkmill

A lovely old inn serving traditional pub food as well as some more innovative dishes.

address: Llanmadoc

A lovely traditional inn near the North Gower Coast, specializing in wholesome meals made with local produce.

The King's Head

address: Llangennith

Good range of bar meals, including several decent vegetarian options. Good quality versions of typical pub food e.g. curry, pies, lasagne. As the only pub in Llangennith it is often quite busy with a good atmosphere. Friendly staff

phone: +44 1792 872886

address: Gowerton Road, Penclawdd, Swansea, SA4 3RB
Splurge
Fairyhill Hotel and Restaurant

phone: +44 1792 390139

address: Reynoldston

An award-winning restaurant serving dishes cooked with local produce

address: Brynfield Road, Langland.

A fine modern British restaurant with a fantastic view overlooking Langland Bay
Drink
Coffee
CompassMain Rhossili road at Reynolston. While the cafe itself lacks charm, the food and coffee are good and the service quick and friendly - hearty breakfasts are a specialty.

address: 65 Southgate Rd, Southgate, Pennard

Excellent coffee, including dandelion root coffee, healthy meals. Outdoor seating. Organizes book clubs and meditation meetings

The Bay Bistro and Coffee House

phone: +44 1792 390519

address: Rossili

Simple international cuisine. Excellent coffee, pastries. Stunning views over Rhossili Bay. .
Sleep
Camping
Youth hostels
phone: +44 1792 391509

address: Middleton, Rhossili, SA3 1PL

Rhossili Bunkhouse is within easy walking distance of three beaches. It is great for groups of friends or families. Opened in 2007, the Bunkhouse is run by the Trustees of Rhossili Village Hall for the benefit of the community. Open: Feb-Dec.

phone: +44 845 371 9135

address: Old Lifeboat House, Port Eynon

Former lifeboat station on sandy beach; self catering, but has a licensed lounge serving alcohol. Extra charge for parking (daytime) in high season.

Gower BunkhouseBorfa House, Port Eynon. Pre-booked groups only. Open: Fri-Sat nights and school vacation times.
Holiday Cottages
phone: +44 1792 390431

address: Scurlage, Nr. Port Eynon, Gower, SA3 1AY

Offers a number of bungalows. Includes an indoor heated swimming pool.

phone: +44 1792 391333

address: Llanrhidian, Swansea, SA3 1ER

Tranquil village location with rural and estuary views. Sleeps 9 + cot in four bedrooms. Good for large family holidays. Pets welcome.

Blackheath Cottage, Reynoldston

phone: +44 1234 823645

Cosy stone cottage in heart of Gower.
Budget
Mid-range
Splurge
address: Llanrhidian

An exclusive resort on the North Gower Coast, offering full recreational facilities, heli-pad, wooded areas and gardens. The resort is within walking distance of beaches and villages. The high security walls make it the perfect place for celebrities and others who want to avoid the public eye.
Talk
The people of South Gower are traditionally English speaking and cannot speak Welsh. However, North Gower and the district of Mawr has a high percentage of Welsh-speakers.

Connect
The area dialling code for Gower is the same as Swansea - 01792. From overseas, dial +44 1792 XXX-XXX