Graaff-Reinet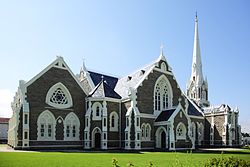 Graaff-Reinet
is a town in
Karoo Heartland
.
Understand
Graaff-Reinet
was established in 1786 and is the 4th oldest town in
South Africa
and the oldest town in the Eastern Cape Province. It was established to bring law & order, religion and education to the many Dutch farmers on the Eastern Frontier. It was named after the then Dutch East Indian Company Governor of the Cape, Cornelius Jacob van der Graaff, and his wife Cornelia, whose maiden name was Reinet. The town is renowned for its architectural heritage and at 220 sites, has more national monuments than any other town in South Africa. It was once one of the largest centres in the Cape Colony, as it was on the direct route to the minefields of the interior. Today it still functions as an important farming centre with the raising of Merino sheep, Angora goats, ostriches and game being the main activities in this area of the eastern Great Karoo. It is also well known for the nearby
Valley of Desolation
, which today forms part of the newly established Camdeboo National Park of about 15,000 ha.
Get in
From Bloemfontein, take the N9 at Colesberg through Middelburg. You may want to visit Nieu-Bethesda which is 25 km off the N9 on the way.
From Port Elizabeth take the R75 for 260 km past Uitenhage, Wolvefontein and Jansenville
From George take the N9 for 340 km past Uniondale, Willowmore and Aberdeen
From Beaufort West take the R61 to Aberdeen and turn left onto the N9. Distance 210 km.
Get around
Graaff is small enough to get around the centre on foot. You can arrange tours to the Valley of Desolation using one of the agencies near the church.

See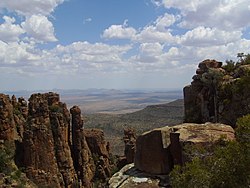 The old town centre architecture is well-preserved and you can actually feel the
Karoo
-atmosphere there.
Do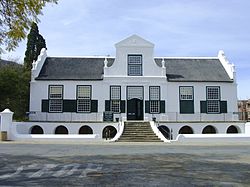 Walk around to explore the town centre. Go into one of the restaurants to get a feeling for the old furniture and the way the people must have lived once upon a time.

Visit the Valley of Desolation

phone: +27 49 892-3453

The Valley of Desolation is found at the top of Camdeboo National Park, where breathtaking cliffs and columns of rock make a haven for dozens of kinds of birds. There is a steep, curving drive to the top of the mountain, with an incredible view of the area. The dry Karoo air means the view is not the least bit hazy. Best go at sundown as the shadows stretch out over the landscape. There is a 45-min hiking trail at the top, and other, longer trails within the park.
Reinet House Museum - the most visited museum in the East Cape
Hester Rupert Art museum - contemporary South African Art
Pierneef Art Museum
The Old Residensie Museum - firearm and war museum
Urquart House Museum.
Buy
Most shops are located in Church and Caledon Streets around the Dutch Reformed Church which is in the center of town. On the corner of Parsonage and Church Streets are two little shops called Out of Africa and African Adventure which are both jam-packed with all kinds of curios. McNaughton's Bookshop near to Absa Bank in Church Street has a wide selection of tourist maps, guide books and general information about the area. They also carry a large range of new books with some Africana.

Eat
Gordon's Restaurant

phone: +27 49 892-4575

address: 100 Cradock St

The Coldstream Restaurant on the eastern side of the church in the centre of the town
The Coral Tree in Somerset Street one block west of Church Street.
The Wimpy near to Spar in Caledon Street serves a great breakfast.
Drink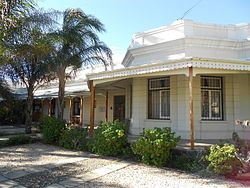 Get someone to sign you in at the Graaff-Reinet Club next to the Coldstream Restaurant. It is the oldest watering hole in the town and filled with all kinds of interesting collections like historical weapons, caricatures of previous members and even has bullet holes in the bar counter dating from the Anglo-Boer War. Ask for Terrance Gush (usually behind the bar) to tell you all about it.
Agave Silver or Gold - produced in the district in the only distillery outside Mexico to produce alcohol from the agave plant
Withond (White Dog) - a local variation of Witblits (White Lightning) or Moonshine produced by special license on the premises of Reinet House Museum
Karoo Cabernet - (Brandy & Coke) the closest thing locals know to red wine

Pioneers Restaurant

phone: +27 49 892-6059

address: 3 Parsonage St

A la carte menu, cosy pub, beergarden. Excellent food, plenty of it, old favourites and some interesting surprises on the menu, and friendly and efficient service. Pioneers offers great value for money.
Sleep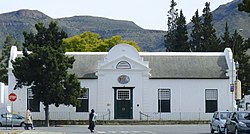 phone: +27 49 892-3180

address: 16 Parliament St

Camdeboo Cottages offers B&B & Self-catering accommodation in the heart of historical Graaff-Reinet. Consists of nine self-catering cottages (all national monuments).

Karoopark Guest House - 3 star graded

phone: +27 49 892-2557

address: 81 Caledon St

Karoopark Guest House is located in the main street of Graaff-Reinet. It has an à la carte restaurant and pub, a swimming pool and secure parking. The Guest House is within walking distance of shops, banks and historical places of interest.

Andries Stockenstrom Guesthouse

phone: +27 49 892-4575

address: 100 Cradock St

4-star guest house, with Gordon Wright's unbelievable food a highlight.

Buitenverwagten B&B & Health Hydro

phone: +27 49 892-4504

address: 58 Bourke St

A 4-star guest house with beautiful gardens close to the centre of town.

phone: +27 83 456-1795

address: 76 Donkin St

A 4-star guest house in quiet tree-lined street away from the hustle and bustle of town centre.

phone: +27 49 893-0313

A 4-star B&B/guesthouse situated on a small farm, offers luxury en suite double bedrooms with private entrances. The most memorable activity at De Erf (est 1806) is consuming fine food (including a wonderful breakfast), which is served in the Blacksmith's Shop.

Le Jardin Backpacking

phone: +27 49 891-0558

A 5-star experience on 28 000 ha. A unique Great Karoo experience with wonderful staff to pamper you and see to your every need.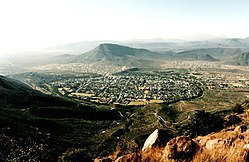 phone: +27 83 560-7367

This bed and breakfast offers 3 units with either 2 or 3 bedrooms, each with en suite bathrooms. Each unit has a kitchenette, lounge and dining area, braai area and access to the swimming pool. Both units are air conditioned and each bed room has two large beds.

Obesa Lodge

phone: +27 49 892-3143

address: 64 Murray St

Self-catering or B&B, beautiful succulent and cacti gardens.

phone: +27 49 892-5525

address: 83 Somerset St

Villa Reinet has eight rooms for double accommodation. All rooms have air conditioning, comfortable beds dressed with percale cotton linen. All are en-suite with complimentary toiletries and hair dryers. Serviced daily.

phone: +27 49 840-0050

address: 88 Caledon St

Self-catering, sleeps 6 persons in three separate rooms, one room en suite with the other two sharing a separate bathroom. You, as individual or family, gets the entire house to yourself for the duration of your stay.
Go next
The Camdeboo National Park and Valley of Desolation, 14km outside town offers hiking, wildlife (a wide variety of Antelope, Mountain Zebra, Buffalo) and great birdwatching near the dam.
Visit Karoo Connections at 7 Church Street for a range of 1/2 and full day tour options including an interesting Township Tour, a Historical Town Tour and the Valley of Desolation Tour which is a must.Their contact telephone number is 049-8923978
Go paragliding or microlight aircraft flying.
Visit the Mountain Zebra National Park that is not too far away.
Visit Nieu-Bethesda (53 km from Graaff-Reinet) with the Owl House, Fossil Interpretation Centre, Craft and coffee shops, art centres, Ganora excursions.
The Agave Distillery
A historic Karoo Farm
Kalkop Meteorite Crater