Gramado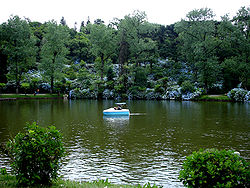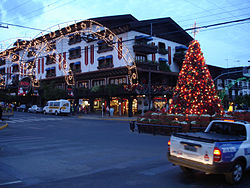 Gramado
is in the state of
Rio Grande do Sul
, in
Southern Brazil
. Although practically unknown abroad, Gramado is an extremely popular tourist destination for Brazilians due to its cool weather, European architecture, family-friendly activities and ecotourism options at the neighbor municipality of
Canela
.
Understand
Gramado is a municipality and small touristic town, southeast of
Caxias do Sul
and east of
Nova Petrópolis
in the southern Brazilian state of
Rio Grande do Sul
, in the Serra Gaúcha region. Most of the population of Gramado are of German or Italian descent. Gramado is one of the towns along the scenic route known as
Rota Romântica
. The town is also part of the scenic Região das Hortênsias route.
Gramado hosts the
Festival de Gramado
, a major South American film festival and Gramado's most important event. Gramado is also known for hydrangea blossoms in late spring. Another key event in Gramado is
Natal Luz
, when Gramado is decked out in lights and wreathes made of recycled material by local residents.
Get in
By plane
Gramado is served by two airports:
Hugo Cantergiani Airport
(
CXJ
) in Caxias do Sul and Salgado Filho International Airport (POA) in Porto Alegre. There is also an airstrip in Canela, which is only used for private airplanes. A plan to create the Hydrangeas Region Airport was halted by a court order due to environmental reasons.
Hugo Cantergiani Airport is a small airport serving Caxias do Sul and, it's some 60km (37mi) away from Gramado. CXJ is basically a collecting airport to Congonhas Airport in São Paulo and stopover from flights coming from e to Porto Alegre. Because of that, CXJ tends to be more relaxed on baggage overweight. In general, flights from Congonhas (CGH) to CXJ are cheaper than those flying to POA, an average roundtrip flight CGH-CXJ costs around R$450 (US$210). Infrastructure for visitors is minimal.
Salgado Filho International Airport is the largest, busiest airport in Rio Grande do Sul and Southern Brazil. POA is some 118km (74mi) away from Gramado. POA has a modern infrastructure, being the first airport in Brazil to have a mall (shopping centre), with movie theaters, food court, shops, duty-free shops, banks and so on. POA is connected to several Brazilian and South American cities.

By bus
Gramado is served by Citral, which has the franchise to explore bus services in the Região das Hortênsias, Vale do Paranhana. Most Citral buses on the route (Canela-)Gramado-Porto Alegre also call at POA airport (buy your ticket at arrival floor, on the bus ticket booth to the right of the Citral travel agency).
Gramado Bus Station is centrally located, on Borges de Medeiros Avenue. Taxis wait for passengers on the bus platform side, whereas uber-like services wait near the pedestrian access.

By car
Carpooling offers on the Porto Alegre/Gramado route are frequent, and the most popular carpooling platform in the region is BlaBlaCar.

Get around
By car
Driving your own vehicle is the most effective way to visit attractions outside the city center, or going to the
Parque do Caracol
or
Canela
. There are several car rental agencies around the city.
By bus
Public buses are operated by
Gramado Turismo
(Portuguese only). They are cheap , but meant for locals, not for visitors, and are hardly useful to visit tourist attractions. Information about public bus routes online is almost non-existent, although you may try to seek local for help if you are on a tight budget and has thus to seriously consider taking a public bus.
An alternative is to use the hop-on hop-off tourist bus service, provided by
BusTour
, which runs circular routes between Gramado and
Canela
, passes through several tourist spots, including the
Parque do Caracol
. As of Sep 2016, a day ticket costs R$ 49, and it can be conveniently purchased at your hotel, at the bus stop, or directly from the bus driver. The disadvantages of the hop-on hop-off bus are that it is rather unfrequent (30 to 55 minutes intervals) and it only runs during daytime.
On foot
The city center of Gramado, which contains many of the city's attractions, shopping and gastronomy, can be easily and it's better explored on foot. It's recommended to stay in a hotel in this area if you don't have your own vehicle.
See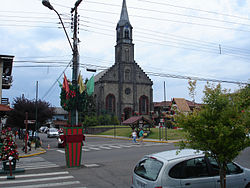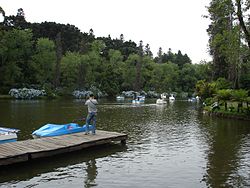 The area of main touristic interest is along Av. Borges de Medeiros, where sit the St. Peter church, the Festivals Palace, Covered Street, several restaurants, shops and squares.
Lago Negrosurrounded by Araucaria wood that gets full of flowers in summer. Very popular walking spots. Features pedal boats.

MiniworldOutdoors collection of world monuments, such as Neuschwanstein castle, Ouro Preto and Bariloche airport, built in 1:24 scale.

Covered Street

address: city center

Shopping street with acrylic roof that looks beautiful with Christmas lights.

Parque Knorr

address: Rua Bela Vista, 353

Christmas-themed picturesque park, features Santa Claus Grove, Ms. Santa Village, Toy Factory, Wish Tree and Bear Cottage.

Culture Center

address: Rua São Pedro, 369

features City Hall, Elisabete Rosenfeld Theater, the Municipal Historic Archives, the Prof. Hugo Daros Municipal Museum, sporting and religious facilities.

Festivals Palace

address: Av. Borges de Medeiros, 2697

Hosts famous Gramado Cinema Festival, and regular cinema sessions year-round.

phone: +55 54 3286-5100

address: Av. das Hortênsias, 5.507
Do
Agrotourismo

address: Beside the bus station
Eat
Restaurante do Hotel Pousada Colina de Pedra

phone: +55 54 3286-0967

address: Rua Furna 2305, Zona Rural de Gramado

Chicago-style pizza.

St Hubertus Restaurante

phone: +55 54 3286-2227

address: Av. Borges de Medeiros, 2000

Fondue.
Sleep
Hotel Recanto da Serra

Hotel Cabanas Tio Chico

phone: +55 54 3286-1327

address: Av. das Hortensias, 3634

phone: +55 54 3286-0967

address: Rua Furna 2305 Linha Furna

phone: +55 54 3286-0806

address: Rua Mestre, 18 Bairro Floresta
Go next
Canela - Go to great waterfall in Parque do Caracol (Snail Ecological Park) and the Parque da Ferradura (Horseshoe Ecological Park). The tourist-oriented city center is also quite enjoyable.
Nova Petrópolis - Small city populated by German descendants. Not as picturesque as Gramado, but more authentic