Gran Canaria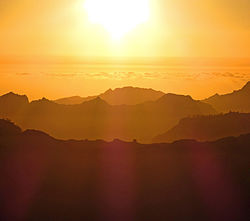 Gran Canaria
is the third largest island in the
Canary Islands
and has the largest population. It's often described as a "continent in miniature" because it has so much variety to offer.
Regions and cities
Other destinations
— archaeological containing prehistoric cave dwellings, temples, and granaries attributed to the pre-hispanic culture of the Canary Islands.
Understand
The capital
Las Palmas de Gran Canaria
, in the northeast of the island, is one of
Spain's
largest cities. The south coast of the island is now dominated by the tourist resorts which generate most of the island's economy. The centre of the island is mountainous, with the remains of ancient pine forests on the peaks. Maspalomas in the south of Gran Canaria is the tourist zone, with the largest variety of options for enjoying the island. For tourist information or specific help, the TI Center is in Yumbo Center.
Talk
The official language of Gran Canaria is
Spanish
. However, one hears many people speaking English and German in the tourist areas.
The local inhabitants speak Canario, a Spanish dialect characterized by a slightly more singing tone than the mainland, less clear pronunciation and incorporation of different verb tenses. Even for foreigners with a basic knowledge of Spanish, the varieties spoken on the islands can take some time getting used to. On Tenerife however, the pronunciation seems to be more neutral, and leans a bit more toward normalized Spanish. In a way is very similar to Chilean Spanish. Canarian is known by;
loss of ending 's' in most plural unstressed words into a "h" or "sh" sound (relojej instead of relojes),
diphthonging words and verbs (callao for callado, pesao for pesado),
emphasis of the H sound when normally mute (hediondo pronounced jediondo and not ediondo),
different verb tense (ayer juguemos un partido instead of ayer jugamos un partido),
use of Haiga instead of haya (as the verb "to have") and
use of simple past tense instead of past participle tense, resulting in the occlusion and almost non-existence of the latter.
Get in
By plane
Gran Canaria International AirportA modern international airport which receives flights from Madrid, about 2½ hours, and from Barcelona and Bilbao, both about 3 hours. UK flights takes about 4 or 4½ hours. It operates flights to different destinations, mainly through Europe and northern Africa. To get into the city, take the bus number 60 from the airport to either bus station in the city. The bus runs every 30 minutes from 06:15 to 20:50 and costs €2.70

.
Get around
The public transportation system is well organized and economical. There are regular buses that go all over the island, most of the ones useful for tourists run through Avda. Tirajana in
Playa del Inglés
and head north to the Atlantico shopping centre or
Las Palmas
or along the coast towards Puerto Rico. To travel Maspalomas-Las Palmas the fastest bus is 50, which stops at the airport frequently for both directions. Make sure to bring some change as bus drivers rarely accept high value notes. You can also buy bus passes for certain routes but you can only collect the cards from local offices. Do not expect a bus driver to help you open the luggage compartment, you just have to do it yourself. Never try to make a bus driver smile either as they have the most stressful job on the island. You can find out why by taking the Playa-del-ingles bus towards Amadores. If you are scared of heights and fear falling of cliffs do not take this bus.
Do not be afraid to take a taxi. Sometimes you can get somewhere a lot quicker for a few euro more than you would spend on a bus. Why not walk past a bus station and ask somebody to share a taxi? All taxis on the island are metered and easily identified. Avoid taxis without a meter as they will certainly be uninsured.
Rental cars are available in all resorts, both from local companies and large international car rental companies. Most of the large ones such as Avis and Hertz have offices in
Playa del Inglés
near the motorway.
Goldcar (http://www.autocarhire.es/locations/gran_canaria_car_hire/) at the airport seems to offer interesting prices on the website, but in reality you are forced to buy a tank full of gasoline and return the car empty ( which is impossible), they force you also to take an additional insurance coverage. This makes the price almost double from what is advertised. You can rent or pick up a car at the airport. The rental offices are on the ground floor on the new wing for international departures.
There are no trains in Gran Canaria. There is an autopista (motorway/highway) that covers much of the island.
To go to the other islands are not far, and the island most near is Tenerife which is only 2½ hours away with ferry (http://www.world-nomad.com/gran-canaria-to-tenerife/)
Climate

The climate is subtropical semi-arid for most locations, but it may vary a lot depending of where you are going. For the main touristic resorts the weather is mostly comfortable.
In Maspalomas there is normally 28-33°C in July at daytime, which drops to 21-24° by night. In winter, day temperature is normally 23° and by night 16-17°. Bad weather can occur, especially between mid-October and March. Temperatures can then drop to 11-12° and be quite windy.
Arguineguín has the best climate, with the least wind, and is, due to its protected location, among the driest in winter too.
Las Palmas has a bit of a different climate, and is sometimes clouded and rain might occur, even in May or June, but it is not very common. If you travel in winter take at least a thick jacket or two. If you plan to travel to the mountains bring or buy a scarf and gloves. The freezing point can be reached on Pozo de Las Nieves.
In summertime, always bring a bottle of water during the day. If winds from Sahara occur and temperatures rise above 40 °C, try to stay in the shadows, close to climatized air and always drink plenty of water.

See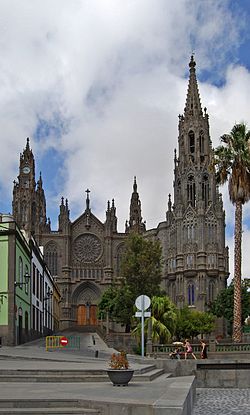 The sand dunes in Maspalomas (ask for "Las Dunas de Maspalomas").
San Bartolomé de Tirajana.
phone: +34 928 797 070

address: Barranco de Los Palmitos s/n. 35109 Maspalomas Gran Canaria

Various animals (esp. exotic birds) and exotic plantations. Also dolphins. Has shows with parrots, dolphins and birds of prey (eagles, hawks, etc). A great place to go with children 2 yr and upwards. You could spend 3-4 hours there.

TerorNuestra Señora del Pino

ValsequilloThis area is very green with imposing rock formations and steep ravines, It has pine forests, palm groves and almond trees (which are in bloom in January and February) and all kinds of vegetation within its 39.15 km². The historic center and surrounding neighbourhoods offer valuable traces of history like the Church of Saint Michael Archangel, the former Cavalry barracks, and Flemish carvings. The varied gastronomic offer includes traditional cheeses, wine, honey and almonds, all of which make up one of the major attractions of Valsequillo.
Risco Caido and the Sacred Mountains of Gran Canaria Cultural LandscapeThis world heritage site extends over the north, west and central parts of the island.
Do
BikingThe island is a paradise for bikers, with lots of trails for mountain biking, from easy to very difficult and long ones. There are also many possibilities of road biking, both in the mountain region and along the coast. There are bike rental centers in the island.

phone: +34 677704981

Gran Canaria is a perfect place to learn to surf. A surf class will set you off safely with the right technique. Use a reputable surf school such as Surf Canaries, a mobile surf school in the south of the island who take parties to the right beaches for learning and give in depth and fun classes with qualified instructors. It's a great day out if you always fancied having a go!
Hiking
Gran Canaria is a paradise for hill walking with its inhabited cave villages, lake side walks, spectacular mountain scenery and wonderful flora & fauna especially in the Spring. There are a great variety of hikes on outstanding trails, many of these are off-the-beaten-track and the climate is excellent for trekking.
Beaches
The south of Gran Canaria is famous for the variety of beaches. The longest beach is "Playa del Inglés" and "Maspalomas", the almost 4 km stretch of beach between Playa del Inglés and Meloneras is a serviced nudist beach. In the Mogán area there are other famous beaches, such as "Amadores", "Anfi del Mar", "Puerto Rico", and "Playa de Mogán."
Surfing
Described as the "Hawaii of the Atlantic", the surf on Gran Canaria can be incredible. On the right day the surfers will put on a free and spectacular display, often in the north of the island but also in the south on the right conditions - Maspalomas, Playa del Inglés and Arguineguin.
It is also a great place to learn to surf with fantastic beaches and a couple of really good surf schools.
Golf
The island is home to Spain's oldest golf club plus eight newer courses, mostly in the south of the island.
Scuba diving
The south part of the island has many great diving locations and many dive centers. Most arrange daily trips Monday to Saturday with hotel pickup and reasonable equipment rental prices. Most travel guide books suggest one or two dive centers.
Near Maspalomas, Let's go diving arranges boat tours to natural and artificial reefs with a variety of fish and other species. A wreck dive is also possible within 20 m depth. You may find flashier rental equipment but you will hardly find better personnel.
In Arquineguin, Scuba Sur Diving Center, inside the Time Share Resort Anfi Del Mar, organize daily diving trips, free scuba diving try every day in the different pools, all PADI courses till Instructor Development Course; three times a week snorkeling trip to the Pristine Bays of Gran Canaria from amazing beach of Patalavaca and the small and wonderful private marina, from where boats are leaving.
Eat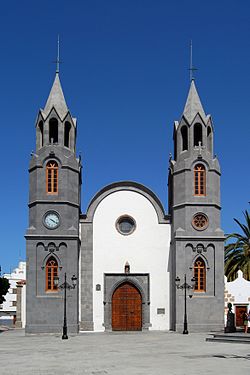 Besides many good restaurants of different nationalities, the Canarian Cuisine is especially worth trying.
Most restaurants serve local wines as well as Rioja.
La Casa Vieja: (North area of Maspalomas) serve Canarian meals like Gofio, fish, squid rings, octopus with vinegar, Papas arrugadas con mojo (salted potatoes with a spicy mix), and grilled meat.
In Las Palmas there are many excellent fish restaurants, specially along the coast near Las Canteras beach and El Confital in the neighborhood of La Isleta. An exquisite dish is Chancletes al limón, but many other local fresh fish are excellent too.
Restaurant Ciao Ciao near the beach in Las Meloneras serves an Italian cuisine with good pizzas, meat and fish dishes.
Restaurante Olivia in Puerto de Mogán serves well prepared local dishes near the yacht harbour in Puerto de Mogán.
As an aside, when staying in the area of Playa del Inglés, expect to be regularly solicited by "waiters" who want you to eat at the restaurant they are working for. It can't be avoided but becomes slightly less annoying over time.
If you are in Maspalomas then you must visit
Samsara
. Making a booking at least a week in advance is a wise decision. The portions are enormous so order per couple. Arriving in beach shorts and a t-shirt will make you feel under dressed so dress smart-casual. You should not hold back and spend some extra money for desserts and anything you get offered. It may be the best restaurant on the island, not just because the food is nearly perfect but it has an amazing Asian décor, out of the world vibe and extremely welcoming staff.(2012)
Drink
The Yumbo Centrum dominates the centre of
Playa del Inglés
. It has dozens of restaurants, bars and clubs, many catering to the gay community, particularly on the higher floors.
Some of the cheaper bars are on the Western side of the ground floor.
Busy gay bars are Construction on the ground floor and Terry's Show and XL on the first floor. The top floor has dance bars such as Mykonos and Mantrix that are a mix of bar and clubs, and tend to be more expensive. Heaven also has a club here, on the third floor.
A selection of real English teas can be found at Café Florín, also known as the Internet Cafe one minute from the Yumbo, down the hill towards the Playa del Inglés beach.
Stay safe
There is relatively little crime in the resorts, the main annoyance is drunks causing trouble. As anywhere, one should not leave valuables unattended on the beach.
In Las Palmas de Gran Canaria, applying common sense for large cities is advisable. Some of the streets can be badly lit and the area around the harbour can be a bit threatening.
In the south, young guys may attack aged people trying to tear off a bag. It may happen even in the daytime on the central streets of Playa del Inglés.
On the beach, African women vendors may try to put a bracelet on your wrist and then charge an exorbitant fee for it. They will almost always approach you with a badly spoken "whea' you from my friend". Pay no attention and walk away as quickly as possible or you will be plagued. Some of these women can be aggressive however, so always be on your guard. Scream "Molestado!" if you have to and if you are forced into having to pay for bracelets, make sure you have a few small bills or change and convince them it's all you have.
Gay travelers be warned about being approached by very dark skinned Moroccan men. You can tell they are not Spanish from their different hair texture. They can approach you for sex tourism, and will tell you a cheaper price and then ask for more and more, so make sure you agree on one before. Or they can be very aggressive and not leave your place. one way of deterring them is telling them you are being treated for an STD, although you may be heavily insulted for this. It may also be recommended to do anything you want to do, in the many bars or clubs with darkrooms and places.
If you've been to Tenerife, you may be familiar with the so-called Lookey Lookey Men. Since they are not as common in Gran Canaria, they are usually not seen as problem, but can be annoying as they try to sell cheap items which are usually bootlegs.