Granada (Nicaragua)
Granada
is the oldest colonial city in
Nicaragua
and the all-time-rival of
Leon
. It is located on the north west side of the Lago Cocibolca. Its colored colonial buildings, interesting history and relative safety make it an important tourism destination. It is the city in Nicaragua with the highest presence of expats and one of the most touristically "developed", especially compared to other cities in Nicaragua. Both these things will be immediately apparent to the visitor.
Understand
Granada, nicknamed
La Gran Sultana
after her Muslim-influenced namesake in Spain, was founded in 1524 and is the oldest cities of Nicaragua and the oldest European settlement in the Americas mainland that lasted (the only older cities are Santo Domingo in the Dominican Republic and Panama, which moved afterwards). A rich town for most of the colonial period, Granada has always been and continues to be a conservative city. As a (sort of) "Caribbean Port", connected to the ocean by the lake and the Rio San Juan, Granada was attacked by pirates several times in its early history. However the attack that left the biggest mark on the city was carried out by an American in 1856, when the city was burned down.
Filibuster Walker
When in the 1850s Granada's liberal rival León was out of ideas how to win the civil war it had with Granada on and off since the independence of Nicaragua, the liberals of León asked American "Filibuster" (back then a term for a mercenary captain that conquered Latin American countries and territories) William Walker of Tennessee for help. What they didn't know was that Walker wanted power for himself and after defeating the conservatives declared himself president and proceeded to invade other Central American countries to enlarge his newly-won empire, with designs of making it a U.S. slave state. Although he was defeated by an effort of almost all of Central America in the end, this didn't happen until he had burned down Granada and allegedly put a sign in the scorched earth claiming "here was Granada". Defeated but still considered a hero by many U.S. Southerners, he went home to write his memoirs (which have since entered the public domain and are an interesting look into the mind of a madman if nothing else) before an even more ill-conceived plot to conquer Honduras ended with him in front of a British firing squad.
The town recovered however and became the dominating force culturally and politically for the next three decades until the liberal general Jose Santos Zelaya took control of the country. You can still see a lot of the wealth and power Granada once had in its colonial houses and churches. And there is still a monument for some former president or other who was born here at almost every corner downtown.
Granada still is very much a conservative town and the ruling Sandinistas are not as well liked - to say the least - here as they are in León, which contributes to their ongoing rivalry. But nowadays, Granada is also notable for winning awards in American magazines as supposedly one of the best places on earth to live, and many retired Gringos have made Granada their second home. Many colonial houses and even some small islets just out of town in Lake Nicaragua are still for sale, so ask the locals if you want to move here long term and have the necessary cash on hand.
Although the Gringo influence here is stronger than in most other places in Nicaragua, Granada has lost nothing of its charm and continues to attract tourists, locals and expats alike.
Get in
By plane
Fly to
Managua
(the capital of Nicaragua) and from there make your way by bus (every half hour from Mercado Huembes or the UCA station) or taxi (around US$35 from the airport depending on your bargaining skills). As an alternative, you can take an air conditioned shuttle for US$15 from the airport to Granada. In most cases, the shuttle will deliver you to any point in Granada. There is a tourist information counter as soon as you clear immigration. Ask the representative and s/he'll point you to a reputable shuttle service. The trip by taxi or shuttle is about 40 minutes. Another option may be to fly to the Liberia Airport over the border in Costa Rica, but it would involve about 5 hours of travel and a border crossing. Rental cars are not allowed to cross the border, but agencies will arrange for car swaps and pickups on the other side of the border. Managua is by far your best option.
There is a small airport a few miles from Granada on the highway to Masaya. The airport was served only by
Nature Air
, which offered flights from San Jose and
Liberia
, Costa Rica, the flights are now going into Managua International airport (
MGA
). Flights originate in San Jose, Costa Rica's capital and also from Liberia (LIR) in Guanacaste, Costa Rica.
The airport on Ometepe (from where a boat takes roughly three hours to Granada) only receives domestic flights (from San Carlos, Managua and San Juan del Norte) as of 2015, but this may change in the future.

By train
The train was shut down during the era of Violeta Chamorro (1990-1996). So, no, there's no possibility to take any train to get there. Nevertheless, you can have the chance to visit the old train station, which is used as a technical school sponsored by the Spanish Cooperation.

By car
Yes you can get there by rental car, which is often really expensive to hire, since imported cars are expensive too and the risk of theft is high. Most of the principal highways are in excellent condition, however other obstacles (cows, horses, people, people on horses) can surprise you - especially at night, so be alert. Secondary roads range from paved to gravel. The roads from the airport are excellent on the most direct route.
From Costa Rica, take the Panamerican Highway, which leads from San José through Liberia, the border crossing at Peñas Blancas, the first bigger town in Nicaragua is Rivas, after Nandaime take a right onto the Granada-Nandaime road. Look for Granada-related signs.

By bus
Buses from Managua to Granada leave from both the UCA Terminal (C$25 (córdobas) and Mercado Huembes as of April 2016. If you have oversized baggage you might be asked to pay an extra C$25) and Mercado Huembes on a very frequent basis The trip takes about 2 hours. There is no scheduled public transport that does the León-Granada run directly, so you'll have to change buses in Managua. If you take the chicken bus from Leon your last stop in Managua will be the Israel Lewites Terminal from where you will have to go to either the UCA Terminal or Mercado Huembes. Minibuses from Leon to Managua depart from the same location in Leon but terminate at the UCA Terminal so they might be a more convenient way to reach Granada as they lessen the need to change terminals in Managua. Granada can also be reached by first-class buses from neighboring Costa Rica and Honduras.

From Costa Rica
There are two main options, either take the ordinario buses which cost half the price (US$10) and fuzz your way through, experience a lot of interesting sights and the heat or hop on one of the (often agonizingly) air conditioned coaches, which are comfortable, take you there in about 8-10 hours (crossing the border might take a while, and you will have to exit the bus twice for passports and customs) and cost US$20. The best options going from Costa Rica to Nicaragua are Central Line, TransNica and Ticabus. Back from Granada to Costa Rica you might as well take the Tica Bus or NICABUS. Just ask any taxi driver in whatever city you are in to take you to the Nica or TICABUS-station.
From Tegucigalpa, you can also get the TICA bus, which leaves daily around 9AM for Managua, for around US$20. Then take another bus (at a different station), or taxi, to Granada.

By boat
There's a boat running twice a week from San Carlos via Ometepe to Granada and back. It leaves San Carlos at Tuesday and Friday at 2PM. The trip to Ometepe takes about three hours. San Carlos-Granada is roughly twelve hours one-way. There is a ferry running between Granada and Ometepe, but as of July 2016 it was canceled until further notice, as the lake levels are too low. In general the ferry may be canceled due to low lake levels as well as storms, so enquire locally if possible.

Get around
Granada is a small city; everything can comfortably be reached by foot. For some outlying points (e.g. the Asese peninsula) taxis, coches and bikes come in handy.

By taxi
Local taxis work on set prices: C$10 by day, and at night after 9PM C$20 per person, wherever you go within the town's borders.

By bus
Buses (old stylish US or Canadian schoolbuses) go just about everywhere at about every time, you see them and if you slightly look like anybody wanting to go anywhere, be sure they'll load you on their bus. Another option are the mini buses which have a bit more set time, they're more comfortable and also faster but cost a bit more. The buses leave either west of the Central Market building (50 m into Calle Yo Yo) or near the petrol station UNO. Just ask around, people are very friendly and tell you where you need to go. Also, many people know at least partially the timetables.

By coche
Horse-drawn carriages, known as coches, are a wonderful way to see the extent of the city limits. From the cemetery in the southwest, to the converted Rail Station in the north, to the water front in the east. US$30 for an hour and a half tour. They can also be hired just like taxis.

By boat
Granada's islets are not to be missed, and the way to see them is by boat. Boat tours leave from Puerto Asese, about 5-10 minutes from downtown by taxi. Try to book them as a group as it gets cheaper for each individual. Also a boat that is almost full might make special deals for a single traveler or a small group

By bike
Most hotels and hostels rent bikes and if yours doesn't, some are willing to rent to people staying elsewhere. You should pay roughly US$10 a day. As the city is rather flat and traffic is manageable it is a good way to get around, although the heat might get uncomfortable. Robberies and assaults at machete - point have happened along parts of península de Asese.

See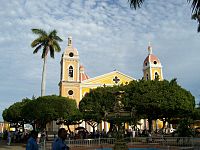 There are 6 main churches : the Cathedral, La Merced, Guadalupe, Xalteva, San Francisco and María Auxiliadora, which all have interesting historical backgrounds and are in very different states.
Fuerte La Polvora is an 18th-century fort (built in 1748) that's open for tours. A few historical exhibits are available on the main level, you can climb the towers for views of the quiet city streets, or wander through the lovely courtyard.
Lake Cocibolca (also known as Lake Nicaragua and, locally, as Lago de Granada), is the 10th largest fresh-water lake on earth and is inhabited by Bull Sharks, informally named the Nicaragua Shark, and sawfish. The beach area is not the safest area in town at night and comes with a rather unpleasant smell during the day. However, during the day this is a nice place to catch a breeze, and there are many Nicaraguan families that come here to pass the time. Vendors pass selling all kinds of food. Tours of the islands are available from Puerto Asese, near the pleasant Asese restaurant (known for its boneless fish).
A bit further along the shore is the Centro Turistico, a park like area complete with bars and restaurants. It's a bit cleaner then the beach right down from the city.
The local market is definitely worth a glimpse, it's chaotic little market stands where you can get almost everything. The market is open everyday except holidays around and in the old Market hall, you can't miss it.
The Central Park with the Cathedral and the Colonial houses surrounding it. The lively center of town with a lot of handicrafts or snacks to buy, or just sit down at a bench and watch the city and its people. Next to it is the Parque Independencia with a monument to the independence movement of 1811 and the famous "Puerta de los Leones".
The streets themselves with their charming Colonial colored houses are always worth a wander themselves.
Take a boat tour of the Isletas. Boats leave from the marina at Puerto Asese. Your guide will tell you how all the islands are owned by millionaires. You will even visit an old fort that is on the island. Not to mention you will see adorable monkeys that live in the tree.

phone: +505 2552-7614

address: Calle Atravesada 505

Private collection of over 5,000 Nicaraguan Pre-Columbian ceramics.
Do
Mombacho Beach Club. The heat in Nicaragua is hard to stand, so you'll love refreshing yourself in the 60-foot pool. On top of that, it's located in a gorgeous courtyard, with a bar and free WiFi. Enjoy a range of massages from aromatherapy to Shiatsu to ChocoTherapy, or just have a manicure, pedicure or facial. Entry to pool US$5. Spa treatments $9-28.
Rent a bike from Mapache located on Calle Cisne, 2nd left off Calle La Calzada. You can bike the entire city in one day.
Go up the church tower at the Iglesia La Merced (US$1) and watch the sun go down over the bustling city.
Take a Canopy Tour, where you will go flying on cables through the rainforest trees on the side of Mombacho Volacano. (US$25)
Try interesting drinks at local market stands (such as cacao de leche, linseed drink or red beet drink, beware: often painfully sugary!).
Get happy with mangos! You can buy heaps of mangos at the market for about C$1 each.
Take a bus to Masaya and visit the local and giant hand craftmarket (good advice: better see the new than the old market, same stuff, half the price).
Get a very inexpensive table or seated massage at Seeing Hands Blind Massage, located in Computadoras de Granada, Calle 14 de Septiembre, 1/2c. south of the Firehall (Bomberos).and the other location they have is on Calle La Calzada before Guadulpe Church.
Visit the Mombacho volcano (that's the one next to Granada). There's a paved road all the way to the top and a tropical rain forest inside the crater. Allow several hours to walk inside the crater. There's a great view of Lake Nicaragua from the top.
You can also go to the Masaya Volcano reserve and watch over the wide land, see the Managua lake and maybe get some stinky smoke in your lungs and be happy about the beautiful nature surrounding the Volcano.
The Laguna de Apoyo is a deep Volcano crater lake and presumed to have the clearest water in Nicaragua, you can swim and even snorkel in there. Overnight stays with either San Simian Resort or Laguna Beach Club can be arranged. A Taxi from Granada should cost around US$15. You can alternatively take the bus to Managua and get dropped of at the entrance to the Laguna de Apoyo. From there you can take a taxi (US$4) or ask around, as there is a bus going all the way till the lake (at around 11AM). The bus leaves the lake in the afternoon only at 4:30PM. Taxis directly at the lake are also scarce. Worst case is that you have to walk or hitchhike to get away.
The Choo-Choo train There's that weird train that goes all around town, originally for kids, but hey, great fun, it plays the latest reggaeton-tunes over and over again and it only costs C$5. Hop on whenever you find it.
Casa de los Tres Mundos (Casa de los Leones),The Foundation "Casa de los Tres Mundos" is an institution created to initiate, support and promote cultural projects in Nicaragua and Central America. Besides these artistic, musical and educational activities, which emphasize support for the poorer segments of Nicaraguan society, the foundation finances and coordinates an integrative rural development project in Malacatoya.
Horse and carriages circle the city center.
Live music at Restaurant Imagine 1st left off Calle la Calzada, going towards the lake on Calle la Calzada from the Cathedral turn left first block (right after Cafe de Arte). One of the only places playing live classic rock (unplugged version) in the city. Live music starts at around 9PM almost every day of the week. Check the sign posted on the door daily to see who is playing. Very relaxed atmosphere and great food although a little bit pricey. No cover charge.
Tourism Granada Before you head out on your day of discovery, be sure to have a look at the city's arts calendar for a complete listing of cultural events in the city — from live music, film, literary, arts events and cultural celebrations, the calendar is the source in Granada.

ChocoMuseoTake a free tour of the Museum learning where chocolate comes from and the history of the evolution of chocolate. Get a hands-on lesson of how to make your own chocolate in a chocolate workshop for US$24.15 at 9AM, 11AM, 2PM or 4PM. For the extreme chocolate enthusiast, the Museum and Factory also offers tours to a cacao plantation on the Mombacho Reserve. You also get a chance to swim in the thermal waters, see the Isletas and ride on horseback. Tour cost US$65 on horseback, $55 to hike. Try the daily all-you-can-eat breakfast for $6 + tax.
Learn
There are several Spanish language schools in Granada:
Casa Nica Spanish School
(http://casanicaspanish.com/) is a cooperative of women that has been teaching Spanish since 1998. They tailor Spanish classes according to students' skill level and interests, and you also get to meet people at afternoon activities. They can also provide home-stay accommodations and connect you with their favorite local organizations if you want to volunteer.
One On One Tutoring Spanish School
, One on One Tutoring Spanish school by Roger Ramirez On Calzada Street # 450 near to Guadalupe Church is the only Spanish school in Nicaragua that uses a unique teaching system where each student has four different instructors per day of class (the same four instructors for as long as the student stays at the school) if you decide to take 1-4 hours a day for five days or more. Having four instructors makes the course much more intensive and much less boring for the student. Open every day including holidays.
The local Red Cross is also a good option to go to (the web page of the school located there is
here
), since you can buy 1-on-1 Spanish lessons from them and so support them. For more options, look around for flyers.
Work
Volunteer opportunities abound.
La Esperanza Granada
is an organization that sends volunteers into local schools to help out, or supports women's working groups, built a community center, etc., for the impoverished outskirts of Granada. Volunteering is completely free of charge, minimum commitment is generally eight weeks but shorter stays are possible. Another volunteer option is
Educación Plus de Nicaragua
, a local NGO that educates and feeds children in the marginalized outskirts of Granada.
Buy
Granada is known around the world for its high-quality rocking chairs which can be seen all around town. The main vendors a bit out of town on the road to
Masatepe
.
If you want to go cheaper, there's the option to buy local and famous
Nicaraguan pottery
, which you can buy in town, but the better option is to go to San Juan de Oriente where there's a more varied selection and the experience of meeting the artisans.
Also very typical are the
hammocks
, there are several hammock stores and factories in Masaya, but you can find them made in Granada on Calle Xalteva, a half bloc west of the central park at Tio Antonio http://tioantonio.org/eng/eng_content/eng_child1.htm .
address: Calle Calzada

If you've been traveling for a while, here you'll find two things you're desperate for: great books and real coffee. By far the best selection of new and used books in Granada with thousands of English-language books as well as Spanish titles. Classics, dictionaries and study guides, Latin American non-fiction, travel guides, etc. While there are bargains, expect standard prices for Latin American bookstores – books are import items in Nicaragua. (For those sticking to a strict budget, nearly every hostel in Granada has a book exchange.) They also sell Nicaragua calendars, postcards and postage, t-shirts, Mayordomo chocolate and other things. Lucha Libro also serves smoothies, fresh coffees ranging from drip to cold brew (including bottles of concentrate to go) to frappes, fresh fruit salads, amazing pastries, bags of dried fruits and other reasonably-priced fare to eat in (the store has tables inside and outside) or to go.
Eat
There are many street vendors selling quesillos, tamales, revueltas, carne asada, and other local specialties such as gallo pinto (rice & beans), fried plantains, nacatamales, bajo (yucca, plantain, beef mix). Very inexpensive. The local specialty is
Vigoron
: cabbage, tomatoes, onions, and fried pork rind (or roast pork) on mashed yucca for C$40 from the kiosks in the parque central. Great value and taste (provided you are not a vegetarian).
Budget
phone: +505 2552 8582

address: Calle La Libertad

Friendly and relaxing.

Pupusawa

address: Calle el Comercio

Ridiculously cheap El Salvadorian (and some Nicaraguan) dishes. Try the burrito, as well as order a refreshing té helado cacero con durazno (homemade peach ice tea) on a hot day.

TropicanaOffers really cheap and quite reasonable food, also breakfast.
Mid-range
Cafe TropicalNicaraguan/Caribbean cuisine, in addition, they have a very nice selection of Chinese food. Open for breakfast, lunch, dinner and exotic drinks.

phone: +505 2 5522942

address: 4 blocks west of Old Hospital

German cuisine and best BBC. Draft beer and homemade cheesecake by owners Charly and Maria Elena.

phone: +505 2552 6095

address: Calle La Calzada

They arrange the local traditional meals into tasteful and beautiful dishes. They offer a selection of freshly made juices and cocktails.

Café de los Sueños

phone: + 50525527272

address: Calle La Calzada

Canadian/Mexican-owned café offering crepes, paninis, salads and more. Great coffee and even better deserts. Try the chocolate & coffee cake.

Las Jarras

phone: +505 8582-4943

address: Calle Libertad

Chicken, beef or pork, marinated and char-grilled, served on a bed of fried plantains, and topped with salad, with optional side orders of gallo pinto and fried cheese. The portions are hearty, to say the least. In addition to the tables on the street, there's a nice interior patio with a bar.
Splurge
AseseHas a beautiful location, on the edge of Lake Nicaragua, with lush foliage surrounding it and a rustic, spacious dining area. Boneless fish platters are the house specialty.

Café DecArte

address: Calle Calzada

Offers delicious international (some organic) food and excellent drinks. Snacks and meals are between C$40-150. Surrounded by local art. Daily specials.

La Claraboya

phone: +505 2552 2775

Fusion cuisine restaurant. Menu includes prime cuts of tenderloin beef, chicken, lobster, shrimp and fresh seafood pastas.

ImagineOffers delicious food, excellent drinks, homemade salsas, snacks and meals are between C$150-400 (without value added tax). There is always live music playing, usually from 8PM, classic rock (unplugged version), great fun and atmosphere. Daily specials.

El Tercer OjoOffers good food, a lot of tapas and specials in a beautiful atmosphere, Tapas and whole meals ranging between C$40-200. Also offers art-books and a big selection of wine.

El ZaguanThe best churrasco, the delicious Nica grilled steak, cooked over an open grill. Set in beautiful colonial open-air garage.
Groceries
Granadans do most of their grocery shopping in the huge chaotic central market (along Calle El Comercio, aka Calle Atravesada, a few blocks south of downtown) or in a similarly chaotic Palí supermarket (same area).
Besides Palí, the city has two other supermarkets, cleaner, less crowded, and more upscale: La Union and La Colonia, which are located next to each other in Calle La Inmaculada about a kilometer northwest of the central square. La Colonia is the more upscale of the two, with a better selection of products such as wine, ice cream, or exotic (to non-Nicaraguans) fruit. There is also a good bakery a block or two west of La Colonia (on the same, southern, side of the street). In 2018, La Colonia started selling their own baked bread - try their baguettes!
Drink
Great drinks can be purchased from local
vendors at the corner in Parque Central
, such as flaxseed drink, hibiscus (
jamaica
) iced-tea, or red beet drink or anything else, completely overloaded with sugar. Nice alternative: The local
Cacao
drink, milk and powdered chocolate beans, almost like chocolate milk, available in most cafes. Also
Raspados
made with crushed ice and raspberry syrup are very delicious and are usually sold by vendors around the Central Park.
And then of course, the local coffee! You have the biggest range: organic, shade grown, fair trade....
Coffee La Amistad. Nice place to chill out, Steven is a big help and is full of information about trips and sights in an around town. Good coffee and Iced Tea!!

Cafe Lucas previously Don Daffa

address: Parque Central

Parque Central Located in the shadow of the Cathedral. Nicaraguan/Caribbean cuisine, in addition, they have a very nice selection of Chinese Food choices. Open for breakfast, lunch, dinner and exotic drinks. Vernon Hodgson from Corn Island is Proprietor and Chef.
Here are a few bars worth mentioning:
address: Hotel Plaza Colon

El Bar offers a select wine list, classic cocktails and appetizers. Outdoor sitting and indoor AC sitting.

phone: +505 2552-6139

address: Calle la Calzada

American sports bar on La Calzada right between Parque Central and Lake Nicaragua, and home of the famous "Golden Cadillac Margarita" (Cuervo Gold, Cointreau, and Grand Marnier). The restaurant serves fantastic food including daily seafood specials, baby back ribs, filet mignon, and Coney Island hot dogs all at very reasonable prices. The bar serves more variety of cocktails --and the coldest beer-- than anywhere else in Granada. Bob the owner used to run a bar in the Florida keys, so service and quality are top-notch here.

Mombacho Beach Club BarMojitos, Cuba libres, and domestic and import beers offered at Mombacho Beach Club. Delicious salads, sandwiches, nachos and other specials are served

Granada Beach Bar

address: Centro Turistico, al fondo

Toward the end of the Centro Turistico, Granada Beach has live Tropical music Thursdays through Saturdays. Tons of locals come out to drink and dance the night away.
Chichería París at the top of the Calle Real, across from La Pólvora fortress. Chicha and natural drinks.
Sleep
Hostal San Angel

phone: +505 2 5526737

address: Catedral 1/2 cuadra al sur, Granada , Nicaragua

A nice hostel 50 meters from the town center. A private room with en-suite goes from US$12 per night with breakfast included. It's cleanish and the owners are very nice and the owner speaks a bit English. They also have an internet computer and Wi-Fi.

Hostal Las Jarras

phone: +505 8582-4943

address: Calle Libertad, piedra bocona

A small hostal with a nice laid back atmosphere and friendly staff which speaks English. The rooms are clean and affordable, and there's a lovely central patio with hammocks and chairs and tables. There's also a bar and a good cheap restaurant. Free WiFi, use of kitchen. US$5 for the dorm, $10 for a single private, $12 for a double private.
Budget
Hostel El Rinconcito

phone: +505 25524602

address: Calle de Libertad, del BAC 2 1/2 Al Oeste

Hostal El Rinconcito is a new hostel in Granada that is run by a trustworthy and honest family. Hostal owner and staff are friendly and helpful. Hostal offers WiFi and cable television. Door closes at 2AM, but you make an arrangement here with the staff very easily.
El Tiangue, Calle Atravesada (near intersection of Calle Estrada). No frills, but great price and location. US$10 for a private double room (spotless bathroom two doors down). Three blocks from Parque Central, around the corner from the Oasis, gated entrance. Upstairs from the street market, 2-3 blocks from busses and grocery store. Awesome quick, cheap food is across the street (about US$1 for a full meal), in a green building that can be easy to miss during the street's busy hours.
Hospedaje Esfinge, Across from the Mercado on Calle Atravesada this very quiet and quite large place is fairly nice for a budget option. In early 2009 a double with shared bath was US$13, and was festively painted. A safe place, but near the worse part of town. The entrance is watched 24 hours a day by the wife and husband owners and another man. Quite time begins at 10, which basically means you have to turn the TV off and if you want to go out, you just have to knock to get back in.
Hospedaje Central, 1 block west of the parque central in "Calle La Calzada". Don't expect fancy, but it is comfortable enough. It is run by a nice family. It has an unbeatable location, sitting in the main street where all the cafes, bars, and street performers can be found. It has a front bar/restaurant as well but isn't a very lively place to be normally. US$5 per night in dorm. US$12 for a room with private bathroom. Free WiFi in room and free coffee. The food is not the best, but the Mojito Happy-Hour is unbeaten: Cervezas C$10 per bottle or C$22 for a litro, 2 mojitos for C$25.

La Libertad

address: Calle La Libertad

A nice, clean, quiet hostel in an airy and spacious colonial building. Well-equipped kitchen. Warm atmosphere with wifi and three computers with internet. Unlimited coffee in the morning included.

phone: +505 885-5443, +505 896-7514

address: Reparto San Juan Lote Number 5

Apartments in Nicaragua. Beautiful views of Nicaragua lake, mombacho volcano, and cathedral.

phone: +505 2 552 8006

address: Calle Estrada 109

A bit more expensive than the other hostels, but very nice. Clean and safe, free 15-minute phone call home on their Internet phone (to US, Canada and Europe), free Internet, a small restaurant that mainly serves breakfast, modern colonial style interior, a courtyard with hammocks and another courtyard with a small pool. Multiple tv's with a large selection of dvds to choose from. Great view from the rooftop pila as you wash your clothes. They also have private, air conditioned rooms for around US$20/night.

phone: +505 2552-0230

address: Ave. La Sirena, casa #207

Private bathrooms, ceiling and standing fans, cable TV, free WiFi, purified water, Perfect for long term and volunteers
Mid-range
address: From the S. Francisco square, 1½ blocks north, in front of the Gymnasium Sport

A small, family run hotel with en-suite rooms and a large tropical garden.

phone: +505-2552-8235

address: 207, Calle Corrales

Beautiful boutique hotel with pool, Wi-Fi, complimentary breakfast, air conditioning, hot water, tv/cable. The first boutique hotel in Granada. Great staff to take care of your travel plans, also offering, longer term housing.

phone: +505 8883 6834

address: 206 Calle La Concepcion

The casa features 2 guestrooms with wireless internet, AC, swimming pool and full breakfast.

phone: +505 2-552-4245

address: at Calle La Liberdad and Avenida Barricada

The hotel features 11 rooms with wireless Internet. This hotel doubles as a disco, so be ready to party.

address: at Calle Santa Lucia 141

Hotel con Corazón is a beautiful hotel (15 rooms) in the center of Granada. A double for US$64/71 including taxes and a extensive breakfast. Swimming pool and WiFi included.

Hotel Casa Vivaldi

address: Calle El Caimito, from the Alcaldía, 4½ blocks to the lake

http://www.hotel-granada-nicaragua.com Discover one of the most comfortable hotels in Granada, Nicaragua: an oasis with the biggest pool in town surrounded by tropical vegetation will offer to you beautiful moments of relaxation, away from city daze. US$44-54/night

phone: +505 2552 4628

address: Calle Corrales 111, Granada

In a renovated colonial house in the historic center of Granada. The hotel rooms have bathrooms, flat screen TV and safe deposit box. Swimming pool, free wireless internet access and cable TV.

address: Calle Calzada, Granada

The rooms have air-con, big bed, sofa and free Wi-Fi. Two computers in front for use too. The place doesn't have much atmosphere, but for the price, it might be the best deal in the area. Its also far enough down the main strip that it doesn't get noisy.

phone: +505 2552 46 78

address: Calle Atravesada, Across from Bancentro

In the largest intact surviving colonial house in Granada. The room rental includes a 30-minute massage and access to the largest pool in the historic center of Granada.

address: Calle El Cisne, 3 blocks south of Calle La Calzada

Chic, Intimate, Stylish; cozy boutique hotel; eight rooms with comfortable beds, AC, WiFi, cable TV, private bathroom, continental breakfast; stunning rooftop terrace.

phone: +505 2-552 - 4221

address: from City Hall, 3 blocks towards the lake

An antique colonial house built in the 19th century that has been restored conserving the characteristic of the wonderful houses of Granada.
Splurge
phone: +505 552 7581

phone: +505 2552 8489

Beautiful boutique hotel.

phone: +505 2552 4678

phone: +505 2558 7702

On Lake Nicaragua. Very close to downtown with easy access to Granada. Private all-inclusive. Secluded 2-story casitas. Swimming pool. Free Wi-Fi. Yoga retreats.
La Alhambra, right in the middle of town. beautiful. US$50-$80/night
La Gran Francia, right in the middle of town, across from the Cathedral. beautiful. US$90-$200/night
Connect
Internet -- up to C$20/hour.

Stay safe
Nicaragua is rated the safest country in Central America. The capital, Managua, has the largest number of inhabitants but the majority of crime there is petty theft. Granada, the sixth largest city, is very safe but using common sense and always walking with someone else at night here and everywhere else in the country is recommended.
Robberies are known to have occurred along the Peninsula de Asese. If you plan a tour keep your wits´about you and maybe leave the camera in the hotel.
In Granada, the moneychangers are licensed and provide a terrific alternative to the banks.

Cope
Social workers in Granada strongly advise to not give money or food to begging children. In Granada the homeless situation is moderate. Orphanages and charity organizations take care of homeless children, and poor people have access to charity kitchens. The kids that beg and sell items to tourists do this to make easy money, and are being exploited by adults. Anything you give to these children keeps them from the place they belong: in school.
Occasionally inclement weather will create an outage, as you'd expect anywhere.
Urban tap water is fine.
Insect repellent is widely available in pharmacies and supermarkets. Use as required. Nicaragua does have
dengue
. This is especially a concern during the wet season. In the early morning, and at dusk cover up or spray on as a precaution against insects.