Granby (Québec)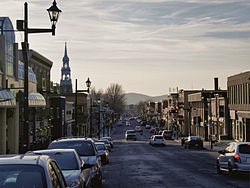 Granby
is a town of 63,000 people (2011) on Lake Boivin in
Montérégie
. It is home to
Quebec
's most famous
zoological garden
.
Understand
Granby is a regional centre for industries (textile, lumber, dairy products) and commercial zone, but is also a tourist town, due to the presence of the important Granby Zoo.
The town is named after John Manners, Marquess of Granby.

History

Prior to the arrival of Europeans, the area was inhabited sporadically by nomadic First Nations people.
In 1792, Loyalists fleeing the United States were granted permission to colonize the Eastern Townships. In 1803, the Executive Council of Quebec conceded the Township of Granby to Colonel Henry Caldwell and his 97 associates. John Horner, the first inhabitant who settled on the site of the current town arrived in 1813. Horner built a sawmill near the Yamaska River.
Field areas have been exploited for agricultural use and the North Yamaska river's flow has been used for its hydraulic energy since the construction of a first dam in 1815 by large industrial companies; the use of dams along the stream has provoked the formation of a large shallow swamp, called Lac Boivin, often cited as one of Granby's landmarks.

Get in
phone: +1-819-562-8899

address: at the Couche-Tard store at 111 Rue St Charles S

One direct bus a day M-F on the Montréal - Sherbrooke line (1 hr 50 min, $23).
Get around
Transport urbain GranbyThree routes bearing the names South, North and Centre served by buses and taxis seven days a week. From Monday to Friday, buses and taxibus pass every 30 minutes. On Saturdays and Sundays, the buses of the South and North circuits and the taxibus pass hourly.
See
address: 525 St-Hubert St

Zoo, water park and amusement park. Home to nearly 1,500 animals from over 225 different species, among which are elephants, giraffes, gorillas, and tigers. It hosts a Fête des Mascottes ("Mascot Festival") each year in July.

Musee canadien de l'Arme et du Bronze

phone: +1 450-531-7008

address: 53 Rue Dufferin

Weapons, stamps, currency, sculptures.

Voitures Anciennes de Granby

address: 230 Drummond Street

Granby's annual classic car show takes place at parc Daniel-Johnston on the three days over the last weekend in July. See over 3000 antiques, vintage, hot rods, muscle cars and classic imports cars.
The Autodrome Granby, one of Canada's largest dirt oval racing tracks, hosts professional racing teams every Friday night from May to September.

Verger Champetre - Gite & Compagnie

phone: +1 450 379-5155

address: 2300 Cowie Street

Orchards, alpaca farm and petting zoo. A fruit trees to pick your own fruit in harvest season, an interpretation centre explaining life on the farm, children's games, seasonal activities, and a wide range of products made from their land. Cafe with lunches for $11-15. A three-bedroom cottage is available ($450 for nights, $200 each additional night) with full kitchen.
Do
Lake Boivin, Daniel-Johnson Park, and the Centre d'interprétation de la nature du lac Boivin (nature interpretation center of lake Boivin) are landscaped with paths all around for bikers and pedestrians. Touching the heart of the town, lake Boivin has park Daniel-Johnson on its northern shores, from which citizens and tourists practise recreational sports such as navigation and cycling, the park also hosts events for Saint-Jean-Baptiste and Earth day; as well as a self-proclaimed fête de la rivière (river's fest) to honour and clean the North Yamaska River; characteristic hills on the park's premises are very popular for picnicking during the summer and sleighing in the winter. The Centre d'interprétation de la nature du lac Boivin is a non-profit with a mission aimed at conservation of the territory, habitat, fauna and flora of lake Boivin.

phone: +1 450-776-7182

address: 1780 Boulevard David Bouchard, Roxton Pond

A provincial park that protects a vast humid zone around the Choinière reservoir; it is sought out for its forest, beach, walking and biking paths, as well as the navigation of its waters (only light non-motorized vehicles are permitted); it is considered an important bird sanctuary. Boats, kayaks, stand-up paddleboards, bikes, etc., available for rent. Dogs permitted in designated areas.
Park Victoria is the oldest urban garden in town. Its lot was purchased in 1889 and the park landscaped in 1900. In the warm months, free concerts are sometimes played in a gazebo.
Park Miner is the second oldest park in Granby; it lies downtown and houses Piscine Miner (Miner pool), the municipal indoor public pool. A monument to the founders of Saint-Jean-Baptiste society was erected in 1934. The first community public art gallery in the region is installed by Atelier 19. During the summer, the park has tents installed to house different public activities such as dance and music.

Festival de la chanson de GranbyThe aim of the festival is to discover, develop and promote the next generation of French-language song from Quebec and abroad. Many well-known artists, such as Jean Leloup and Luc De Larochellière, have gained their first public exposure here. Ten days in late August.
Buy
address: 40, rue Évangéline

106 stores including IGA and Walmart.
Eat
phone: +1 450-372-2991

address: 847, rue Mountain

Gastronomic restaurant.

phone: +1 450-378-2921

address: 599 rue Principale

Burgers, fries and poutine in a classic fastfoodery from the 1959s.

phone: +1 450-372-2200

address: 4 Rue de la Gare

Upscale cafe offering breakfast, sandwiches, pizzas, salads, burgers, etc.

C'est Belge

phone: +1 450-777-7676

address: 246, Rue Robinson Sud East

Belgian. Also at 102, rue Principale (+1 450-994-7676) daily 08:00 to 14:30.
Drink
phone: +1 450-956-0703

address: 617 Simonds South

A microbrewery specializing in German beer with a tasting room.
Sleep
phone: +1 855-973-7216

address: 255 Denison East

Lakeshore setting with direct access to the Green route bike trail. Classic European architecture, access to therapeutic baths, massages, an indoor heated pool and whirlpool. Free Wi-Fi, exercise room, free breakfast. All guest rooms offer cable television, refrigerator, coffee maker, desk and mini bar.

address: 901 rue Principale

Spa, exercise room, heated outdoor pool, a playground for children, three restaurants.

phone: +1 450-776-1141

address: 90 Drummond

Facing the L'Estriade bike path. Near the shops and restaurants of downtown Granby. Lounge area with TV, outdoor pool, bicycle shed and air-conditioned rooms.
Nearby
Bromont
Directly south of Granby (across the autoroute) is Bromont, the site of the equestrian competition for the 1976 Montréal Olympic Games.
Waterloo
A small village directly to the east.