Grand-Bassam
Filled to the brim with French colonial charm,
Grand-Bassam
is a town within the
Lagunes
region of
Côte d'Ivoire
. It was the capital city of the French colonies in the region from 1893 until 1896, until the administration was transferred to Bingerville after a severe bout of
yellow fever
. The city's inhabitants recovered, and it remained a key seaport until the growth of
Abidjan
from the 1930s, which crushed its golden era. By independence in 1960, Grand-Bassam was little more than a ghost town, until a surge of tourism in the 1970s led to its resettlement. Today, a modest 5,000 people call the town their home, although some areas remain largely abandoned.
Get in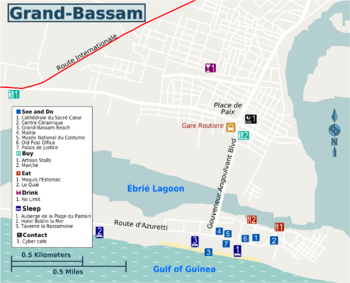 Grand-Bassam is 45km east of Abidjan and the trip will take about 45 minutes by road.
Bush taxis from the
Gare de Bassam
in Abidjan are the best option, and will cost about CFA 500. Buses are an alternative, which leave from Gare Routière d'Adjamé in Abidjan for CFA 500.
Grand-Bassam's is in the centre of town, just beside the Place de Paix roundabout.
Get around
The town is largely divided into two distinct halves. On the south side of the Ébrié Lagoon is Ancien Bassam, the old French town where most of the colonial buildings and attractions are located. Nouveau Bassam lies to the north of the lagoon, and grew out of the old servant quarters to become the main business centre. The two are connected by a small bridge.
The main area of town is quite compact, so walking is an easy way of getting around. If you feel like venturing further, you will need to organise a bush taxi.

See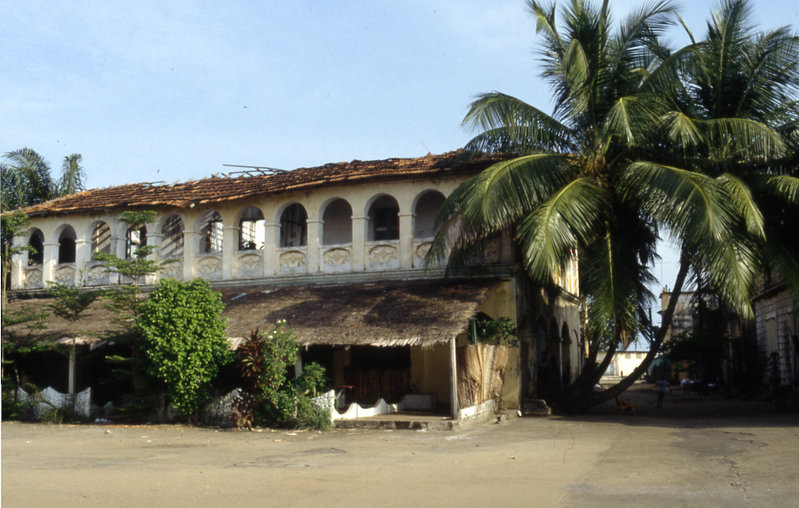 Cathédrale du Sacré CœurBeautiful house of worship built by the French in 1910, renovated in 2004.

Centre Céramique

address: Rue Bouët

After tourism, ceramics and pottery are probably Grand-Bassam's biggest industries. This is both a museum of Ivorian traditional ceramic and a exhibition hall for the works of local artisans.

Mairie de Grand-Bassam

address: Boulevard Gouverneur Angoulvant

Recently restored French colonial building.

Musée National du CostumeHoused in the former French governor's palace, this architectural gem with its large outer staircase is one of the main attractions in town. Its excellent collection of traditional costumes, masks, ornaments and ethnographic photographs provides a fascinating insight in the culture and history of Ivory Coast, both during and outside colonial times. The 4000 m² museum premises holds various publications, models of traditional houses and life-size dancing scenes. If your budget allows, consider hiring a guide for extra information.

Old Post OfficeAn elegant building that has also been restored recently. No longer functions as a post office.

Palais de JusticeConstructed in 1910, it was used as a court until 1954. This building has not been as lucky as the other French colonial structures, and has reportedly decayed beyond repair.

Maison des ArtistesUnlike some other buildings in town, the name of this colorful building actually describes what it's used for. In this "house of the artists" you can watch local sculptors and other artists working and see and buy their creations.
Do
Swim at Grand-Bassam BeachThe seaside of Ancien Bassam is extremely popular among Ivorians. On the weekends, the place is packed, however, during the weekdays, you may have it all to yourself. Beware of strong currents and the lack of lifeguards.

Canoe tripsSome local boatmen can be arranged to take you up the lagoon to see some tradition fishing amongst the landscape.

Fête de l`AbissaThe local N'Zima people honour those who have passed away in this colourful and lively festival, held between late October and early November.
Buy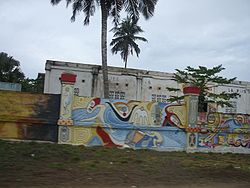 The (
Marché
) is located right next to the Place de Paix roundabout. It mostly serves produce, but you may be able to find a souvenir or two. A much better option is the hundreds of that thrive on the western edge of town, lining the road from Abidjan. Local art is also for sale in Maison des Artistes, described in the See section.
Eat
There are some options to eat in and around the central market as described above, as well as the eateries
within the hotels
. A more interesting alternative is the along the northern, lagoon edge of Ancien Bassam, which serve local and traditional African cuisine. The cost is cheap, hovering between CFA 1900 and 2300.
phone: +225 0769 6975

Located in the maquis area, along the shore of the lagoon. Serves both African and French cuisine.

Maquis l'EstomacAlso on the lagoon's shore in Ancien Bassam, serving African food.

Bassam PizzaReportedly the only pizzeria of Grand-Bassam, has received mixed reviews.
Drink
Most hotels and even some restaurants have their own bars that are popular with locals on the weekdays and holidaymakers from Abidjan on the weekend. There are a couple of nightclubs in the north of the town including:
Épilogue

phone: +225 07 18 50 15

The first nightclub in Grand-Bassam with Audio and Video Animation. VIP Space. Epilogue is open 7days /7 from 18:30 to 06:00 GMT. Tuesday is Karaoké night while Thursday is Live variété with an orchestra
Sleep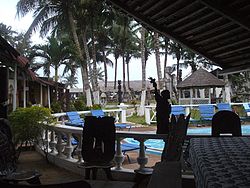 Connect
There is a on the eastern side of the Place de Paix roundabout. Many of the larger hotels have free Wi-Fi.

Go next